In a corner of the globe forgotten by time, you find yourself sipping coffee at sunrise. Before you, a volcano burps purple smoke toward wispy, pink clouds. Beneath you, a handcrafted wooden yacht rocks gently on calm waters.
Far away, horns are honking and sirens are wailing, but the stress of that world cannot find you here. Today, your only competing priorities will be whether to spend the afternoon beneath the waves (exploring coral gardens and making friends with manta rays) or above them (kayaking in a blue lagoon).
As the sun breaks over the horizon and washes you in golden light, your reverie is broken by loved ones beckoning you to breakfast. Wide-eyed, they are soaking in their surroundings . . . not a cell phone is in sight.
In the days ahead, you'll explore untouched islands, come face-to-face with the legendary Komodo Dragon, and watch movies under the stars. You'll catch your dinner and have it served to you on a private beach. But most importantly, you'll reconnect with the people who matter most.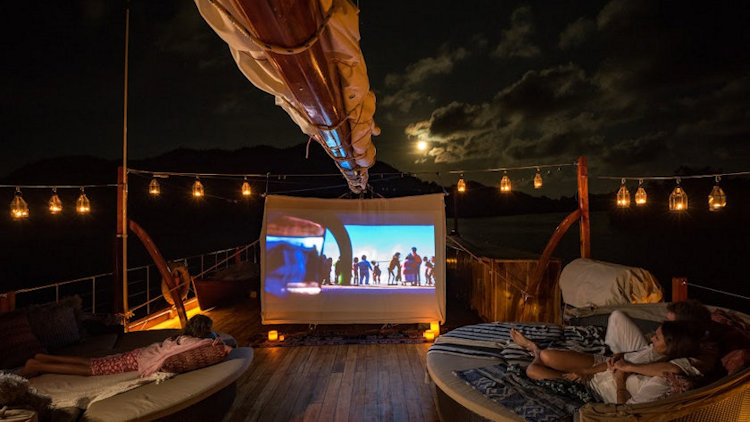 Welcome to the Coral Triangle, a span of 6 millions square kilometers in the western Pacific filled with breathtaking islands, abundant aquatic life, and a serenity that's hard to find.
OceanScape Yachts has partnered with Coral Triangle Safaris in Indonesia (which lies at the very heart of The Coral Triangle) to bring you a vacation experience like no other.
You will sail this magnificent region aboard Sequoia, a modern take on the classic wooden 'phinisi' yacht. Named after the giant Sequoia tree, one of the oldest living organisms on earth, this handcrafted yacht was designed as an heirloom vessel for generations of families to enjoy.
With Sequoia, East meets West - modern, custom-made amenities have been melded into traditional Indonesian tropical beauty. It has a state of the art American engine room and electrical power systems, custom designed fixtures, and underwater lighting to allow you to see some of the magic below. You will be able to enjoy this remote island wonderland in complete comfort.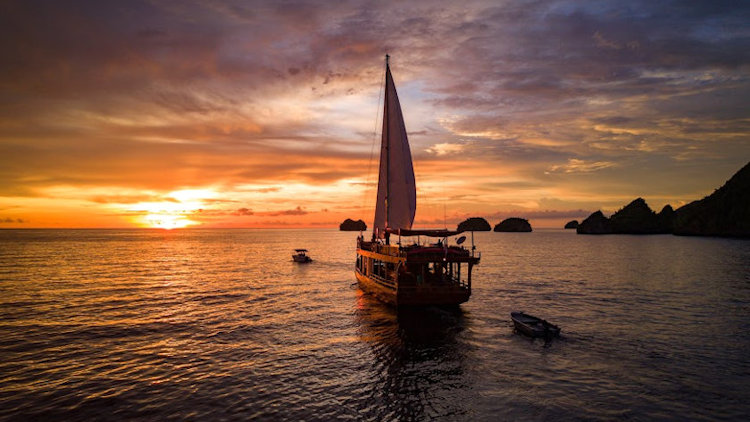 We asked Sequoia's owners, Yessi and Kevin, what makes a Coral Triangle Safari so special. Here's what they told us:
"Raja Ampat, Indonesia, just south of the equator, is a hidden archipelago of some of the most beautiful uninhabited islands in the world... the reefs in and around Raja Ampat have yet to be affected by [environmental] threats. It is considered by many to be the most beautiful reefs on earth. Scientific research that has been conducted by The Nature Conservancy (TNC) and Conservation International (CI) has shown that Raja Ampat is home to 533 coral species 75% of world coral species, 1,437 reef fish species, 700 species of mollusk including 7 species of giant clam. It is a destination like no other. Raja Ampat has it all."
When you sail aboard Sequoia, your party of 4 will be tended to by 10 professional crew members including a cruise director, all your needs will be taken care of in a private and intimate setting. Each safari is specially crafted just for you. Your choice of activities and interests will help define your safari, whether it is venturing out to sea or relaxing across from a majestic island.
Learn more about sailing The Coral Triangle aboard Sequoia with this free digital guidebook.