The Caribbean's most exclusive and pristine multi-generational resort community, Oil Nut Bay, has recently launched The Cliffs, a special collection of luxury suites set into the beautiful and rocky southeast cliffs of the 300-acre private peninsula. Located on Virgin Gorda, British Virgin Islands, The Cliffs is comprised of two 890-square-foot deluxe rental suites and a spacious penthouse that measures almost 1,400 square feet.
The Cliffs feature unobstructed views of the boundless azure Caribbean Sea with each suite meticulously designed and floor-to-ceiling sliding glass windows, an expansive master bedroom, one-and-a-half bathrooms, outdoor open-air shower, great room, wet bar, exterior terraces and private outdoor plunge pool. This is not your ordinary luxury.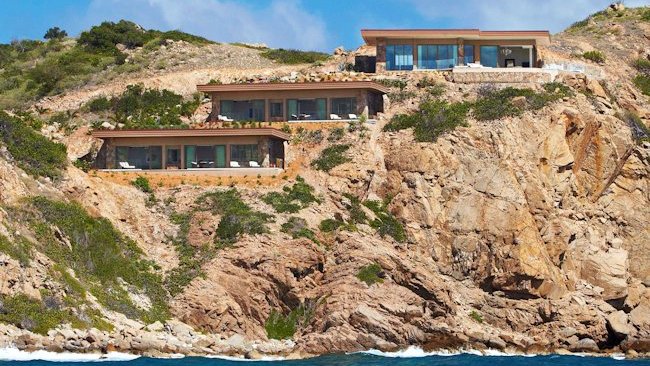 "The Cliffs suites will allow guests and potential buyers to experience the Oil Nut Bay lifestyle and premier service with five-star accommodations and help them envision themselves living in a world-class resort community," says David V. Johnson, Chairman of Victor International, the property developer. "Virgin Gorda is the Caribbean's hidden gem and it's because of its exclusive location and 10-month season with perfect weather that makes this destination one of the most desirable among all the islands."
Set at the highest point of the three suites with striking views of the Caribbean Sea is The Cliffs' luxurious penthouse. Furnished by world-renowned FENDI Casa, the penthouse suite features signature FENDI Casa décor and furnishings, offering an expanded interior and exterior floor plan with a wrap-around outdoor terrace and full-size infinity swimming pool for guests seeking every comfort and luxe living in a private beach haven. The exquisite living room boasts both the Premiere and Prestige three-seater sofas in champagne with "Villa Borghese" embroideries. Suites at The Cliffs start at $1,500 per night.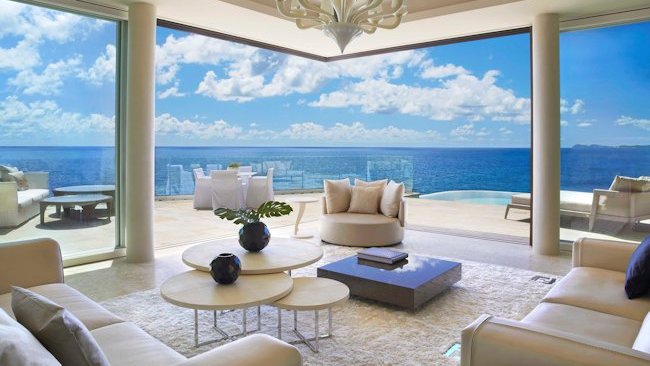 Hanging majestically in the sitting area is the intricate FENDI Casa Murano Via Lattea chandelier in Porcellana. The Sand Pryncess king size bed is the focal point of the master bedroom retreat, paired with the Canova bedside table and chest of drawers together in ivory. The outdoor lounge incorporates the Deauville day bed in natural, the Amore three-seater sofa in ivory and the Sistina chair in white to create plenty of gathering space for guests to take advantage of the Caribbean backdrop. Since its inception, FENDI Casa has committed to delivering high-end, crafted pieces in the home collection reminiscent of the brand's fashion concept.
Guests of the Cliffs are pampered from the moment they arrive and have access to such features and amenities as: full use of Oil Nut Bay facilities, including the Beach Club with three pools, bars and restaurants; onsite water sports and land activities with personalized assistance from activity directors; Wi-Fi, printing and business center usage; dedicated electric cart; free in-room artisan snacks and beverages; Gaggia Italian espresso machine with signature Oil Nut Bay espresso blend; Vi-Spring hand-made, Shetland Wool Sublime Superb mattress; spa treatments available in-room or in remote spa locations; personal concierge service to arrange itineraries and activities such deep sea fishing & scuba diving; scheduled ferry service within the North Sound.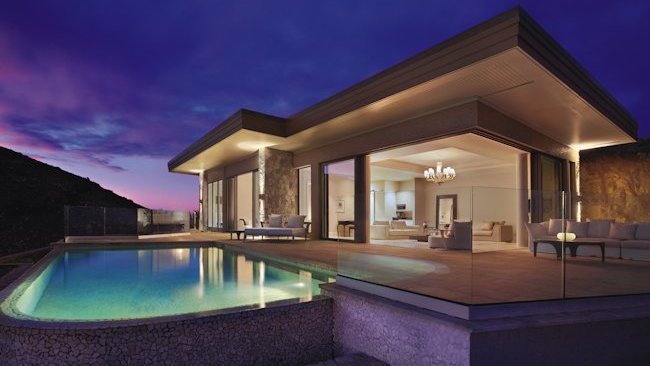 Accessible by boat or helicopter, Oil Nut Bay is a premier, low-density, multi-generational resort community with home sites ranging from $2 million to $15 million and homes ranging from $3 million to $50 million. Offering only 88 home sites set on 300 acres of shoreline among stunning topography, white sand beaches and turquoise waters, the resort's Beach Club is the family social center and heartbeat of Oil Nut Bay. Its main buildings are anchored by a dramatic open-air pavilion, three stunning pools for every age and world-class dining with exceptional service.
Guest and homeowners can choose from an assortment of spa treatments or a wide variety of water and land activities including stand-up paddle-boarding, kayaking, sailing, snorkeling, as well as five hiking trails throughout the property. For the yacht-setters, Oil Nut Bay contains one of the world's premier marina/clubhouse, the Yacht Club Costa Smeralda (YCCS) Virgin Gorda setting an unprecedented standard in the BVI with the highest level of services and amenities for cruising the Caribbean with 38 slips for yachts up to 300 feet and a draft of up to 30 feet.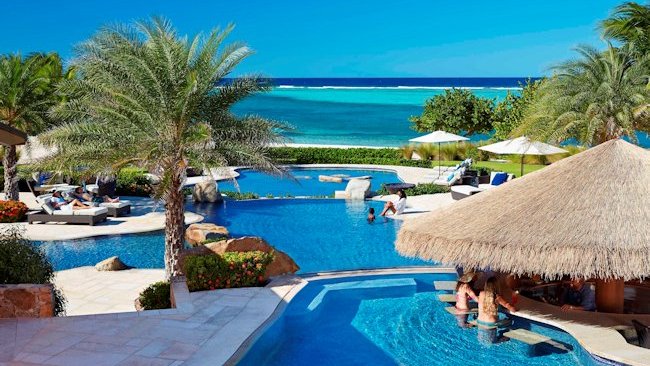 Available neighborhoods include Beach Villas and Sites ranging from .32 acres to over one acre ($4.45 to $15.00 million); Ridge Villa Sites range from .63 acres to one acre ($2.95 to $3.95 million); Estate Villa Sites range from 1.26 acres to 7.36 acres ($3.45 to $15 million); Marina Village sites range from .44 acres to 1.46 acres ($2.45 to $3.95 million). Twenty-five percent of Oil Nut Bay properties are sold and most resort amenities and infrastructure are complete or near completion.
Visit website:
www.oilnutbay.com