So many of us live in bustling cities and spend so much of our time indoors that we've forgotten or don't even know how peaceful, calming, and amazing it feels to be out in nature. Lapland, which lies mostly above the Arctic Circle, is one of those mind-blowing places where your heart races with excitement, yet your whole spirit feels a sense of peace and wellbeing. It is a breath of fresh air, literally!
I'm basking in the magnificence of this place about 35 feet up in Treehotel's "Seventh Room" -- a virtual mansion in the sky. It is the newest, the highest, and the largest of the renowned hotel's seven treehouses. It features a sleek, modern living space and two sunken bedrooms with a huge rope net suspended between them, so you can lie down and see nature below and above.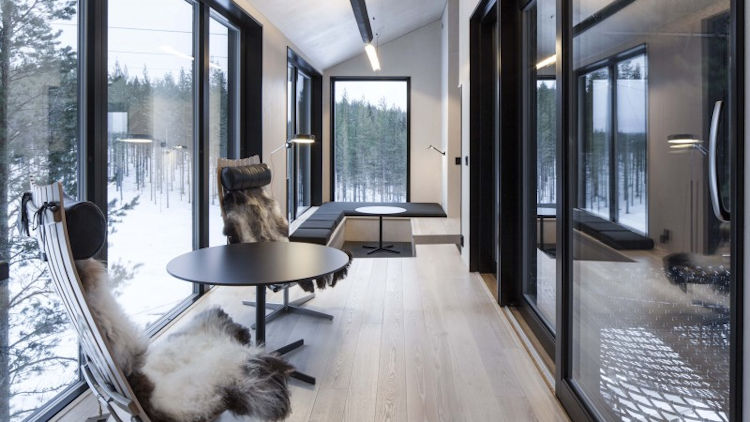 © Photo courtesy of Treehotel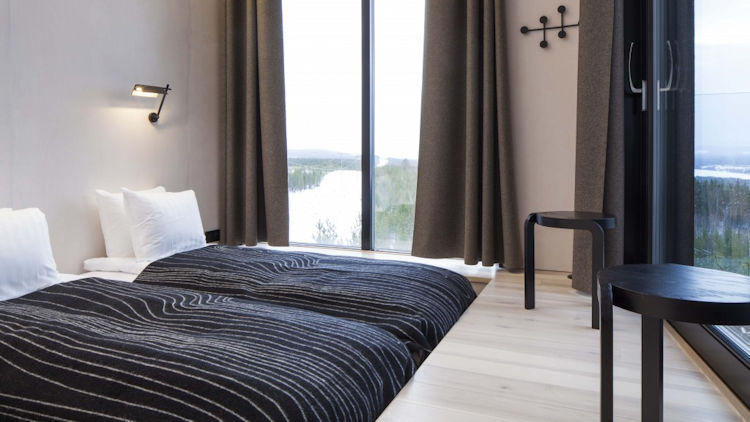 © Photo courtesy of Treehotel
Tonight I will actually be sleeping in the same bed that Kate Moss slept in, and if you'd like to arrive here in style like Kate Moss, the hotel offers helicopter transfers from Sweden's Luleå Airport. The Seventh Room was built by Snøhetta, the same architects who designed the stunning and award-winning Norwegian National Opera and Ballet building in Olso. In fact, each of the one-of-a-kind treehouses which include the Mirror Cube and Birdsnest, has a famous architect.
This afternoon we reserved private time in Treehotel's Forest Spa with hot tub, sauna, wine and snacks. Taking in the relaxing forest atmosphere is wonderful. I've never appreciated saunas and hot tubs as much as in Scandinavia!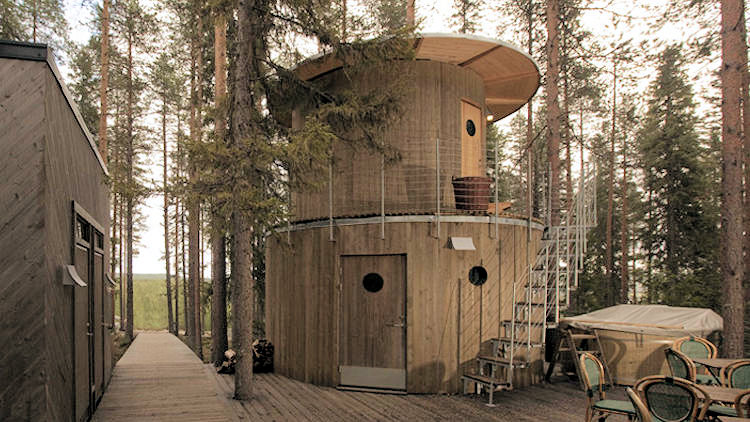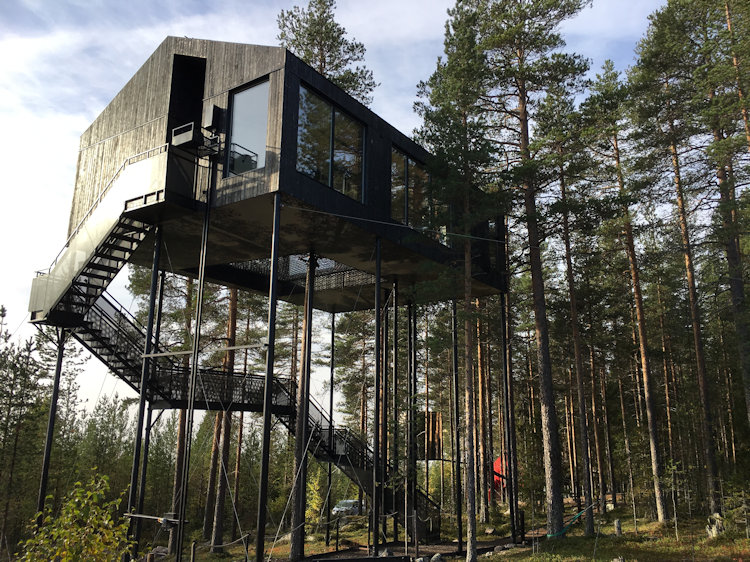 © Photo by Christine Gray
Walking back through the forest to our home in the sky, looking up at the sunlight beaming through the towering trees, it feels like a natural cathedral. Your soul feels an epiphany.
Tonight, dinner is in Treehotel's gourmet restaurant, which occupies the first floor rooms of Britta's Pensionat, a quaint inn that takes you back in time to the 1930's - 1950's. The main floor rooms have been converted into charming private dining rooms, with six guest rooms offered upstairs. Some people stay one night in the inn and one night in a treehouse. The genesis of the Treehouse hotel began with the original inn which is owned by Britta and Kent Lindvall, when they built a treehouse on adjacent land and discovered that people loved the idea.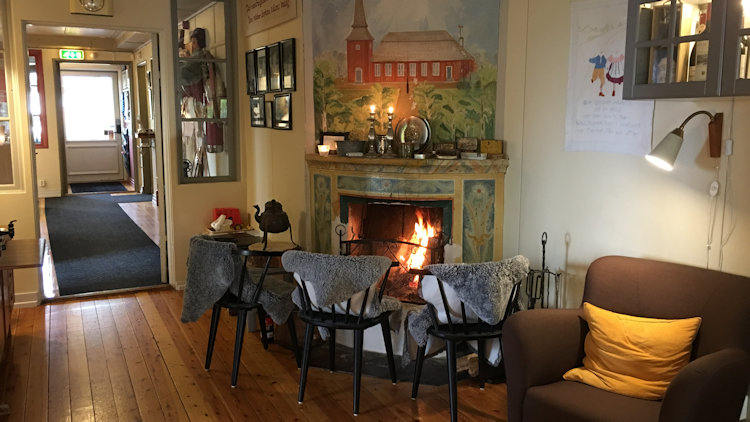 Inside the warm, cozy atmosphere of Britta's Pensionat. © Photo by Christine Gray
The next day, we stop just five minutes down the road, where we get a sneak peek at the new Arctic Bath Hotel that will open in January 2020. It will be a year-round spa hotel that in summertime floats in the Lule river and in wintertime becomes frozen in the river. The hotel will have six floating cabins that will radiate out from a central circular spa building and another six spectacular riverside cabins. I can already tell this will be a magical place and will add another one-of-a kind Arctic experience to the area. A perfect pairing with a stay at the Treehotel!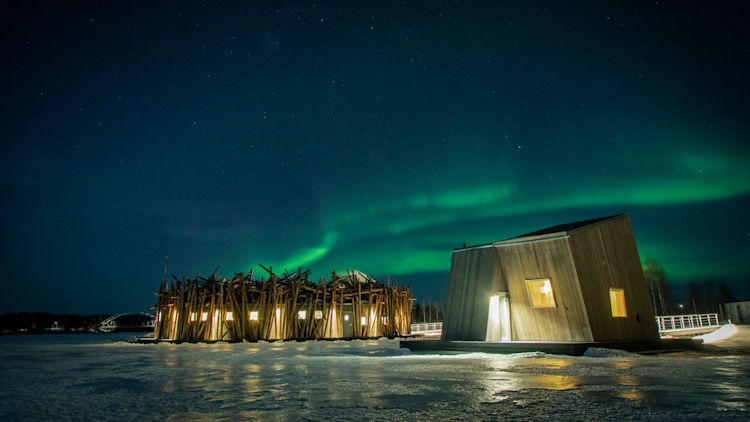 Photo credit: Johan-Jansson
Our road trip across Swedish Lapland takes us from Luleå on the Baltic Sea near Finland in the east, traveling north-west through the picturesque countryside with its traditional red farmhouses, crossing the Arctic Circle to Kiruna, the northernmost town in Sweden, and on to Abisko National Park which is very near the mountainous Norwegian border. Luleå is a great place to visit in the summertime where you can enjoy time on the water and the seemingly infinite islands in the Gulf of Bothnia. We took a fun boat trip to one of the 1300 islands of the Luleå archipelago and enjoyed an authentic Swedish "fika" -- strong coffee and hearty snacks prepared over an outdoor fire. Many of the islands have small cabins, some even come with saunas that can be used by day travelers free of charge.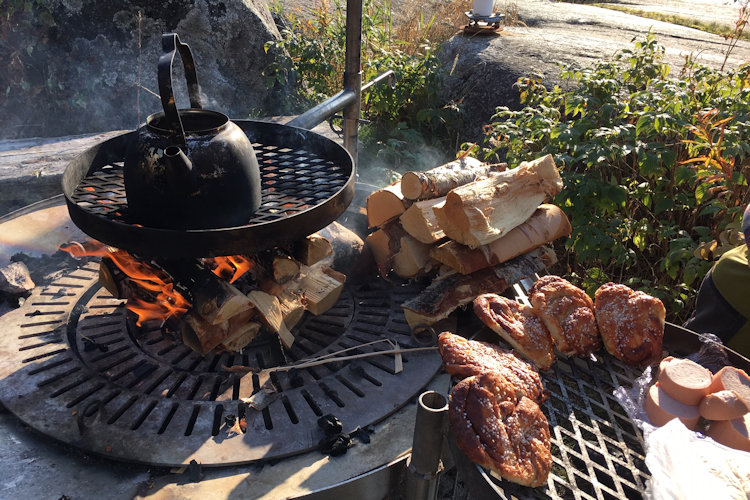 Swedish fika - Coffee, cinnamon rolls, sausage and more cooked over a fire © Photo by Christine Gray
Lapland, the ancestral home of the Sami people who are reindeer herders, is especially known for the midnight sun in summer and the Northern Lights in winter, but we happen to visit over the Autumnal Equinox which is considered low or shoulder season. This actually turns out to be a wonderful time of year to travel here because we're able to experience a touch of each season -- the flowing rivers and lakes which freeze over in winter, the mountain tops adorned with a dusting of snow, plus the amazing bonus of the brilliant golden fall foliage and the mesmerizing Northern Lights that most people wait until winter to see.
Today, we cross the Arctic Circle and stop for lunch in the charming and picturesque town of Jokkmokk with its beautiful Gothic revival church. Autumn is beautiful here, but the town is quiet with some shops and restaurants closed since we are between seasons. Jokkmokk is known for its famous Winter Market which has run for over 400 years starting in 1605 and features world-class Sami art, culture, and handicrafts.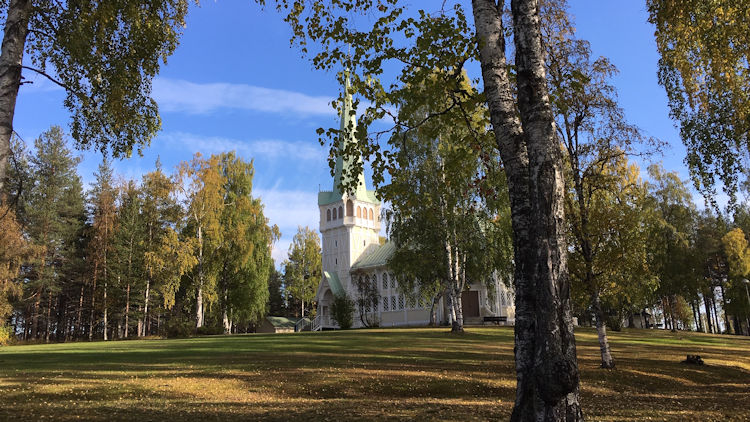 Jokkmokk's beautiful Gothic revival church. © Photo by Christine Gray
After a hearty lunch we continue northwest to Abisko National Park which is very near the border with Norway. We check in to a luxurious four-bedroom chalet at Lapland Resorts' Hotel Fjallet in Björkliden with an out-of-this-world view from the deck with hot tub!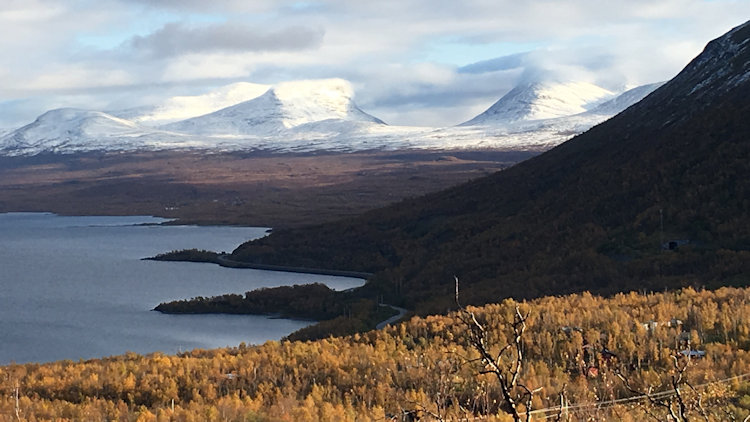 The mesmerizing view of Lapporten from the deck of our 4-bedroom chalet #82, the best accommodation on the property. © Photo by Christine Gray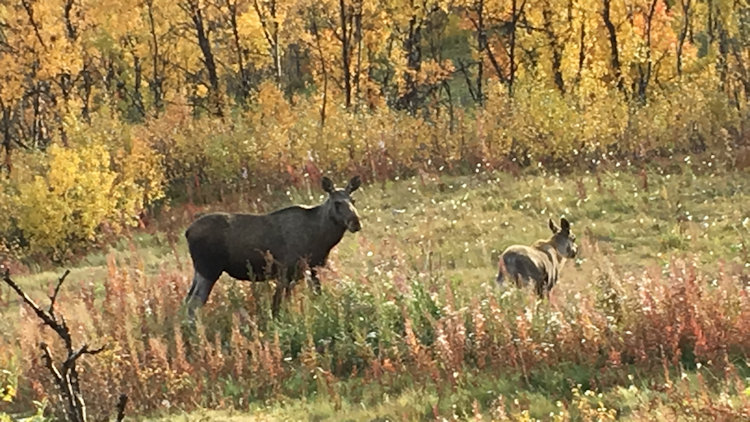 A mother and baby moose crossing through our yard. © Photo by Christine Gray
We enjoy the hot tub and sauna in our spacious chalet all afternoon and have dinner delivered before setting out on an Aurora Photography tour with the amazing nature photographer, Oliver Wright from Lights Over Lapland. The sky up here in Lapland is so incredible - from a big golden moon reflecting on a lake, to a vivid star-filled sky, and of course the amazing aurora! We learn that you can't just snap photos of the Northern Lights with your smart phone because you need a longer exposure with a camera and tripod.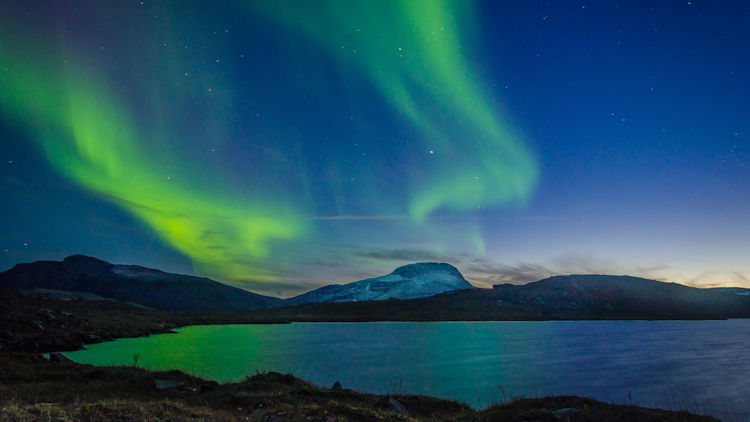 Northern Lights over Lake Torneträsk in Abisko National Park
When you arrange for a guided tour of the Northern Lights, you are provided with a warm place to take a break from the cold, such as a Sami hut (teepee) with a central fire or a cozy cabin with a wood stove and reindeer skins to sit on. Not to mention delicious food and beverages to warm you up like Glögg, an infused warm wine, and other Swedish specialties like Falukorv sausage, smoked reindeer jerky, cinnamon rolls, Pinnbröd bread on a stick, and the special experience of coffee cheese - small porous cubes of cheese that soak up the coffee taste for an extra treat when you finish your drink.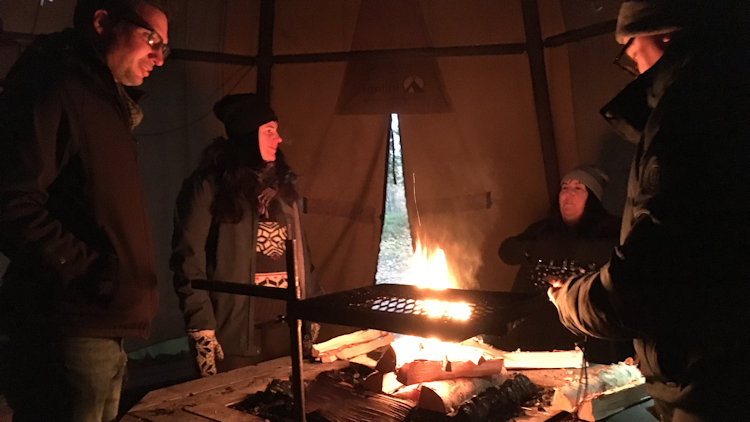 Inside a Sami hut © Photo by Christine Gray
Our wonderful, magical mystery tour of Lapland ends fittingly with a stay at the famous ICEHOTEL in Jukkasjärvi which is a small village situated near Sweden's northernmost town and airport of Kiruna.
The ICEHOTEL, established 30 years ago in 1989, is rebuilt each winter by artists from all over the world, but now you can have the experience year round with ICEHOTEL 365, opened in November 2016. The design of the new building combines Icehotel's iconic arched architecture underneath an exterior that blends in well with the riverside surroundings. The hotel is kept cold with energy from solar panels and includes 20 rooms: 9 luxury suites, each with warm bathroom and sauna, and 11 art suites, without bathrooms. Since guests only sleep in the rooms overnight, the hotel is open for touring during the day. You enter into the spacious ice bar and ice gallery where you can sip a cocktail from an ice glass and take an ice sculpting class. Then you can walk from room to room, marveling at the artistry.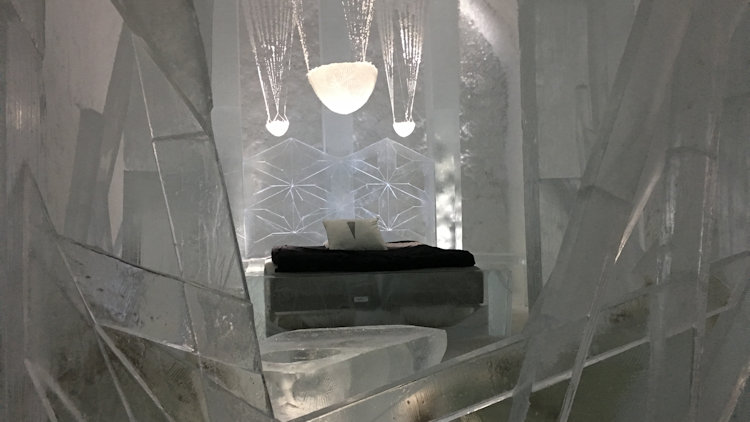 © Photo by Christine Gray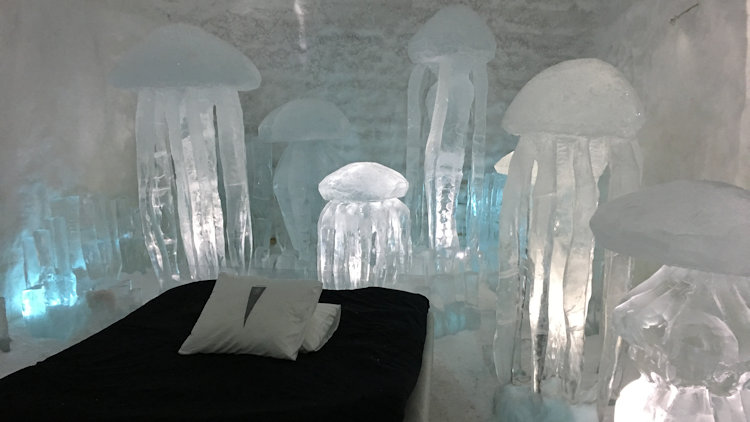 © Photo by Christine Gray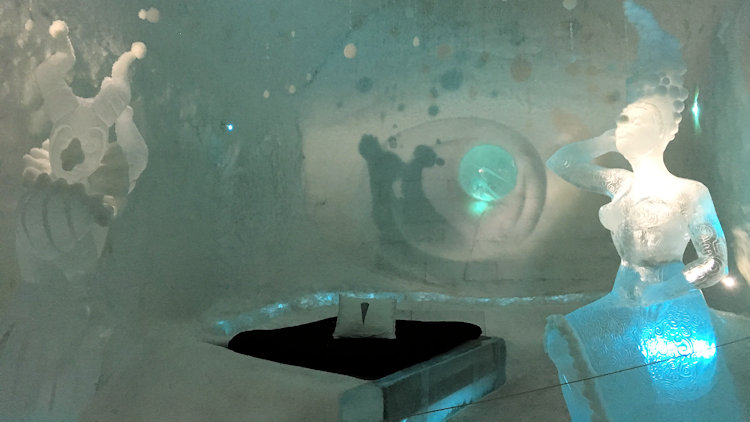 © Photo by Christine Gray
An interesting fact -- similar to Treehotel's story that began with a single treehouse, the ICEHOTEL also began with a single igloo -- and now both hotels are world-renowned, offering ultimate experiences.
In the evening, we booked a Wilderness Dinner and enjoyed a delicious, three-course meal prepared for us in a cozy cabin in the nearby woodlands. Afterward, you can view the northern lights in the fall and winter, or bask in the midnight sun in the summertime.
I'm looking forward to doing this trip again (and again), in the summer and the winter -- two totally different experiences in the same place. Next time we'll also plan a stopover in the beautiful city of Stockholm.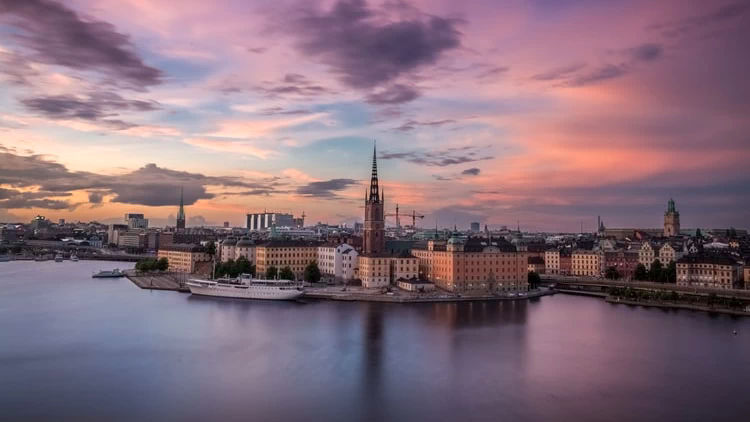 Photo: Unsplash
PLANNING YOUR TRIP TO LAPLAND:
VisitLapland.com is a new way for independent travelers (from budget to luxury) to find, check availability and book accommodations and activities online when planning a trip to the Lapland region of Sweden, Norway and Finland. VisitLapland has created the largest portfolio of Arctic travel activities bookable live online, from fat bike tours and snowmobiling to culture, spa and wellness and much more!
VISITLAPLAND.COM on SOCIAL MEDIA:
Twitter: @BookLapland
Facebook: @BookLapland
Instagram: @VisitLapland_
#VisitLapland