Located in the exclusive playground of the rich and famous – Crans Montana, Switzerland – Chalet Seven provides accommodation for up to 30 guests. It features a luxuriously appointed spa, including an eight metre indoor pool and a Hammam, cutting-edge technology and über stylish interiors.
With a total size of 2000 sq metre, the chalet has four three-bedroom en-suite apartments and a six-bed children's bunk room. Each 160 sq metre apartment includes a dining room, lounge and three generously sized bedrooms. Guests will also have access to a private 100 sq metre terrace complete with outdoor Jacuzzi and fire pit.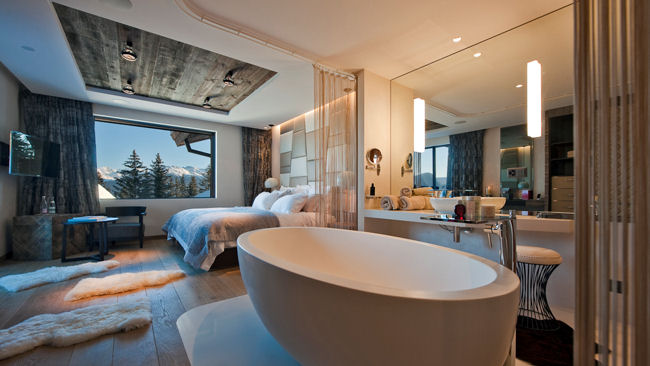 Chalet Seven has been crafted in grey crystal stone and antique silver wood, while sky-frame windows and a series of outdoor terraces afford wonderfully panoramic views of the mountains. Inside, the interiors have been styled with an array of sumptuous Japanese furnishings and oriental fabrics.
In Japan, the number seven has long been associated with harmony, heavenliness and perfection, and Chalet Seven has been created as a physical representation of the number. To this effect, it purports to transport its guests to 'seventh heaven'.
At the heart of the chalet is a starlit spa, which features a vaulted-ceiling and dry stone wall sauna opening into a snow pit, Hammam, tropical shower zone, gym and a gold mosaic Jacuzzi. The spa walls have been crafted from silver wood, while there is also an eight metre, steel-tiled indoor pool, complete with massage therapy bubbles, a treatment room and two large relaxation areas.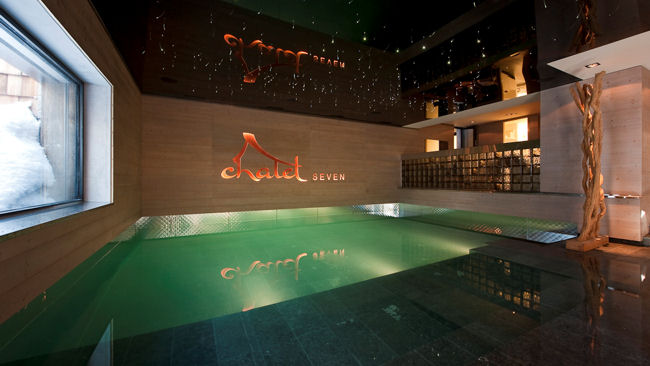 The chalet has its own hospitality manager, Jorg Romang, who will be on hand at all times to organise skiing requirements and advise on added extras, such as husky rides, night time safaris and where to go for the finest in après-ski. With over 20 years experience in skiing hospitality, Jorg has worked for the likes of Bono and Prince William, and was Roger Moore's private ski instructor for 15 years. Alongside the hospitality manager, the chalet has its own head chef, housekeeper and on-site chauffeur.
Chalet Seven boasts cutting-edge technology. Each apartment has a wall-mounted iPad with an app that controls the temperature, TV, lighting and music in both the apartments and the communal areas. The apartments have built-in 3D plasma TV and DVD, Apple TV and high-speed WiFi. Guests have access to a film archive of DVDs, iPod and iPad docking system, video games, a music library and digital radio.
Giving back is at the heart of Chalet Seven's philosophy. Its founders have committed to giving a percentage of all profits to charity: the Theodora Children's Trust, which provides care and support to sick children in hospital, has been named as the chalet's first charity partner.
The chalet is the brainchild of Cheshire entrepreneur and multi-millionaire Mike Cooper. He commented: "I wanted to combine a message of clever design and cool luxury with an altruistic ideal. For those searching to get away from it all and relax in a luxurious living environment, this is an idyllic holiday retreat. Chalet Seven has the very finest of facilities and has been intelligently designed to create the ultimate chalet experience in the Alps."
Designed by Swiss architect Fabrizio Danelutti – who has brought Mike Cooper's vision to life – enthusiastic skiers can ski in and out of the chalet, which lies just 300 metres from the piste. Chalet Seven is located on a hillside two kilometres above Crans Montana in the hamlet of Plans Mayens. It can be reached in two hours from Geneva Airport. Alternatively, private jets can be chartered to Sion Airport, which is just 20 minutes away in nearby Valais.
For further information about Chalet Seven, visit
www.chaletseven.com
.