The special event took place at a stunning, modern private residence on a bluff overlooking the Pacific Ocean. The views and architecture were amazing, the cuisine was exquisite, and the experience was unforgettable.
The three JK Place hotels are located in
Florence
,
Rome
and
Capri
and were designed by Florentine architect
Michele Bönan
. The hotel chain, founded by Ori Kafri and his father Jonathan Kafri in 2003, is famous for its unparalleled focus on guest experience. I decided that I had to learn more about their philosophy and what sets J.K. Place apart from other luxury hotels in the world today. Here, Ori Kafri shares his thoughts about his brand, the hotel industry, and his future plans.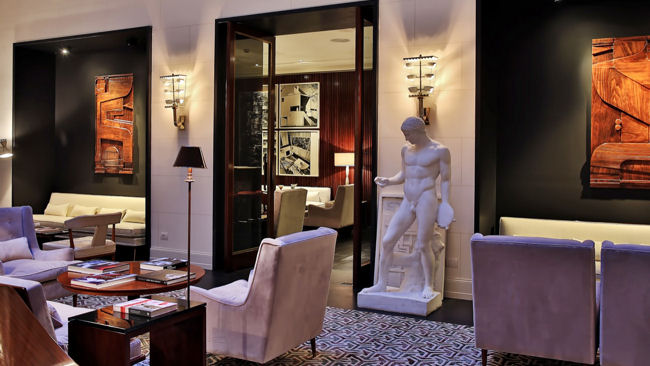 J.K. Place Rome
What led you to a career in hospitality?Kafri:
I always loved the service industry. When I did my internship at business school, it was at a five-star hotel. I fell in love with this world. I read
HIP Hotels
(Highly Individual Places) by photographer Herbert Ypma. One of the very first books is about boutique hotels and, in this book, I discovered, for example,
Blakes Hotel
, the first boutique hotel in London that opened in 1982. It's still an iconic destination for expert travelers. Another hotel that inspired me was one of the very first boutique hotels in Florence,
Hotel Helvetia & Bristol
. It's centrally located but in a corner. Not many people knew about this place. It only has about 48 rooms. It's very under the radar, but nicely done.
Explain J.K. Place's approach to guest experience? Kafri:
There is a hotel in Amsterdam called
Seven one Seven
that inspired me a lot. It's a townhouse with less than 10 rooms. It was the most amazing experience that I ever had in a hotel because of the gentlemen that welcomed me. I arrived with no reservation or appointment just like a person on the streets walking around and ringing a bell. He welcomed me in and offered me a cup of tea and gave me a map of Amsterdam. It was my first time there and it was raining so he gave me an umbrella. He showed me a picture of the hotel before and after renovation. When I was going to leave to leave, I asked for the check. He said, 'No, no, no. You are my guest.' This experience was really unique. You can walk into any other hotel in the world and no one would offer you a cup of coffee. A cup of coffee is just a very simple gesture of kindness. It was an example of hospitality. About six to eight months after opening my hotel in Florence, I found the name of the gentlemen, Henk de Lugt. For a year he came every weekend to Florence to teach my staff and me about how to treat guests like you are welcoming them in your home. That is how we approach service. Everything is included in our room rate such as Internet, coffee, and minibar. We don't use words like check in and check out. The very first word I teach staff is
guest
—not customer or client.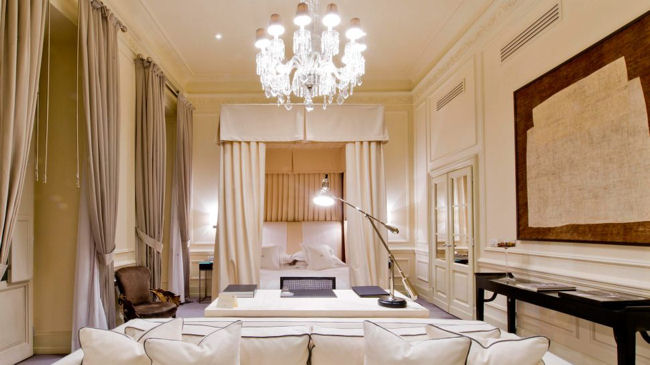 J.K. Place Firenze
What is the brand of J.K. Place?Kafri:
We compare hotels like the Four Seasons, Rosewood and Ritz Carlton to designers like Gucci, Prada, and Armani. But the tailor is making you a custom suit. The tailor would be J.K. Place. It should be a different kind of experience. It is not like we are trying to be different; we are just trying to be ourselves. We want to interact and engage with guests in a sensible way. If you go to a tailor, you have to spend time picking out fabric and creating your own style. We want to create the same experience with guests when they engage with J.K. Place.
Does each J.K. Place location
have its own culture?Kafri:
Yes. When you travel, it is important that wherever you go, you experience something different. Every place needs to be independent of each other. The hotels are connected because we share the same philosophy and macro concept, but then the details are unique and show each location's personality. For example, the smells, drinks, food and ambience are different. The mindset of guests is different. In Capri, you are in a resort, so guests are going to the boat, pool and beach. People arrive with different expectations and needs in Rome. They are staying for two nights with an agenda. It is harder to make someone happy in Florence and Rome than in Capri.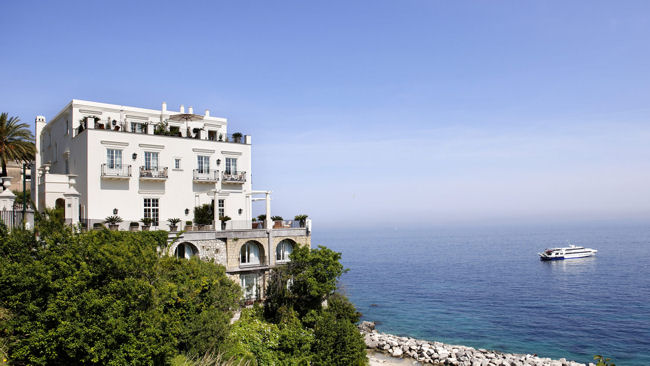 J.K. Place Capri
Are the expectations of travelers changing? Kafri:
Not in my niche. The people who stay in my hotels are looking for service. I can't offer them a hotel room nicer than what they have at home. Most have private jets, yachts and houses bigger than my hotel. The design of the hotel has to be beautiful. Then you experience the difference in service. It is still a smaller room than their closet. They can go somewhere else, but they would be missing the human part of it and that is where we come in.
What is the toughest challenge ahead for the hotel industry?Kafri:
There are many challenges. One is defining the word luxury. Is luxury a glass of water in the desert? What does it mean? What is the guest is looking for? The industry is very competitive. My guests are the first ambassadors. As they exit the hotel, they have to be the one who represent and promote the brand the most. I cannot compete otherwise with the market. We also have to compete with the world. At any given moment, we may have more Japanese guests than American, who have different needs. We have to make sure we welcome everyone properly and don't offend their culture. We are lucky that our locations are doing 50% of the job already. I don't need to promote Florence, Rome or Capri.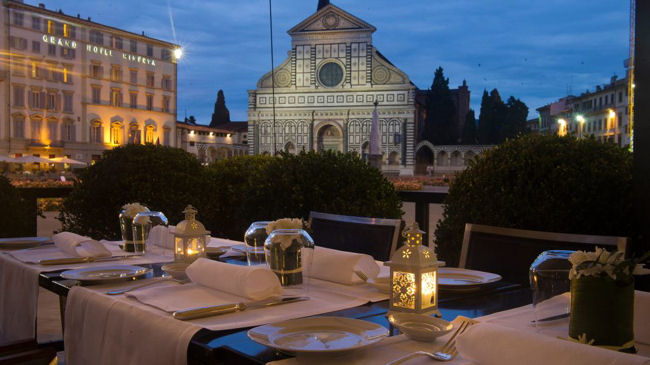 J.K. terrace on Santa Maria Novella Square, Florence
What are your future plans?Kafri:
I hope to open more hotels and bring my concept to other cities — especially outside of Italy. Europe will be easier because it is closer, but my dream would be to open in the states. J.K. Place LA sounds good to me. I would love to open one in New York. It would be a great challenge but rewarding experience.
Visit website:
jkplaces.com