Palms Casino Resort is among the few hip, boutique locations in Las Vegas that offers guests the chance to stay inside any of their uniquely designed, one-of-a-kind themed suites this summer. Now though August 31, 2017 Palms is offering up to 50 percent off normal rates, making it the perfect time to check out what they have to offer.
"When it comes to the luxe collection at Palms, guests have to see it to believe it," said GM Jon Gray. "Every suite and penthouse is an unforgettable experience unto itself. From incredible themed suites – such as the Real World and Hardwood Suites – to gorgeous villas and penthouses, these accommodations sit at the pinnacle of luxury. The choices are endless."
We recently took a tour of these unforgettable suites and were in awe of their design, functionality and whimsy. Offerings ranged from opulent to zany, and everything in between. Here's an overview of what Palms offers.
Two Story Sky Villa
(pictured at top)
Complete with floor-to-ceiling windows, the Two Story Sky Villa provides over 9,000 square feet of jaw-dropping amenities including a personal elevator and a glass-enclosed cantilevered pool with breathtaking views of the strip. Guests are welcome to indulge in this home away from home suite with butler service, a massage area, and fitness rooms.
One Story Sky Villa
Lodge in sophistication and elegance in the One Story Sky Villa with stunning features like the oversized, rotating King bed, a dry sauna and a wet bar with stocked upon arrival. With room for up to eight guests, visitors can ride in style with top-of-the-line car service with routes to and from the McCarran International airport.
Hot Pink Suite
The Hot Pink Suite includes 2,350 square-feet of vibrant décor, pink furnishings and custom art perfect for a bachelorette weekend. The Hot Pink Suite includes a relaxing Jacuzzi tub and a steam shower for the ideal relaxation getaway. The two-way fireplace will have guests feeling cozy before heading out to Ghostbar with complimentary VIP passes.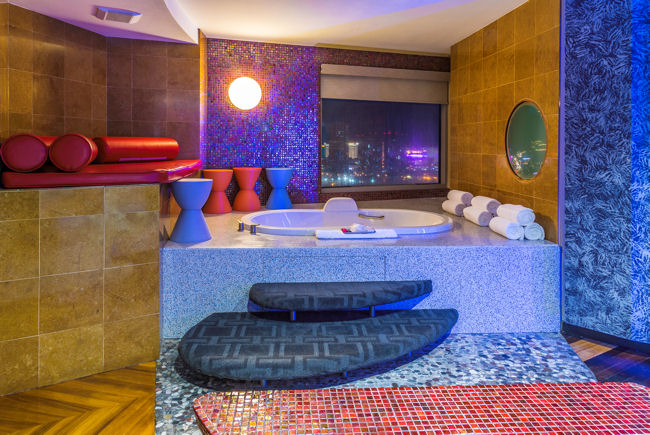 Real World Suite
Live like a reality star in the Real World Suite with up to 3,000 square feet of space including a full kitchen and a wet bar for hosting friends. The Olhausen pool table and the state-of-the-art LCD and plasma TVs are perfect for entertaining. Guests can visit and vent in the original "confessional" during their stay at the Real World Suite.
Crib Suite
Fist pumpers can indulge in the exclusive luxuries offered at the Crib Suite and take live their rockstar dreams in the room's DJ booth. The featured king-sized bed takes sleeping to another level with an exclusive hydraulics system. The Crib suite is complete with the saltwater tank, filled with exotic fish for an ocean-like oasis.
Celebrity Suite
Experience the lifestyle of the rich and famous at the Celebrity Suite. The stylish, Hollywood-inspired design and astonishing views of the city will have guests feeling the limelight. Ritzy features including seven TVs, marbled bathrooms and a shower unlike any other with a dancing pole and neon lighting will have guests glammed and ready for a night on the town.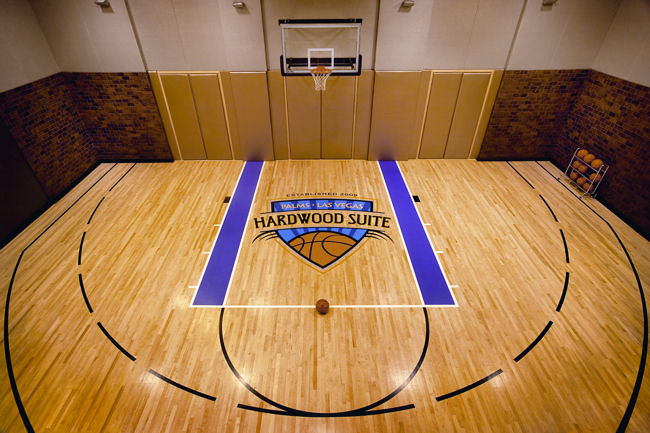 Hardwood Suite
Calling all ballers! The Hardwood Suite is every basketball fans fantasy complete with an indoor basketball court, a professional locker room, and XL Murphy fold out beds on the court. As the largest suite at the Palms with over 10,000 square feet, guests can enjoy two floors of luxury with a well-appointed dance floor, a pool table, and 24-hour butler service.
Erotic Suite
Couples are invited to a sexy affair in the Erotic Suite, embellished with electric red leather and brushed metals. The eight-foot bed with Egyptian bedding is paired with a mirrored ceiling to keep things really interesting. Enjoy a shower and a show with the dancing pole and nightclub inspired lights. VIP passes to Ghostbar are included with the stay.
G Suite
Partygoers unite! The sleek and contemporary décor in the G-Suite is reminiscent of Ghostbar, minus security of course. The mini club-like suite includes a living room, a full bar and a replica of Ghostbar's glass balcony. The bedroom includes plush pillow tops and linens and a fireplace for that extra touch of entertainment. Guests will also have full access to the drift spa and fitness center.
Kingpin Suite
Two bowling lanes and a giant television screen, this retro-chic suite offers the ultimate entertainment extravaganza. This spacious room includes a black stainless steel pool table and many TVs for extra touches of fun. Guests also have complete access to the drift spa and fitness center.
Reservations can be made by emailing
luxurysales@palms.com
. You won't want to miss your chance to do Vegas in "suite" style!
Visit website:
www.palms.com