The Duomo Suite is named for its unrivaled view of the cathedral, the quintessential symbol of Milan. Legend has it that to fall asleep watching the Duomo's illuminated Madonna brings luck during the night and to simply view this much loved symbol of the city brings joy and riches.
The residential-style suite is unique within Palazzo Parigi's portfolio of accommodations thanks to its one-of-a-kind contemporary décor by Pierre Yves Rochon. The luminous suite offers an elegant spacious living area blessed with generous natural light; a high-tech, contemporary kitchen; a master bath designed with Italian marble offering double sinks, separate tub and shower; a sleeping area with a private walk-in closet and an additional guest bath.
The Duomo Suite also features an open, flexible floor plan and can expand from 861-square-feet in its original space to 1,937-square-feet by connecting to the adjoining Prestige Suite and Deluxe Room, offering up to three bedrooms with multiple balconies and views overlooking the iconic city sights.
High-speed complimentary Wi-Fi is available, with a central media space that is ideal for confidential business meetings.
Private butler service is also available on request to ensure an unforgettable stay.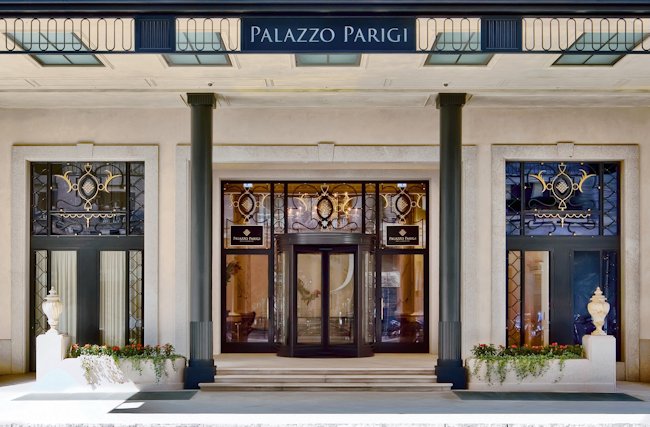 The vision of owner/architect Paola Giambelli with interiors by Pierre-Yves Rochon, Palazzo Parigi Hotel & Grand Spa welcomes business and leisure travelers alike to experience the individually designed and distinctively appointed sixty-five guest rooms and suites which feature expansive windows and private open-air terraces with garden or city views of the surrounding metropolis. A member of Leading Hotels of the World, the hotel offers two top gathering spots for guests, visitors and residents. The gourmet restaurant offers refined business lunches and intimate dinners accompanied by the inspired recommendations of celebrated sommelier Matteo Ghiringelli. Bistrot Lounge Caffè Parigi, a convivial bar open daily, has become Milan's go-to locale for casual breakfasts and afternoon tea as well as relaxed business and social meetings, light dinners, after-work aperitivi or post-theatre dinner and drinks.
To learn more or to reserve, please visit
www.palazzoparigi.com
.