A jewel in the desert. A marriage of small town friendliness and chic urban sensibility. A multitude of stars, both heavenly and the human kind. This is Palm Springs, California – like no place else. Anywhere. Nestled at the base of the San Jacinto Mountains, this world-famous resort destination embodies stunning natural beauty, ancient palm groves, mineral hot springs and a purple mountain majesty that surrounds the dramatic Coachella Valley. Want more? Palm Springs can make the claim that it has one of the world's largest caches of midcentury modern masterpieces. Many luminaries made this desert their home: Frank Sinatra, Dinah Shore, Sonny Bono, Bob Hope. Marilyn Monroe was discovered here, Elvis and Priscilla honeymooned here, Cesar Romero allegedly had an affair with Tyrone Power here, and Jack Benny and "Amos and Andy" broadcast their radio shows from here. Oh, and Liberace died here.
Without question, architecture is the key to a flourishing Palm Springs. Eclectic and adventurous, it draws significant worldwide attention. This curious place where Hollywood stars once hid out in hacienda-style hotels (Garbo, Chaplin) and Republican presidents retired at exclusive golf clubs (Eisenhower, Ford) was also a mecca for modernist architects, including Los Angeles visionaries such as Rudolph Schindler, Richard Neutra, E. Stewart Williams, and Donald Wexler, who designed everything from the Palm Springs City Hall to the airport, shopping centers, hotels, motels, private residences and even gas stations.
As I toured some of the iconic Desert Modern homes, suddenly I got it. Modernity really works here because there's something quite modern about this very desert landscape. It is clean and barren with harsh sunlight and strong shadows. One can have a home with floor-to-ceiling glass because it's never cold– a great marriage of geography and design.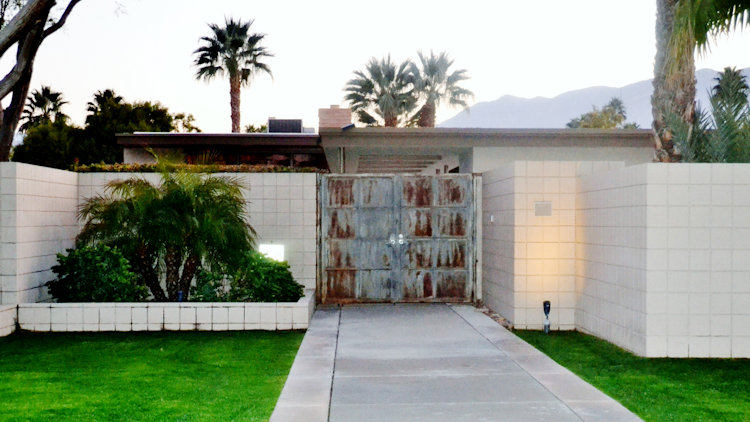 All Or Nothing At All
I visited Sinatra's Twin Palms estate. He came to Palm Springs when he was 31, fell in love with the place and immediately asked Stewart Williams to build a home for him, saying his only requirement was that he wanted to be in by Christmas. As this was May, Williams had people working 24 hours around the clock to get it done. The house has a warm, inviting feel to it, with its low-slung, redwood-clad roof and small, cozy rooms. Located far out in the desert, the singer had a pair of palms in his front yard illuminated at night so that his pals, including the infamous Rat Pack, could spot it from a distance.
Seeing Stars
One evening I took a stroll on Palm Canyon Drive with its Walk of Stars honoring pioneers and hundreds of celebrities in downtown Palm Springs. Established in 1992, the first induction ceremony was held in February of that year. In May 2017 the Walk of Stars sponsor and City of Palm Springs announced a temporary suspension of installing new stars while they reviewed the selection criteria. As stars today are not quite cut from the same cloth as those of yesteryear, perhaps this decision to review the selection was a wise one.
On This Clear Day We Saw Forever
A sky-high climb on the Palm Springs Aerial Tramway put me aboard the world's largest rotating tramcar traveling more than 2 ½ miles up the sheer cliffs of Chino Canyon. The trip took just 10 minutes until it reached an elevation of 8,516 feet and I experienced a cool, panoramic view of the valley floor and miles beyond.
Later, I visited the Palm Springs Art Museum, the cultural centerpiece of the community housed in an architecturally significant building. The museum contains a permanent collection of more than 55,000 objects featuring, among others, art of the Americas and 20th century California. I was enchanted with its modern and contemporary permanent collection displaying a bold, iconic Henry Moore sculpture, "Woman," and a stark photograph of one of Marina Abramovic's art installations, her 2009 "The Kichen V." Great fun to find such gems in the middle of the desert!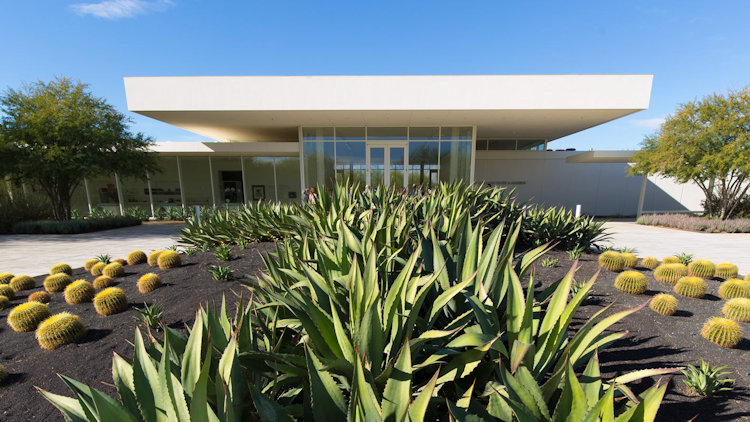 Sunnylands –From Scrubland to Shangri-la
A very special pleasure was visiting the Annenberg Retreat at Sunnylands, located in nearby Rancho Mirage. The Retreat incorporates the historic Annenberg Estate and the new Sunnylands Center & Gardens. Established by the late Ambassador Walter and Leonore Annenberg, its purpose is to host small, high-level retreats for the President of the United States and the Secretary of State to bring world leaders together for the advancement of international peace and to establish global understanding.
Sunnylands, the Annenberg's 200-acre, 25,000 sf desert home was designed by A. Quincy Jones, one of the pioneers of midcentury modern architecture, and was completed in 1966. Several presidents have been guests here: Dwight Eisenhower, Richard Nixon, Gerald Ford, and Ronald Regan; royal houseguests include Queen Elizabeth II, Prince Philip, and Princess Grace. They came to socialize, exchange ideas and influence one another in a totally secluded and relaxed atmosphere.
I toured the home's spacious open rooms, its vast stretches of glass walls offering views of the pool, the golf course, the purple San Jacinto Mountains, and the vision of lush green lawns stretching into the desert - a picture of serenity and solitude. Annenberg's priceless collection of artwork enthralled: Van Goghs, Monets, Renoirs, Cezannes, Gauguins, Picassos, to name but a few. After swooning over the paintings I went outdoors to experience a unique golf cart ride through a nine-acre garden. I loved this journey amid the lush landscape covered with desert plants that are used to paint a living canvas of color based on the very impressionist paintings I'd just seen.
Ah, Sunnylands. In a word, breathtaking. However, that name can also be applied to this entire magical, quirky, wonderful place known as Palm Springs. Sunnylands it is!
More information: www.visitpalmsprings.com