Since its inception in 1860, the property has maintained its architectural roots–the traditional clapboard exterior, the bones of the main building, which houses reception, various guest rooms and the spa, and the home's original barn, now transformed into one of Maine's most romantic and sumptuous restaurants.
The inn's cheerful, solicitous service greets you upon entering the main house, where you can relax over a mug of hot cider before heading to your room–one of twenty-six in total at the inn. The main house has eleven rooms and suites and six newly renovated suites lie adjacent to the main house. Toward the outdoor swimming pool you'll find four attached garden cottages and one freestanding cottage with its own separate living area, along with a double-sided fireplace and jacuzzi tub for two. The Loft Suite, which has its own private entrance, lies adjacent to the main house and has cathedral ceilings, a fireplace, marble jacuzzi and private deck. Lastly, situated along the Kennebunk River, are three seasonal Wharf Cottages, available April 1 through January 5.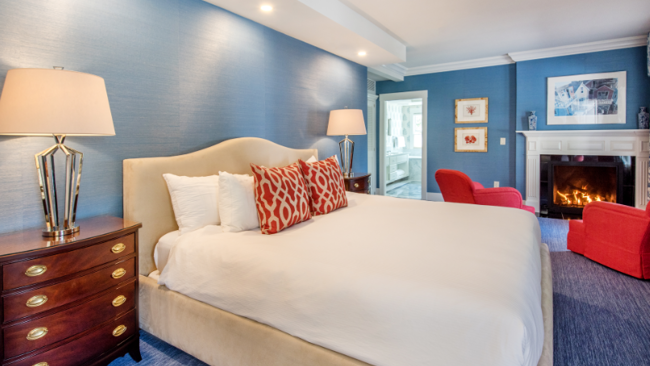 From a design standpoint, the inn has struck a pleasing balance between traditional and contemporary. The inn's common rooms in the main building harken back to the 19th century with period furnishings and wallpaper, antique portraits, and oriental carpets on the hardwood floors. It's the guestrooms, however, that depart from the past. Plush furniture, sparkling white marble bathrooms, and gas fireplaces with easy, flick-on coziness grace the rooms, awash in soothing pastel palettes of seafoam, blue, cream, and taupe. Junior Suites have king-size beds, glass-enclosed rain showers, and working fireplaces. The entire property has Wi-Fi throughout.
In keeping with the inn's emphasis on indulgence, there is a full-service spa tucked off the sitting area in the main house. Beyond a variety of therapeutic massages, the spa features facials, herbal body wraps, and various rejuvenating body treatments, all exclusively available for the inn's guests. The Integrated Body Treatment is an ideal way to sample the spa's many offerings, as it includes a full body exfoliation, soothing milk bath, and body massage that leaves you limp with relaxation.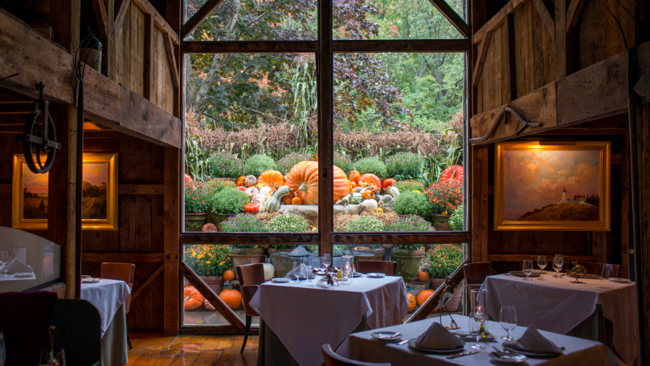 Thanks to the inn's brand new Bistro, guests now have a casual alternative to the (not-to-be-missed) four-course prix fixe menu at The White Barn Restaurant, an AAA Five Diamond establishment with a cozy wine cellar able to accommodate parties up to fifteen. Executive Chef Derek Bissonnette oversees both restaurants, thus ensuring you'll dine well no matter where you eat. At the bistro, you'll find such items as lobster bisque, chicken or lobster cobb salad, and various pizzas, along with a burger and fries, lobster Mac & Cheese, and halved roasted chicken with polenta and chimichurri. In the fine dining restaurant, courses are fancier, yet still seasonal and based on local ingredients. So, for example, you'll find the same lobster bisque, only garnished with spiced pork belly and fennel. There is foie gras, too, and entrees, like roasted venison, lobster, and beef tenderloin with braised short rib in a Madeira reduction. Since Bissonnette majored in pastry at The Culinary Institute of America, where he formally trained, and then served as the inn's pastry chef before moving up the ladder, his sweets warrant consideration. This fall, for example, he's offering a riff on Granny Smith apples in a cheesecake, in a spiced crumb cake, sorbet and cider "gel." His praline Opera Cake comes with homemade pumpkin ice cream, pepita brittle, a junior coffee-glazed donut and mini latte. And, in the fine dining room, the cheque arrives along with a tower of one-bite treats–little fruit jellies, truffles, and cookies.
Should you wish to prolong the evening, you can retreat to the shimmering mirrored bar or snag a stool next to the piano, where a gifted musician plays tunes early in the evening. Alternatively, the living room off reception has self-serve bottles of Brandy and Port.
Come morning, the fancy dining room now offers breakfast. Enjoy the day's newspapers over a continental option of warm pastries, juice and meats (this comes with the room) or a more substantial meal involving eggs, pancakes, and the like. If you can, request a table in front of the restaurant's huge picture window, where the beauty of nature is on full display throughout the year.
Visit website:
www.whitebarninn.com