Disclosure: This cruise was taken just prior to the Pandemic and, while recognizing that cruising may not be high on your list of "things to do" at the moment, I think we can all agree that – some day – we shall cruise again!
My Morning Stretch class at 7:30 am was just the ticket to get me moving in a smooth, leisurely and undemanding way. Now bright-eyed and ready to greet the day, I'm heading to the pool for Aqua Aerobics. I figure it will end just in time for me to get to the Showroom at Sea for a preparatory lecture titled Through the Canal which will tell us what we can expect to see and experience as we glide through the various locks of the Panama Canal. I am aboard
Holland America's SS Statendam and happily this lecture will end just in time for the deck-top luncheon buffet.
After my morning work-out, which has me feeling very pleased with myself and not a little self-righteous, I've vowed that lunch will be healthy and low-cal. Luckily, aboard this ship, along with copious amounts of delicious 5-star fare, guests also have the choice of sensible, tasty offerings that won't blow your diet. Contrary to what you may think, when cruising with Holland America, it is truly not necessary to pack on the pounds. There's even a Culinary Arts Center on board, allied with Food & Wine Magazine, where one can learn to prepare calorie-conscious, low-cal dishes.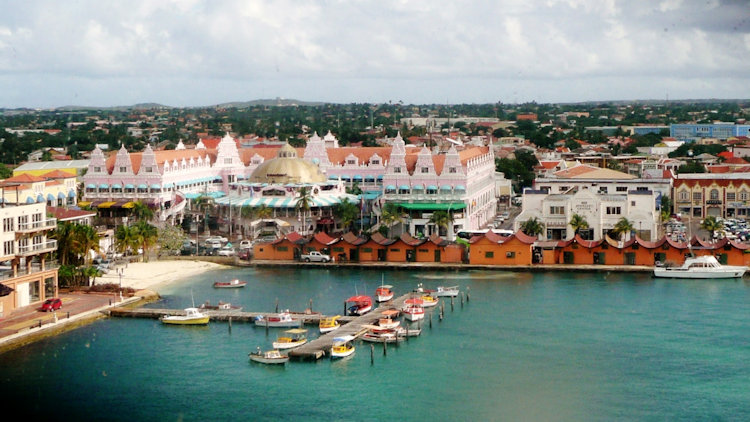 Our first port of call was the island of Aruba. Then, after another day at sea, gliding through the impossibly emerald-blue Caribbean, we slowly approached the first lock of the Panama Canal. Going through the six locks till one reaches Golfo Dulce and the open waters of the Pacific was a remarkable, photo-op experience involving countless workers and taking a full day. Our next port was Costa Rica. From there we cruised to Mexico, stopping in Huatulco and last, the deluxe and posh destination of Cabo San Lucas. Although we'd heard that Brad Pitt was there at the time, and peering intently from our perch at a seaside café, sadly no sighting. However, suffice it to say, our lush surroundings were quite enough to evoke a blissful, happy mood that followed us back to the ship.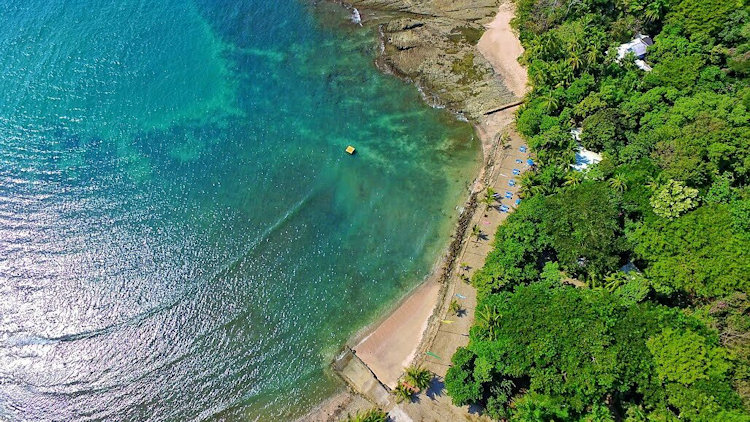 This delightful ambiance lasted into our very special "An Evening at Le Cirque Dinner." Because Holland America works with New York's Le Cirque Executive Chef Craig Hopson, on board Master Chef Rudi Sodamin recreates the legendary eatery's whimsical and award-winning culinary experience, all under the careful tutelage of Pinnacle Grill Manager Colin D'Souza. We dined on the fanciful and original orange Le Cirque china and ended our meal with the restaurant's famous crème brulee.
For over 137 years, the award-winning Holland America Line has been a recognized leader in cruising, transporting guests to exotic destinations around the world. Its fleet of 15 mid-size ships completes more than 500 sailings a year and visits all 7 continents. The activities on board our ship were many and varied so there's plenty to do if you're so inclined. There are trivia games, Singles and Solos parties, Book Club reads, Mixology classes and Sunset Tai Chi, to name but a few.
If you're a do-nothing, that's okay too. You can merely sit on your veranda and gaze out on a gently undulating blue scene unfolding before you, one of my particular favorite pastimes.
One day, as we silently cruised along, I spied a host of small gray dolphins cavorting right next to the ship, flying high, then diving deep, repeating this play again and again, accompanying me for at least 15 minutes. Later, I caught a quick glimpse of a whale tail slipping slowly into the brine – a sight which made my day. One afternoon, we took a bridge tour and had a chance to meet our erudite and charming Captain, Albert Schoonderbeek.
Each morning the Captain made an announcement, a run-down of our precise position, the conditions at sea, the speed at which we were traveling and what we could expect at our next port. This was informative and a broadcast we looked forward to each day. Informative also and incredibly helpful were the ship's technology classes. Through them I learned to work the Windows Live Photo Gallery as well as Digital Camera Basics and Creative Photo Editing, insuring that my images from this voyage would be prettier than in the past. Daryl and his Piano Bar seemed to call to us each evening as we formed a group to sing golden oldies - a wonderful ice-breaker as we joined in raucous singing and made friends with our fellow passengers. Karaoke nightly in the Crow's Nest is still another way to show off your vocal abilities. You say you have no abilities? Each night you can count on top-notch entertainment in the Showroom at Sea, and – the fail safe – cocktails flowing until the wee hours in the Ocean Bar where you can dance the night away. And for confirmed do-nothings, how about a new release movie and hot, buttered popcorn? It's yours for the viewing, nightly in the ship's theater.
For me nothing can quite compare to a joyous journey "at sea." First, the thrill of boarding, standing at the rail and hearing the ship's horns sound their powerful blasts signaling our departure. Then, as we slowly slip away from the harbor, the horns sound once more as we enter open water. Typically, as the cruise begins, I check out my stateroom and find it cute and comfy, donning the life jacket and going through the safety drill is silly fun, and exploring all the decks, rooms and goings-on is way exciting. Departing is always fun - coming into our final port and debarking – not so much. I invariably feel: are we there already?!However, our last-night-at-sea party was rollicking and over-the-top, lasting well into the night and insuring happy thoughts to carry ashore.
Debarking, I thought back to something I'd learned while onboard: Holland America has a Ship to Shelter program where valuable and reusable goods from its ships are collected for donation to charities, serving people in need. Thus far guests and employees have donated over $1 Million - more good thoughts to take away.
The Line's motto: "Through excellence we create once-in-a-lifetime experiences, every time." That, they do.
IF YOU GO: www.HollandAmerica.com
Lead photo courtesy of Holland America. Aruba & Costa Rica images courtesy of Sloane Travel Photography.