The first thing one notices is the line-up of palm trees. Hundreds are planted in precise rows, creating a dramatic canopy that leads from the Punta Mita entry gates to your destination of either the refined The St. Regis Punta Mita Resort, the casually elegant Four Seasons Resort Punta Mita, or a luxurious private condo or villa.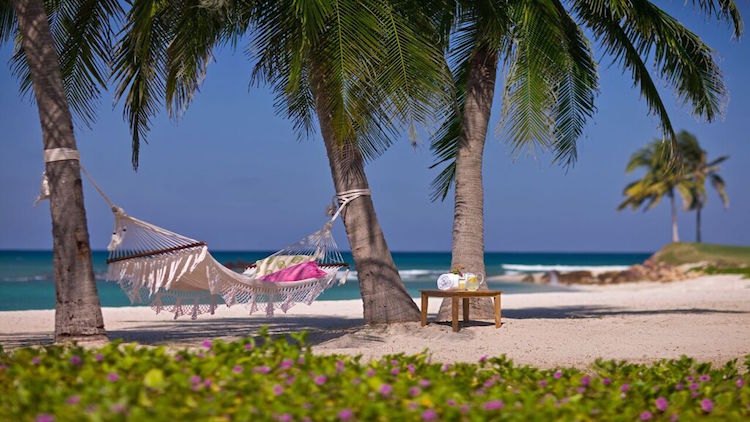 The second thing one notices is the serenity. This posh paradise provides room to breathe. You know those fantasy ads and commercials that portray a singular couple strolling a vast white sand beach, with no one else in sight? This is the Punta Mita reality. An empty hammock sways invitingly; rows of chaise lounges shaded by thatched roof umbrellas beckon. A favored spot by the pool awaits.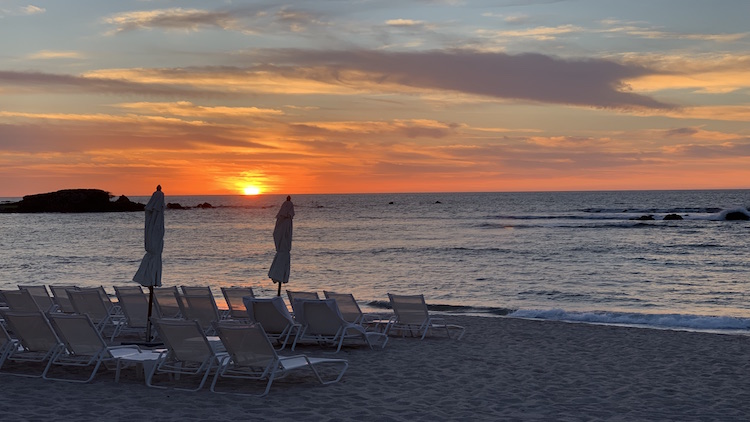 I confess. Hawaii has always been my go-to for tropical breezes and sandy beaches. I realize now I've missed out. How is it that the same sun that rises and sets upon the equivalent latitudinal lines as Hawaii shines more brilliantly in Punta Mita? I'm not sure, but it does. The Punta Mita sun sparkles and shimmers on the Banderas Bay and Pacific Ocean waters before setting each evening in a theatrical splash of color. Breathtaking hues of orange, pink, and purple inspire ooohs and ahhhs from the appreciative crowds who gather nightly to witness each spectacular 'performance.' And the food…. gourmet offerings at every turn starring the freshest fish, the creamiest guacamole, and the best corn tortillas you'll ever taste. And then of course there's tequila, in all of its glorious margarita formulations.
The 'Crown Jewel' of the Riviera Nayarit, Punta Mita is situated on a spear-shaped peninsula at the northern tip of Banderas Bay (the second largest bay in the Americas), and is nestled between the majestic Sierra Madre mountain range and nine miles of pristine beach fronting the turquoise waters of the Pacific. It's a mere 40-minute drive from the Puerto Vallarta airport, but the luxurious and private community might as well be a world away. The area features seductive natural beauty with a laid-back vibe, expansive white sand beaches, lush tropical flora, and historical significance that defines sense-of-place. The indigenous Huichol Indians believed the area provided spiritual renewal – and once you've experienced Punta Mita yourself, you'll be hard-pressed to deny this tenet.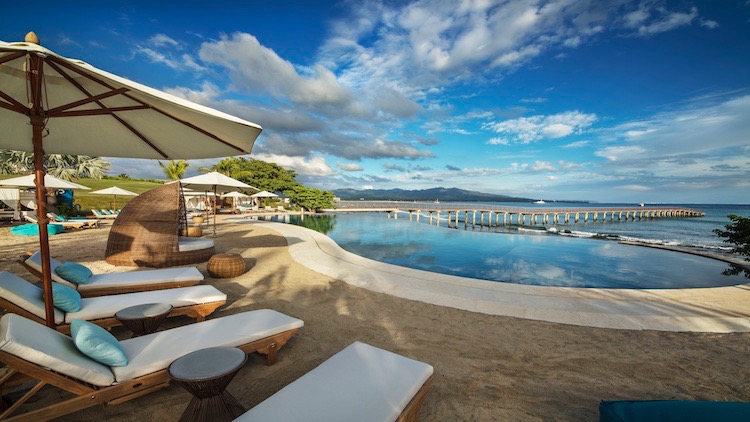 Sufi Beach Club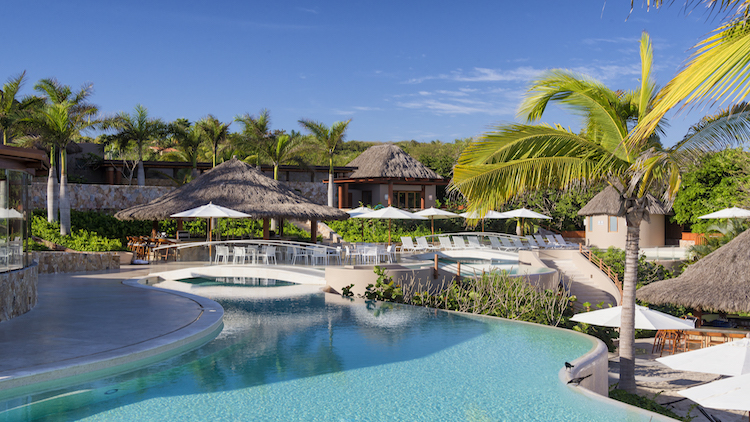 Kupuri Beach Club
A variety of lodging options ensure a perfect respite. Guests opting for the luxurious Mexican-style villas and condos (located throughout the property within 15 distinct residential communities) are provided access to the four spectacular Resident Beach Clubs, each with its own atmosphere and tenor. Golf carts come with most rentals, allowing quick and easy access to each of the four. The sparkling salt water pool at boho chic Sufi Ocean Club overlooks Banderas Bay and the Sierra Madre Mountains. Wooden cabanas and daybeds in hues of soothing cream invite lounging. The newly remodeled Pacifico Beach Club offers one of the area's best sunset views. Kupuri Beach Club overlooks Litibu Bay and offers tiered lounge seating, an infinity pool, and a DJ pumping a consistent rhythm of everything from reggae to French disco tunes, creating an utterly fitting and somewhat sexy vibe. And the Seabreeze Beach Club, located within the St. Regis, is located on what might be Punta Mita's most luscious stretch of white sand beach. Condo and villa guests also have access to a tennis center and the two world-class golf courses – Punta Mita Pacifico, featuring the famed 'Tail of the Whale' natural island hole, and the 18-hole championship Punta Mita Bahia course.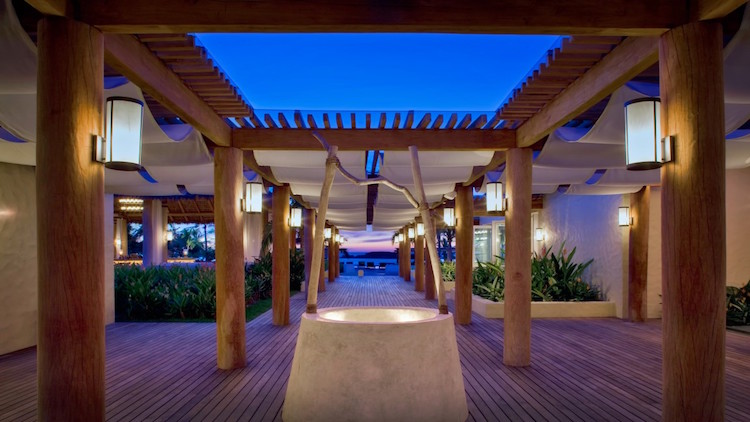 The St. Regis Punta Mita Resort
For a traditional full service resort experience, choose the refined grace of The St. Regis Punta Mita Resort or the casual elegance of Four Seasons Resort Punta Mita. With a mere 125 rooms located amongst three vast swimming pools and lush gardens, the St. Regis, even at full capacity, affords tranquility and peace. Summon your personal butler for nearly anything your heart desires. Luxuriate in an afternoon of pampering at the spacious and sumptuous Remède Spa. Enjoy a salt-rimmed margarita and commune with other guests at Altamira Cantina Gourmet, overlooking tiered pools that lead to the ocean. Indulge in an evening of haute cuisine at exquisite Carolina, the resort's prestigious Five Diamond award winning signature restaurant. On Friday evenings, take part in the St. Regis' Champagne Ritual, a tradition started by St. Regis founder John Jacob Astor IV. Join fellow guests at sunset as a ceremonial bottle is sabered in celebration of the transition from day to night.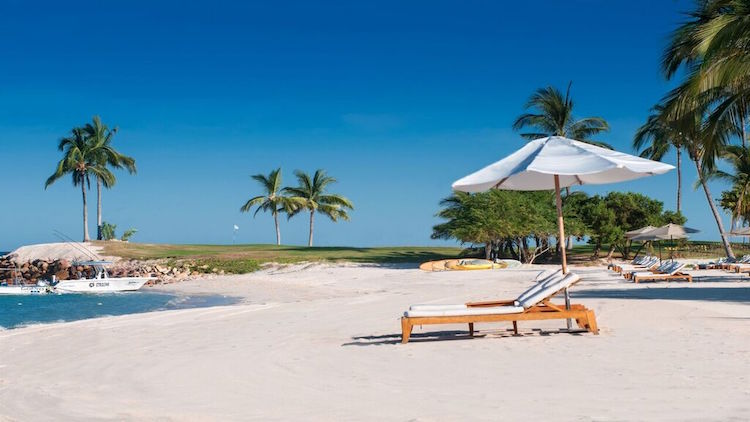 The St. Regis Punta Mita Resort
While the St. Regis is favored by romantics, the resort is also ideal for children; a menu of activities and experiences is offered daily, and a large grass area filled with lawn games fronts the wide sandy beach. In addition to Carolina and Altamira Cantina Gourmet, three additional restaurants provide dining options. Simply put, the St. Regis is gorgeous, the service impeccable, and the amenities over-the-top.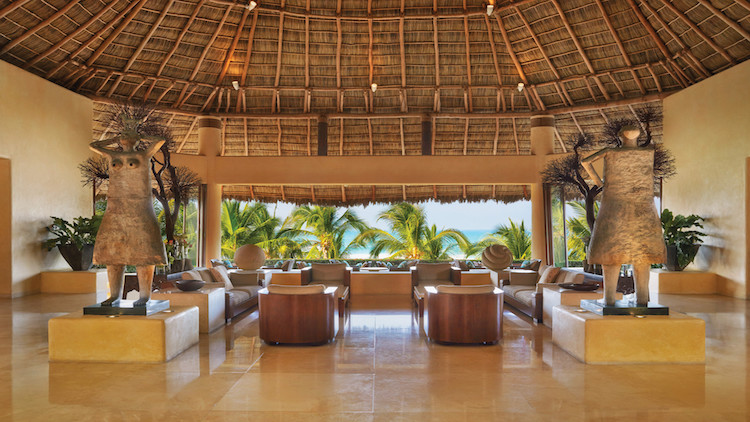 Four Seasons Resort Punta Mita
Located a short golf cart ride away is the fabulous Four Seasons Resort Punta Mita with it's museum-worthy collection of authentic artworks by local artists. Of equal note are the three infinitely Insta-worthy beachfront hanging 'lounge pods' that dangle cliffside, and the large infinity pool that hovers above the Pacific. With double the rooms of the St. Regis, this resort offers a bit more buzz. But serenity seekers are will find peace and quiet at Tamai, the adults-only pool complex, fronted by a large, thatched-roof shaded patio with day bed loungers and a stocked, help-yourself library of books.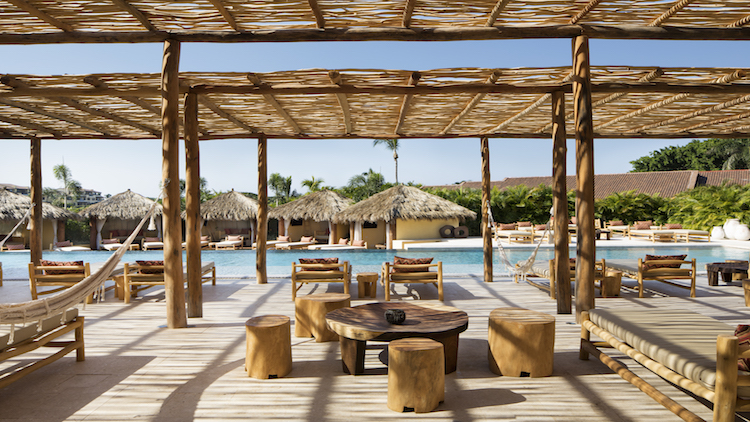 Four Seasons Resort Punta Mita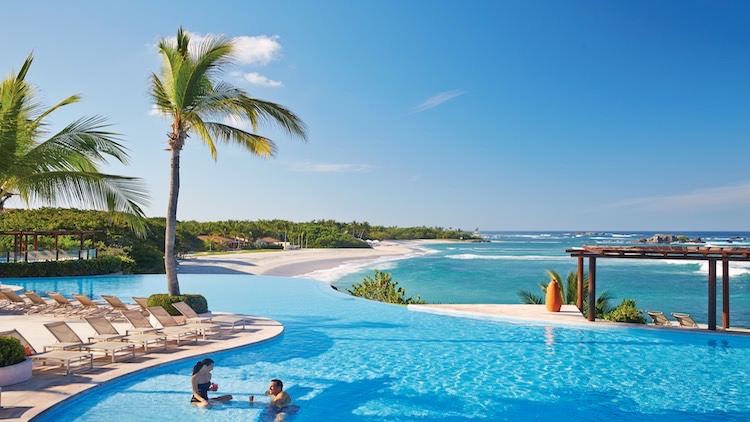 Four Seasons Resort Punta Mita
Whether lounging poolside or beachfront at Four Seasons, the offerings of fresh fruit, banana smoothies, fresh squeezed lemonade, and other treats are so consistent, the need for a chaise-served lunch of fresh shrimp tacos is nearly moot. Restaurant options include the newly renovated Dos Catrinas where traditional Mexican cuisine pays homage to varied culinary regions: Veracruz, Oaxaca, and Puebla. Aramara serves contemporary Asian cuisine with a touch of Mexican influence. (Don't miss the Hot Rock marinated New York Strip – thin slices of prime beef seared tabletop on just that – a hot rock.) The Tamai Pool features an adjacent sushi bar, the al fresco Bahia fronts the resort's Cuevas Beach, and the Shack Bar, serving premium drinks and small bites, is THE spot for sunset viewings. It's fronted by a cinema-like line-up of two rows of rattan chairs, perfectly poised towards the west.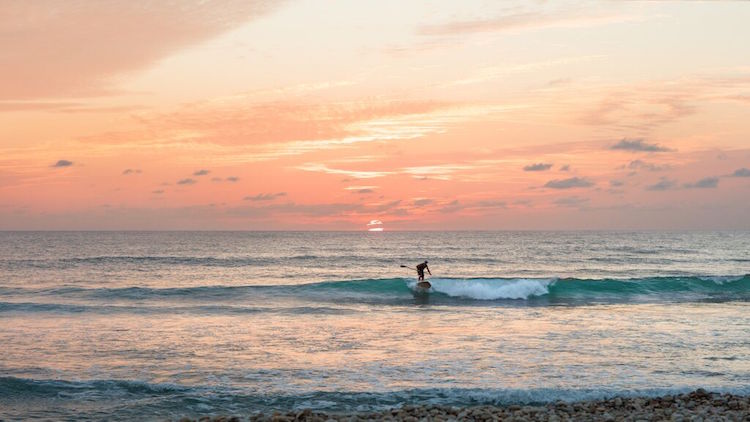 At each resort, and at each Beach Club, adventurers never run out of activities: surf lessons, paddle boarding, snorkeling, yoga, aqua aerobics, salsa dance classes, and more are offered on a daily basis. Blend your own tequila for the ultimate take-home souvenir with Four Seasons' cultural concierge. Head to the beach at 11:30am daily at both the St. Regis and Four Seasons to watch local fisherman deliver the 'catch of the day,' then place your lunch or dinner order directly with the resort's executive chef who is there to accept and survey the bounty. If visiting in the late fall, you might find yourself enlisted to help hatching sea turtles find their way from sand to sea – a heart-warming activity, as memorable as a Punta Mita sunset.
Photos courtesy of Punta Mita Resort