The brief preview we provide here shows how special this city really is. Paris has never been showcased as impressively, meaningfully, or dramatically as it is by the French photographer Serge Ramelli. His vision of the city-like all of his images-is unmistakably inspired by cinema. In addition to his second passion, filmmaking (which he does when he's not taking pictures), he is also fascinated by the films of Jean-Pierre Jeunet and Ridley Scott. Ramelli's interpretation of the bustling metropolis of Paris is at once impressive and fabulous. Pulsing with life both day and night, the city appears nearly devoid of people-a heavily symbolic place with many facets to explore, shining with an inimitable light.
• The metropolis of Paris, presented with Serge Ramelli's dramatic vision.
• A fabulous and fascinating tour of the city in an incomparable light.
• Film and photography meld into a black-and-white work of art.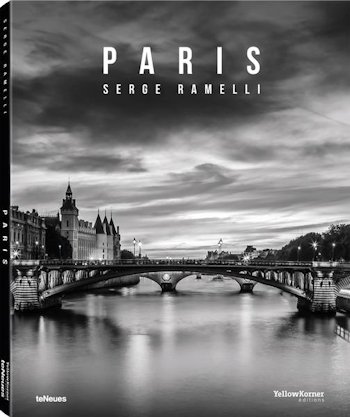 Buy book on
Amazon.com
Photo credit © Paris by Serge Ramelli, published by teNeues, www.teneues.com. PONT NEUF, ÎLE DE LA CITÉ, Photo © 2015 Serge Ramelli and YellowKorner. All rights reserved.