But, what if only the finest things will do for your next Paris trip? What would a fantasy luxury vacation in Paris actually look like, anyway? You'll be touring the Champagne Region for a little wine tasting, going out for dinner and a show at the Eiffel Tower and Moulin Rouge, and visiting the most popular theme park in Europe with
Disneyland Paris tickets
! So, sit back and relax! We'll take care of everything for you as we explore how the other half vacations in Paris!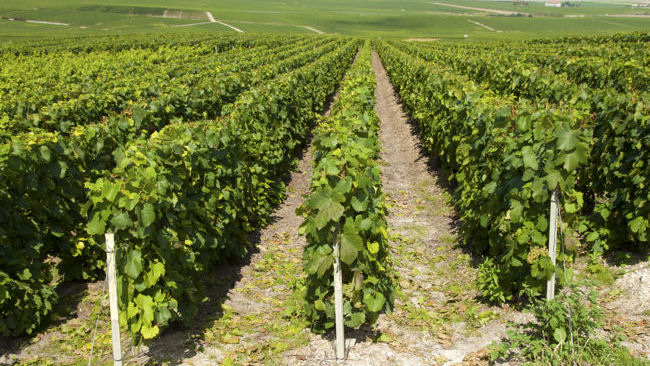 Champagne Taste
To start off your fantasy luxury vacation, you'll be getting away from the bright lights of the big city for a tour of nearby Champagne. An air-conditioned coach with a knowledgeable driver and tour guide will arrive at your hotel before embarking on an all-day luxury tour. Make sure to bring your appetite because you'll be having lunch at a quintessential Champagne Region restaurant. We hope you're thirsty, too!
First, you'll be visiting Hautvillers, the birthplace of champagne. This historic village is where Dom Perignon lived and worked. Here, you'll be invited inside the winery of Champagne Nicholas Feuillatte, where you'll learn all about the process of making wine before having a taste. Then, you're off to the town of Epernay for lunch at a restaurant that's typical of the region and provides local Champagne delicacies!
After lunch, you'll continue on to Reims, where you'll visit the Mercier champagne house. From grape-picking to corking, you'll learn it all from the winery's in-house expert. Then, it's time for another taste of Champagne before heading to the gothic Reims Cathedral for a short, local history lesson.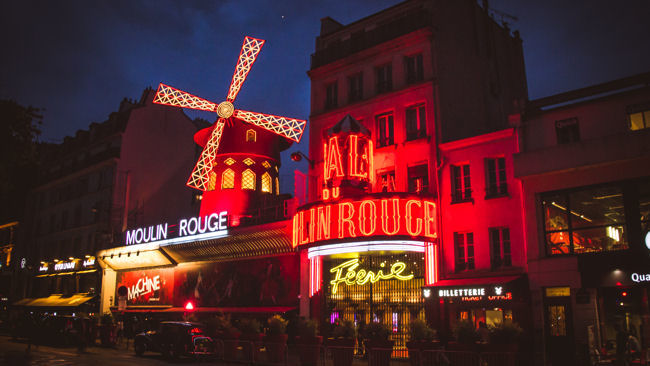 Moulin Rouge
By now, it's probably time for a little Paris sightseeing during your luxury vacation. So, get your
Eiffel Tower tickets
ready and bring your appetite! This is going to be one Paris tour that you'll never forget. A luxury mini-bus will pick you up outside your hotel and whisk you away to the iconic Eiffel Tower, where you will skip the line to the first floor and enter the 58 Tour Eiffel Restaurant. Choose your starter, main course, and dessert from Chef Alain Soulard's seasonal menu. We recommend the fillet of sea bream à la plancha, Haute-Provence's spelt risotto, and butternut squash with Champagne sauce, if it's available.
Then, you will be chauffeured to the docks of the River Seine for a nighttime sightseeing cruise in the City of Light. Notre Dame, the Louvre, and the Eiffel Tower light up the evening sky as you meander down one of the most storied rivers in Europe. Over 2,000 years of history will pass you by during the course of the hour-long pleasure cruise.
Finally, you'll know when you've arrived at Moulin Rouge when you see the red lights and the famous illuminated windmill. With performances dating back over 125 years, Moulin Rouge is, without question, the most famous cabaret in the world. And, you can watch the legendary French cancan in style with a complimentary half-bottle of champagne!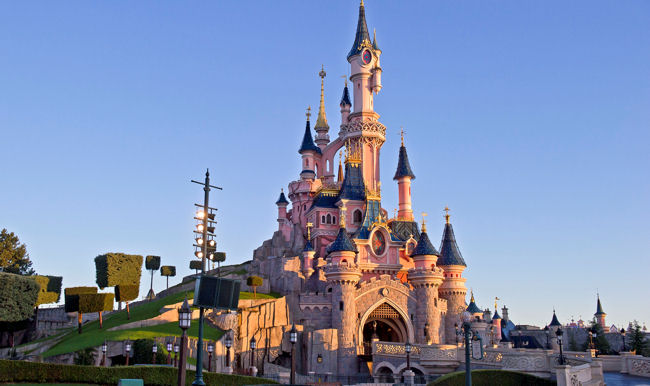 Mickey la Souris
What does Disneyland Paris have to do with luxury? Everything, if you know where to look! Booking the right hotel can mean the difference between waiting in long lines for rides and carrying a complimentary VIP FastPass for front-of-the-line access. And, you could do a lot worse than the 5-star accommodations at The Disneyland Hotel.
The opulence of the Victorian decor, complimentary valet parking, and free luggage service will make you feel like a star. Plus, since the hotel is located precisely at the entrance to the most visited theme park in Europe; so, you are sure to make the most of your
Disneyland Paris 2 Day 2 Park ticket
.