When Luisa Jaquin opened a small hat boutique on Via Roma in Florence in 1930, she had no idea that she was creating a business that would, in just a few decades, become one of the world's biggest luxury retailers. With her husband's help, she expanded her range to include clothes, but it was only when her grandson, Andrea Panconesi, became involved, that the boutique adopted a striking visual and commercial identity, setting it on the path to phenomenal success.
Now CEO of Luisa Via Roma, which he renamed in tribute to his grandmother, Andrea Panconesi, places the authenticity of the products at the very heart of his business. The products form the basis for a Concept Store whose core value is creative exclusivity. To echo this watchword, the prestigious partners of Luisa Via Roma create limited editions specially designed to reflect the Florentine brand that presents them. This exclusivity underpins the success of Luisa Via Roma, which aims to offer a genuine palette of experiences rather than just a means of purchasing. It proposes luxury as a way of life, not just something to be acquired.
Today sees Parmigiani Fleurier become the primary watchmaking partner of Luisa Via Roma. Possessed of authentic expertise and engaged in a ceaseless and unconditional quest for excellence, the Fleurier brand is distinguished by a very rare creative independence. It's perfectly verticalised manufacture allows it to create exclusive, custom timepieces perfectly aligned with the Florentine Concept Store.
By collaborating with Luisa Via Roma, Parmigiani Fleurier is adopting a new and innovative approach to retail and launching an original distribution network whose strength lies in the possibilities it offers for artistic demarcation, to provoke and stimulate curiosity.
Luisa Via Roma seeks out exceptional partners for creative collaboration. Parmigiani Fleurier is proud to meet this challenge and to join forces with a prestigious partner by sharing its independence of spirit and unconditional quest for excellence.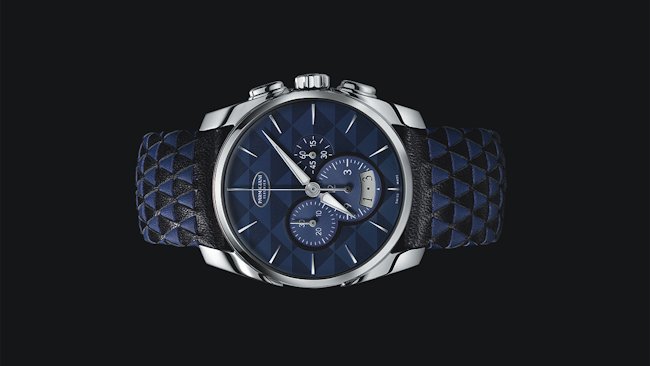 The special Tonda Métro Luisa Via Roma collection
Parmigiani Fleurier has reinterpreted its new Tonda Métro collection for a "Luisa Via Roma Special Edition", custom-made to reflect the exclusive spirit of luxury on which the Florentine brand's success is built.
This edition comprises the Tonda Métrographe men's and Tonda Métropolitaine women's models, and marries the urban modernity of this collection with the captivating allure of the fashion world.
These two watches take their aesthetic inspiration from chevron braiding. In this technique, the interlacing of leather produces a pattern of triangles that fit together in an inverted configuration to create a regular and harmonious surface with a singular relief. The chevron evokes the craft of weaving, as well as the world of leather goods and fashion. In addition, it reflects the visual codes of Luisa Via Roma (the Florentine brand's emblem is a triangle).
The Tonda Métro Special Edition has a chevron braided leather strap whose inverted triangle motif extends to the dial to ensure perfect aesthetic continuity of the piece as a whole.
The men's Tonda Métrographe is dressed in tones of dark blue and black. A contrast is achieved on the dial thanks to a galvanic treatment and a brushing/sanding technique to define triangular lines.
The women's Tonda Métropolitaine features light and extremely feminine tones – mother of pearl, sand-blasted opaline – complemented by the case setting.
The Tonda Métro Luisa Via Roma Special Edition builds a bridge between the worlds of watchmaking and fashion. It represents a coming together of two brands operating in distinct spheres of activity, linked by their values and harnessing the power of their differences.