Of all of the Ayres Hotels located throughout Southern California – and there are several – Allegretto Vineyard Resort is the brand's stunning showpiece. The passion project of Ayres Hotels Vice President Doug Ayres, the Italianate villa-style retreat sits within 20 vineyard acres high above Paso Robles and is the wine tasting region's luxe choice for discerning travelers.
171 sumptuously appointed rooms are each poised for optimal views of the valley or the vines; some have patios or balconies. Ceilings are high, marble bathrooms are spacious, linens are luxurious, and requisite cushy robes hang in the closets. Within the property, an inviting cabana-lined pool lies at the foot of the vineyard hill. An expansive, twinkle-lit, central terrazza provides a beguiling gathering spot. Fire pits line the front garden where a bocce ball court can also be found. A fleet of bicycles stands at the ready. Allegretto does not lack for posh amenities. But what truly makes the resort unique is Doug Ayres' passion. The world traveler has taken everything he has absorbed throughout his worldwide spiritual journeys and poured it into the resort's every nook and cranny.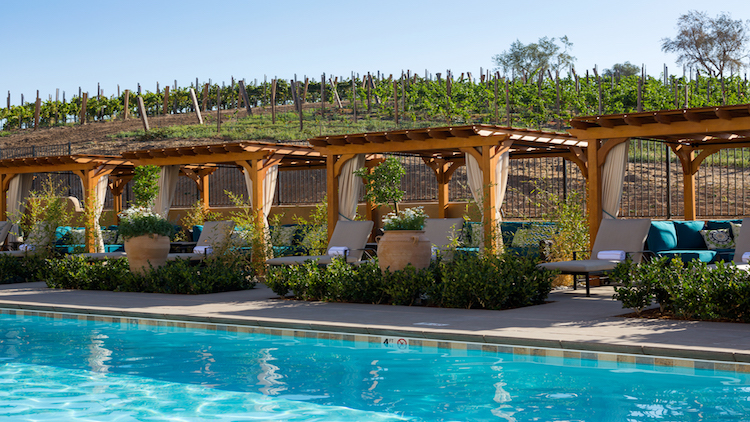 A cursory glance reveals artifact and objects d'art-filled spaces. But further examination (either via an art docent-guided tour, or via the Allegretto television channel loop) discloses the specific significance of the larger-than-life Buddha found at the end of the hallway, and the giant Sequoia tree slice that lines the living room wall. Ayres has personally selected every design item; he's placed every painting and hung every crystal on the many chandeliers. By delving deeper, you'll learn about his feng shui placement of the varied marble statues, or how and why he has precisely aligned the ancient garden obelisk.
The Russian impressionistic art hanging on the walls, the antique Thai pediments adorning doorways, and the artfully displayed geodes and crystals that line the vestibules might seem a mixed bag, but there is method to Ayres' madness. Every artful item is intended to promote goodwill, tranquility, and well-being. Ayres' even selected the terrazza's wine barrel Adirondack chairs, and he dares guests to find anything more ergonomically comfortable. He added two meditative labyrinths within the gardens – one with motion sensor sonic sound – the first such labyrinth in the world. And he built a tiny, non-denominational chapel with bell tower to fully complement the resort's Italianate architecture. It's a stunning site for small weddings, intimate dinners, or personal reflection. Rarely does a hotelier so intimately involve him/herself with the vibe and tenor of his/her property. Allegretto provides clear indication that Doug Ayres is no ordinary hotelier.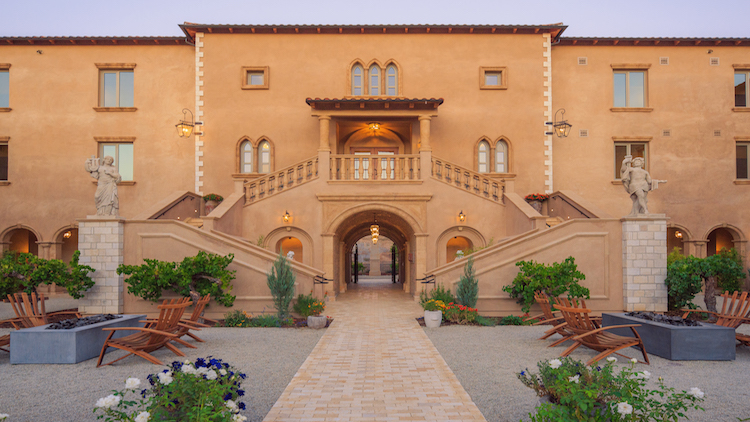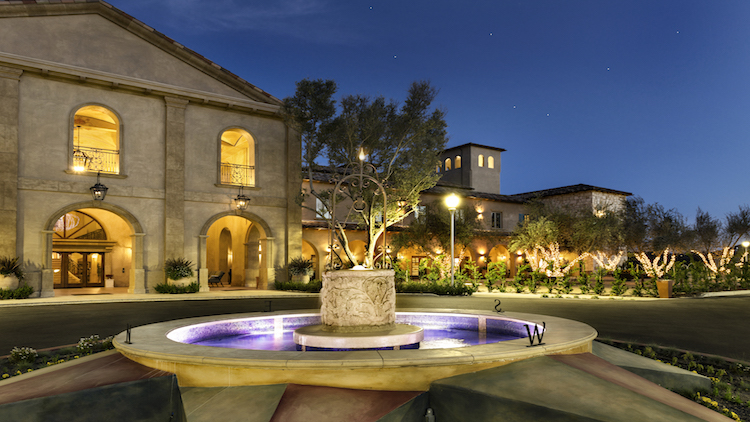 But Allegretto is much more than artisan eye candy. The resort is also home to one of Paso Robles' most popular eateries. Cello serves craft cocktails, local wines, and Mediterranen-inspired fare within its warm and welcoming dining room that opens to a breezy patio, from which the restaurant's herb and floral planter beds can be spotted. Cello's happy hour is already locally legendary, featuring well-priced flatbreads and wines by the glass, including a selection of varietals from the resort's own Allegretto Vineyards. Ayres' dream of building Allegretto was preceded by his winemaking dream and his purchase of several acres of prime Paso Robles vineyard land on which he planted Viognier, Vermentino, Malbec, Tannat, and Cabernet Sauvignon. The Allegretto resort and wine duality is truly a dream come true for Ayres, who can often be found mingling with guests in the resort's cozy on-site tasting room, just off of the main lobby.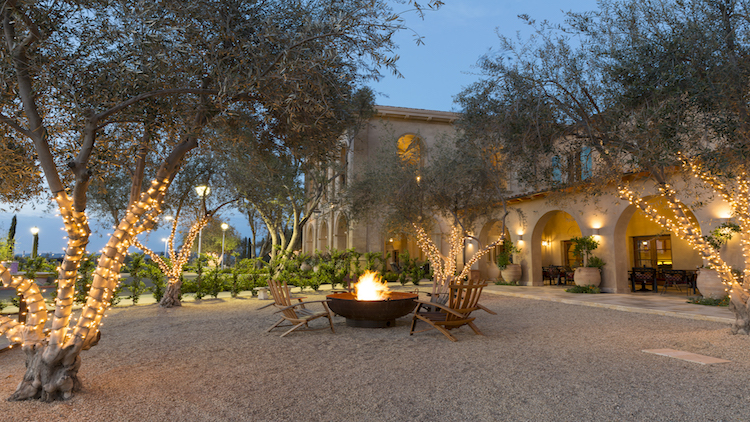 And if the labyrinth, ergonomic Adirondack chairs, and mesmerizing lobby chandelier that shimmers with ever-changing LED lights are not enough to induce the calm that Ayres attempts to promote, beeline to the sumptuous spa where six treatment rooms await. Lounge pre or post treatment within the sun dappled portico with a glass of bubbly, and toast to your good fortune, and to your serenity.
Travel Tip: Use the Allegretto as your jumping-off point for exploration of California's Highway 1 Discovery Route SLO CAL, a 101-mile stretch between Big Sur and Santa Barbara featuring expansive beaches, quaint hotels and restaurants, bike paths, room to breathe, and little traffic. A quick drive over Route 46 from Paso Robles places you in charming Cambria. Go north and explore San Simeon and Hearst Castle. Head south and discover small beachside communities such as Cayucos and Avila Beach, each featuring Pacific Ocean-jutting piers that beg for a stroll. This is a simpler side of California, long thought lost and gone forever. But it's real, and it's spectacular.