For the first time ever -- the Men's and Women's Open Golf Championships are being played in consecutive weeks -- both at the iconic #2 Course conducted at the fabled
Pinehurst Resort & Country Club
.
Pinehurst takes considerable pride -- justifiable I might add -- in celebrating it's "Village" connotation. Created in 1895 by James W. Tufts -- a New Englander who grew tired of the long and weary winters of the Northeast USA -- Tufts sought to create a "Village" in which people could congregate and celebrate time together without the constant clutter and bombardment that urban life -- even at that time -- was becoming.
Tufts sought the expertise of
Frederick Law Olmstead
in designing the Village of Pinehurst -- the man responsible for the creation of many legendary locations -- most notably Central Park in New York City. Pinehurst was owned by the Tufts through 1970 and for a period of roughly a dozen years -- lasting through 1982 -- the facility lost ground as new ownership changed the core of its greatness - most notably the famed #2 course. Fortunately, in July of 1984 Club Corporation of America (ClubCorp) based in Dallas, TX purchased the property for $15 million through a bankruptcy proceeding. Through the leadership of its founder -- the late Robert Dedman, Sr., -- Pinehurst initiated a major turnaround -- culminating with a 3rd Men's Open Championship in 15 years this week -- followed by the Women's Open event immediately thereafter the next week.
Pinehurst was incorporated as a municipality in 1980 and became a National Historic Landmark -- along with the resort -- in 1996. When there check out the downtown Putter Boy Shop -- run by the resort -- and highlighting the golf connection that lies at the core of Pinehurst. If he's available -- seek out owner Tom Stewart who can provide an amazing array of selections and offerings that encapsulate what it means to be in Pinehurst.
You can even tour 32 of the 38 original cottages built in the village from 1895-96. There is a self-guided walking tour. The Village is what Tufts envisioned -- an antidote to the constant pressures of daily life. Pinehurst and the greater Sandhills area has certainly evolved greatly since that time but the core of what the "Village" is remains alive and vibrant. No golfer can call their portfolio complete until a visit has been made. Like St. Andrews in Scotland -- Pinehurst and the Sandhills represents the embodiment of golf in America.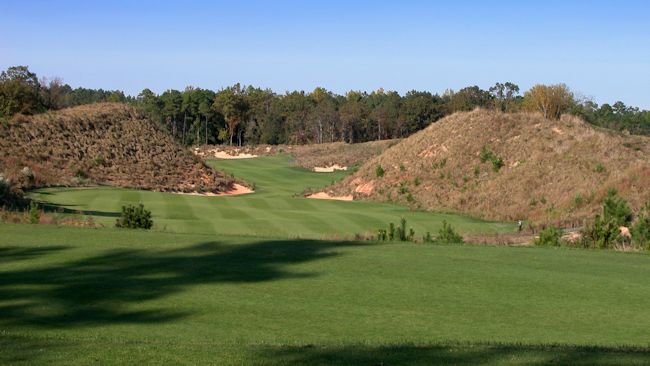 WHERE TO PLAY IN THE IMMEDIATE PINEHURST AREA ...
PINEHURST RESORT & COUNTRY CLUB -
Total of eight (8) courses under one roof with a 9th being added later this year -- the former Jack Nicklaus designed National Golf Club joining the fold. No question a round on #2 is a must for any core golfer but the high fees during prime playing times -- especially spring and fall -- can be a deterrent for many. Nonetheless, for those so inclined be sure walk #2 with a caddie and take in what all the greats of golf have done for many, many years. #2 is like an old classic movie -- the appeal comes from the dialogue, the camera angles - the story unfolding slowly but steadily. Design gurus Ben Crenshaw and Bill Coore splendidly restored #2 to its past intent -- a more natural and totally in sync course that honors its designer Donald Ross for what he originally envisioned.
Winter golf is always possible when coming and the rates do reflect the fall-off in play. In order of the other courses at the facility -- play #4, #8, #7, #5, #6, #1 and #3. Prices vary for each of the courses so it pays to check with the facility for the best rates / packages.
www.pinehurst.comTHE DORMIE CLUB -
Top tier layout from the handiwork of Ben Crenshaw and Bill Coore -- the men responsible for bringing back to life the qualities of Pinehurst #2. Located a short drive away from Pinehurst in West End and a certain "must play" when visiting. Crenshaw and Coore are believers in letting the land show its hand and they have cultivated a rich mixture of quality golf holes here.
www.dormieclub.com
PINE NEEDLES and MID PINES -
Pine Needles has hosted the Women's Open three times and is quite challenging while still providing a good bit of elasticity for all levels of players. Mid Pines is a good companion layout but overall less intense from a shotmaking perspective. Both courses are Donald Ross layouts and the turf quality is generally superior.
www.pineneedles-midpines.com/golf-courses
SOUTHERN PINES -
Not a long course at under 6,300 yards but very reasonable and quite attentive to customer needs. The Donald Ros design is nicely done with greens that repel only the most surest and soundest approach shots. Great deal for golf for the dollar conscious player.
www.southernpinesgc.com
TALAMORE GOLF CLUB -
Architect Rees Jones provides a public layout worth trying that is playable and at times requires a deft touch around the vexing putting surfaces. Prices are also reasonable.
www.talamoregolfresort.com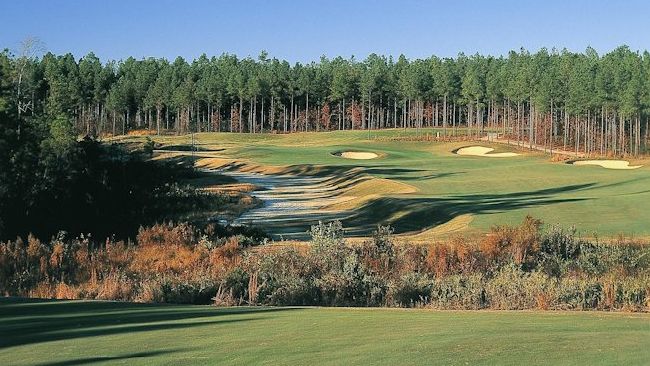 Anderson Creek Golf Club
VICINITY COURSES WORTH EXPLORING ...
ANDERSON CREEK CLUB - Spring Lake, NC
The best aspect in playing Anderson Creek is its isolation from everything else. Within an easy drive from Pinehurst and the greater Fayetteville area, the Davis Love III designed course is the first layout the PGA Tour star and this year's Ryder Cup captain designed in his home state of North Carolina. Anderson Creek is blessed with superb terrain that rolls up and down but never abruptly. Be sure to include it when in the area.
andersoncreekgolf.com
.
BAYONET AT PUPPY CREEK - Raeford, NC
Just 30 minutes from the Village of Pinehurst is a sleeper of a course worth checking out. When you enter the grounds at Bayonet at Puppy Creek one has little idea on what lies ahead. The 1st hole is a vanilla starter but as the round progresses the hidden recesses of the property comes to life quickly. Bayonet at Puppy Creek proves what public golf can be – focus attention on the layout and provide turf conditions that add considerably to the design itself. Pound for pound – the course gives you one of the best bangs for your buck in the overall area.
bayonetgolf.com
.
TOBACCO ROAD - Sanford, NC
Roughly 35-40 minutes north of Pinehurst is a layout that elicits plenty of comments. Designed by the late Mike Strantz -- Tobacco Road is an outside-the-box design that rewards constant thinking and sound placement. Tobacco Road belies the belief that inordinate length is needed as a deterrent to high tech equipment gains. A great counterpoint to the design philosophy of Pinehurst #2 and clearly after you play the course there will be little doubt as to whether you love or detest it. I am guessing you will opt for another round right away -- fun and never boring are the watchwords here.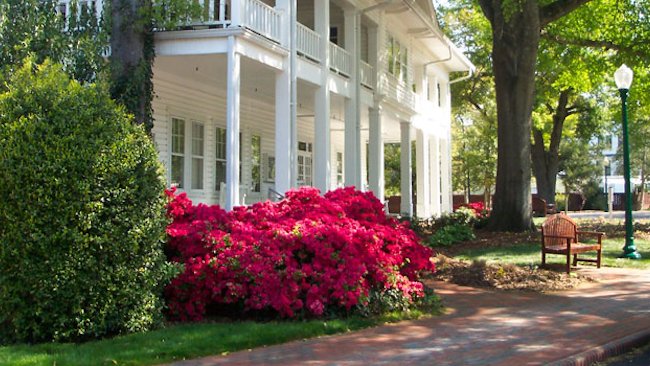 Pinehurst Village Center
WHAT TO DO -- BEYOND THE GOLF ...
Shop in Village Center --
www.vopnc.org
. This week and next, the US Open Experience (fan interaction and entertainment) is in operation all day and until 11:00 pm each night. A series of concerts are planned nightly.
Tufts Archives located in Given Memorial Library --
www.tuftsarchives.org
. Interesting displays and information on the history of Pinehurst and the development of golf in Pinehurst from 1900 forward from its inception from founder Tufts and the involvement of legendary Scotsman and golf course architect Donald Ross.
Visit Rassie Wicker Park and the Arboretum. Active recreation park that connects to seven miles of trails throughout the Village that are excellent for walking and/or biking.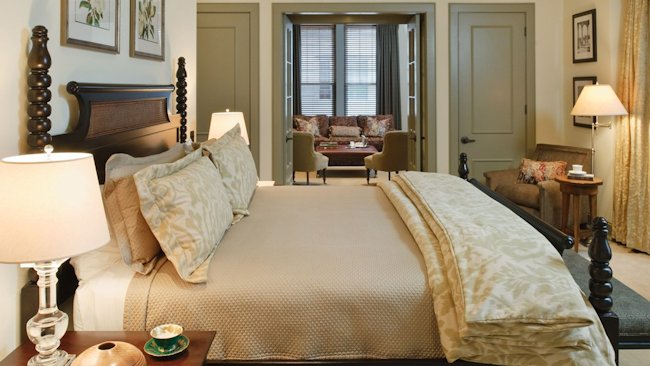 WHERE TO STAY
Carolina Hotel --
www.pinehurst.com/accommodations/the-carolina-hotel
. Opened in 1901 and just steps away from the famed golf courses of Pinehurst. The architecture of the building still resonates -- be sure to check out the verandas, the classic rooms and the nearby spa.
The PineCrest Inn --
www.pinecrestinnpinehurst.com
. Located in the core of the Village of Pinehurst. Staying is highly recommended -- but at minimum a visit is a must for the ambiance provided. Food is well prepared and the commitment to customer service is second to none when in the area. Once owned by Donald Ross.
The Magnolia Inn --
www.themagnoliainn.com
. For those seeking understated elegance -- a visit to The Magnolia Inn is a must. 115 years old but the mileage is never noticed. Provides ten (10) well-appointed rooms. Elegance and style never grow old here.
The Holly Inn --
www.pinehurst.com/accommodations/the-holly-inn
. Opened on New Year's Eve in 1895 -- provides a look back at olden days before the pace of life quickened. Well preserved and includes a staff attending to every detail for the visitor.
Mid Pines --
www.pineneedles-midpines.com
. Built in 1921 - Georgian-style Inn -- along with Villas -- lies at the heart of Pine Needles and MidPines sister facilities. 103 total rooms the grand old inn also showcases a full range of antiques scattered throughout the facility.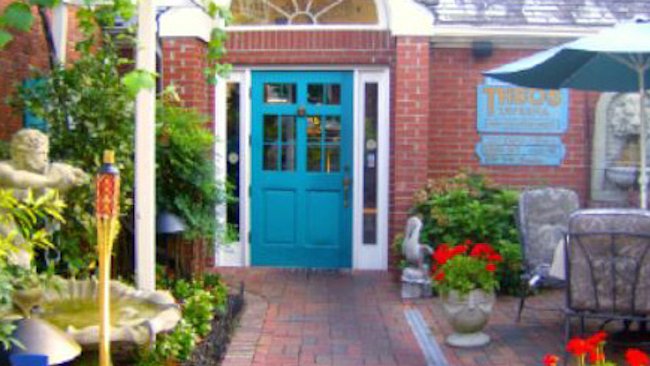 Theo's Taverna
WHERE TO EAT
Theos Taverna --
www.theostaverna.com
-- located on Chinquapin Road. Superb Greek food with a winning environment.
Maxie's Grill and Tap Room --
www.maxiespinehurst.com
-- located on McIntyre Road. Some of the best beer and company you can find in the Village.
Ten Ya Japanese Cuisine & Sushi --
www.ten-ya.com
-- located on Market Square. Equal to any top tier Japanese restaurant serving the larger-sized cities.
Dugan's Pub --
www.duganspub.com
-- located on Market Square. A quality Irish pub with the best fish and chips and the second best cold beer.
Linda's Café -- (910) 295-3292 -- located on McCaskill Road. Short order food is their specialty with the best breakfast -- be sure to try the bacon, egg and cheese sandwich.