Situated on a picturesque mountaintop in the Pocono Mountains, Skytop envelops a serene setting and peaceful charm that has been attracting generations of families -- along with couples and newlyweds -- since it opened its grand doors in 1928. It is widely considered the "crown jewel" of Pocono resorts.
The stately Lodge at Skytop is the centerpiece of the resort. Built in the Dutch Colonial style, it began as a retreat for the recreation and enjoyment of Skytop's original members and guests. With a magnificent fieldstone facade, the Lodge is mistaken by many first time guests as the hotel in "The Shining," Stephen King's popular book and movie.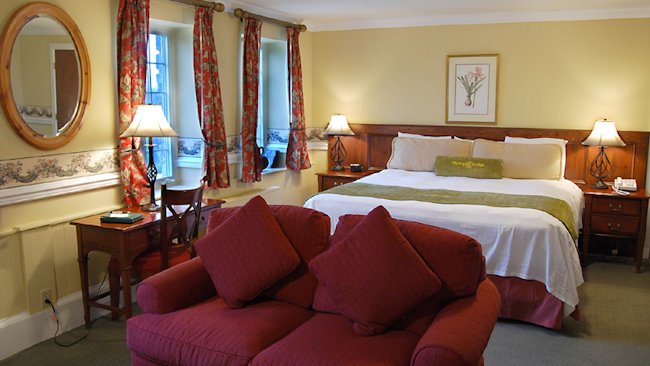 It stands as a beautifully maintained tribute of a bygone era and features 125 guest rooms and suites in three configurations. Each is uniquely furnished in English country-style designs, as well as charming accents like plaid wools and pillow shams. The inviting wrap-around porch provides guests with splendid views of the Pocono Mountains and Skytop's 75-acre lake.
The Inn at Skytop is reminiscent of a European ski chalet using the same mountain stone as the main lodge, with exposed beam ceilings and rich woods, while the work of local artists accents the walls. Guest rooms have private porches that provide views of the golf course and the surrounding mountains. Each room is spacious and modern, offering guests king-size beds dressed in plush comforters, wireless Internet access, gas fireplaces, Jacuzzi tubs and more. The 18 guest rooms have 300 count linens and custom cherry wood desks.
The Streamside Cottages are elegant and very private, nestled between the 18th fairway and a clear mountain stream. Secluded porches provide the perfect venue to idle the day away. They are ideal for families, family reunions or wedding parties as each cottage consists of four interconnected bedrooms.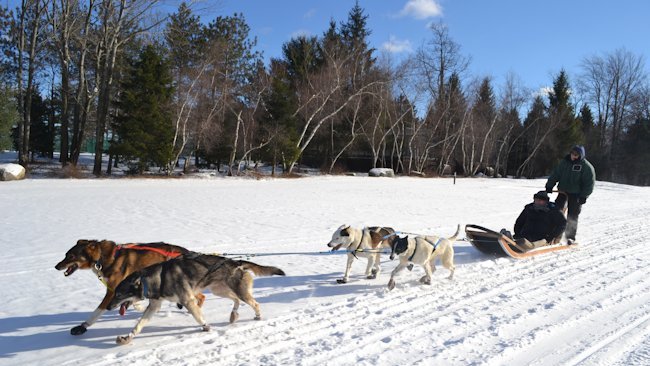 Benefiting from 5,500 acres of pristine landscapes, Skytop's adventurous activities, such as swimming, skiing, ice skating, hiking, kayaking, canoeing, and a rock climbing wall provide families and couples alike with an array of outdoor options. Indoor fun includes laser tag, pilates, ping pong, and even a miniature version of miniature golf. A true four season destination resort, Skytop offers more than 40 activities for families and couples. Boredom is not an option at the resort, but the opportunity to merely relax by the lobby's fireplace or near the lake with a good book is always an alternative to the sporting activities.
Looking for something out of the ordinary, we spent a very enjoyable hour with Kim Darst, the first person from New Jersey to participate in the grueling Iditarod Dog Race in Alaska. Along with Jean Pollock, Darst oversees the dog sledding at Skytop. Pulled along by four Alaskan huskies, guests whisk across the snow covered golf course and even get the chance to "mush" the dogs during the brief ride.
Overhearing a nearby dinner guest rave about his spa treatment, we decided to receive a little pampering ourselves and scheduled a Swedish massage, the classic European body massage technique uses soothing, relaxing strokes to increase circulation, improve skin and muscle tone and help you achieve total relaxation. It didn't take long to sink into total oblivion as the experienced therapist worked her wonders.
Other therapies include deep tissue, aromatherapy and pre-natal, which alleviates the many physical and emotional challenges resulting from pregnancy, such as muscle aches, fatigue, headaches and water retention.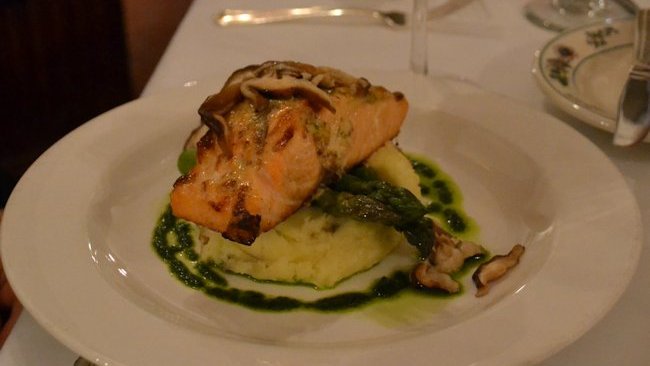 Food is serious business at Skytop, and guests are treated to gourmet dining from morning to night. Executive Chef Stevan Sundberg has been at Skytop for 25 years and sometimes oversees as many as 2,200 meals on a Saturday. Such could be a daunting task for even the most experienced chef, but Sundberg, assisted by his highly skilled Executive Sous Chef, Bill Seitzinger, takes it all in stride.
This is not your typical cruise ship fare for the masses. On the contrary, guests who gather in the stately Windsor Dining Room are offered an eclectic menu that includes such delectable entrees as sautéed fluke filet, pommes frites, bok choy, with lemon beurre blanc, or caraway and cinnamon rubbed pork loin mignon, smashed potato, asparagus, with tart apple whisky demi glace. There are normally seven choices of entrees each evening, which often include game, duck and venison. To maintain a level of classic elegance, men are required to wear jackets while enjoying the innovative cuisine in the Windsor Dining Room.
Sundberg, a Brooklyn, New York native, thrives on the creation of gourmet meals such as his speciality, Gravlax cured salmon in a salt, sugar and dill brine, spicy fish stew in a saffron broth and ceviche, and ahi tuna sliced thin with lime juice, pod sprouts, sesame seeds and spicy pepper sauce. The chef uses only fresh stocks and herbs and infuses such influences as southern, Asian, and Latin into his choice of entrees each evening.
Our meal began with a grilled vegetables appetizer of eggplant, fennel, portabella mushrooms, squash, roasted pepper and Asiago cheese wedge along with Torta di Granchio, a sautéed jumbo lump crab cake served over wilted baby arugula with basil aioli. The sumptuous appetizers set the tone for the ensuing savory entrees. Throughout the evening, impeccable service was the standard.
Choice of soups included Consommé with wild rice and fine herbs, sweet corn and lump crab chowder -- a delicate blend that pleased the palette -- or chilled cantaloupe and vanilla coulis. We chose a Frisse salad with toasted walnuts, apple, grapes, candied bacon and blue cheese dressing, which was delightfully crunchy and packed an assortment of flavors.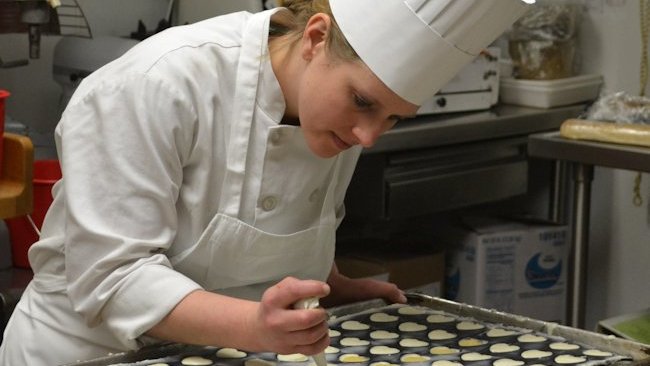 A word to the wise. Always leave room for dessert, especially such decadent creations as a white and dark chocolate truffle with puffed rice, green tea, cranberry cinnamon goat cheese creme brulee. This truffle is as close to a spiritual event as dessert can be and is paired exquisitely with Banfi Rosa Regale, Italy, '10, a sparkling red dessert wine. Pumpkin Pie Crisp is a mousse with almond sponge cake, gingersnap cookie crumbles, vanilla cremeux, caramel crème anglaise, caramelized zucchini leaves and candied walnuts. Recommended wine is Inniskillin Ice Wine Cabernet Franc, Canada '07. All desserts are made in-house.
Chef Sundberg must artfully accommodate a wide variety of dietary requests, such as vegan and gluten free meals, and will talk with guests prior to preparation of kosher foods in order to ensure perfection. With his reliable kitchen staff of 37, all of whom busily go about their business of preparing meals fit for a king, Chef Sundberg also supervises the menus for over 100 wedding receptions each year, and there's not a prettier place in the Poconos to be married. Chef Sundberg personally meets with brides to ensure that their big day meets all of their expectations from a culinary standpoint. He somehow finds time to offer such unique culinary events as Harvest Festival, Kids Cook and other theme weekends to provide an interactive culinary experience.
The Wine List is reminiscent of the property's style, offering famously lavish old world choices such as Chateau Meraux, dating back to 1945, at $4,800 a bottle and new world choices, which are more predominant and priced at $45 per bottle and up. Skytop has won the Award of Excellence from Wine Spectator Magazine for ten consecutive years.
Breakfast features traditional omelets and French Toast. Guests who want to arouse their taste buds can try Scrambled Tofu, scallions, tomato and spinach or Smoked Brook Trout with Crème Fraiche, Caviar and flat bread.
Lunch is not merely an afterthought at the Windsor, and includes a juicy Angus burger with crispy fries, Bucatini Corti pasta sautéed with extra virgin olive oil, shaved garlic, grape tomatoes, basil and Kalamata olives, or a three egg farm fresh omelet with smoked salmon and goat cheese.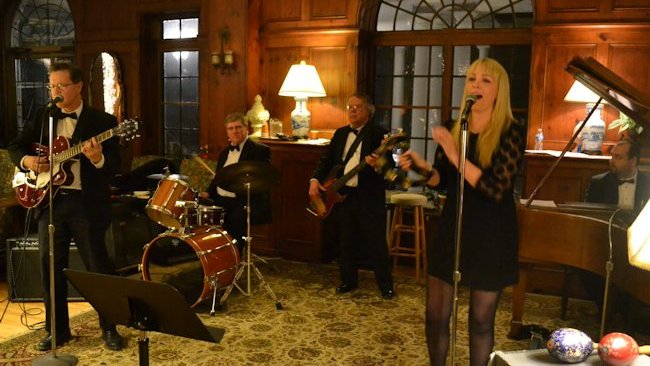 One of our favorite parts of our visit was the Doug Smith orchestra, who performed in the lobby area after dinner. Catering to the many families in attendance, Smith and his six-piece band -- including a very talented vocalist -- played a variety of classic dance tunes to the delight of both the parents and kids who expended more energy than one can imagine. On special occasions, such as weddings and several "big band" nights at the Lodge, Smith will bring his full 16-piece orchestra to the ballroom for an evening of sheer nostalgia as they play from the renowned American songbook of the 1920s-50s. Close your eyes and you'll swear you're at the Copacabana in New York City.
Skytop is a hidden gem waiting to be discovered by families who truly desire to spend some quality time together, or by couples who want a romantic getaway in an eloquent setting. While nature provides a breathtaking backdrop, luxurious accommodations, attentive service and epicurean delights make Skytop an exceptional find.
Conveniently located in northeast Pennsylvania, only 90 miles from the hustle and bustle of New York City, Skytop offers urbanites the chance to experience a tranquil, fun-filled vacation at one of the most luxurious family resorts in the entire eastern U.S.
More information:
www.skytop.com
PHOTO CREDIT: John McGauley