Conceived with local naturalist guides this voyage to "the land of the long white cloud" takes in two UNESCO World Heritage sites. All three sailings in January 2016 are on Le Soléal (132 staterooms and suites) accompanied by a New Zealand history expert.
"For over 25 years, we have been taking passengers to mythical places and giving them unforgettable experiences amidst spectacular scenery and authentic encounters. Our PONANT teams' expertise has enabled us to put together a fascinating and very special program," says Jean-Emmanuel Sauvée, PONANT's CEO.
Leaving from Milford Sound or Auckland, these itineraries embrace some of the country's most beautiful places:
SAILING IN MILFORD SOUND AND DUSKY SOUND


In 1770 Captain James Cook was the first European to discover these two fjords in the South Island, both of which are UNESCO World Heritage sites. With its snow-capped peaks and rugged slopes covered in ancient forests, the more famous Milford Sound is home to penguins, seals, dolphins and whales. Less well-known because of its remote location, Dusky Sound extends 40km inland amidst stunning, untouched landscapes.


Akaroa - Christchurch - Milford Sound (16 days/ 15 nights)
From 10,240 USD per person
MAORIS IN ROTORUA


Located in the centre of magnificent volcanic scenery surrounded by forests, geysers and sparkling lakes the colour of jade, the small town of Rotorua is the cradle of Maori culture. Also on the programme is a visit to meet warriors in the coastal village of Waimarama.


Auckland - Milford Sound (10 days/ 9 nights)
From 3,670 USD per person
MARLBOROUGH SOUNDS REGION


The Marlborough Sounds offers a spectacular setting of remote bays, tiny islands and deserted coves as well as the famous Queen Charlotte fjord, home to terns, cormorants, seals and blue penguins.


Auckland - Milford Sound (10 days/ 9 nights)
From 3,670 USD per person
WELLINGTON & AUCKLAND: TWO CITIES TO EXPLORE


Wellington has a truly unique atmosphere where traditional painted wooden houses contrast with an avant-garde culture.


Auckland is built on and around an isthmus studded with extinct volcanoes and boasts an extraordinary panorama across two bays dotted with islands. Here, Nature in all her glory blends harmoniously with a sophisticated ultra-cosmopolitan metropolis where communities from the Pacific and Europe live side by side.
Milford Sound - Auckland (10 days/ 9 nights)
From 4,040 USD per person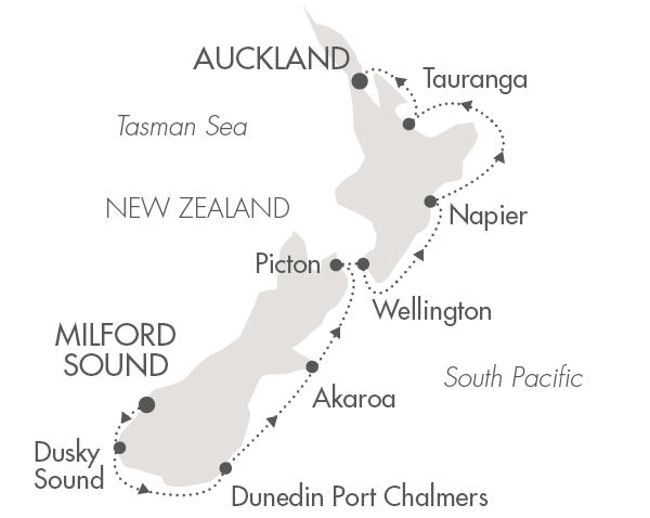 Founded in 1988 by Jean-Emmanuel SAUVÉE and a dozen merchant navy officers PONANT has four intimate cruise ships, flying the French flag and embodying the essence of a private luxury yacht. Every year more than 20,000 guests sail with PONANT and in 2013 revenue topped €100 M. The ships in the PONANT fleet all sail under the French flag, considered to be the safest in the world according to the international classification by the Paris MOU (Memorandum of Understanding).
Berthing in ports only accessible to small capacity ships, Le Ponant (32 staterooms), Le Boréal, L'Austral and Le Soléal (132 staterooms and suites) explore the Poles, North Europe, Mediterranean, the Caribbean, Central America, South America, Asia and Oceania on cruises ranging from three to 21 nights. From five-star Expeditions to themed cruises (music, gastronomy, golf, lifestyle...), via 'cruise-circuits' offering a wealth of fascinating shore excursion programs, every voyage is a unique and exceptional experience. The latest eco-friendly technologies, attentive service, bilingual crew, luxurious staterooms and suites, an elegant, sophisticated cuisine and meticulously planned excursions guarantee a voyage that is unique and full of emotionally moving experiences.
In May of 2015, PONANT, the only French cruise line and world leader in polar cruises, welcomed its fifth ship, Le Lyrial.