Ponta dos Ganchos Exclusive Resort
is situated on a privately owned peninsula between two charming fishing villages "Ganchos" and surrounded on three sides by a bejeweled emerald sea. Couples come to explore the beauty and indulge.
Twenty-five bungalows nestle seamlessly in the landscape facing three tiny islets and Brazil's picturesque mainland across the bay. The resort is adults-only and its small sandy beach was named one of the 'World's Sexiest Beaches' by Condé Nast Traveler. There are no little ones here with pail and shovels. The sea is crystalline and serene, perfect for lovers. Just steps from the beach, a thatched restaurant serves lunch and is illuminated by torches for dinner.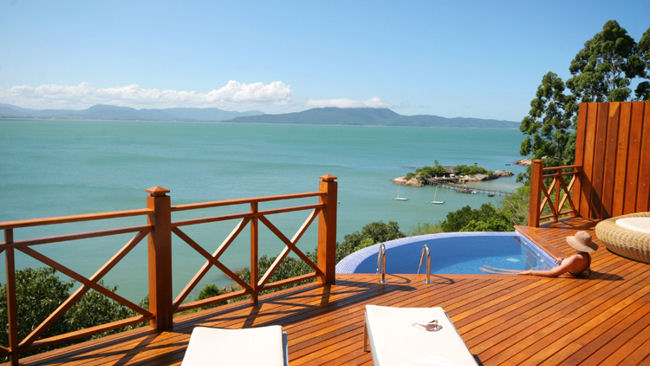 Ponta Dos Ganchos Emerald Villa Bungalow fan-shaped infinity plunge pool
The chic, contemporary interior and exotic setting of our private villa is out of a James Bond movie. Up-to-the-moment features include a 50" LCD TV mounted above a sleek fireplace with home theatre playing intimate Brazilian samba rhythms. Chilled champagne awaits us on the coffee table. The living room features a wet bar with Nespresso machine and temperature controlled wine cooler. The huge outdoor terrace is suspended over the cliff and I imagine Agent 007 entertaining in the fan-shaped infinity plunge pool and making a dramatic exit by helicopter at the resort's helipoint.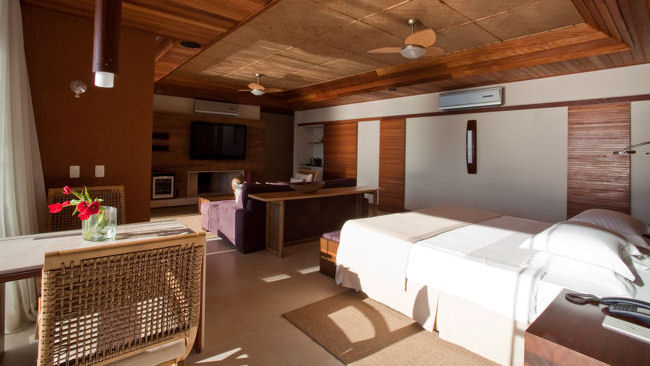 Ponta Dos Ganchos Special Emerald Villa Bungalow interior
Our luxury "Emerald Villa Bungalow" (#24) features even more superlatives including a circular whirlpool bathtub and dry sauna, both with sea views! Spacious double bathrooms have separate his-and-hers facilities, washbasins and twin rain showers in a garden setting. On our way to breakfast, we take a peek at the resort's facilities that include a hilltop tennis court and fully equipped gym and indoor pool suspended in a natural treehouse setting. A billiards room, library and private cinema are attached to the restaurant that serves breakfast.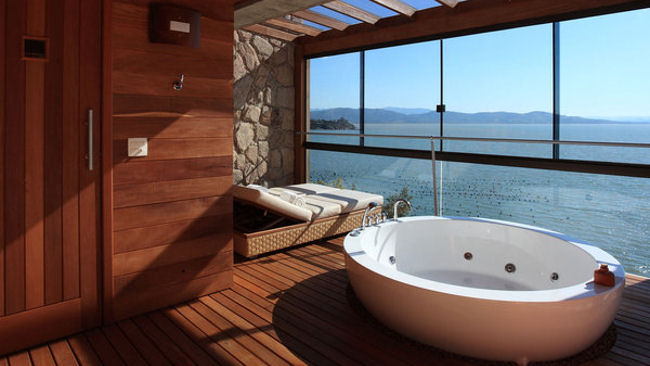 Ponta Dos Ganchos Emerald Villa Bungalow #24 sauna/relaxation area
Our table on a wooded terrace overlooks the quaint fishing village of Ganchos de Fora. The sun ripples across the bay bobbing with fishermen's boats and oyster nets. Breakfast is at any hour of the day. Ponta Dos Ganchos caters to any request or whim. We are served a 10-course tasting menu (that changes daily) featuring mini versions of everything from a kale, pineapple, and lime shot to yogurt with red fruits and almonds to baked quail eggs with spinach cream and Brazilian pastry rolls filled with papaya.
We consider taking a speed boat tour through Dolphin Bay (Isn't that the way James would travel?) to the Chapel of Nossa Senhora da Piedade, a Portuguese colonial church built in 1738 and now a World Heritage Site. The resort can also arrange for scuba or snorkeling at Arvoredo Island, a protected Marine Reserve considered one of the best diving sites in Brazil. We opt for a morning spent paddling on the glistening bay for a closer look at the tiny fishing villages and a way of life that has existed since time immemorial.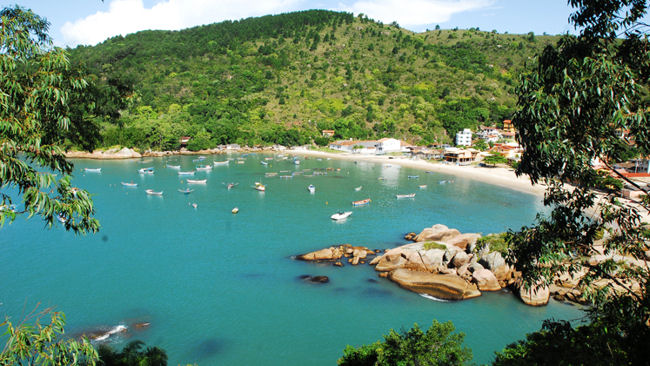 View from Breakfast Terrace of Ganchos De Fora fishing village
In the afternoon we don our terry robes and are whisked by golf cart to seaside spa tents shaded by Eucalyptus trees. Dior Spa treatments are given in three tents at the tip of the peninsula with views of the sunset -- a perfect way to wind down into a Champagne- and star-filled night.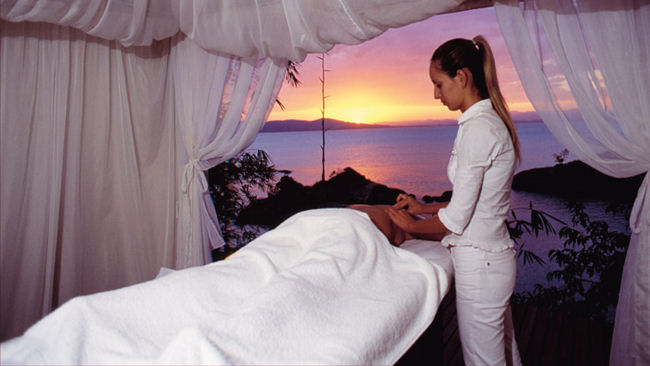 Ponta Dos Ganchos seaside spa tent
We arrive for dinner and are escorted across the footbridge lit with tiki torches to a thatched pavilion on the resort's private island for an intimate candle-lit 6-course meal. (This must be booked well in advance since only one couple per night can dine here). Jazzy Brazilian Bossa Nova and Samba rhythms set the mood. Our charming waiter hands us personalized menus printed with our names and date as a remembrance. Each course that arrives is paired with a different wine and we linger for hours under the stars.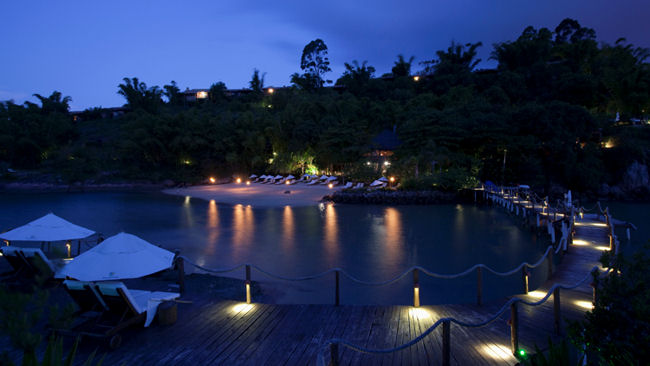 Ponta Dos Ganchos footbridge with tiki torches
The next day we decide to take a resort-organized tour to Florianópolis, nicknamed "Floripa" by locals and also known as the "Island of Dreams." Our destination is both a city and an island, connected to the mainland by bridge. Founded in 1726, it is now a jet set hotspot and surfing mecca. We travel the 25 miles (40 km) by private executive car and get a glimpse of the countryside, rainforest and charming fishing villages.
In downtown Florianópolis, Portuguese colonial architecture and winding cobbled streets mix with sparkling skyscrapers. We visit the historic Public Municipal Market dating from the 1800's. We meander through the market's colorful stalls called "boxes" where there are numerous bars and restaurants with patios. We stop in at the lively
Box 32
, known as "the most democratic bar in Brazil" since it attracts everyone from locals and tourists to politicians and movie stars.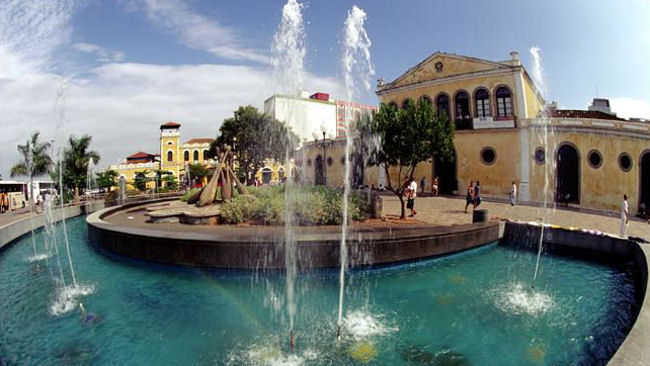 Florianopolis Municipal Public Market. Photo: Gov. Tourist Ministry
Tourists mingle with local "Floripanos" in the pedestrian-only zone that surrounds the market. The nearby Casa da Alfândega, a honey-colored neoclassical building dating from 1875 used to be the city's customs house. Today, it houses a local artisans' association where you can purchase traditional Azorean crafts ranging from ceramic bowls to delicate lace. At the end of Rua Conselheiro Mafra is the city's oldest square, Praça XV de Novembro, a lovely tree-shaded plaza whose focal point is a majestic 100-year-old fig tree.
We stop in for lunch at a wonderful little restaurant,
Cafe Riso
. The artwork and china was painted by a famous local artist,
Luciano Martins
. After a fabulous meal and dessert, we head north on the west coast of the island. We come to Santo Antônio de Lisboa, a picture-postcard Azorean fishing village from the 19th century. Traditional activities such as fishing, embroidery and oyster and mussel farming still dominate local life.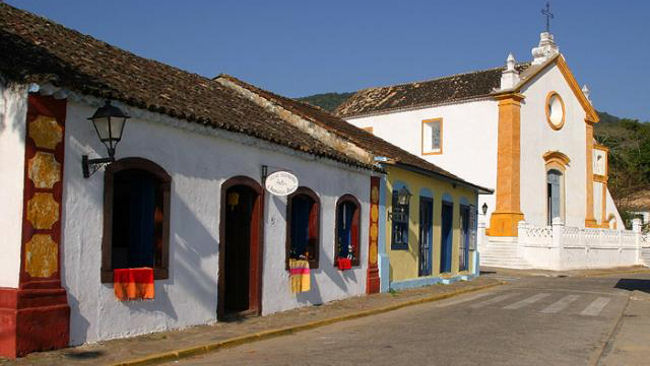 The traditional Azorean fishing village of Santo Antonio De Lisboa, Florianopolis
Next, we head to the northernmost part of the island and an area that is called Jurerê Internacional. Here bikini-clad beauties cavort in the tropical sunshine.
Summer beach parties
(December to March) attract Argentine and Brazilian supermodels straight from the pages of the Victoria's Secret catalogue. Sugar-sand beaches, expensive summer-houses, Ferraris and Lamborghinis (and maybe even the occasional international man of mystery) are all part of the scene that the New York Times called "
Party Destination of the Year in 2009
."
The posh Jurerê Internacional area also offers great options for shopping, dining and nightlife. A pedestrian mall is located across from the upscale family resort,
Il Campanário Villagio Resort
and is very similar to the Santa Monica Promenade in Los Angeles. Here you can gear up for the scene in famous Brazilian beach wear --
Rosa Cha bikinis
and
Havaiana flip-flops
.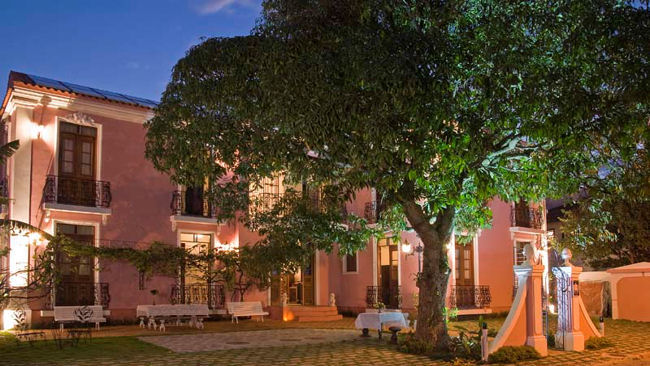 Quinta das Videiras boutique hotel in Lagoa da Conceição
We continue on to Lagoa da Conceição, in the center of the island. Lagoa boasts an abundance of trendy restaurants, bars, and nightclubs making it another gastronomic and nightlife hotspot of Floripa.
Quinta Das Videiras
, meaning "Estate of the Vines", is THE place to stay in Lagoa for those who want to be where the action is. This beautiful boutique hotel is a re-creation of an old Portuguese mansion with wonderfully romantic suites, and is a member of the prestigious
Circuito Elegante
.
After an amazing day we head back to Ponta Dos Ganchos and our private paradise. The pampering resumes and together we are nurtured by all around us. My husband may not be a secret agent, but bringing us here was the right move.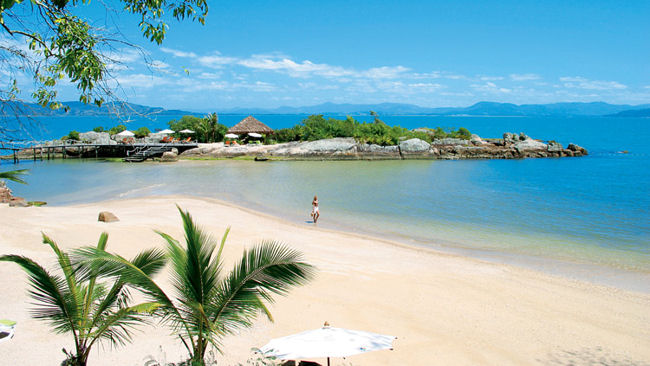 Ponta Dos Ganchos beach and private island
WHY GO NOW?
Brazil is hot and it's going to get hotter in the next few years, thanks to the 2014 FIFA World Cup and the 2016 Summer Olympics.
WHEN TO GO:
High season is during the summer months of December through March. Ponta Dos Ganchos is a relaxing getaway any time of year with low season being the winter months, June through September.
BEFORE YOU GO:
Visas are required for US citizens at a cost of $140:
https://scedv.serpro.gov.br/
HOW TO GET THERE:
Florianópolis-Hercílio Luz International Airport (FLN) serves the city. There are daily flights from São Paulo (1-hour flight) and Rio de Janeiro (2-hour flight).
WHERE TO STAY:Romantic Getaways:
Ponta Dos Ganchos Exclusive Resort. Costa Esmerelda, Governador Celso Ramos, State of Santa Catarina 8819000, Brazil. Tel: +55 48 39537000. Website:
www.pontadosganchos.com.br
Quinta das Videiras ("Estate of the Vines"), Afonso Luiz Borba, 113 - Florianópolis - SC, 88062-070, Brazil. +55 48 3232-3005. Website:
www.quintadasvideiras.com.br
Family-friendly accommodations:
Ilha do Papagaio ("Parrot Island"), Palhoca, State of Santa Catarina 88131-970, Brazil. Website:
www.papagaio.com.br
Private island eco-resort off the southern tip of Florianópolis, recommended by Condé Nast Johansen's. The simple pleasures here include hanging out at the beach, bar or pool, eating fresh shrimp and seafood, kayaking around the island, nature hikes with gorgeous views, and quiet time relaxing in your hammock. The atmosphere is both romantic and family-friendly. It is perfect for a "takeover" if you have a group of family and friends, a wedding or a corporate retreat.
Il Campanario Villaggio Resort, Av. dos Búzios, 1760 - Jurerê Florianópolis/SC - Brazil. Tel: +55 (48) 3232 5747. Website:
www.ilcampanario.com.br
Upscale, 4-star beach resort with family accommodations including kitchens, living and dining areas. Convenient walking distance to shopping, dining, nightlife.
Nexus Surf. Offers fully-staffed luxury vacation home rentals in beautiful Praia Mole beach, plus surfing lessons. Website:
www.nexussurf.com
Sofitel Florianopolis, Av. Rubens Arruda Ramos, 2034, (Beira Mar Norte), Centro, 88015-70 Florianopolis, Brazil. Website:
www.sofitelflorianopolis.com
The only international hotel brand in Florianopolis. 115 Rooms; rooftop outdoor infinity pool and Jacuzzi; fitness center; lobby bar. We recommend only Deluxe rooms with bayfront views. Deluxe Room #1059 was beautiful with floor-to-ceiling windows. Beyonce and Naomi Campbell are just some of the many famous names that have stayed in the Sofitel Florianopolis' Presidential Suite.
WHERE TO EAT:Florianopolis:
Cafe Riso:
www.caferisoetc.com.br
Villa Magionne. 273 Srv. da Amizade, Lagoa da Conceição, Florianópolis, Santa Catarina 88054-642, Brazil. Tel: +55 48 3232 6859. One of the best places to dine in Florianopolis, Villa Mangionne is an intimate restaurant located in a lovely small house where you dine in the owner's living room overlooking the lagoon and garden.
Lagoa da Conceição:
Thai:
www.thairestaurante.com.br
Cafe Cultura:
www.cafeculturafloripa.com.br
Riberão da Ilha:
(A quaint Azorean fishing village on the south-west coast of Florianópolis famous for its oyster restaurants right on the water.)
Restaurante Porto do Contrato in Riberão da Ilha
www.portodocontrato.com.br
specializes in oysters and seafood.
Ostradamus in Riberão da Ilha
www.ostradamus.com.br
specializes in oysters and seafood.
WHAT TO SEE:
Downtown Florianopolis: Historic Center and Public Market
Catedral Metropolitana - One of the most beautiful buildings in the city, located at Praça XV de Novembro.
Box 32. In Florianopolis' Public Market
www.box32.com.br
Santo Antônio de Lisboa - Beautiful historic town located on the calm west coast of the island. Multiple restaurants are located directly at the waterfront.
Lagoa da Conceição - A large beautiful lagoon, sand dunes and town in the center of the island.
Riberão da Ilha - an historic district and one of the rustic fishing villages with waterfront restaurants specializing in oysters.
WHAT TO DO:
Upscale shopping and jet set beach parties - at Jurerê Internacional
www.jurere.com.br
.
Boat tours - to charming fishing villages inaccessible by car or deserted island paradises.
Paragliding - at Barra da Lagoa, Lagoa da Conceição
Scuba Diving - at Praia Mole, Praia do Santinho, Praia dos Ingleses
Sandboarding - at Joaquina
Surfing - at Barra da Lagoa, Praia da Joaquina, and Praia Mole
Windsurfing - at Lagoa da Conceição
NIGHTLIFE:Jurerê Internacional:
Floripa's best beach club, Café de la Musique:
www.cafedelamusique.com.br
El Divino Lounge:
www.eldivinobrasil.com.br
Pacha:
www.pachafloripa.com.br
Posh:
www.poshclub.com.br
Taiko:
www.taikofloripa.com.br
Lagoa da Conceição:
Confraria das Artes -
www.confrariadasartes.com.br
One of the best bars/nightclubs in Brazil. It attracts the jet set crowd from all over the world. (Gisele has been spotted here)
WHAT TO BUY:
Rosa Cha bikinis in Jurerê Internacional pedestrian shopping zone.
www.rosacha.com.br
Havaianas flip-flops in Jurerê Internacional pedestrian shopping zone.
www.havaianas.com
Antonio Bernardo jewelry in downtown Florianopolis
www.antoniobernardo.com.br
FURTHER INFORMATION:
Florianopolis Convention & Visitor's Bureau
www.florianopoliscvb.com.br
Santa Catarina Destination Management
www.santacatarina.travel
Brazil Tourism Official Website
www.embratur.gov.br