The stay-and-play is offered seven days a week and includes one round of golf. Rates start at $515 (single-occupancy) and $710 (double-occupancy). It is loaded with added value, including:
• Golf shoe and club rental
• 10% off all golf shop merchandise at Pound Ridge Golf Club
• Continental breakfast served in the Delamar lobby
• A bottle of champagne/wine delivered to the room
• 10% off a Sports Massage at the Spa at Delamar
"This package is ideal for business and leisure travelers in search of a world-class golf and boutique hotel experience," says Todd Leavenworth, Pound Ridge Golf Club General Manager. "Both properties are under and hour from New York City, and just minutes from the Greenwich, Stamford and Norwalk, Connecticut region."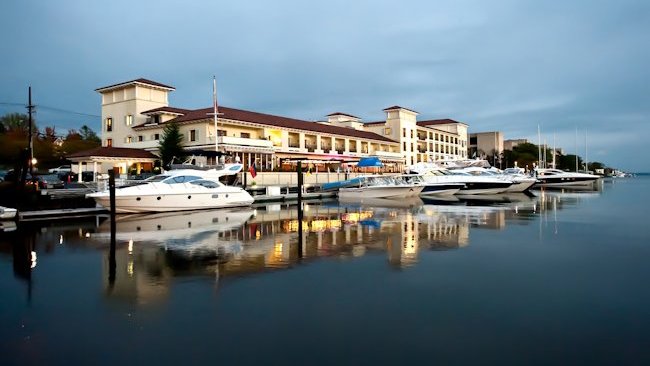 The Delamar Greenwich Harbor features 82 deluxe rooms and suites with 500-feet of waterfront and private docks. Designed to evoke old world charm, it houses a full service spa with services and treatments by the luxury brands Biologique Recherche and Valmont, and an award-winning restaurant and bar, L'escale. Wrought iron balconies, marble bathrooms and working fireplaces grace the guest rooms of this Mediterranean-inspired "inn."
Guests enjoy tee time booking via concierge or hotel staff and transportation options (from shuttles to rental cars and limousines).
For reservations:
www.delamargreenwich.com
; (203) 661-9800. For more information about Pound Ridge Golf Club:
www.poundridgegolf.com
; (914) 764-5771.
Recent accolades for Pound Ridge Golf Club include:
• "No. 1 U.S. Open Worthy Public Course, 2012" – GOLF Magazine
• "Best in State, No. 4, 2014" – Golfweek
• "Best Courses Near Your, No. 6, 2012" – GOLF Magazine
• "No. 1 New York City Area Golf Course, 2010" – AskMen.com
• "America's Best New Courses, 2009" – Golf Digest
• "New Golf Development of the Year, 2009" – ABTA Golf
• "Top Ten You Can Play, No. 2, 2008" – GOLF Magazine
• "Best New Courses, 2008" – LINKS Magazine
• "America's Best New Courses, 2008" – Golfweek