It is rare in today's modern and crowded world to encounter a vacation locale so unspoiled and so pristine as the Hawaiian island of Lanai. Blending seamlessly into the landscape is Four Seasons Resort Lanai, the ultimate spot from which to enjoy the island's beauty. Home to a mere 3,000 residents, Lanai has nary a stoplight; there is no traffic. Entire swaths of its 140 square miles appear completely void of human interference. Wild sheep and deer freely roam the hillsides and valleys of what once served as the world's largest pineapple plantation. From it's highest peaks, Molokai and Maui seem within arm's reach.
Oracle's Larry Ellison purchased Lanai in 2012; he and his team have since provided capital improvements to the island's hub, Lanai City. He built for the residents an Olympic sized community pool; he refurbished the town's tiny movie theater, and he has provided a wealth of job opportunities to residents, 25% of whom are employed at the Four Seasons Resort Lanai, the property of which Ellison refurbished top to bottom to create one of the most beautiful and refined resorts in the world.
Perched on a hillside overlooking Hulopo'e Bay, the resort maintains a low profile befitting its inconspicuous elegance. Unless chartering a private plane, or booking an exclusive Lanai Air charter flight directly from Oahu, Maui or the island of Hawaii, arrival begins at the Honolulu airport where guests are greeted within the resort's private lounge – a harbinger of the gracious hospitality that awaits. Docking stations, light bites, and a variety of beverages are offered. Staff can assist with check-in, restaurant reservations, and excursion bookings all prior to arrival via the 35-minute Ohana Air flight.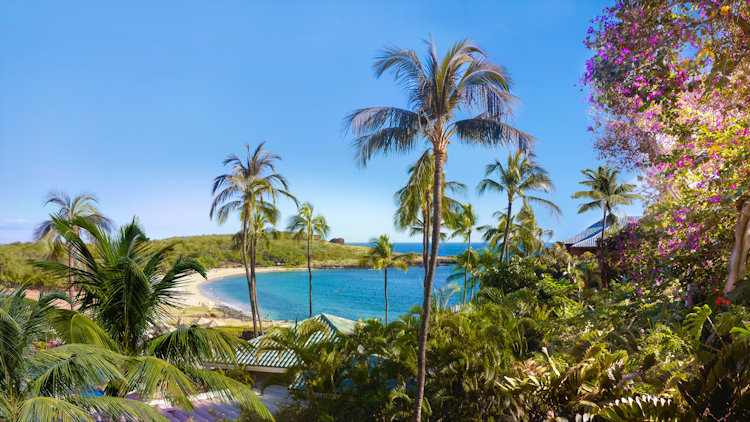 Four Seasons Mercedes shuttles await on Lanai to transport guests to the southern most tip of the island. The uniformly spaced line-up of Cook Pines that border the road signals your approach. Providing a dramatic presage, the trees were planted by former island owner David Murdoch to create what is perhaps the world's longest driveway. Resort ambassadors greet and escort guests to their rooms, of which there are a mere 213, averaging 700 square feet. For the ultimate in comfort and stunning panorama views, the Ohana Ocean Front Suite features open design, neutral colors and rich hardwood floors that compliment the ocean blue view. A separate living room and bedroom are enhanced by two full bathrooms, including a Japanese wooden soaking tub in the master bath.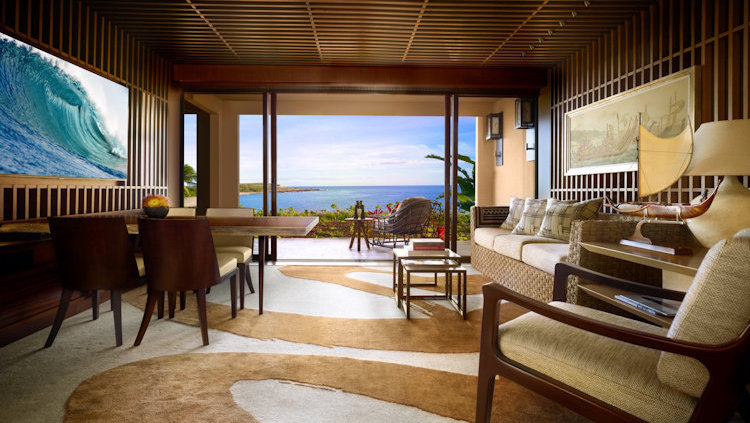 Ohana Ocean Front Suite Living Room
The two-bedroom Ali'i Royal Suite presents spectacular panoramas of the Pacific and Hulopo'e Bay and features a formal living room, media room with 85-inch platinum bezel LED TV as well as a separate dining room seating six. Bathroom highlights include a double Japanese soaking tub, walk-in steam shower with seating for two, dual vanities and an in-mirror television. The private lanai is fitted with a dining table, lounge chairs, and daybed. Special features include a walk-in closet, library area, drop-down television, and binocular tripods. The suite becomes a three-bed with the addition of a Four Seasons Prime Ocean Front Studio Suite.
But even a garden room stuns with furnishings of rosewood, leather, iron, and linen, state-of-the-art window shade and lighting technology, Heath Ceramics drinkware, Dean & DeLuca snacks, and artisan bathrooms featuring double-wide rain shower, deep soaking bathtubs, and vanity consoles with leathered and carved stone tops, custom fixtures, dimmable lighting, and in-mirror televisions.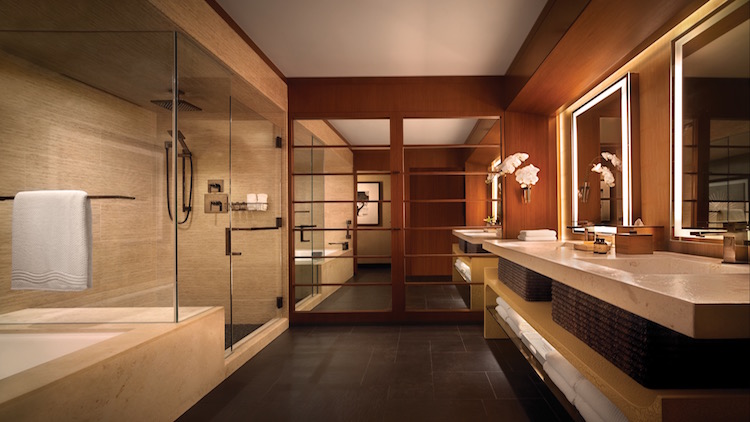 Equally elegant are the common spaces; the porticos that connect the varied buildings feature original and dramatic artworks, beautifully furnished lounge areas, and lush gardens with flowing koi ponds. The resort's menagerie of exotic rescue birds resides in mirror image enclosures on each side of the lobby. Stop and chat and you might be rewarded with a friendly 'aloha.' Each morning at 10am, Resident Uncle Bruno – a true Lanai kapuna (elder) - meanders the grounds, bird on arm, to 'talk story' and share his knowledge of island culture.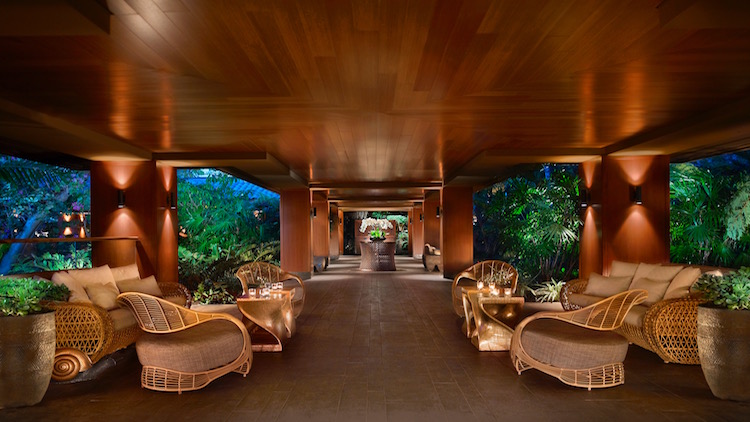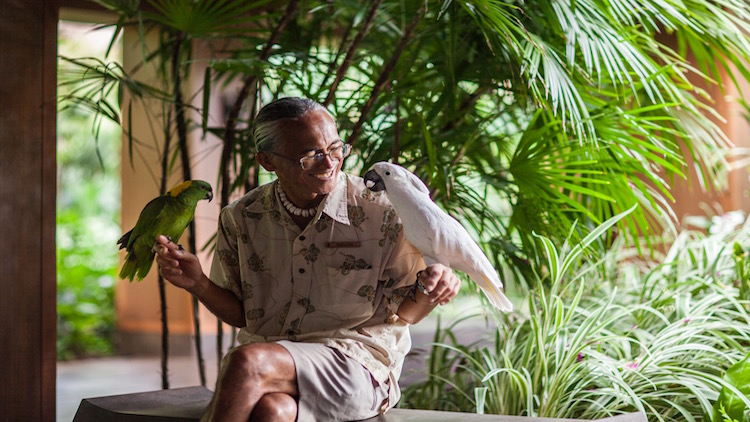 Resident Uncle Bruno
ACTIVITIES
Though perfect for a romantic getaway, the resort is equally appealing to families due to its plethora of land and sea activities that ensure everyone in your group finds something to love. From 10am to 4:30pm daily, members of the Love Lanai cultural team man a lobby table inviting guests to partake in lei making or coconut weaving. Yoga, sailing, scuba, deep sea fishing, helicopter tours, tennis, horseback riding and more are readily available. And if it's not listed on the daily activity list, resort staff can likely make it happen.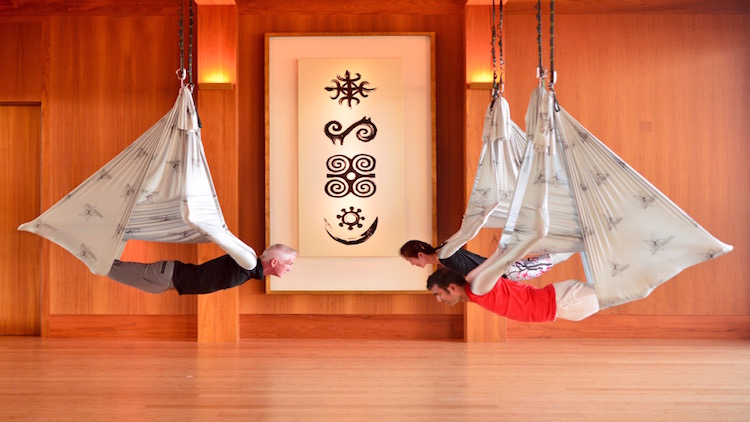 Aerial Yoga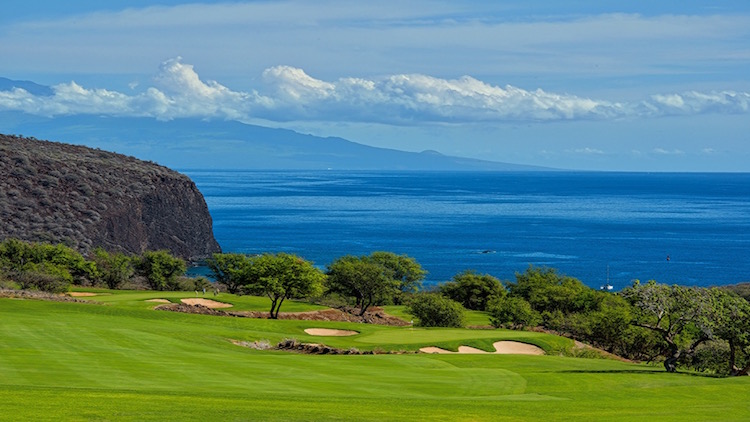 The Resort's beach kiosk at Hulopo'e Bay offers complimentary snorkeling equipment. An archery and shooting range in the wooded uplands features a 14-station course. High above the crashing surf of Hulopoʻe Bay is the premiere Jack Nicklaus Signature Manele Golf Course. Built on lava outcroppings, the course features three dazzling cliff holes.
For a true understanding of the entire island, it's worthwhile to take the resort's Holoholo tour; a Love Lanai cultural practitioner or member of the cultural team, likely a Lanai native, provides a guided, four-wheel drive exploration of remote portions of the island, sharing cultural details along the way. The pineapples are long gone but the island's ranch roots remain, as illustrated by the horse-filled Ranch at Ko'ele, one of the stops along the tour that ends in Lanai City. Head to Richard's Market for the fresh poke, visit the Lanai Cultural Center, and purchase souvenirs at Local Gentry boutique or the Mike Carroll Gallery before catching a shuttle back to the resort.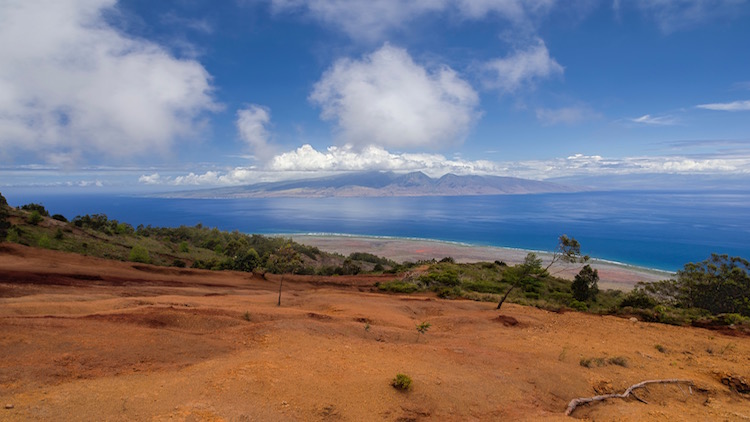 Holoholo Tour View
If a day spent poolside is the desire, the lagoon-style, free-form central pool, and the adults-only Retreat pool offer sublime sanctuaries with secluded chaises and daybeds. Pool attendants regularly offer treats such as agave lemonade, frozen grapes or pineapple, fruit or coffee smoothies, magazines, complimentary personal-sized sunscreen, and water coolers. Finally, the stunning white sand beach of Hulopo'e Bay is just steps away. Don't worry about packing a beach tote; provided in each room or suite for use during your stay (and available for purchase) is a large Bottega Veneta-esque satchel that easily accommodates all of your beach reads.
DINING
Culinary excellence is a key element to the Four Seasons Resort Lanai guest experience. Six food and beverage options provide choice; each restaurant utilizes the freshest quality ingredients. 65% of the menu items come from the Hawaiian Islands, and the resort proudly supports more than 100 local farmers and fisheries. The resort's wine program offers more than 700 labels, with emphasis on Californian, French, and Italian wines.
Set cliffside, Nobu Lana'i offers sweeping panoramic views and innovative Japanese cuisine drawn upon Chef Nobu Matsuhisa's classical training as a sushi chef in Tokyo. A recent redesign of teak timbers and meticulous wood detailing added a dedicated lounge, teppanyaki stations, and sushi bar. Don't miss the Japanese A5 Miyazaki Wagyu on lava rock. Inspired by the island's 140 square mile radius - not to mention that a medium steak is grilled to perfection at 140 degrees - ONE FORTY is the resort's main dining room. This ocean-view restaurant offers breakfast (don't miss the stunningly presented breakfast buffet) and dinner with an extensive American steak and Hawaiian seafood menu showcasing prime and wagyu beef from Snake River Farms. Tip: The Poached King Crab with corn bisque listed on the 'Cooked' portion of the appetizer menu gained placement on my 'top tastes of all time' list.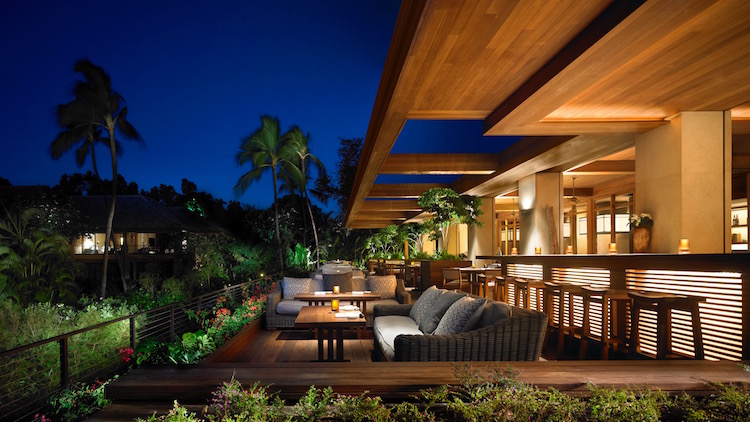 Nobu Lanai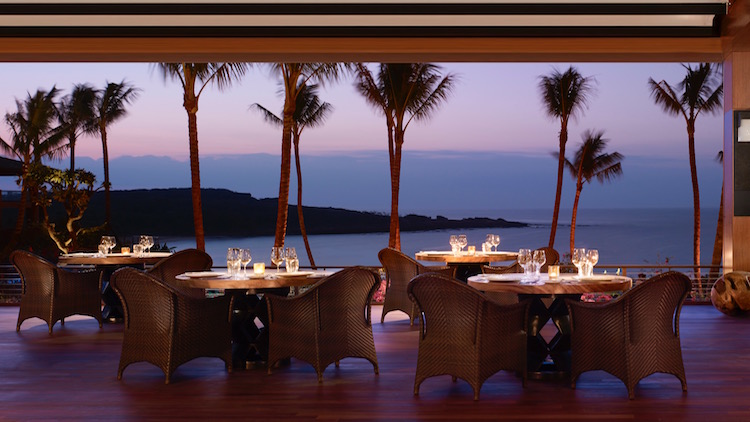 One Forty
The open-air Sports Bar & Grill, with it's large sports-tuned televisions, pool table, and shuffle board tables is a lively spot to gather, mingle and dine. Fans rave about the venison burger. Perched above Hulopoʻe Bay, Los Angeles' Malibu Farm, a favorite of SoCal residents, surfers and A-list celebrities, features the freshest local and organic ingredients for delicious lunch offerings and refreshing island cocktails. Views, located at the golf course, is ideal for lunch or afternoon refreshments. And The Lobby Bar, overlooking the pool with commanding views of the ocean, offers an unforgettable setting in which to toast your good fortune for having discovered this singular paradise.
Photos: Four Seasons Resort Lanai