The glitz and glamour of Hollywood is not limited to the red carpets or studio lots of Los Angeles. A popular celebrity destination, Puerto Rico features key celebrity hot spots, hip hotels, and locations from famous films shot on the island. With its beautiful beaches, exclusive resorts, and culinary excellence it's no wonder why A-list stars flock to the Island.
CELEBRITIES SLEPT HERE
If you're hoping to spot a celebrity, look from them coming and going from these top hotels.
The St. Regis Bahia Beach Resort (pictured above) – Located at the foot of El Yunque Rainforest, romance and luxury describe this five-star resort that Jennifer Lopez and Marc Anthony frequent when visiting the island. Marc Anthony was recently spotted on the beautiful Bahia Beach golf course, and Amaury Nolasco of Prison Break fame is known to host his annual golf tournament here. It's clear this elegant and exclusive hotel suits celebrities to a tee.
W Retreat & Spa Vieques – Always ahead of the curve, leading lady Angie Harmon and family escaped winter with a getaway to one of Puerto Rico's best kept secrets, the W Retreat & Spa on Vieques Island. The hotel, nestled on two secluded beaches, is an ideal natural haven for those celebrities looking for relaxation and adventure.
El San Juan Hotel & Casino – With its beachfront location in the Isla Verde district of San Juan and 15 minutes from the shopping, entertainment, and history of Old San Juan, keep an eye out for celebrities such as Enrique Iglesias when visiting this starlit hotel.
Las Casitas Village – With its enclave of private villas and sweeping ocean views, it's no wonder that Johnny Depp and Penelope Cruz chose Las Casitas Village as their place of rest and relaxation while shooting Pirates of the Caribbean. Located on the northeastern tip of Puerto Rico, near El Yunque Rainforest, Las Casitas feature a private infinity pool and 24-hour butler service.
La Concha Resort – Hip, stylish, retro and chic, it's clear why Hollywood names such as Aaron Eckhart choose to stay at La Concha Resort when visiting Puerto Rico. La Concha Beach Resort is situated on the sun-splashed corner of prime Caribbean beachfront in Condado, San Juan's most elegant district, and fifteen minutes or less from the vibrancy and action of Old San Juan.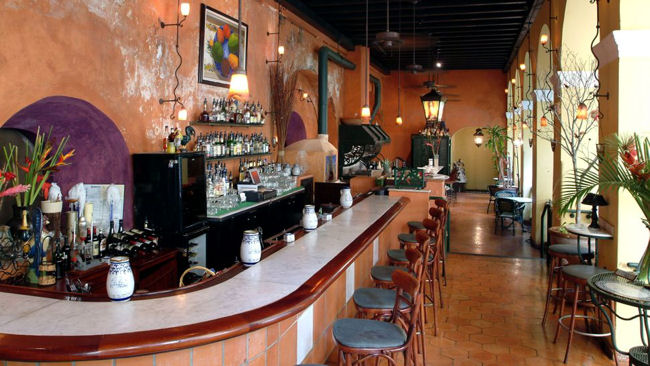 Hotel El Convento bar
RESTAURANTS TO DINE FOR
Considered the gastronomic capital of the Caribbean, stop by one of these restaurants to taste the offerings of celebrity chefs or spot a Hollywood star enjoying the island's culinary excellence.
Pikayo – The flagship project for Chef Wilo Benet, celebrity chef who was featured as a judge on Top Chef Season 4, combines exquisite global taste with exclusive ambiance. Located in Conrad Condado Plaza in San Juan, Pikayo is a local favorite and regularly hosts famous personalities from around the world.
Budatai & Bar Gitano – Venture to another restaurant and bar in the chic Condado area to taste the flavors of Iron Chef contestant and Food Network favorite, Robert Treviño. The Nuevo Latino flavors and energy of these establishments make them places to see and be seen.
Marmalade – Located on Fortaleza Street in San Juan, red carpet siren Scarlett Johansson has been spotted at this trendy restaurant and wine bar. A fine dining experience paired with an uber hip lounge, this establishment has real star quality that attracts Hollywood's most recognizable socialites.
Tamboo Beach Bar & Harbor Restaurant – If you're headed to Rincón, Puerto Rico, be sure to keep your eyes peeled for Kate Moss hanging out at these relaxed beach venues. One of Esquire's Best Bars in America, Tamboo Beach Bar offers A-list celebrities the perfect laid-back escape.
Gran Melia Resort Cafe – Looking for the bold and the beautiful? Head to this gem of a resort nestled on Puerto Rico's northeastern coast in Coco Beach, Rio Grande and you might catch the current Miss Universe, Ximena Navarrete, sipping chardonnay poolside.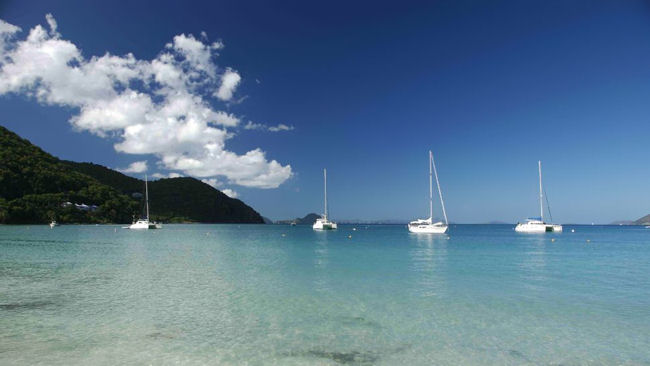 W Retreat Spa Vieques Island sea view
LIGHTS, CAMERA, ACTION!
Location. Location. Location. Visit these sites to see where scenes from popular films were shot on the island.
Pirates of the Caribbean On Stranger Tides (2011)
Check out Palominito, the small island located on the northeastern tip of Puerto Rico, near El Yunque Rainforest, to see where Johnny Depp and Penelope Cruz filmed scenes from the next Pirates of the Caribbean film. Also, check out Fort San Cristobal in Old San Juan to get a glimpse of another Pirates scene.
The Rum Diary (2011)
Naguabo, located on the east coast of the island, north of Humacao and south of Rio Grande, is said to be the birth place of the pastelillo de chapín, a popular food in Puerto Rico. Johnny Depp frequented this local area taking in the varied culinary delights. This film, shot entirely in Puerto Rico, is mainly based in Old San Juan but, also, takes in the Condado and Isla Verde areas.
Treasure Island (2011)
This two-part TV miniseries brings Elijah Wood to Caja de Muertos Island for filming. Only 3 miles off the coast of Ponce, "Caja de Muertos" (Coffin Island), is one of Puerto Rico's most pristine habitats with a rare wildlife refuge and reef system.
Men Who Stare At Goats (2009)
George Clooney, Jeff Bridges, Ewan McGregor and Kevin Spacey were on set at the University of Puerto Rico, Cayey Campus Old Science Building for several days while shooting this movie. Cayey is a town in central Puerto Rico noted for its surrounding mountains, cool weather and misty mornings.
Golden Eye (1995)
Stop by the Arecibo Radio Telescope, the largest radio telescope in the world, and gaze at the location where Pierce Brosnan shot the famous scene as James Bond in the 007 hit Golden Eye and also featured in the famous sci-fi flick, Contact. The observatory is open to the public and can be reached from San Juan in 1 hour and 15 minutes by road, the last section of which involves a spectacular winding drive amid lush tropical vegetation.
For more information on travel deals to Puerto Rico and accommodations, visit
www.seepuertorico.com