Dubai is a city you are told is full of energy, action and excitement. Every day is filled with thrilling activities, one after another. You'll be in the desert sandboarding and riding camels one day, and the next you might be riding a jet ski, and on another taking a luxury supercar hire to enjoy the sights and sounds of the city, sampling the restaurants and nightlife. While you're doing all that, however, it's important that you also try and find time to relax.
In this article we discover the very best ways to relax in Dubai. However, these are no mere two-hour stops in the local massage centers. We are talking about the most luxurious and relaxing experiences that Dubai has to offer.
1. A Decadent Spa Day
What you really need after a long day or two in the desert is a full-blown luxurious spa day in a massage center in Dubai. There are many fine examples, such as SensAsia in the Village Mall, and in-house spas in the city's many examples of internationally renowned hotels. Get a massage, a facial or one of the unique treatments they offer to unwind and rejuvenate. At any rate, it promises pure comfort and joy.
2. Eat Your Heart Out
Another great way to relax in Dubai is to enjoy one of the many exuberant buffet brunches and lunches that are on offer in the city at various locations, especially the international 5-star hotels. The best ones are usually held on Fridays, and prices range from as cheap as AED145 ($39-40), to AED690 ($189) at the top-end with Veuve Clicquot champagne. Please note, however, that drunkenness isn't tolerated in Dubai, so enjoy that part in moderation! Food, on the other hand, is celebrated, including sumptuous seafood buffets and other international and local delicacies.
3. Get a Bird's Eye View
They do say that seeing Dubai from a different angle is a good way to understand it better. You could do that by heading to the top of the Burj Khalifa, of course, but why not get a really unique look by taking a hot air balloon ride? If the balloon isn't quite your thing, then you can also take a flying tour in one of the many seaplanes that carry out aerial view tours of Dubai and surrounding areas.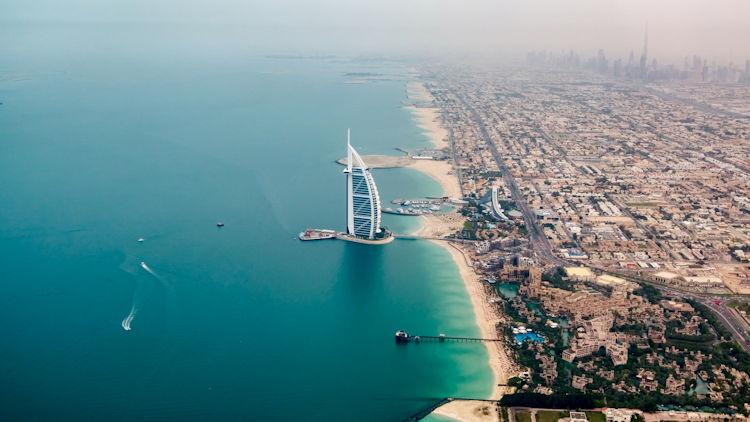 4. Beach Day
When you want to lie around but you've already done your spa day, then how about a day at one of Dubai's fine beaches? Open Beach is free to all the public, but it might be busier than you'd want for a more luxurious and relaxing day. To get a slightly more pristine and premium feel, pay an entrance fee and visit Jumeirah Beach Park instead. Sit on the sand, stare out at the gulf sunset, or enjoy the shade in the lush gardens that are all around the beach area.
5. Tee Off in Dubai!
Fore! Dubai is home to some pretty premier golf courses, but perhaps none finer than the 247-acre Arabian Ranch, which was designed by Aussie champion and pro, Ian Baker-Finch. When you're feeling a little tension, the golf club and ball are perfect conduits through which to channel your angst and any negative feelings you may have. It doesn't matter if you play a round of 18, or just let off some steam hitting balls with a 3-wood at one of the driving ranges. It's a quiet, reflective way to ease that burden from your shoulders.
6. Relaxing Shopping Day
It might seem counterintuitive to suppose that shopping could be relaxing. If you time your shopping day for a Friday between 10:00am and 2:00pm, however, then you could have a uniquely restful experience. Friday is the holy day in the Middle East, and between 10 and 2, people are attending their local mosque. That leaves you a handsome window of serene line-free and crowd-free retail therapy.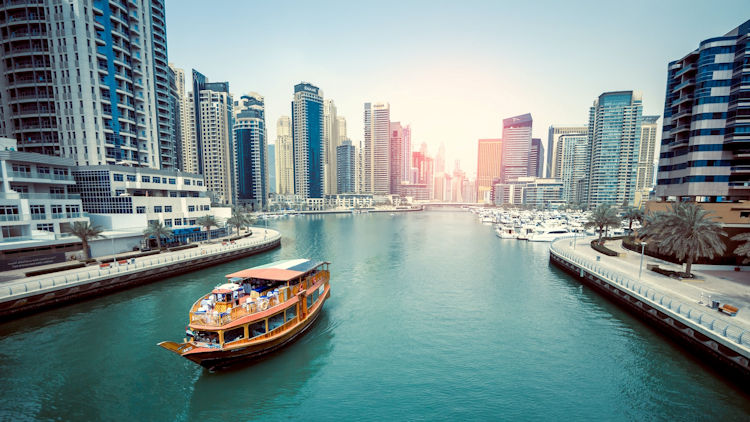 Dubai - Relax and Enjoy
This is a city of international style, of industry, of commerce, and of great fun and relaxation. As you plan your next visit to the UAE, think on the above and all the other ways you can relax in our fair city.