There is no doubt that Seattle on a clear day is spectacular. And contrary to popular belief, the Emerald City experiences many days where Elliott Bay shimmers in the sunlight as the surrounding Cascades, Olympic Mountains, and Mt. Rainier provide a stunning backdrop. But to really know Seattle – to really understand its soul - one must experience the weather that most defines it. Beauty exists in the varied hues of gray, and cozy comfort can be found in the rain that dominates the Pacific Northwest climate. Rain or shine, Seattle is a city that inspires.
Pack your all-weather gear and take your cues from residents who pay no mind to the intermittent showers. Appropriately-clad locals continue to bike, scooter, and walk throughout town, and so can you. Prefer to stay dry? A vast number of Uber and Lyft cars/drivers ensure that wait times are minimal. But walking is the way to go – the better to duck into the numerous coffee shops that dot each block. This, after all, is the land of Starbucks, and one can't look left or right without spying yet another outlet.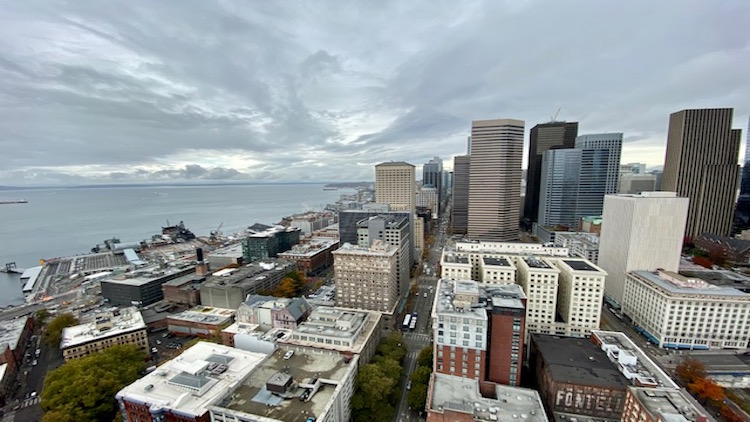 View from The Smith Tower Observatory
STAY: Downtown Seattle is home to all of your hotel favorites: The Four Seasons, The Fairmont, and The Hyatt Regency, for instance, are all represented. We love The Pan Pacific Seattle for its relaxed elegance and its energetic South Lake Union location – a booming tech hub within walking distance to some of Seattle's most popular attractions and best restaurants. The 153-room Pan Pacific is the only U.S. outpost of the Singapore-based brand and its serene Asian influence is palpable. Though located within a small retail center featuring an impressively large Whole Foods, the hotel is calm and quiet and service is professional and gracious. Several rooms overlook the iconic Space Needle; others feature downtown skyline or Union Lake views. The small yet plush lobby is a great spot to enjoy a glass of wine or cocktail in front of a warm fire, and the hotel's lobby-adjacent South Lake Kitchen + Bar serves seasonal breakfast, lunch, and dinner cuisine. Bonus: A first-come-first-served house car is available for drop-offs and pick-ups within a two-mile radius.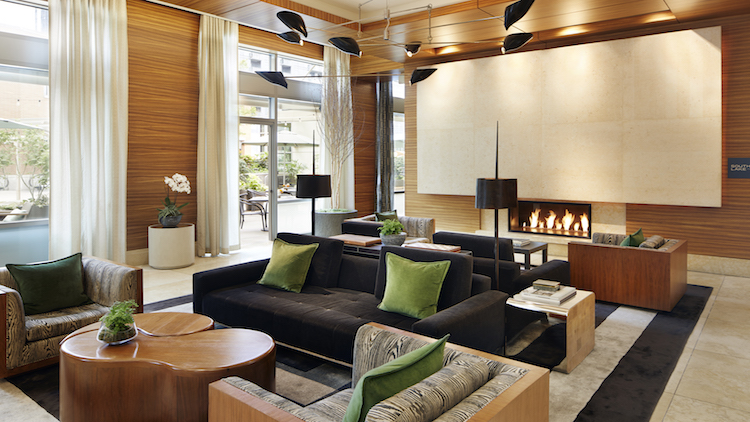 The Pan Pacific Lobby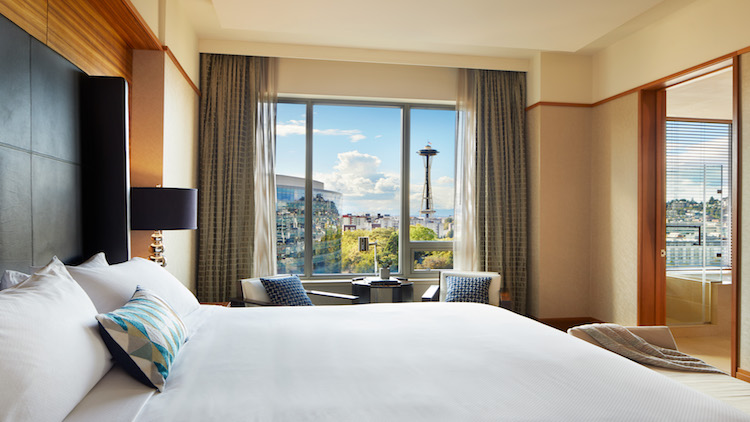 Pan Pacific Denny Suite
For something a bit closer to the waterfront action, we like Thompson Seattle, located in hip Belltown and within striking distance of iconic Pike Place Market. The 12-story Thompson affords stunning views of Puget Sound and Elliott Bay, but it's the 3,500 square foot rooftop bar - The Nest - that truly wows. One of the best downtown rooftop bars, The Nest affords panoramic westward facing views. Reserve a private table or couch, or gather with the energetic crowd and watch the 175-foot tall Seattle Great Wheel spin.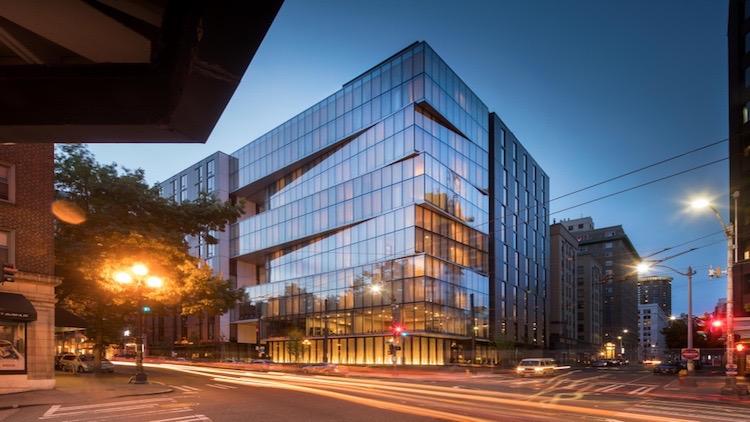 Thompson Hotel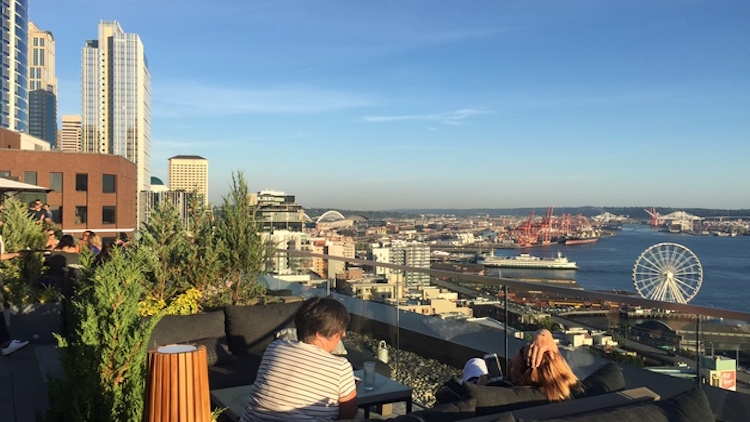 View from The Nest
DINE: Coffee may be king, but seasonally-sourced Seattle cuisine is primed to dethrone that for which the city is best known. Much like those headed to San Francisco or New York, travelers to Seattle consider the restaurant scene reason enough to visit. The amazing farm-to-table Aerlume, for instance, is alone worth the trip. Perched on the hillside above Elliott Bay, Aerlume offers sweeping views of Puget Sound. A dramatic central fireplace greets guests. Chef Maggie Trujillo finds inspiration in her deeply-rooted connections with local farmers and providers. Her menu features flavors found in the seasonal bounty of the Pacific Northwest – as do the creative cocktails crafted at the stylish, tiled bar. Forget the pumpkin spice latte and instead try the Aerlume Seasonal Old Fashioned with Dewar's 12-year scotch, apple and pear sugar, and bitters.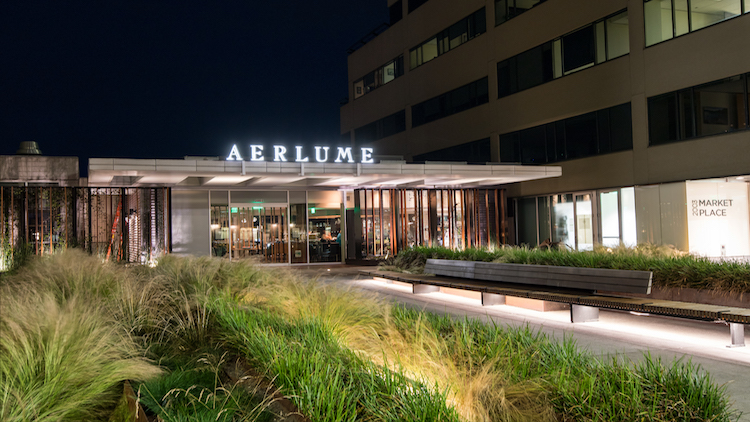 Aerlume Exterior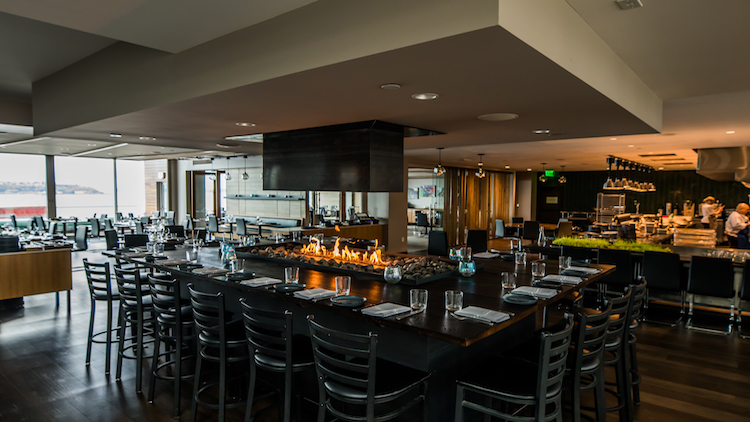 Aerlume Interior
Chef Daniel Mallahan oversees the kitchen at Rider where a central open-fire grill takes center stage. Located within trendy Hotel Theodore, Rider appeals equally to locals and tourists who love its clubby atmosphere and its 'ocean to forest' cuisine. Sample oyster varietals with a crisp glass of Columbia Valley chardonnay, or go classic with The Burger (with house-made American cheese, crispy pickled onions, smoked tomato aioli, and brown sugar cured bacon), best accompanied by a locally-brewed Bavarian style Hefeweizen.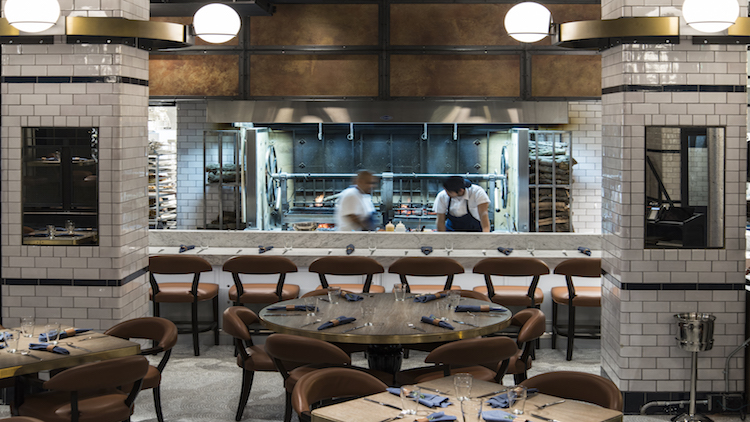 Rider interior
For the made-to-order donuts alone, don't miss local favorite Lola where Chef Tom Douglas mans the kitchen. Shaken tableside in a cinnamon/sugar-filled paper bag and served with seasonal jam and whipped vanilla mascarpone, each is a doughy drop of heaven. Lola celebrates its Greek heritage with Mediterranean flair; a favorite breakfast item is the octopus, with potatoes, apple, delicata squash, sage yogurt, and soft poached egg. But the stack of golden brown pancakes with pork maple sausage, vanilla mascarpone, and maple syrup hits the spot too.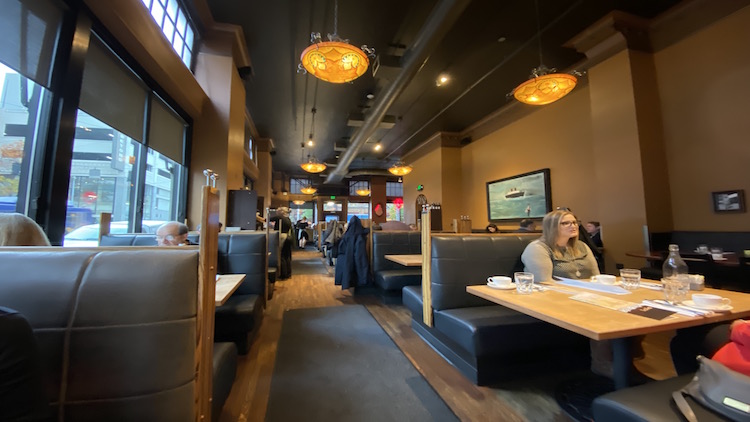 Lola interior
Travel a bit north to the beautiful neighborhood of Green Lake and restaurant Eight Row where Chef David Nichols puts to excellent use the produce harvested at his family farm where he grew up. Named for the largest cherry size found on a standard cherry gauge, Eight Row features the fresh flavors of Central Washington. Nichols' farm-inspired cuisine is innovative and delicious. A carefully curated lineup of beer, cider, and wines from around the world perfectly complement each dish. Expertly crafted cocktails are named after tree fruit cultivars, a nod to the Nichols' family orchards. Eight Row is open for dinner and weekend brunch - try the Horchata Pain Perdu: brioche, cinnamon maple syrup, and mascarpone, or the stellar Eggs Benedict.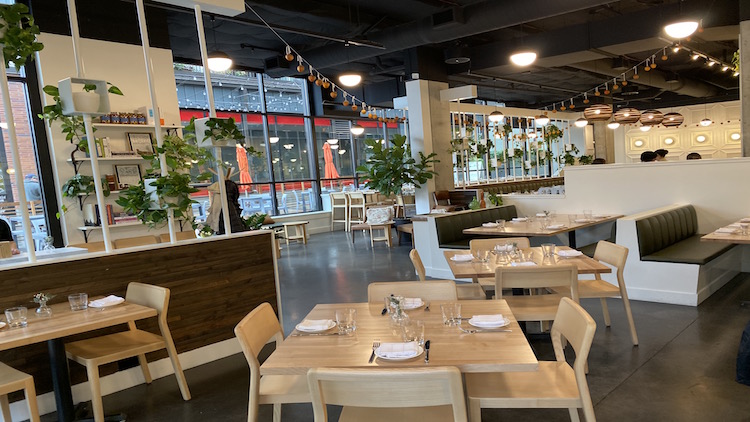 Eight Row interior
DO: Visitors can't go wrong with the Seattle CityPASS that provides access to five of the city's top attractions at a savings of 49%. Included is the Museum of Pop Culture OR Woodland Park Zoo, Chihuly Garden and Glass (where the iconic Dale Chihuly displays his fantastical glass art) OR Pacific Science Center, and Seattle Aquarium, Argosy Cruises Harbor Tour, and the Space Needle, a Seattle 'must see.'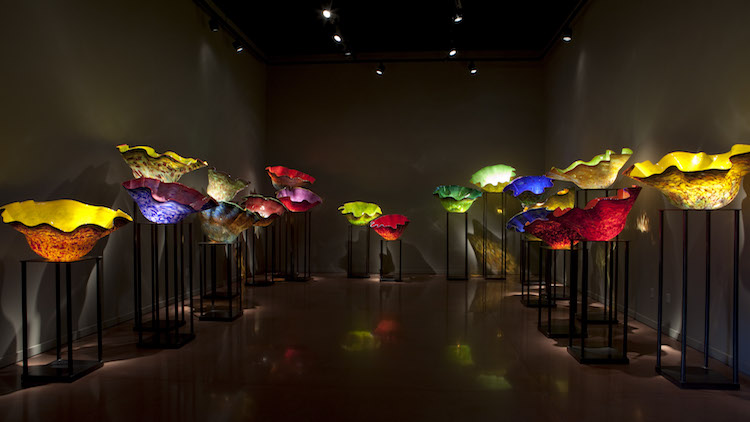 Photo credit: @Chihuly Studio
Other 'must dos' are the Seattle Great Wheel – especially fun at night when city lights are aglow. The Smith Tower Observatory – at one time the tallest building west of the Mississippi – provides wonderful 360° views of the city and beyond. The Seattle Art Museum, located downtown, features global art collections, temporary installations, and special exhibitions from around the world. Directly across the street is Fran's Chocolates – offering possibly the best salted caramels around. Legendary Pike Place Market continues to draw tourists who find great entertainment in the fish monger antics, but it's also a true market where locals shop daily for their groceries. Try the honey crisp apples at Sosio's Produce, a market institution for more than 50 years, or peruse the vast collections of chocolates, mustards, olives, cheese, and wine at DeLaurenti Specialty Foods and Wine. Across the street from the market you'll find the Starbucks mothership – the first and original of its coffee shops worldwide. Muscle through the crowds taking requisite Instagram selfies and take your latte next door to Le Panier, the authentic French bakery that has been making palmiers and macarons in this location since 1983.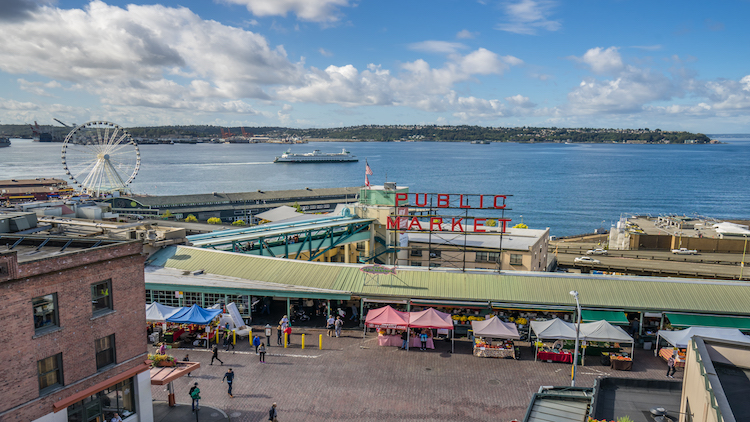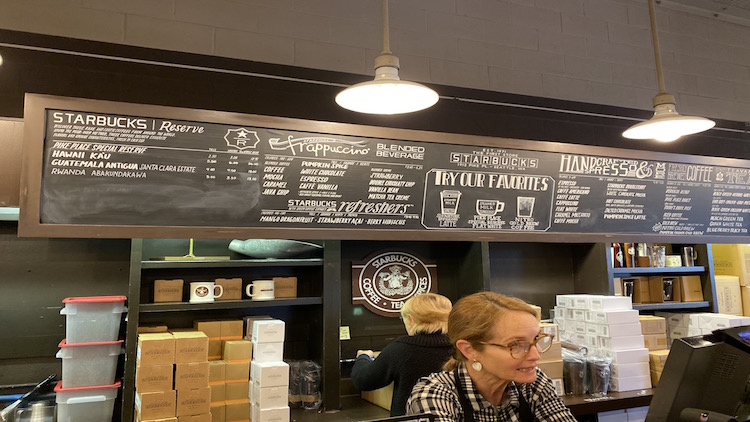 Starbucks' Original Pike Place Market Shop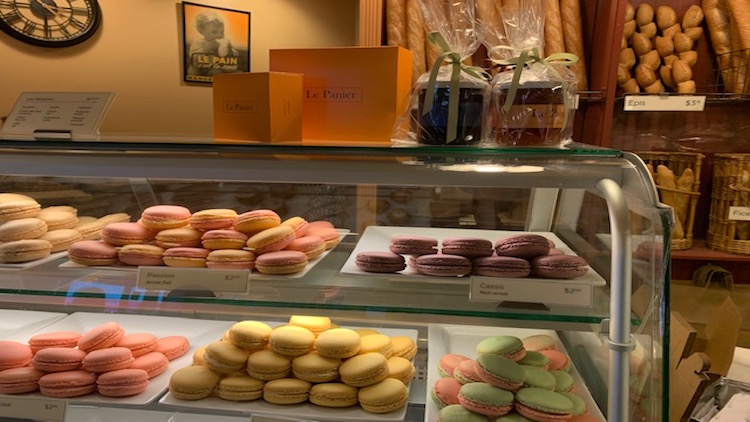 Le Panier Macarons
Finally, no visit to Seattle is complete without a glass interaction. Known as the American Venice, more than 700 glass artists call the area home, and more than 100 studios showcase their art. Chihuly Garden and Glass provides a primer, and studios such as Lino Tagliapietra feature a differing approach. Seattle is the home base of glassybaby, maker of the addictive colorful votive candle holders of which each purchase benefits cancer research. Schedule a visit to the Madrona hot shop where you can work one-on-one with a professional glassblower to create the ultimate handmade Seattle souvenir.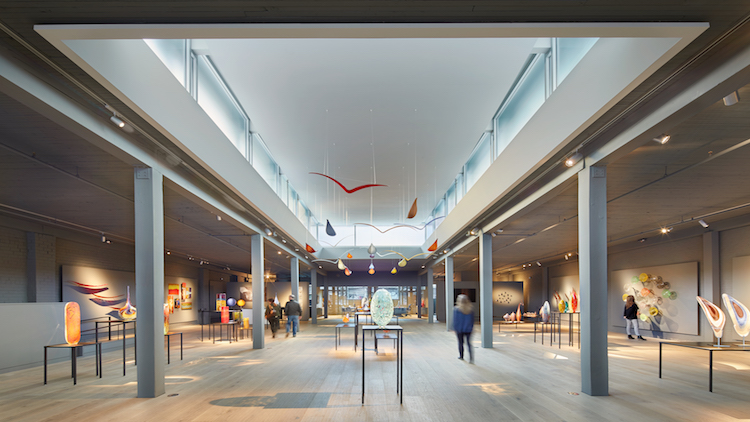 Lino Tagliapietra