Few places on earth match the beauty and tranquility of the red rocks surrounding St. George, UT. Here, nestled on 55 scenic acres of Southwestern Utah's Mojave Desert and a short two-hour drive from Las Vegas is Red Mountain Resort. I visited the resort for a few days to both kick back and to get physical at the same time. What better way than to don a pair of uncomfortably tight climbing shoes (they're supposed to fit that way), and join a group of six rock-climbing newbies who found the sheer cliffs both as daunting yet as exhilarating as I.
The resort arranged for this activity and Ben, our guide/instructor was youthful, cool, and had the ability to inspire each of us to rise to the challenge, as when I found myself clinging to sheer, smooth rock-face with nowhere to place my foot or to grasp even a twig-sized outcropping. Me, calling down to Ben: "There's nowhere for me to go…I want to come down now." Ben: "No." Okaaaay. Lest you think our guide a sadist, actually he was just ensuring that I looked closer and deeper, both onto the rock cliff and into myself, to find somewhere, somehow to continue to the top. I did. Thanks, Ben.
Renew, Refresh, Rebound
The Sagestone Spa at Red Mountain is a multi-million dollar space of tranquility which debuted three years ago and is devoted to de-stress and detoxify guests through a series of innovative offerings, including their Sandstone Signature Treatments which are hand-crafted, using products from the rain forests of Brazil, salt and clay from Utah and the precious Resurrection plant found in the Arizona desert.
After clinging to sheer red rock for what seemed like forever, I deserved a welcomed treat and that came in the form of a Canyon Warm Stone Massage that did precisely what the brochure said. It relieved my aching muscles and revived through a massage with essential oils combined with warm canyon stones applied to all the right places. Restored, I was ready to join the others at the Canyon Breeze Restaurant to enjoy a healthy and tasty dinner.
Each day I enjoyed a bracing swim in the resort's Olympic-size pool and then wound down with a dreamy session in the heated whirlpool. The sublime finale to my day was shamelessly lazing in a hammock set amid shade trees, lilac and bougainvillea - and then retreating to my very pretty guest room decorated in soft desert tones, to swoon back on my custom-designed bed. Nighty-night.
Motivation to Move
The Red Mountain Resort and Spa has been named by Forbes Traveler as one of the "10 Best Healthy Resorts" and by Travel + Leisure as one of the "World's Greatest Resort/Spas." The energetic and enthusiastic staff, with a nearly 3:1 ratio of staff to guests, is dedicated to providing an optimum adventure environment along with great service and personal attention.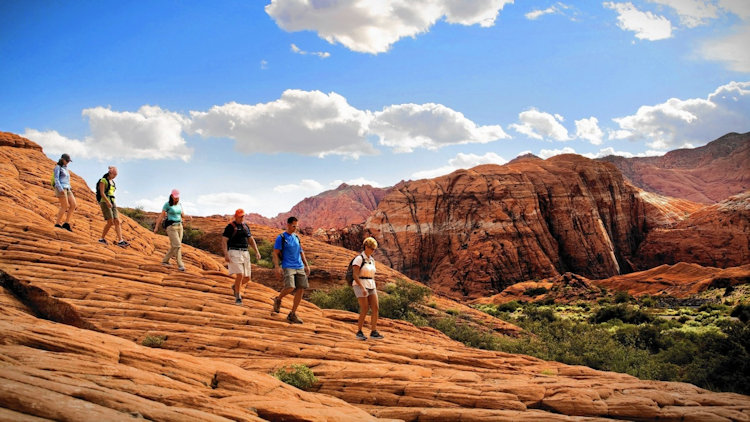 For a Healthy Inside, Go Outside
The outdoor programs at Red Mountain include daily guided hikes, rock climbing, kayaking, cycling, horseback riding, as well as National Park excursions and back-country wilderness trips. Focusing on fitness, there are over 50 classes to choose from including cardio salsa, hydroaqua fitness, yoga and Power Pilates to Boot Camp! Their Healthy Living classes run the gamut from spirit hikes to meditation, nutrition and self-awareness workshops. No, the Red Mountain Spa is not your mother's spa, nor would you want it to be. Guests come to relax and de-stress, sure, but also for the thrill and chill. The resort encourages continued self-improvement with a series of innovative programs designed to meet individual goals, including weight loss and nutrition programs. Not to worry about what to do here. It's a safe bet you'll keep busy at Red Mountain.
Stargazing
Perhaps one of my fave Red Mountain activities is, yes, stargazing! This unique event puts the beauty of the desert sky on full display. I used an awesome telescope to see moons, nebulas and planets and learned some general astronomy info in the process. I found it a bit difficult to return to mere earth after this out of the world journey into the truly fantastic!
Canyoneering/Rappelling
For adrenaline seekers (that leaves me out!), the resort's sunset rappelling and canyoneering offerings make those so inclined easily accessible. Led by an expert guide, these excursions allow guests to explore Utah's famous red rock country from one-of-a-kind vantage points. Coordinated entirely by the resort, all the guest needs to bring is a sense of adventure.
With its myriad healthy and adventuresome programs, its elegant spa, its sumptuous guest rooms, not to mention its drop dead, impossibly beautiful locale, this is one very special destination. Come visit the Red Mountain Resort and Spa. You'll open your heart, expand your mind and enter sacred space: your own.
If You Go:
Red Mountain Resort
1275 E. Red Mountain Circle
Ivins, UT 84738
www.redmountainresort.com
Images courtesy of Red Mountain Resort