Originally created in 1924 as a place for people to socialize and connect as a Navy and Army YMCA, the property has since been carefully restored and distinctly modernized into a welcoming boutique hotel. Still, its intention to serve the community has stayed true.
Holding millions of stories within its walls, many of which are told on a placard adorned on the walls of each of the 162 rooms, The Guild has been thoughtfully crafted into a modern hotel that thrives as a gathering place for locals and visitors alike.
Upon entering the lobby, guests are welcomed by the luxuriously designed hotel bar, where coffee and grab-and-go breakfast items are offered in the morning and a full craft cocktail and elevated small bites menu is offered in the evening. The Guild's sexy lounge areas reflect monochromatic minimalist design, while black and white movies play to heighten its classic feel.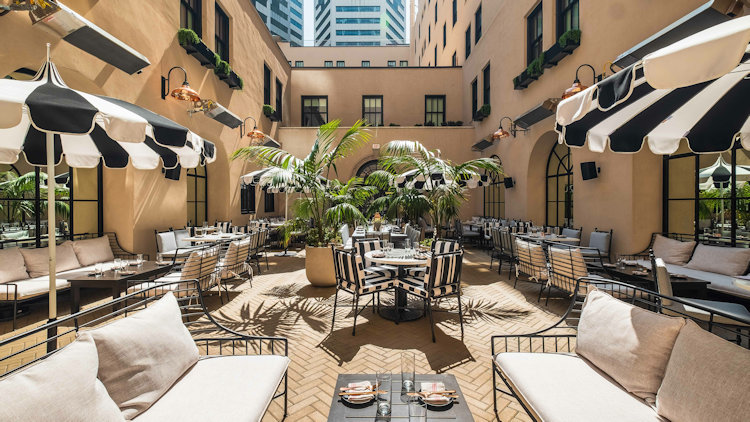 The hotel also provides iconic venues for events and meetings, and history-making moments. Each space honors the building's architectural gems, whether it's the former basketball court still intact with its original running track turned into what is now the Grace Ballroom, the former YMCA pool transformed into the elegant Society Ballroom, each space caters to a unique audience tailoring the event to suit guests' specific needs and design tastes.
Still vibrant with the throws of jubilation and new beginnings felt in the last "Roaring 20s" era, this San Diego landmark was crafted to bring the city together in spirit and presence. Capturing the resurgence of these high times, guests at The Guild are united with the intent of discovering stories in San Diego, both old and new.

The Penhouse: