On the outdoor dining deck at Mukwa River Lodge, we sit at the front table looking out over a traditional wooden mokoro - filled with indigenous flowering plants - past the jetty to the Zambezi River beyond. We can hear the flowing water, with its eddies, as we watch the movement of clumps of papyrus that have broken away from the land, resembling small moving islands. As the landmass on the other side of the Zambezi is Zimbabwe National Park, we have our binoculars at the ready, to view game that comes down to drink.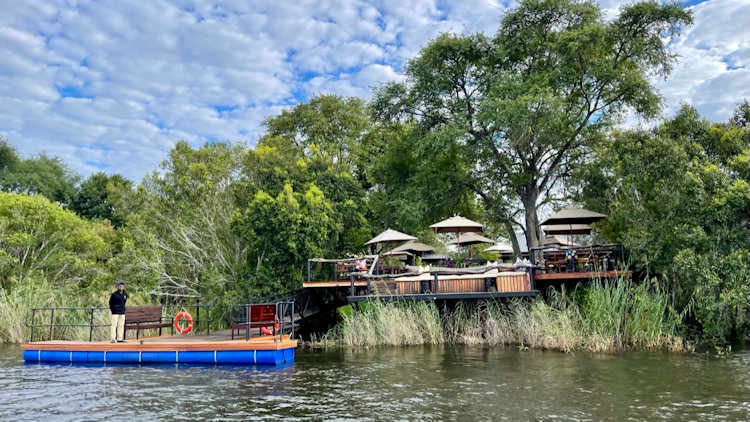 Image by Gillian McLaren
With a warm smile, our waitress brings a choice of juices that have been freshly squeezed from local fruit, like red Muchingachinga berries (known as monkey-fingers), pink Sindambi (wild hibiscus) or Matambulwa (Governer's plum). Our continental breakfast includes a board of hot muffins, bread and a selection of artisanal cheese, plus a tray with bowls of yogurt, fresh fruit salad and home-made muesli. Ambrosial honey is available, as well as a variety of marmalades, made by the resident chef using baobab seeds, or other local ingredients. Selecting from the cooked breakfast menu is a delicious dilemma, as the options are creative and atypical, some including Middle Eastern elements. My choice of Turkish Eggs - "toasted flat bread with poached free-range eggs on a bed of garlic yoghurt, drizzled with paprika and chili oil, with herb dressing and dusting of sukkah" - proves to be tasty and pretty. We linger on the wooden deck in the Atilla hanging chairs that are suspended from the boughs of an Ana tree, Faidherbia albida. A lizard basks in the sunlight. White-browed robin-chats, with fiery orange underparts, sing a melodious duet.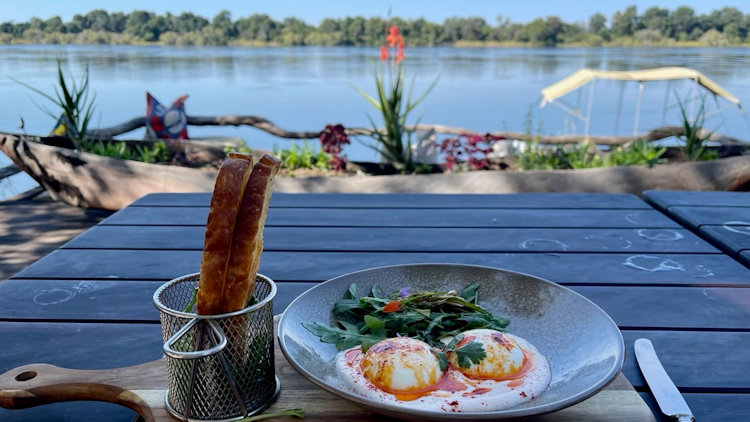 Image by Gillian McLaren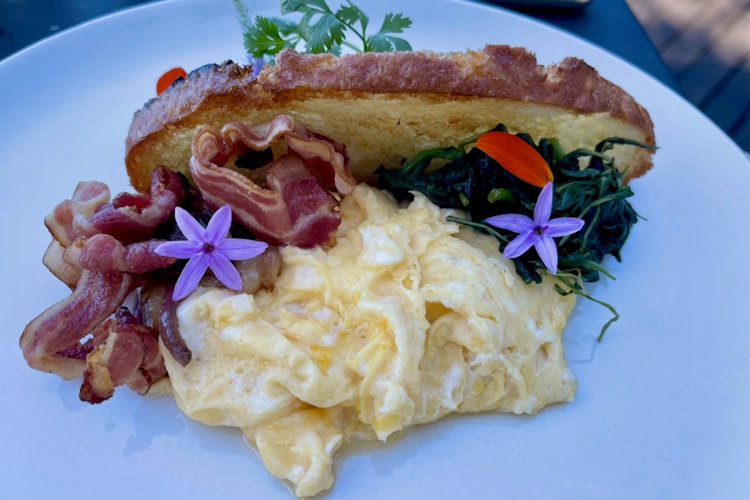 Image by Gillian McLaren
Mukwa comprises six suites, with two Island Suites facing an internal waterway and four River View Suites, close to the Zambezi River, each set in its own private garden. Our sundeck with sun beds, incorporates a plunge pool formed by a galvanized iron tank. Looking down into the reed bed, we spot a pair of Tawny-flanked prinias that are busily feeding chicks that peep out of a woven-grass nest.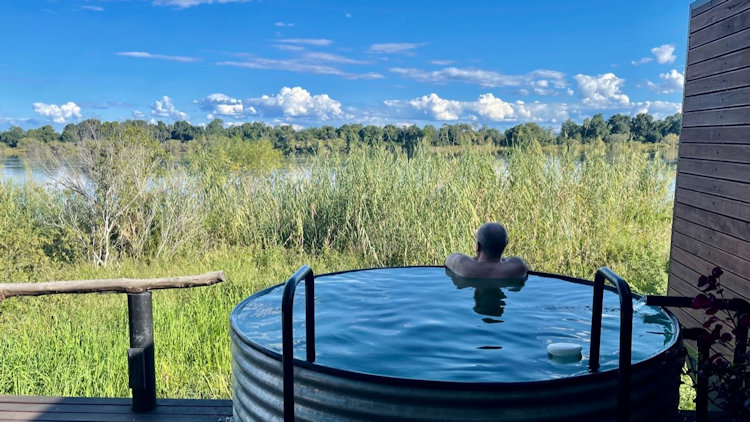 Image by Gillian McLaren
The extra-long king-sized bed, with side tables, is positioned under a canopy, with a mosquito net curtain that can easily be drawn to encircle the area. Selected house wines - Alvi's Drift from South Africa's Breeze Valley - are chilling in the bar fridge. An en suite bathroom sports a freestanding stone bathtub, twin basins and a separate toilet. Floor to ceiling glass doors open onto an open-air paved nook with twin outdoor showers. At night, the moon and constellations are our roof. Mirrors are a theme, so several walls sport large reflective surfaces. The entrance to the River View Suites from the wooden walkway holds a circular mirror that reflects the verdant shrubbery.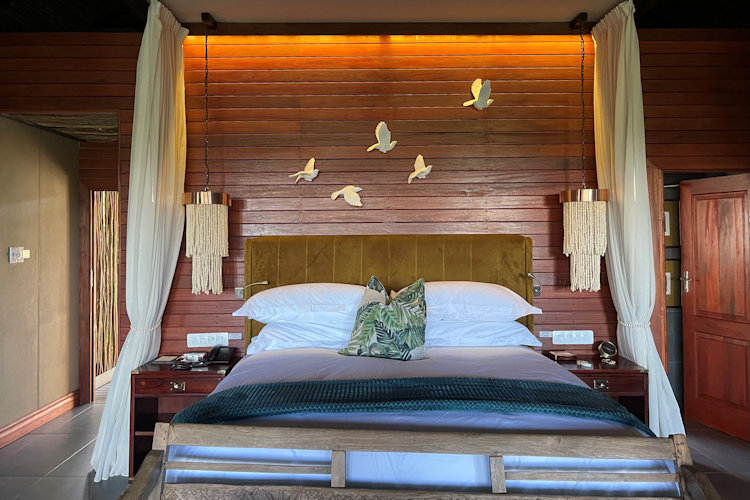 Image by Gillian McLaren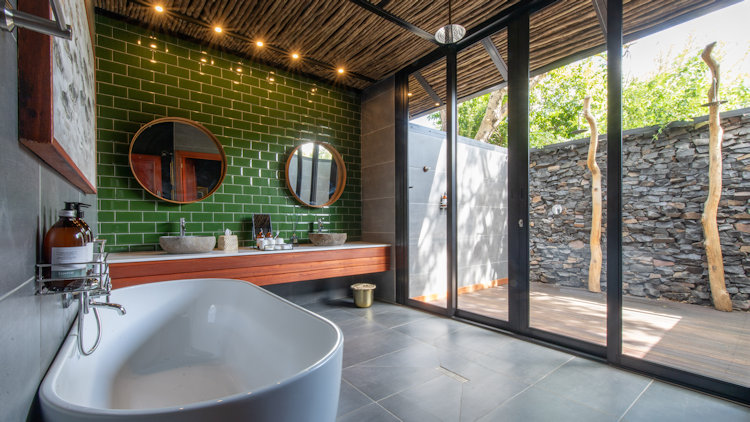 Image by Mukwa River Lodge
Victoria Falls was originally named Mosi-oa-Tunya, meaning 'the smoke that thunders' in the Kololo language. This UNESCO World Heritage Site, one of the seven natural wonders of the world, is a pleasant 14 mile drive from Mukwa River Lodge. Their driver takes us through Livingstone to the Zambian side of Mosi-au-Tunya, where he guides us along paved paths of a spectacular basalt rock gorge to the best vantage points, through the rain forest. This powerful waterfall, the largest on earth, is 5604 ft long and the plunge is 354 ft, with a flow of 17 million cubic feet of water every minute, during the high water season! Soaked through by the spray and exhilarated by the spectacle, we return to Mukwa, stopping only to allow a breeding herd of elephants to cross the road.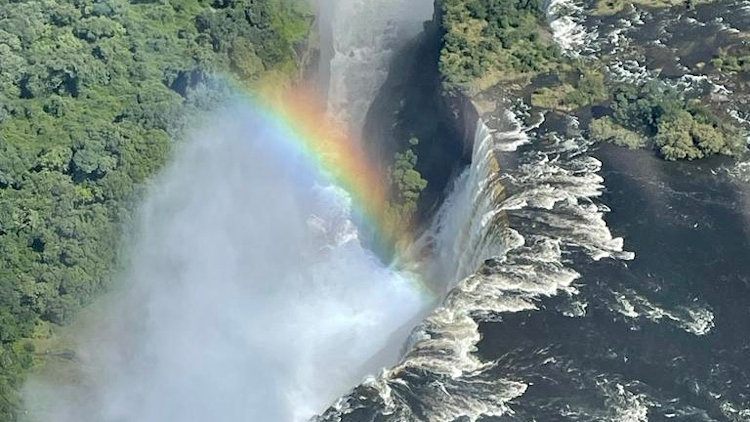 Image by Greg Brown
Livingstone is a quaint town with remnants of British colonial buildings from the heyday of the Edwardian era. The town was named after David Livingstone, the Scottish explorer and missionary that was the first European to behold the thunderous waterfall, saying 'it must have been gazed upon by angels in their flight". The Livingstone Museum is somewhat rundown, but charming, housing artefacts of local history and prehistory, plus possessions and memorabilia of David Livingstone. I found it fascinating to read excerpts from Dr. Livingstone's letters and journals. He writes of the Zambezi River as "God's highway" and describes the Victoria Falls as being "the most wonderful sight that I witnessed in Africa".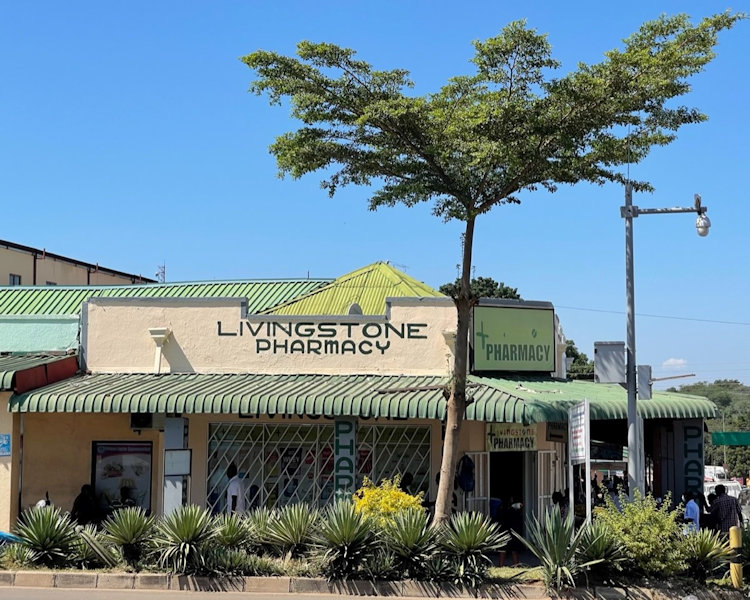 Image by Gillian McLaren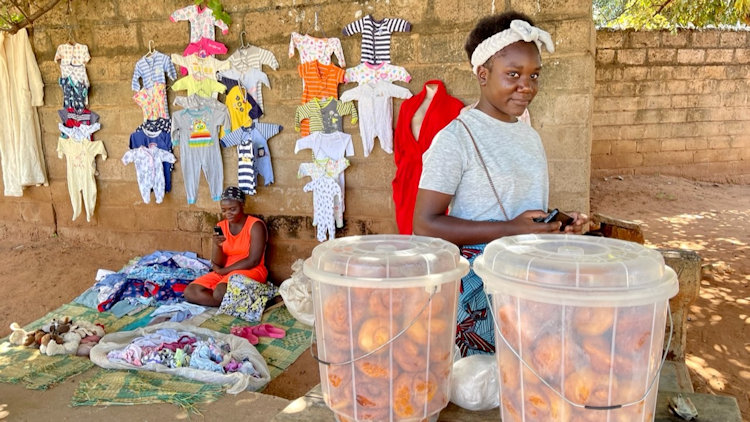 Image by Gillian McLaren
In the vibrant Maramba market, women clad in Chitenga African print sarongs, sell fruit, vegetables, fish, straw brooms, and authentic local products. This colorful and bustling market is a great place to learn about Zambian culture and to try street photography.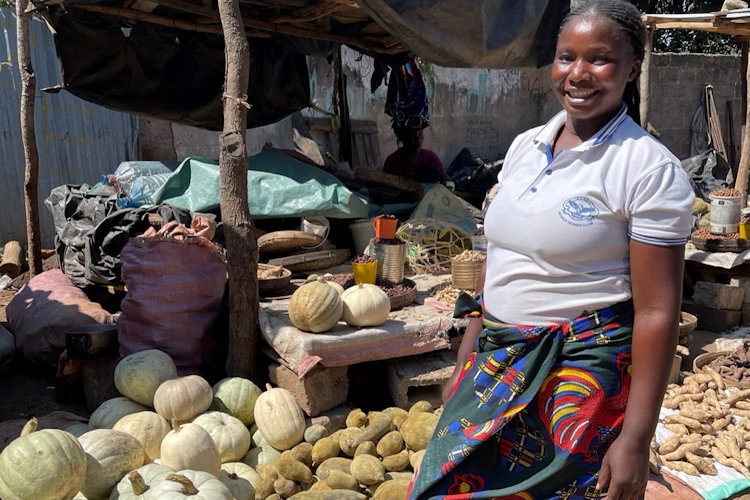 Image by Gillian McLaren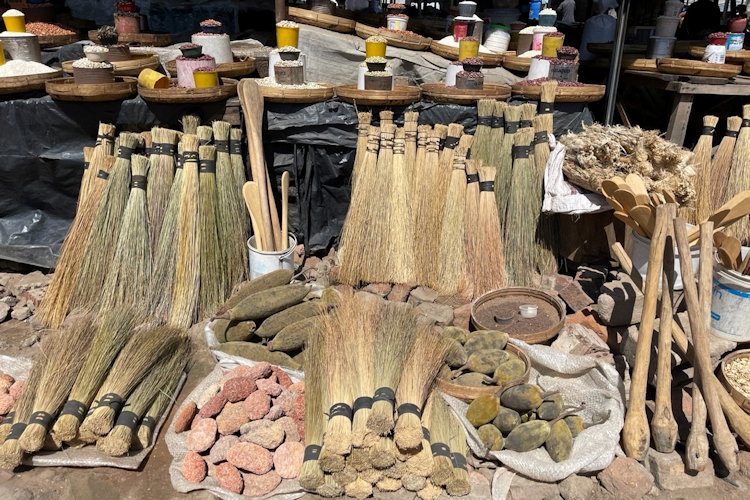 Image by Gillian McLaren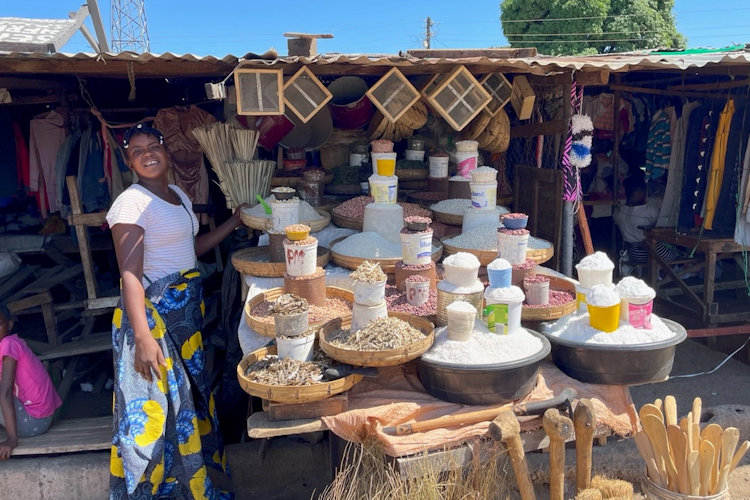 Image by Gillian McLaren
Cruising down the Zambezi at sunset, sipping a gin and tonic, is a quintessential African experience. Melted vermilion light perfusing the clouds is reflected in the water. There is a good chance to see hippo, ageing buffalo bulls and a variety of water birds. We cruise to a palm tree with roosting Great white pelicans, silhouetted against the setting sun. The spray above Victoria Falls rises to over 1,300 ft, creating giant rainbows. Entranced and overawed by the scene, we request a sunrise cruise for the following morning.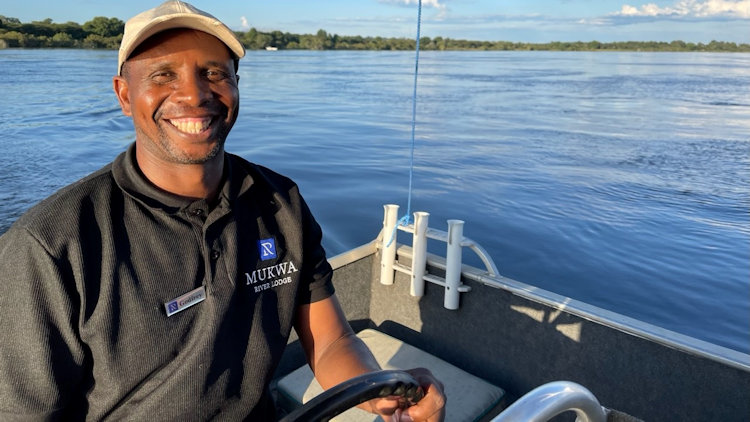 Image by Gillian McLaren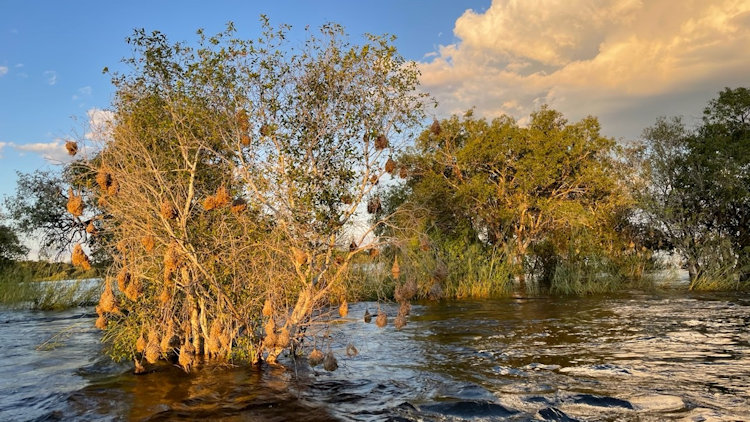 Image by Gillian McLaren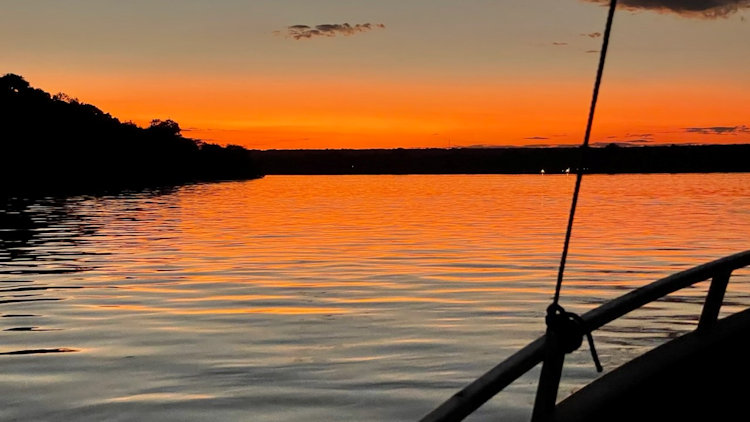 Image by Gillian McLaren
From the vantage point of the river, scores of lanterns glisten a welcome as we approach Mukwa River Lodge. Mint and fresh lime spritzers are served, followed by a shot of hot peanut butter drink. As we have come to expect, the carte du jour for our evening meal is imaginative. We are well pleased with our choices, particularly enjoying the inventive presentation. Bread is baked in a miniature tin mug, or served in the shell of a half Baobab seed that is placed on a bed of roasted chickpeas.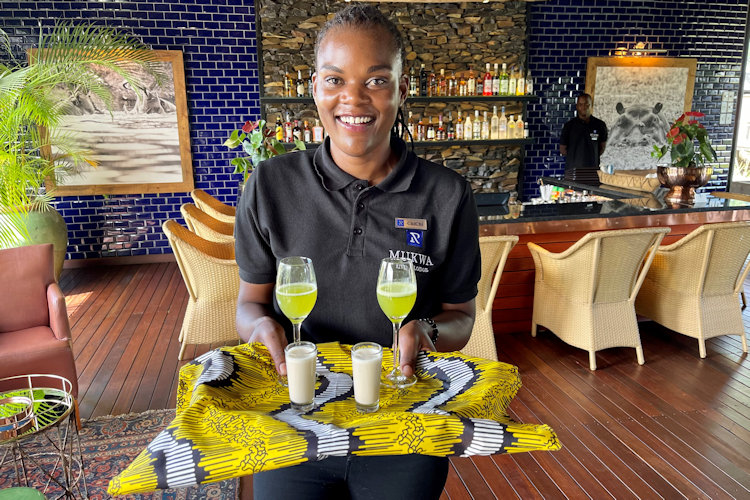 Image by Gillian McLaren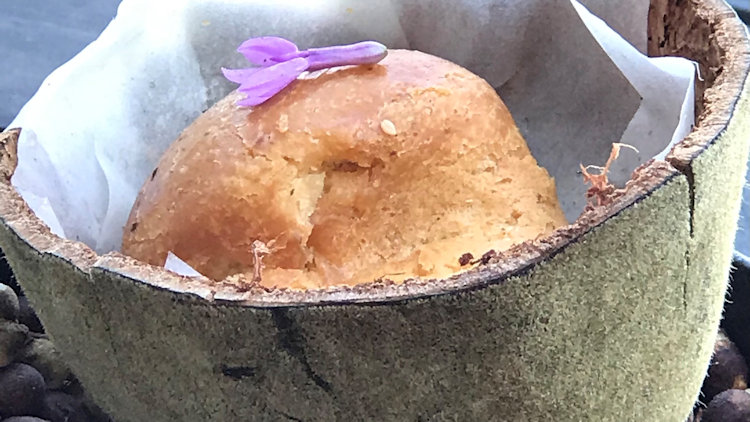 Image by Gillian McLaren
This boutique lodge - with its hospitable staff, array of indigenous trees, heated communal swimming pool and panoramic views of an iconic African river - creates a cocoon to escape from the hectic pace of life, to refuel and refresh one's soul.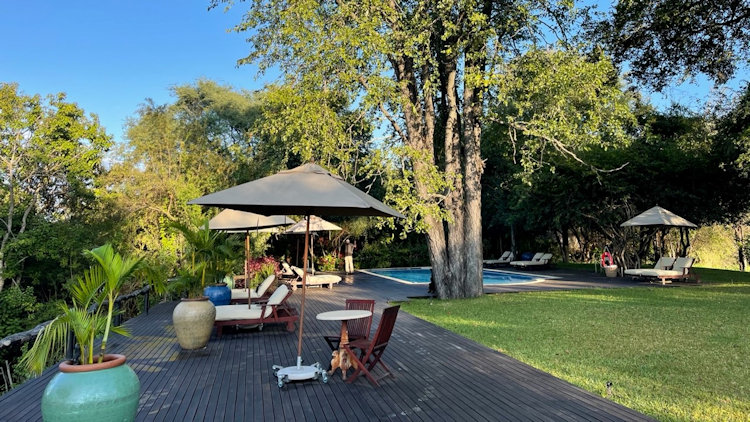 Image by Gillian McLaren
https://theresidenceportfolio.co.za/homemukwa.html
For more travel features by Gillian McLaren (@Jetset_Gillian): www.gillianmclaren.blogspot.com