With a government policy on supporting the arts and culture, the public has unparalleled access to museums, private art collections and public art works including some of the world's best street art. Sao Paulo is also the epicenter of food in South America. With the biggest Japanese population outside of Japan, Sao Paulo has incredible culinary influences from Japan as well as French, Italian and Dutch and more including Alex Atala's two Michelin star restaurant D.O.M.
The city also features stunningly designed buildings by world renowned architect, Oscar Niemeyer and his protégé, Ruy Ohtake. Ruy Ohtake's most recognizable work is chicly designed watermelon shaped
Hotel Unique
. A modern destination, offering an escape from Olympic chaos, Hotel Unique, often characterized as a modernist architectural landmark and surrounded by an astounding graffiti scene, attracts a sophisticated crowd of dignitaries, models, artists and celebrities.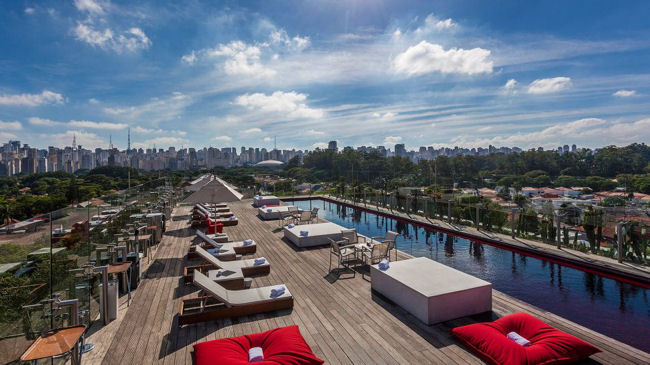 Well-situated in the residential area of Jardins, the hotel is a haven from the high-octane city, much different than the buzzing city of Rio during the Olympic games. Guests can not only avoid Olympic crowds, but if they are so inclined, can even take part in their own Olympic activity by swimming laps in the red pool at Skye. In addition, the exclusive nightlife scene at rooftop Skye Restaurant and Bar, boasts an extraordinary 360 degrees of the city, making Hotel Unique the only location for travelers wishing to distance themselves from all the hype of the Rio Olympics to stay.
Visit website:
http://www.hotelunique.com.br/