Hotel Savoy has expanded the original room into a presidential sized suite, while maintaining the stylish charm of a Rocco Forte Hotel. The 110 sq metre two-bedroom suite is located on the second floor and boasts high ceilings, full height balcony doors and spectacular views from all of its four balconies.
The new space is warm with yellow tones and accents of blue and red. It combines contemporary and traditional influences; antique furniture - a classical portrait bust - sits alongside contemporary artworks. The 'Blue Shoe' painting echoes the playful art featured throughout the hotel, as a nod to traditional Florentine craftsmanship. A small library has been added with classical Italian works, including poetry and short stories to give guests a 'taste of Florence'.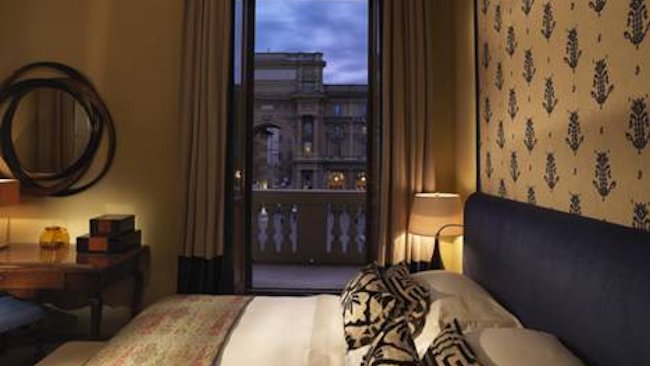 Olga Polizzi, Director of Design, Rocco Forte Hotels comments "Hotel Savoy's presidential suite is a very attractive suite in a stunning position, overlooking the Piazza della Repubblica. Comfortable and warm, light and airy, it embodies the spirit of Florence".
For further details and booking please see
https://www.roccofortehotels.com/hotels-and-resorts/hotel-savoy/