The best places to catch a summer sunset or a blissful breeze, from a refreshed midtown muse in New York City to panoramic views of Boston's skyline and the Boston Harbor and more around the country.
The Royalton Park Ave Rooftop Lounge | New York, NY
Royalton Park Avenue's dynamic two-floor food, beverage and entertainment rooftop is back with a modern refresh and new offerings to the indoor and outdoor spaces. Embodying a high-end private club feel, the midtown space is adorned with distressed Chesterfield sofas, rich leather club chairs, marble accents and lush details. Signature floor-to-ceiling windows and a wrap around terrace beckon once again, while new small plates and vibrant, seasonal cocktails greet guests with delectable variety. Outside, the heated pool takes center stage, not to be outdone by unobstructed Empire State Building views. Adjacent is the intimate Ivy Lounge, where an electric yellow piano catches eyes before guests settle into the private outdoor terrace or in front of the cozy fireplace, featuring special music performances on a weekly basis.
The Joule | Dallas, TX
Perhaps the most iconic feature of The Joule, its unique 8-foot cantilevered pool gives guests the sensation of swimming out beyond the hotel's edge. Equally voyeuristic for those swimming or those standing on the street below, this sexy swimming pool gives "hanging out by the pool" a whole new meaning. Besides the unreal views, guests can also enjoy bites and drinks, including The Joule's signature frozen margaritas, at the pool's full bar.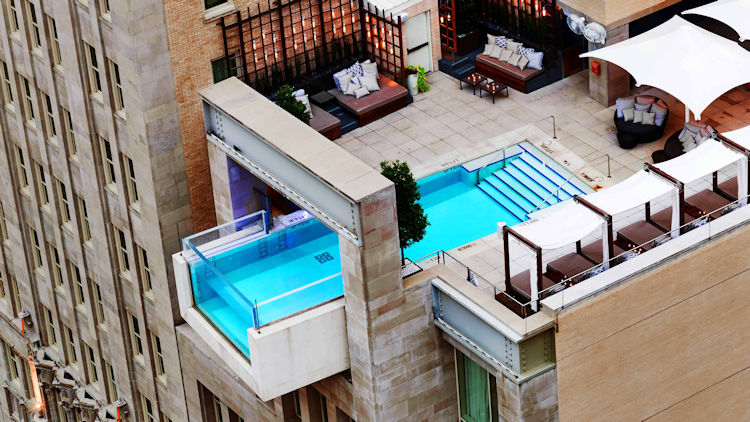 Rare Bird at Noelle Nashville | Nashville, TN
Overlooking the Music City skyline and perched high on top of Nashville's best boutique hotel, Noelle Nashvillle, is their charming rooftop bar, Rare Bird. An open air lounge, this rooftop terrace is complemented by warm brick and natural elements, making it the perfect place to relax with some of their signature cocktails and light bites — serving up everything from their Early Bird espresso martinis to Nashville Hot Cauliflower, a healthier spin to the city's favorite fried delicacy.
Palacio Provincial | San Juan, PR
Located in the heart of Old San Juan, Palacio Provincial is the hottest homebase for adult travel in Puerto Rico. The meticulously restored and reimagined Palacio Provincial celebrates the history of San Juan while incorporating modern design elements throughout the 43-room property and the best part - the stunning rooftop deck which boasts a heated infinity pool and whirlpool where guests can enjoy open-air dining, cocktails and relax in pool chairs with stunning views of both the city and Old San Juan Bay.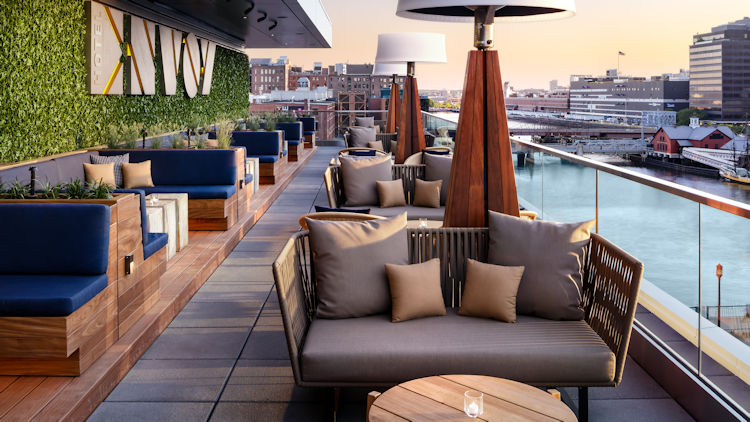 Lookout Rooftop at The Envoy Hotel | Boston
Boasting panoramic views of Boston's skyline and the Boston Harbor, Lookout Rooftop is one of the most thoughtfully designed, sought-after rooftop experiences in the city. The beverage-only bar offers a comprehensive menu of craft cocktails, a selection of microbrews and a specially curated wine list perfect for any occasion. With seating available both indoors and outdoors (including a collection of outdoor igloos in the winter months!) with outdoor seating complemented by glowing fire pits. Lookout Rooftop is the ideal year-round destination for a beautiful view and a refreshing beverage.