The sun dances on the waters of the 620-acre master-planned Mayakoba community. Nicknamed the "The Venice of Mexico," it's designed with a labyrinth of limestone-carved canals that link its natural lagoons and lush mangrove forests. The Riviera Maya is a stunning stretch of paradise that extends south from Cancun along the historic Yucatán Caribbean coastline. The Rosewood Mayakoba, set within a tropical jungle and overlooking the turquoise blue sea, is blessed with spectacular natural beauty only outshone by its inspired guest experience.
Adventure begins the moment you arrive, as you'll be taken to your room aboard a teak motorboat with direct access to private docks. The hotel consists of exquisitely appointed villas and luxury suites, and while it's tempting to stay ensconced in these beautifully furnished abodes, the excitement truly begins when you step outdoors to experience this extraordinary destination.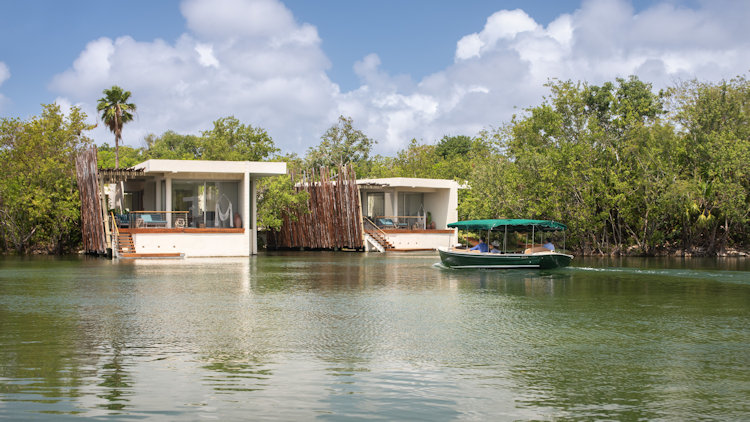 Welcome
Imbued with a sense of timelessness and place, from the moment you step into the grand lobby of the Rosewood Mayakoba you sense its connection to the ecosystem of which it is a part. Setting the stage with its earthy elegance and relaxed sophistication, the resort's decor makes good use of materials indigenous to the region, and its clean lines showcase the natural beauty of the landscape, bringing the outside in and lending a tropical fantasy atmosphere.
Accommodations
The Rosewood Mayakoba caters to a sophisticated traveler, and each of its villas, suites and exclusive collection of private residences comes with custom furnishings by Mexican artisans, open floor plans that give way to spacious balconies, refreshing plunge pools and boat docks. Thoughtful amenities, elegantly appointed bathrooms with rain showers, and butler services are just some of the many hallmarks of this exceptional experience.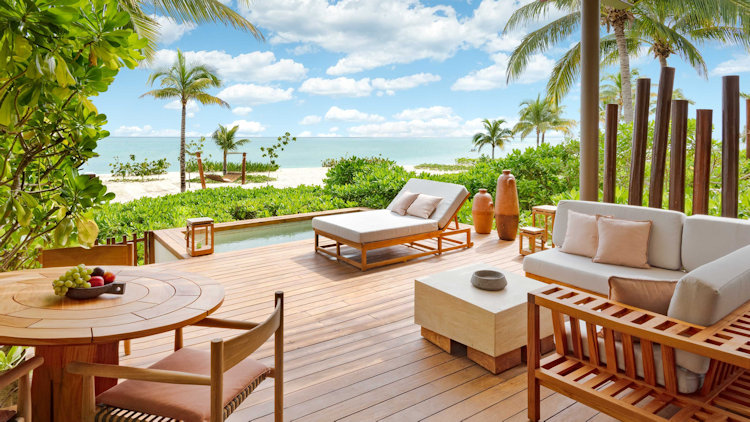 The Suite Life
The Oceanview Suites offer two- and three-story accommodations on the shoreside of the resort overlooking the deep blue sea. Each suite offers a private plunge pool and rooftop sun deck complete with lounge furnishings. Just steps from the sand, the Beachfront Suites offer spectacular views and beach access, a plunge pool and outdoor shower for washing sandy toes.
Large parties of friends and family will make the most of the space of the three- to six-bedroom Presidential Suites, with large communal living spaces and an outdoor terrace perfect for game night under the stars.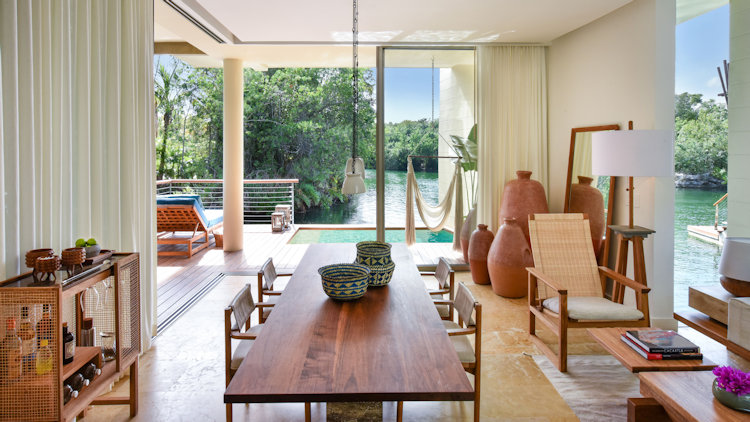 Enchanting Lagoon Villas
An incomparable home-away-from-home experience awaits at Rosewood Mayakoba's Lagoon Villas, which offer the convenience of proximity to Sense, A Rosewood Spa, the resort's glamorous lobby, and the endless fascination of the its winding lagoon. Villas range from 3,497 square feet to over 7,000 square feet in two-, three-, four-, or five-bedroom configurations with spacious terraces and outdoor living and pool areas.
Those looking for sun, sand and a truly spectacular stay, may opt for the sprawling Founder's Villa, 16,300 square feet of indoor and outdoor living space, including six bedrooms with dual master suites, seven full baths plus one half-bath, a media room, and a convertible office suite.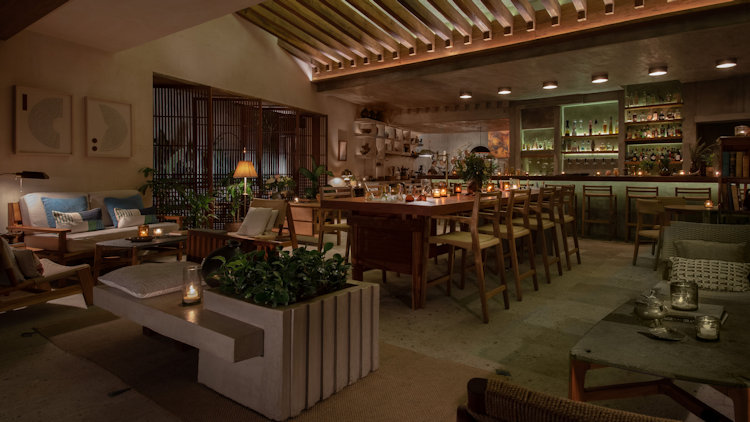 Dining
An explosion of color, taste and artistry, the culinary offerings at the Rosewood Mayakoba are steeped in regional Mexican tradition and fused with international flavors and styles. Drawing on over 15 years of award-winning culinary expertise, director of culinary operations Chef Juan Pablo Loza showcases his gastronomic passion and prowess in the eight on-site restaurants and bars, plus an ever-changing array of colorful pop-ups serving festive street foods and interactive foodie experiences that bring flavors and traditions of the Riviera Maya cuisine to life.
Mornings begin at Casa Del Lago, overlooking the resort's central pool and serving breakfast traditions of Central Mexico. In addition to an opulent continental breakfast spread with a rainbow of fresh fruits, pastries, premium meats and cheeses, menu items include traditional sopes, classic chilaquiles, and a specialty menu dedicated to at least four variations of huevos rancheros.
After a morning of activity, you'll relish a casual lunch accompanied by smashing panoramic views of the Caribbean Sea at the indoor/outdoor Punta Bonita. The extensive menu brims with the gastronomic heritage of Mexico's most diverse states – Michoacán, Guerrero, Oaxaca and Chiapas. From ceviche made to order to freshly baked tlayudas and the weekly seafood market's fare, each multi-course lunch showcases the catch of the day. For added fun, learn to make your own homemade tortillas on the "comal," a large flat griddle.
An adults-only escape, Aquí Me Quedo serves up energetic flavors in the street food fare popular in Mexico's Caribbean coastal communities. Sit under a canopy of palm trees and gaze out on the spectacular vistas while indulging in tangy ceviche, the catch of the day, and fresh coconut water – all served from La Cantina, a retrofitted vintage food truck on the beach.
Experience a family-style dinner with communal seating at the La Ceiba Garden & Kitchen, where al-fresco dining and inspired pairings of seasonal Mexican cuisine demonstrate the full breadth of Juan Pablo Loza's culinary magic. All the ingredients for a memorable dining experience come together under the wide-open sky. In addition to lively sit-down meals, cooking demonstrations and tastings are available to savor and learn, and to enjoy the camaraderie of a collective culinary experience.
When it's time for a nightcap, Zapote Bar serves them up in its relaxed living-room-like setting. Enjoy artisan cocktails, wine and craft beers served with savory snacks and small bites.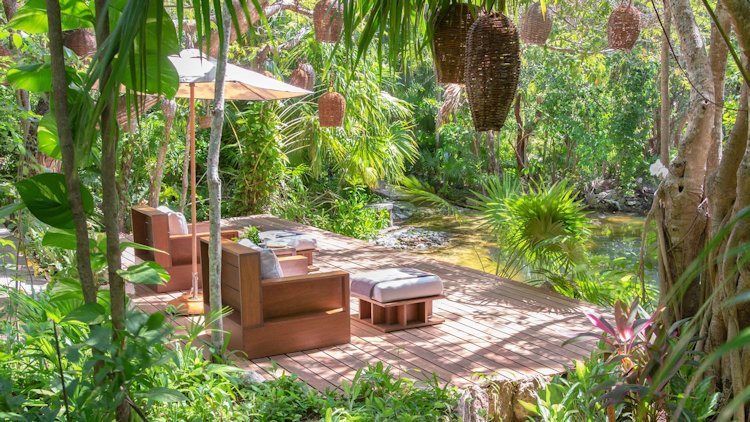 Spa & Wellness Retreat
Soothe your soul and energize the body at the sleek, modern and exceptionally appointed Sense, A Rosewood Spa®️, where spa treatments and a host of classes allow you to customize your wellness experience.
Upon entering, you will have a choice to experience treatment rooms, relaxation lounges, a private yoga pavilion, full hydrotherapy circuits, a fully equipped strength gym and cardio studio, eight overnight Wellness Suites. The most impressive is the sensory Kuxtal "The Life" Garden, a wooded enclosure abloom with local plants, which are designed to bring a higher state of consciousness and grounding with the natural world.
Dedicated to the Mayan philosophy of life – the alignment of health, harmony and happiness – each signature treatment is based on Ayurvedic well-being and pays homage to centuries old rituals, bringing balance and mindfulness with physical and spiritual rejuvenation. The Path to Wellness focuses on fitness and nutrition to achieve inner balance. In the Marry Yourself Journey, a resident shaman imparts ancient teachings of pre-Hispanic cultures to celebrate self-acceptance and love. The Journey to Resilience is a multi-day immersion adventure through rituals, body movement, meditation and the spiritual impact of scents and sounds.
For those looking for a restorative experience that will last long after the flight home, the Alchemy of Sleep experience is designed to realign sleep habits through movement, nutrition and mindfulness practices to create a lifetime of restful slumber.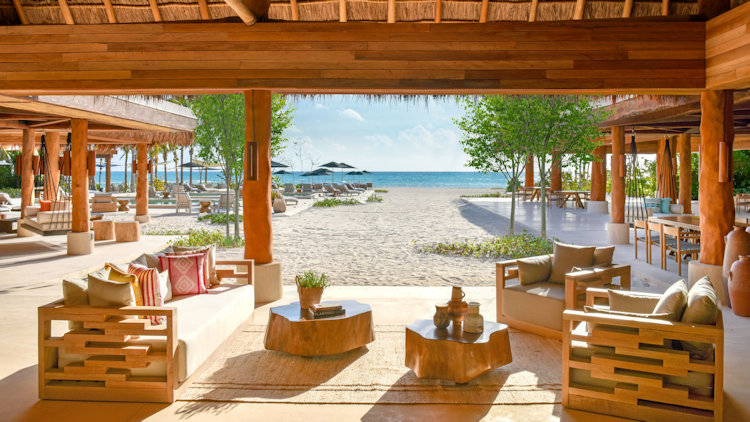 Sun-splashed Beachfront & Pools
From the turquoise blue water of the Caribbean Sea to crystalline pools and stunning lagoons, there is no end to the water sports and activities to be found at Rosewood Mayakoba. With one of the most pristine stretches of sand in Riviera Maya, sink your toes into the soft white sands and take in the mesmerizing seascape from your lounger, hammock or private cabana while beach attendants cater to your every need, from chilled towels to mini massages and drinks and bites from Punta Bonita or Aquí Me Quedo's La Cantina. When you can pull yourself away from your book, complimentary use of a bicycle and non-motorized water sports are provided throughout the day.
For those looking to like the "pool life," the resort offers multiple options of sparkling pools for swimming laps, floating bliss and splashing with the kids.
Just steps from the ocean you'll find Aquí Me Quedo, an adults-only poolside hideaway with multiple plunge pools surrounded by palm trees. The Casa Del Lago Pool overlooks the lagoon and is surrounded by a tropical deck. Little ones will enjoy the freedom to splash and play at the Punta Bonita Family Pool with access to the Rosewood Explorers children's program. And for the ultimate in tranquility, the Spa Serenity pool at Sense, A Rosewood Spa®, is a large hydrotherapy pool surrounded by overstuffed lounge beds and gently swaying hammocks.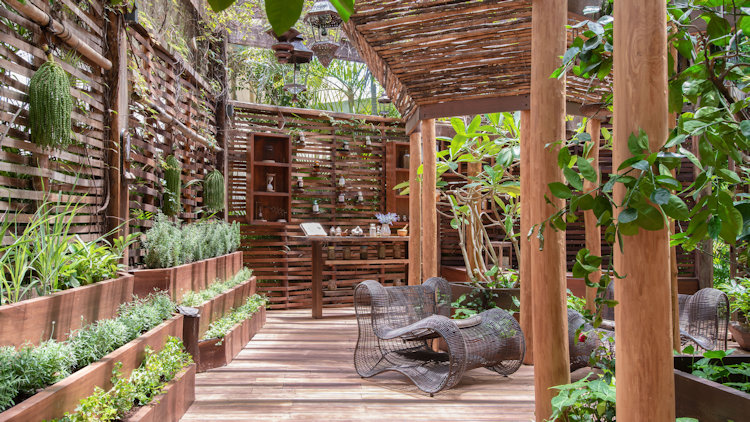 Mayakoba Experiences
The unique beauty of Mayakoba is inspired by inspired by Mexico's rich heritage. Recognized throughout the world as an environmental model for conservation of the land's native elements, the region encompasses 620 acres of jungle and shoreline all linked by a series of crystalline lagoons within a private gated community. Heralded as the gem of the Yucatán Peninsula, Riviera Maya offers an abundance of activities that make full use of the natural surroundings, from diving and snorkeling and dolphin excursions to culturally rich experiences that delve into the mysticism of the Mayan culture. The concierge team at the Rosewood Mayakoba will assist in planning the adventure of a lifetime.
Raquel Baldelomar is an entrepreneur, author, and journalist. She is author of Sugar Crush (HarperCollins, 2015). Her journalism focuses on how travel leads to a unique kind of productivity, creativity, and wellness. She can be found at https://www.instagram.com/rbaldelomar.
Photos courtesy of Rosewood Mayakoba, except author's own.