A California wine country pilgrimage absolutely must include Napa, but to focus solely on this renowned region would be a mistake. If one is to truly experience today's California wine country, one must venture south, to the central coast's producers, whose Chardonnays and Pinot Noirs are helping to set the state's gold standard. One such producer is San Luis Obispo's Tolosa, whose mission it is to create world-class versions of the two varietals.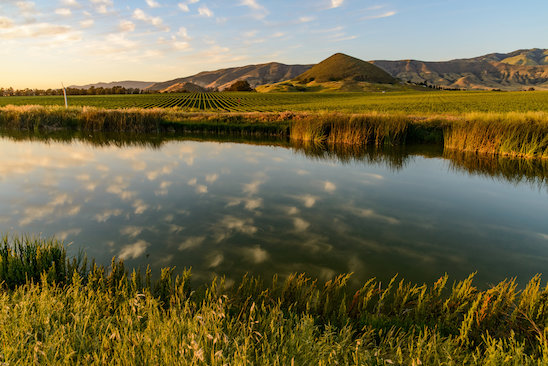 Located in the heart of Edna Valley, nestled amongst the northwest to southeast running volcanic hills of San Luis Obispo County, and the frontier for the most complex cool-climate varietals in California, Tolosa wines reflect the area's distinct sense of place and its rich history; Tolosa is named after Mission San Luis Obispo de Tolosa and its Franciscan monks who crafted some of California's first wines of distinction. The area's microclimate is reminiscent of Burgundy; cold Pacific winds sweep down the coast and funnel into the valley, mixing with more than 60 soil types that create the ingredients for nuanced and balanced wines of character. Yes, Tolosa wines are indeed tasty, and that is motivation enough to try a bottle. But there's so much more to this label. Here's why a visit to Tolosa is a must for any lover of California wines: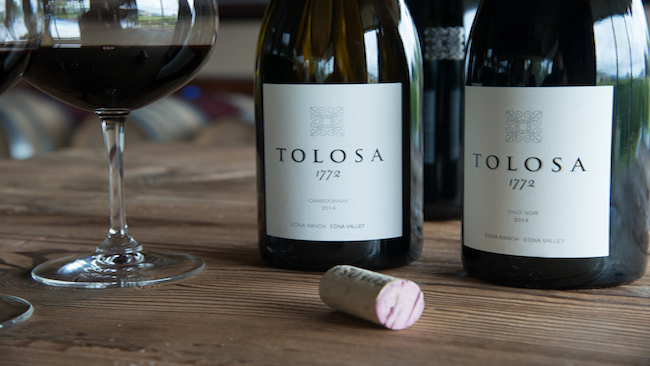 The Team:
Also known for his luxe Napa label Alpha Omega, Proprietor
Robin Baggett
is no carpet-bagger; his San Luis Obispo roots run deep. He has spent 40 years in the Edna Valley pursuing his passion for world-class Pinot Noirs. (Cal Poly San Luis Obispo's baseball stadium bears his name.) Baggett planted Tolosa's first vineyard in 1988, and opened the tasting room a decade later. Respected winemaker
Jim Kress
brings a plethora of experience from working at prominent wineries throughout California. He took the lead in overseeing a recent multimillion-dollar overhaul of the winery, tasting spaces, and wine label. Consulting winemaker
Jean Hoefliger
is a leader in California's wine industry. His labor intensive winemaking style might be a bit costlier, but the proof is in the bottle.
The Process:
Kress and Hoefliger utilize a combination of state-of-the-art equipment and traditional methods in crafting Tolosa's wines - from optical berry sorting, to small lot basket press, to stainless steel/temperature controlled/rectangular tanks, to warm barrel fermentation. The winery uses cutting-edge technology in soil exploration and vineyard mapping, paired with best practices in farming. And, Tolosa is SIP certified (sustainable in practice) and is 100% solar powered.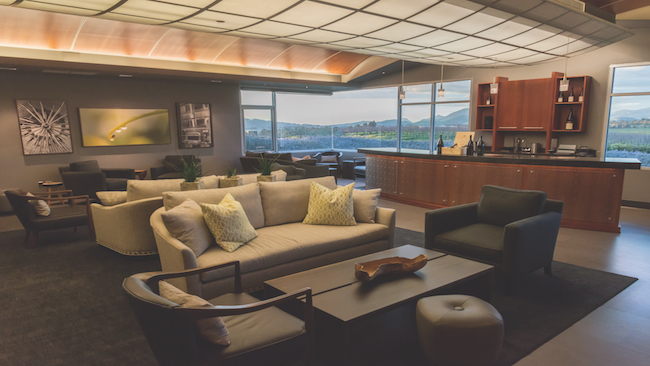 The Vines and the Wines:
Of the approximately 1800 acres of vines planted in the Edna Valley, 720 are owned by Tolosa. Half of Tolosa's vineyards are planted to Chardonnay; 40% are Pinot Noir; the rest include small amounts of Pinot Gris, of Syrah, and Sauvignon Blanc. The Winery's
Heritage Series
includes highly accessible offerings blended from its home vineyard and other prime California sources.
The 1772 Series
(named for the year of Mission de Tolosa's founding) features handcrafted varietals from the Edna Ranch vineyard. The
Single Vineyard Series
features small-lot, artisanal Pinot Noir and Chardonnay wines that invite exploration of renowned appellations and acclaimed vineyards throughout California. And
Primera
, the winery's flagship wine that rivals the best Pinot Noirs in the world, is a rare cellar selection of the best barrels from Tolosa's estate vineyard, Edna Ranch.
The Tasting Experiences:
Just as Tolosa's wine offerings vary, so does its tasting experiences. Choose from:
Single Vineyard Tasting -
Discover the contribution that 'place' can make to a wine with this tasting of very small lot, artisanal wines from renowned appellations and acclaimed vineyards throughout California. This tasting aims to confirm Edna Valley's place within the state as a powerhouse region for pinot. $65/person.
Exclusive 1772 Tasting
– A seated tasting in one of the private tasting rooms, led by a wine educator. Wines are tailored to the group, and might include current releases, Wine Club varietals, and the flagship Pinor Noir, Primera. Starting at $45/person.
Tour and Tasting
- Experience the beauty of the Tolosa property, production facility, and wines with this tour that starts in the Barrel Loft, leads to the crush pad, and through the Tank Room. Finish with a private tasting while enjoying views of the vineyards. Starting at $60/person.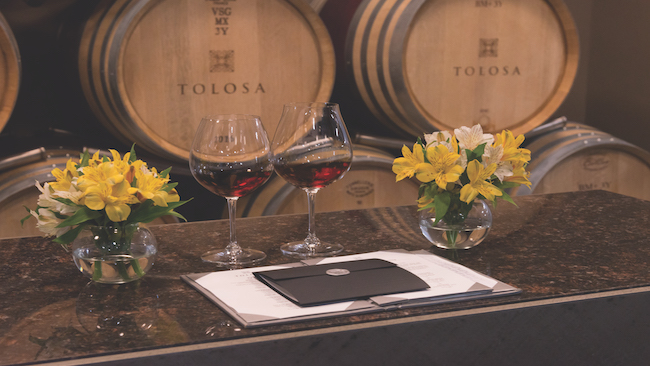 The Tasting Venues:
The Tolosa property features a number of elegant vantage points in which to sip and savor:
The Heritage Room –
A chic venue for wine club members only, featuring expansive vistas of the vineyards and the ancient volcanic peak, Islay Hill. Featuring intimate seating areas with custom furnishings in a soothing gray palette, this lounge is reason enough to become a Tolosa member.
Monighetti Room
– Tolosa's most intimate tasting space overlooks the Monighetti section of the estate vineyard.
Barrel Loft -
Offering a bird's eye view of the production activities in the barrel and fermentation rooms, this glassed-in space houses the barreled Single Vineyard wines and offers a unique tasting opportunity for up to 12 guests.
Terrace
– With exceptional views of both the vineyards and the winery crush pad, the Terrace offers a relaxed al fresco tasting atmosphere with a number of intimate seating options under the shade of olive trees.
Tolosa welcomes walk-ins, though reservations are suggested. Ask any of Tolosa's amiable tasting room staff for restaurant and accommodation recommendations. The San Luis Obispo area has much to offer; make a weekend, or a week, out of your visit.