Reflected in the waters of dazzling Concha Bay, Villa Favorita sparkles brightly with modern sophistication.
A beautifully preserved 19th-century villa overlooking Spain's San Sebastian beachfront promenade, Villa Favorita is an adults-only jewel-box of a hotel, offering stylish coastal décor, a Michelin star restaurant, and a relaxed, refined atmosphere.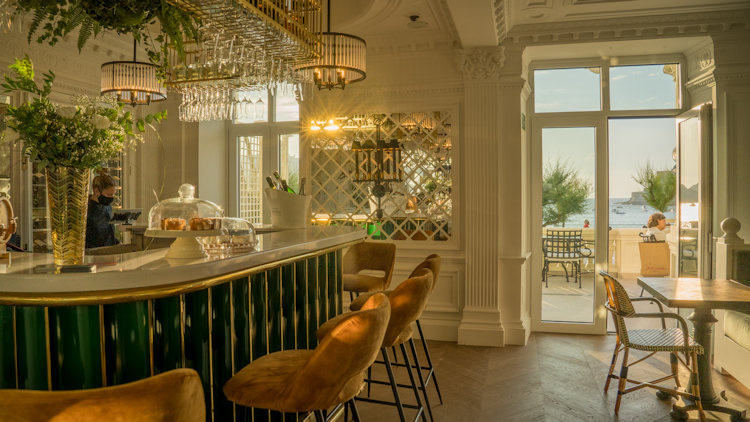 The last original villa on La Concha has been polished like a jewel, as Villa Favorita open sits doors to an adults-only experience that invites guests to discover all that San Sebastián has to offer. A salty breeze sweeps into the open windows overlooking La Conca Beach and its promenade, undisputedly one of the most beautiful in the world. The property features Amelia, a Michelin star restaurant, and room service, along with exceptional concierge services and nearby points of interest, including Buen Pastor Cathedral, Edificio de Correos and the Teatro Victoria Eugenia, one of the city's most iconic buildings.
Housed within a 19th-century villa, Villa Favorita commands a prime position on San Sebastián's Playa dela Concha. Originally built in the Georgian style in 1866, it was the summer residence of Queen Maria Cristina, the second wife of King Alfonso XII. From the moment you walk into this exquisitely preserved villa, you, too, will feel like nobility.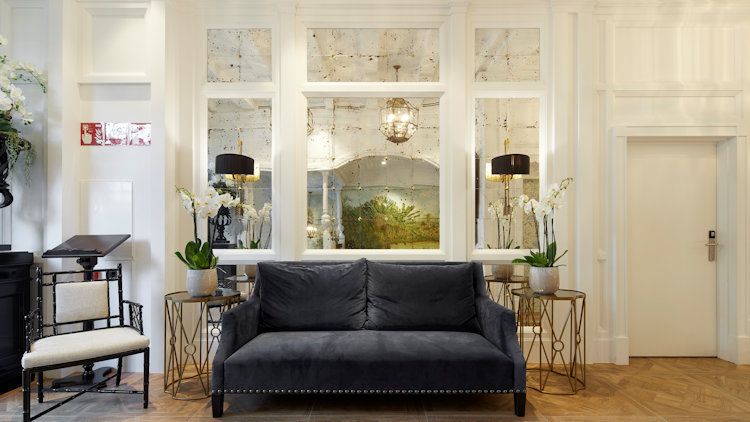 Lobby: The last of an era on La Concha Beach, Villa Favorita's meticulously restored authentic details effortlessly co-exist with contemporary design. This luxury boutique hotel commands its position on the famed beachfront promenade in San Sebastian, affording picturesque vistas of the bay from its large, sea-facing windows. Upon check-in, you'll want to take note of the staff members who wear the distinctive "Clefs d'Or," the elite concierge association lapel pins. This prestigious organization was founded in Paris in 1929 and values excellence, discretion and uncompromising service.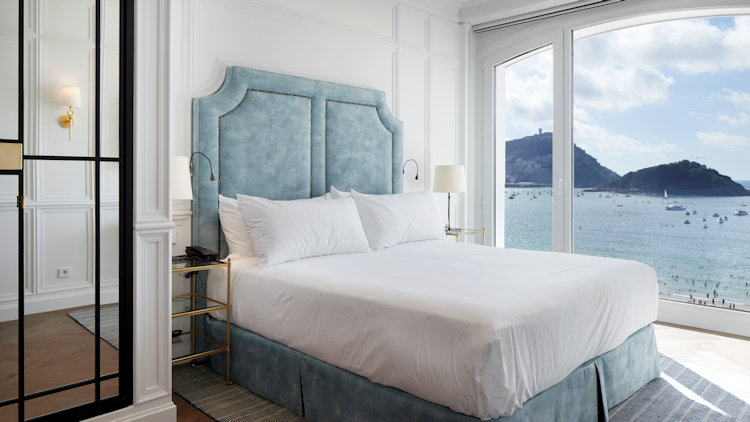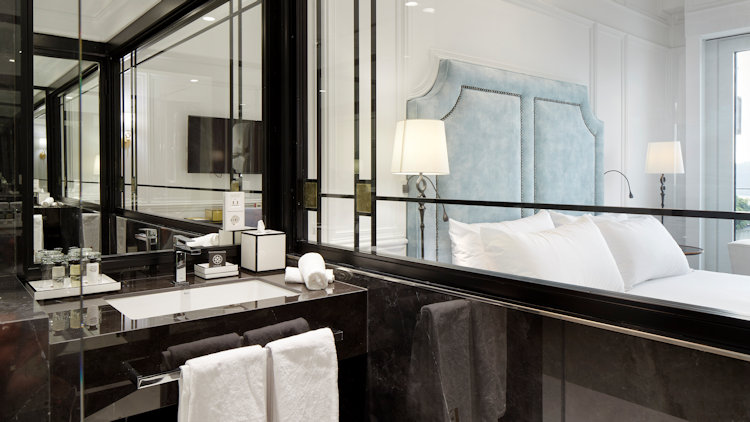 Accommodations: It offers 20 rooms and three suites, with some of the well-appointed rooms affording views of the cityscape while others face the sea. Accents of blue in its myriad shades are interwoven with neutrals and white to create a soothing palate of tranquility and understated elegance with a subtle art-deco vibe.Overlooking the city, a Zubieta room offers value and lively views; Bahía de la Concha rooms take in Concha Bay; while Classic rooms are situated on the first level and Panoramic rooms are on the upper floors. The spacious Sea View suites offer separate lounge/living areas and stellar views of the city.
Services include 24-hour front desk assistance, room service, mini-bar, flat screen television, sumptuous bed linen and towels. and free Wi-Fi throughout the property. The seaside spa of La Perla Centro Talaso-Sport provides services at the hotel for guests.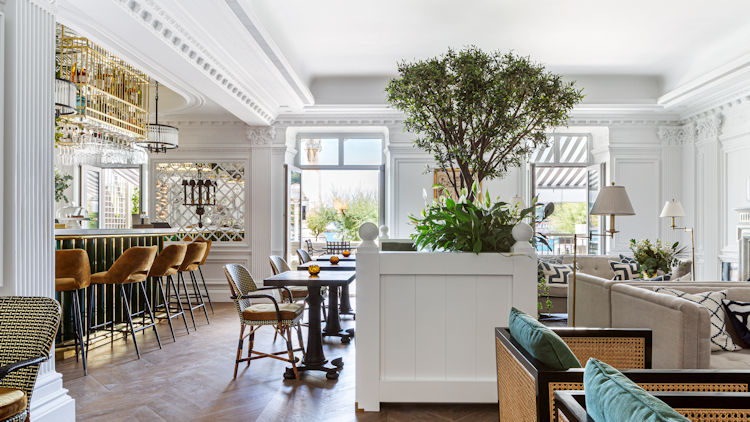 Dining: Amelia, a Michelin-starred restaurant by Italian-Argentinian chef Paulo Airaudo, was already a staple of the gastronomic scene in San Sebastián before relocating to the Hotel Villa Favorita. The large, open-kitchen space, features the finest local produce and flavors, and drawing on traditions of other cuisines.Amelia, named for the chef's daughter, serves up fine European fare in a traditional "tasting-menu" style, and is designed to highlight the enchanting views of La Concha. Chef Airaudo oversees all the food and beverage at the hotel, including breakfast, lunch, the room service menu, and the terrace lounge.
A central point of the hotel's design is the terrace lounge, offering indoor and outdoor seating. While the bartenders here expertly mix cocktails, they are equally as talented with coffee. Exquisitely rich and aromatic, coffee is revered by locals and is a daily caffeine-infused ritual for Chef Martin Berasategui, winner of 12 Michelin stars, who frequents the spot.
By the end of the 19th century, La Concha Bay was studded with elegant European villas, nestled together like jewels in a crown. As time marched on, they slowly disappeared, until only one remained – Villa Favorita. Pay homage to this timeless treasure and experience the grandeur of yesteryear while enjoying contemporary accommodations, fine dining and magnificent views fit for royalty.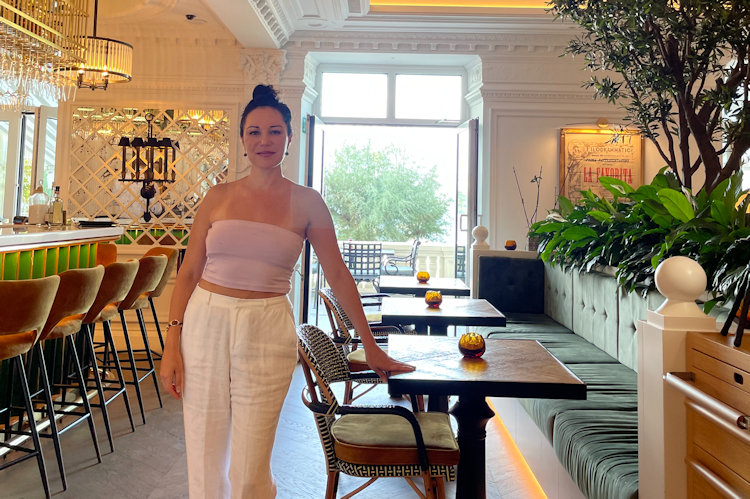 Article by Raquel Baldelomar.She is an entrepreneur, author, and journalist. She is co-author of Sugar Crush (HarperCollins, 2015). Her journalism focuses on how travel leads to a unique kind of productivity, creativity, and wellness. She can be found at https://www.instagram.com/rbaldelomar/.
Photos courtesy of Villa Favorita, except author's own.