It's the closest that I have ever been to a wild African elephant. Sitting on the wooden deck of the communal area at Sanctuary Chief's Camp in the seasonal Okavango Delta, I watch an elephant peacefully stripping off leaves from an African ebony tree. He's a massive bull, with a wrinkled face and long eyelashes. He is aware of my presence and looks at me, then studiously ignores me as he munches.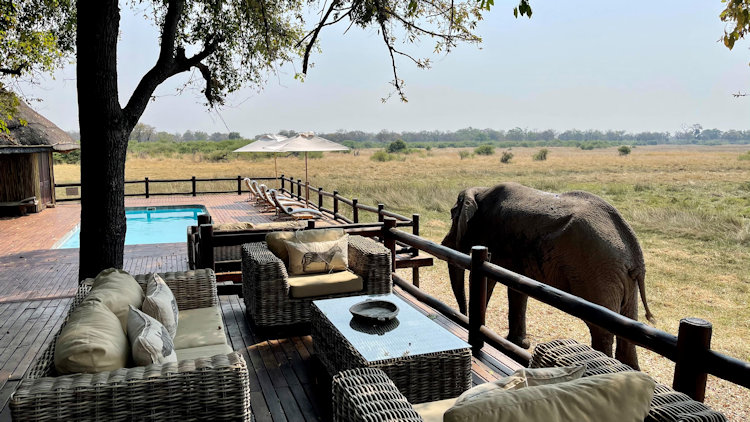 I enjoy a tapas type lunch, paired with an iced Sauvignon Blanc, at a table on the open-air terrace. Across the Piagio floodplain, at a pool of permanent water elephants stand beneath a date palm tree, while a troop of baboons forage and cavort. Birdlife is prolific, with a squadron of pink-backed pelicans and great white pelicans, the endangered wattle cranes and African spoonbills.
Included in the social area of the camp is a covered dining space with a pizza oven, lounge with comfortable sofas, reference library, a well stocked bar and a shop with African jewellery, safari clothes and curios. The front deck has a swimming pool with loungers, plus inviting areas with coffee tables and cushioned wicker chairs. A boma with fire pit - looking out over the grassy floodplain - is the setting for barbecues and performances where staff entertain us with community dance and song.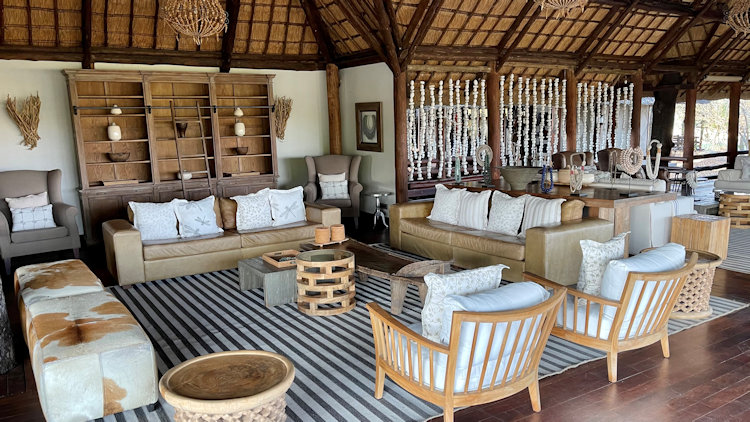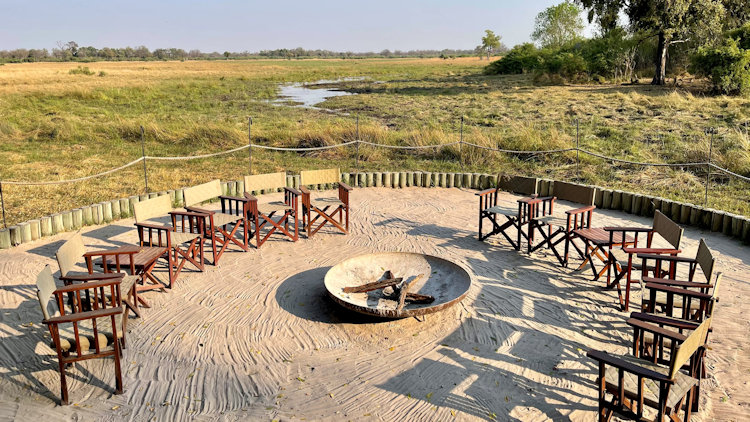 Strolling back to my luxury bush pavilion - one of ten - I pass two other male elephants, resting under a mangosteen tree. Soporific on my daybed, under a thatched gazebo, I gaze at the pristine Piagio floodplain where lechwe and impala graze. A resounding crack and clatter announce the presence of an elephant breaking the barrier of my private deck, as he leans on it to stretch his trunk into the plunge pool to drink. Hyperventilating, I grab my mobile phone to capture this rapturous moment!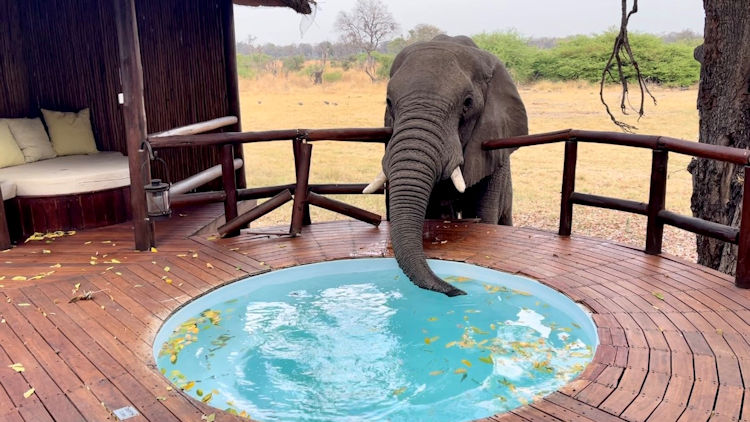 With its spacious bedroom en-suite bathroom and lounge area, decorated in sophisticated décor, it is tempting to linger in my pavilion. The colours are soft and light in hues of cream and white, with a few lime cushions and vases to add bold accents to the bush chic. During a bubble bath, I look through floor to ceiling windows and folded back glass doors, breathing in pure wilderness air. Sanctuary Chief's Camp, set in a UNESCO World Heritage Site, is well deserving of the consistent awards for the world's best safari lodges, which it receives from votes in Condé Nast Traveller, Travel and Leisure, plus other renowned publications.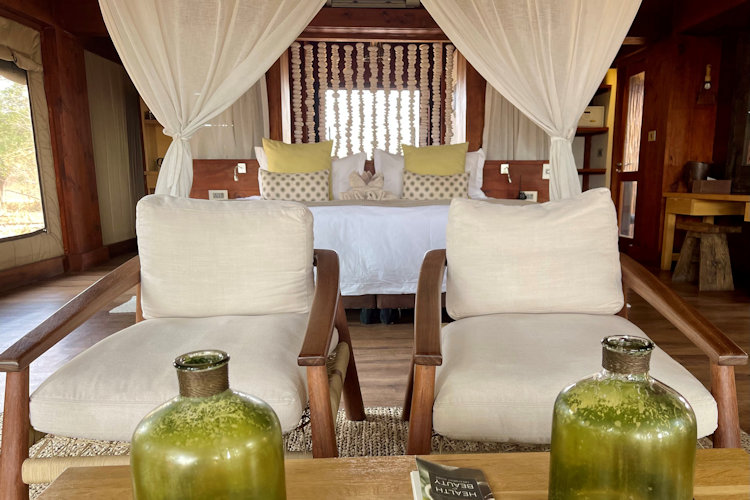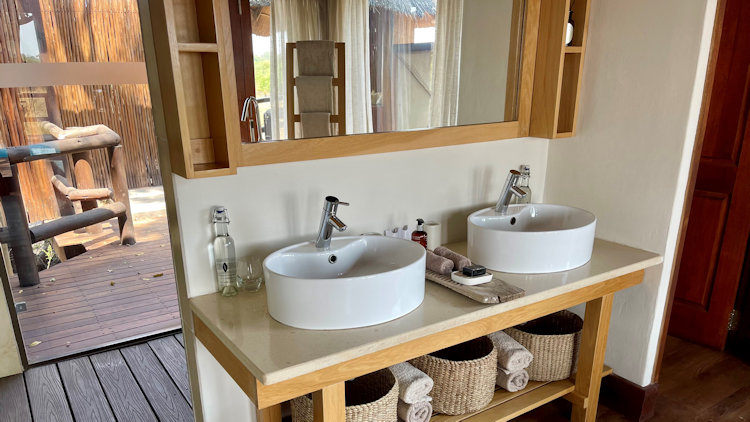 Our game vehicle is an open-sided Land Cruiser with snorkel, to ford the channels in the Okavango Delta when the water level is high. Binoculars in hand and camera at the ready, we wait near a sausage tree in hopes of seeing a leopard. Crimson flowers beneath the tree provide food for antelope, so the crafty cat often sits on a branch until he can leap down to seize his prey. This is the advantage of having local guides that have intimate knowledge of the ecosystem. A sided-striped jackal skulks nearby, waiting for an opportunity to steal a morsel.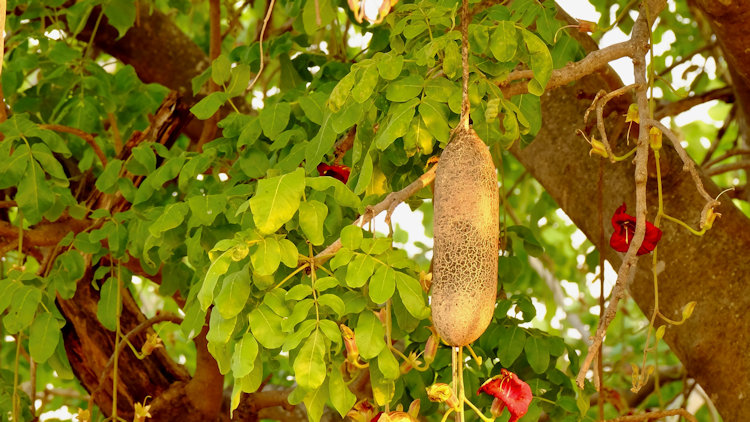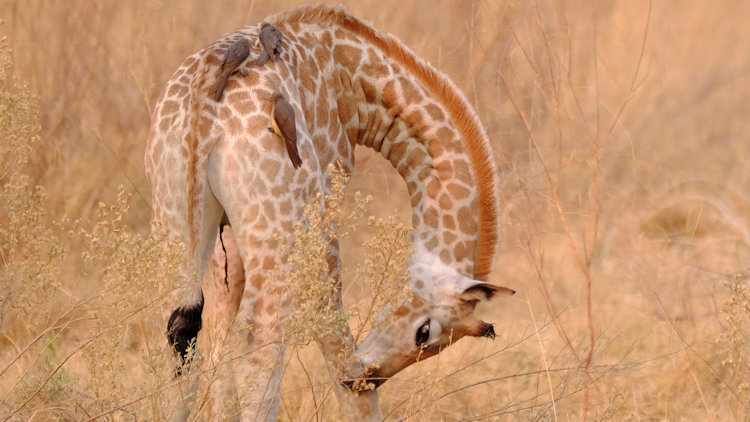 A mother giraffe nurses her recently-born calf that still has its umbilical cord attached.
Burchell's zebra are browsing on herbs, shoots and twigs. My guide informs me that they are the national animal of Botswana. The black and white stripes represent national unity and the equality of all races and ethnicities, plus the importance of wildlife and tourism in the economy. The pattern of stripes on a zebras face is that of a diamond, to represent the mineral industry. Not least of all, the Botswana national soccer team are The Zebras.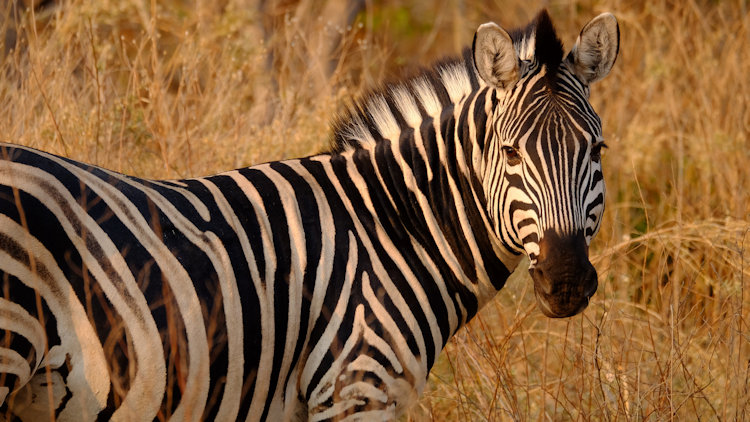 For special sightings in the Mombo Concession, vehicles may drive off-road. When we spot a male cheetah, we are able to follow him. He sits on the base of a termite mound, looking around for prey, or perhaps for the presence of a large predator like lion or spotted hyena. Walking through the grass, he finds a cool, verdant patch where he has a rest. Although soporific, he keeps raising his head, opening his eyes to scan the plain.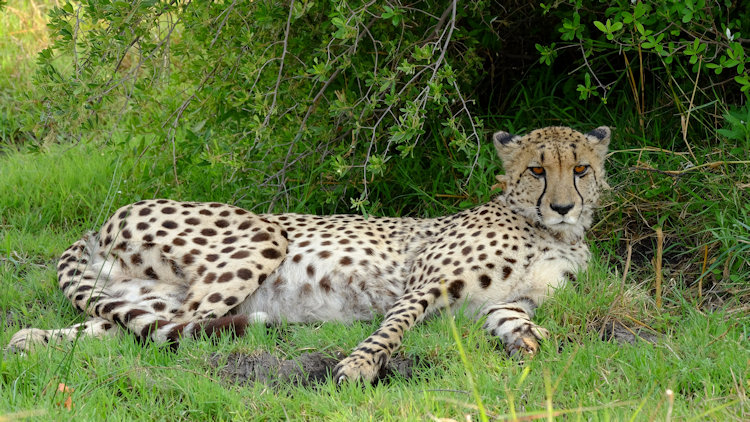 A quintessential part of an African Safari is alighting from the vehicle in the fading light, to nibble on snacks and sip a gin and tonic. This evening I choose Glenfiddich, a 12 year old single malt whisky, accompanied by the dusk chorus of tinkling bell frogs. In the mornings, the stop is for coffee, tea or an indulgent hot chocolate, with freshly baked muffins. With the grassy plains, ponds of water and white termite mounds, our stops give time to absorb details of panoramic scenes. The sheer variety of game and bird species, plus the vast numbers that gather together, are impressive.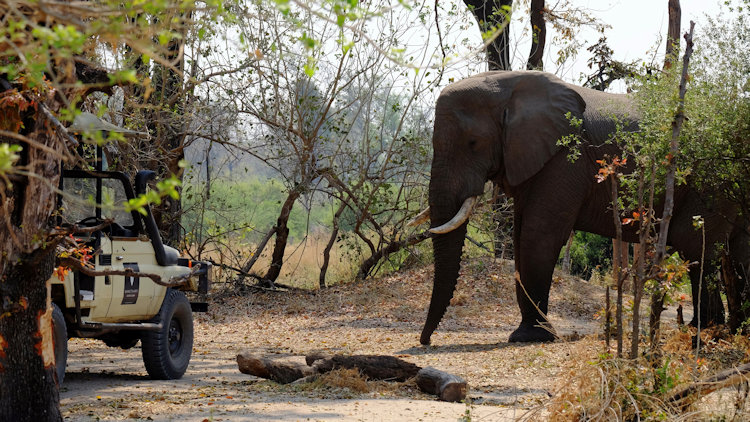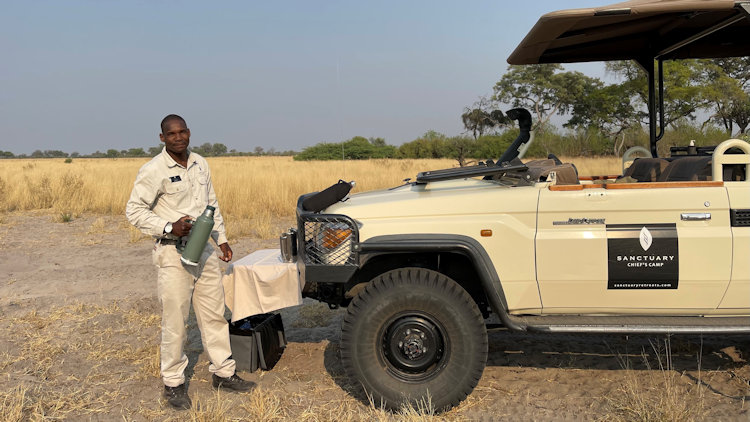 With its prime position on Chief's Island - reputed to be the predator capital of Botswana - seasonal water that draws game and birds, the secluded and stylish Bush Pavilions, gourmet food and fine wine, plus personable staff, Sanctuary Chief's Camp furnishes me with a perfect African Safari.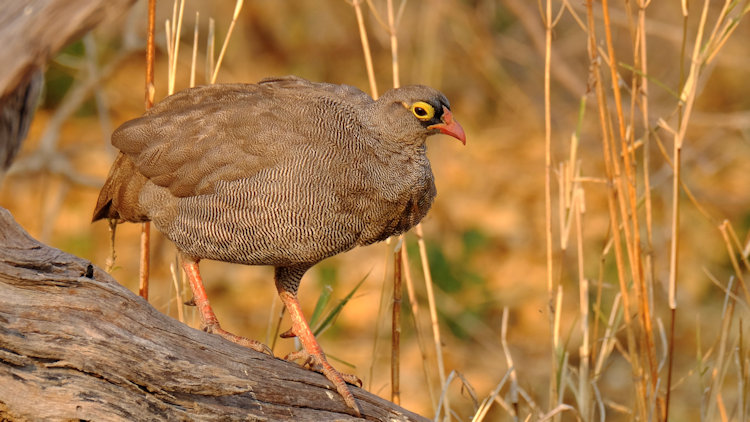 For more information go to http://www.sanctuaryretreats.com/botswana-camps-chiefs
Text and images by Gillian McLaren (@Jetset_Gillian)
For more travel features by Gillian McLaren: www.gillianmclaren.blogspot.com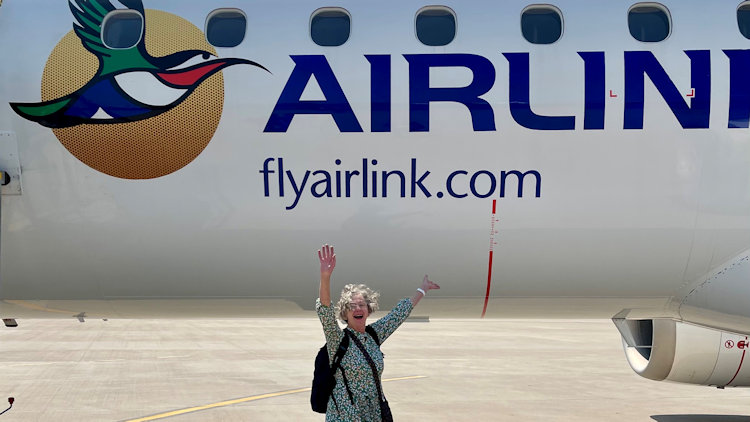 Airlink
Airlink operates direct scheduled flights from Cape Town and Johannesburg to Maun (Okavango Delta), Botswana.
Book direct on www.flyairlink.com, or the FlyAirlink app or with your favorite travel agent. A privately-owned, full-service premium regional airline, Airlink offers the widest route network in Southern Africa, offering more flight choices and more connectivity. With more than 50 aircraft in the fleet, Airlink's on time performance is consistently better than 95%, this is a clear indication of the determination and commitment to remain synonymous with customer centricity, punctuality, service excellence and reliability.
Travelers can also enjoy the benefit of intra-continental style business class service on select routes operating our magnificent Embraer E-190 / E-170 regional jets.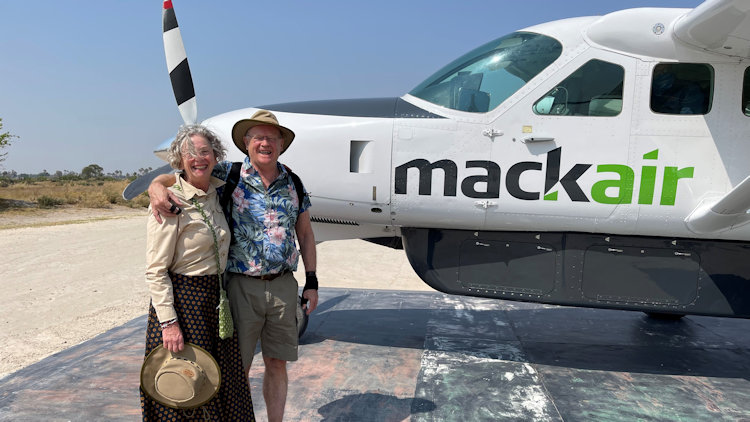 Mack Air
Mack Air is one of the most advanced charter companies in Southern Africa. Operating in Northern Botswana for over 25 years they have developed intimate knowledge of the country and can access any runway, however remote. Mack Air has a versatile fleet of over 24 aircraft. Trustworthy, efficient and personable service is offered from take-off all the way through to landing. Taking you where you need to be, on a higher level!