This can't be Arizona. It's green and there are palm trees. But turn around and take in the tumble of red rocks of Camelback Mountain. The scenic counterpoint is riveting. That's Sanctuary: expect the unexpected.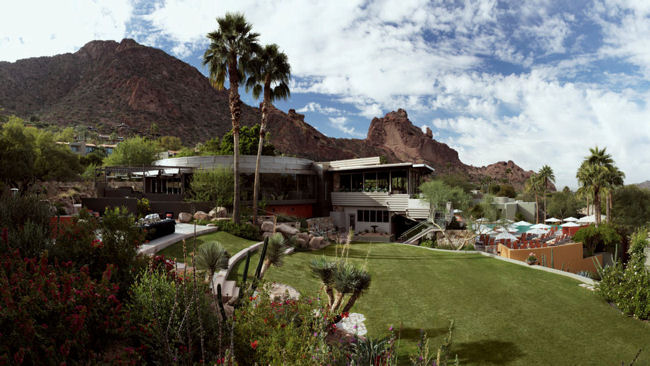 Everything about the resort celebrates and complements the spectacular setting. Nature's blues, oranges, yellows and greens find their way into the striking plantings around the resort and into sophisticated furnishings in 105 casitas and suites and five private homes that stretch across 53 acres. The accommodations inspire you to relax and savor the views. There are 69 Mountain Casitas, 41 of which are Suites ranging up to 1,500-square-feet with wood burning fireplaces and outdoor terraces. They share a sleek, spacious and contemporary design sensibility with 12 Camelback Casitas and Suites, which are distinguished by their perch high into the resort's namesake mountain, granting premium views of the aptly named Paradise Valley beyond.
Another 24 spa casitas offer an oasis of repose, surrounding the Sanctuary infinity-edge pool and intimate spa. Here again, soothing colors reign and step-down living areas depart the norm. So do outdoor soaking tubs and lava rock fireplaces. The rooms beg you to linger, as do oversized, walk-in closets.
All guestrooms offer custom-designed furnishings and the amenities you would expect of a world-class property: spacious baths with oversized tubs and separate showers, the best in linens, flat-screen TVs, and internet connectivity. Then there's the unexpected: silk throws on the bed, eye-catching original artwork, and a velvet sand bag that tells housekeeping when you're in residence and when you're not.
Sanctuary has a unique collection of private homes, each architecturally distinctive, that climb the foothills of Camelback Mountain. Perfect for one-night, one-week or one-month rentals, they are full-fledged estates with such amenities as private pools and Jacuzzis, wrap-around terraces, home theaters and gamerooms.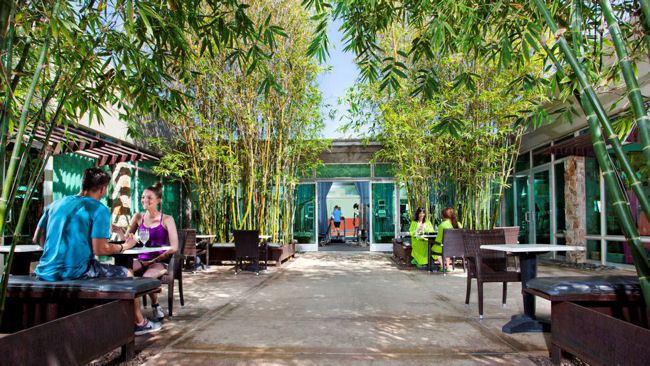 At Sanctuary, all walkways lead to two destinations: elements restaurant in the resort's reception building and Sanctuary Spa, an Asian-inspired retreat. Both the restaurant's décor and its menu are sophisticated and creative. The seating is comfortable and orients the guest to the outdoors – again, the awesome panorama of Paradise Valley. A "community style" table slices through the middle of the room, giving guests the opportunity to dine with other guests. A private dining room known as XII opens to the kitchen, giving guests a preview of the workings of a world-class restaurant. Al fresco dining is available thanks to the elements deck and Praying Monk patio, the latter features large skylights and slide away glass walls for year-round enjoyment.
The cuisine is Executive Chef Beau MacMillan's brainchild: always relying on fresh, local and seasonal ingredients and always presented artistically. The same cuisine is offered to in-room diners, poolside diners, and catering guests.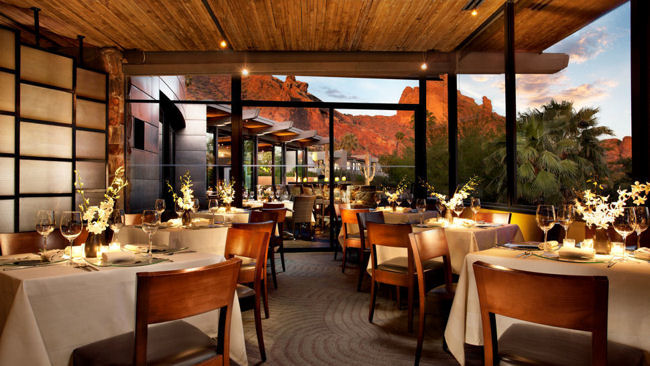 elements restaurant is adjoined by jade bar, an indoor/outdoor gathering place cantilevered over the valley for spectacular views, where an only-in-Arizona cocktail concept is complemented by an exclusive small plates menu by MacMillan. The bar's patio, beautifully landscaped with native plantings, provides a comfortable environment for outdoor gatherings from early spring through late fall, with a magnificent gas fireplace and seasonal heaters giving warmth on desert evenings and a retractable fabric shade and misting system offering cool when temperatures rise.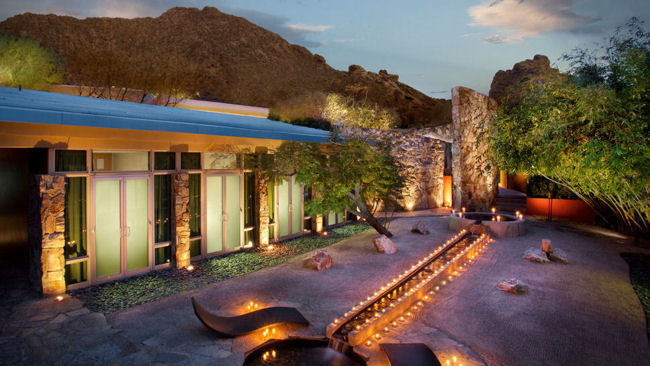 Sanctuary Spa is a world unto itself as its name suggests. Its interior and exterior treatment spaces keep one view constant: a rock sculpture of a praying monk shaped by Mother Nature on Camelback Mountain. With 12 treatment rooms, a Watsu immersion pool for hydro treatments, indoor Couples Suite, movement studio, fitness center, 25-yard outdoor lap pool, and Spa Boutique, the spa cossets guests from the outside world. Asian-inspired treatments, including an exotic collection of facials and massages, are designed to both pamper and empower guests with physical and spiritual knowledge. Highly specialized services are reserved for Sensei therapists, who take a multi-dimensional approach to body work and must pass rigorous certification, including in oncology massage and restorative consultations. And one wellness program in particular, called Satori Wellness Retreat, helps guests find release, tranquility and rejuvenation especially after an impactful event in their lives, and designs a lifestyle that guests can implement at home. The spa provides yoga, fitness, nutrition, astrology and numerology consultations among others as well with studio classes complimentary to guests. Five championship tennis courts also encourage fitness.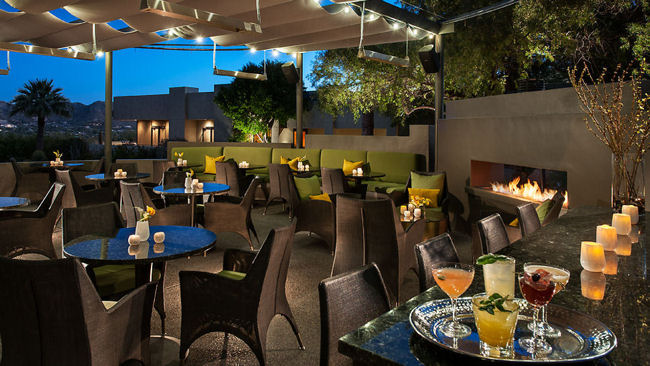 Equally discreet is Sanctuary's meeting/event space, housed in a separate building that can accommodate up to 200 guests. Its centerpiece is a 3,500-square foot ballroom called The Views. As is true of the resort's overall design, The Views invites the stunning environs inside with floor-to-ceiling windows, and a spacious wrap-around terrace faces Mummy Mountain. Two intimate lawns and a garden terrace adjacent to the infinity-edge pool provide much-coveted outdoor entertaining space. Additional meeting space is available via two separate boardrooms. In conjunction with meetings and other private events, the resort provides dedicated personnel who guard each group's sense of exclusivity and make sure their every need is instantly met.
While it's easy to revel in the on-site amenities of Sanctuary – to drift past the exotic sculptures and paintings that punctuate the property, to stare at Camelback Mountain from an ultra-comfortable poolside lounge chair, to dine alfresco on the elements dining deck – there's also much to do off-site. Sanctuary arranges hiking and biking for its guests, golf at Paradise Valley's renowned courses, and trips to world-class shopping, museums and professional sports venues. Sanctuary is just 20 minutes from Sky Harbor International and Scottsdale airports, making it one of the Phoenix/Scottsdale area's most accessible resorts.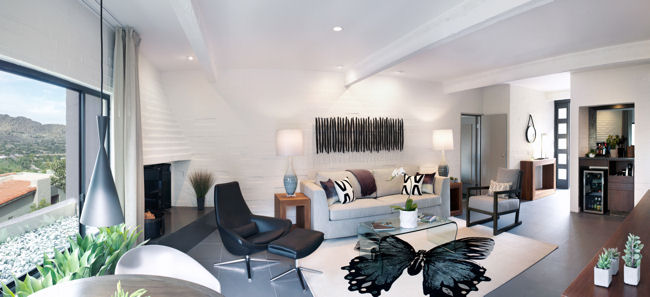 Visit website:
www.sanctuaryoncamelback.com/