Santa Barbara – the stunning seaside enclave known as The American Riviera – has weathered its recent fire and rain storms with a community spirit that is stronger than ever. Many of the area's businesses experienced significant losses in recent months due to the catastrophic Thomas Fire, its subsequent mudslides, and the temporary closure of Highway 101. But the sun has once again emerged to illuminate what is, and always has been, one of the most special spots in California. Hotels, restaurants, and attractions are open and ready to greet guests. The majority of the area's beaches are clean and ready to be strolled upon. The surrounding Santa Ynez Mountains are their normal shades of green and tan and remain uniquely beautiful. Santa Barbara beckons anew with splendid resiliency. Only have a day or two? Here's how to make the most of even the briefest visit: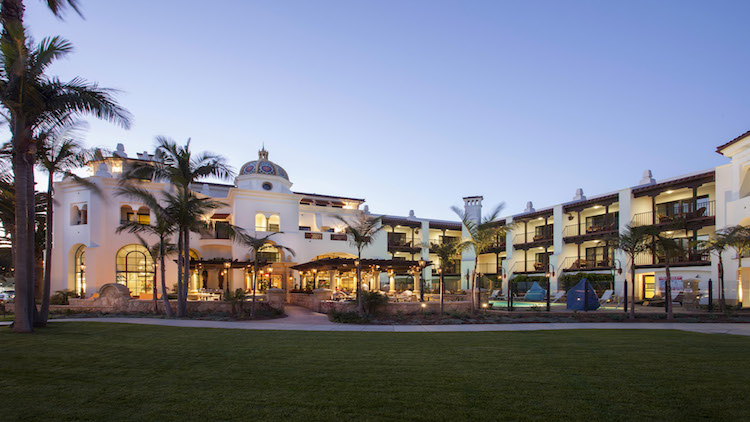 STAY: Visitors to Santa Barbara have an array of accommodation options ranging from quaint B&Bs to luxurious hillside resorts. But in this beautiful coastal town, it's all about the beach, and thus, any overnight stay should ideally be paired with an ocean view. You'll get that view at the Santa Barbara Inn. (above) This boutique hotel overlooks a pristine stretch of coastline and is framed by swaying palms. On a clear day, the Channel Islands can be seen in the distance. Though directly across from premiere East Beach, and within striking distance of State Street boutiques, Stearns Wharf, and the wine tasting rooms of the popular Urban Wine Trail, the hotel's private, ocean facing patios might entice even the most adventurous to stay put and simply enjoy the view.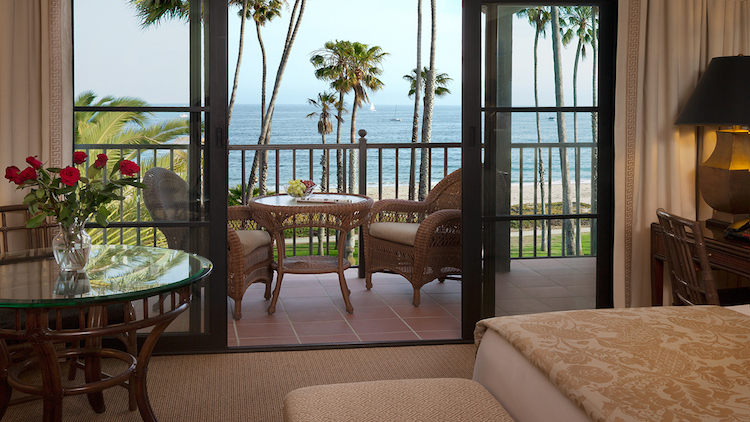 Reopened recently after a two-year total renovation, the Spanish Mediterranean gem perfectly represents the spirit and architecture of its host town. Framed by deep red terracotta roofs, luminous white stucco, gracefully arched windows, and a duo of handcrafted, skyline-defining tiled domes, the Inn merges classic elegance with casual coastal luxury. Its 70 well-appointed rooms (nine of which are suites) feature McGuire furnishings, unique artworks, luxe linens, and either ocean or mountain views. A central outdoor pool and hot tub take full advantage of the seaside proximity, as does the modern fitness center with its large picture windows.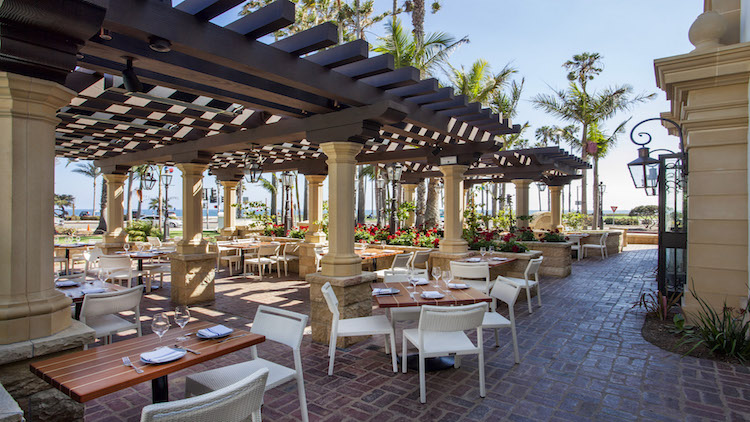 DINE: Originated by the team that created Il Fornaio and Sausalito's Poggio Trattoria restaurants, Convivo, (above) located at Santa Barbara Inn, provides the same convivial atmosphere, and the same rustic, seasonal Mediterranean fare as its forebears. In a town that has upped its restaurant game in the past few years, Convivo is a great addition and is already a local favorite; its popular '805' happy hour (3 – 6pm daily) has achieved cult status: $8 pizzas, $0 ocean views, and $5 small bites, craft cocktails, wines, and beers. Chef Peter McNee describes his style of food as 'Nomad Italian.' His menu is printed daily just before the restaurant opens and features Cicchetti (earth and sea), Agricola (from the farm), Forno (wood-fired pizza), Grano (house made pasta), and Convivo (main course and family style offerings) – all to be enjoyed in the high-ceilinged dining room, or al fresco on the charming outdoor brick patio. An extensive wine list, including tap wines, is comprised primarily of Santa Barbara County AVAs. And a spirited menu of hand crafted cocktails includes one of the best barrel aged old-fashioneds in town. Included in each Santa Barbara Inn stay is a continental breakfast at Convivo. This luxurious amenity includes Italian roast coffees, juices, yogurt, granola, and a selection of breads and pastries.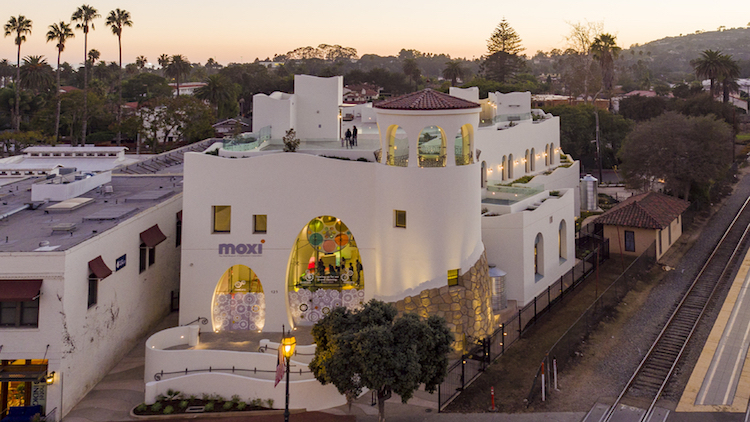 DO: This self contained paradise truly has it all. Simultaneously sophisticated and bohemian, easy-going and energetic, there is truly something to please everyone in this beautiful oceanfront hamlet. From culture, to history, to nature, to pure indulgence, following are a few of our favorite local activities: Spark your curiosity at Moxi, (above, photo by Elevated Horizon) the Wolf Museum of Exploration + Innovation. Geared toward youth, you need not have a toddler in tow to enjoy this brand new 17,000 square foot museum and its highly interactive displays dedicated to sound, tech, speed, light, and color. Step inside a giant guitar to experience how sound waves work, take a digital portrait and pixelate it with wildlife images, and perform your own Foley artistry in a sound-proof recording booth. Don't miss the LEED Gold-Certified building's spectacular rooftop Sky Garden with panoramic views of the city, surrounding mountains, and ocean.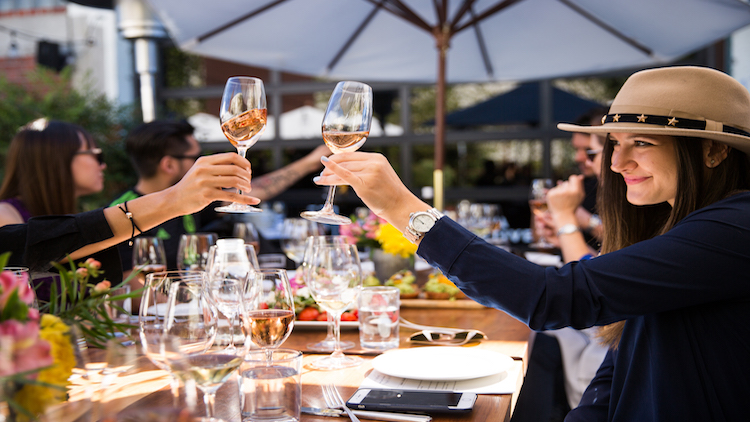 Explore each of Santa Barbara's 28 tasting rooms along the Urban Wine Trail and enjoy some of the finest wines produced in Santa Barbara County, nearly all within blocks of downtown and the beach. Five distinct neighborhoods make up the walkable Trail. The Funk Zone features an eclectic mix of galleries, shops, restaurants, wineries, and breweries and is ground zero for Santa Barbara's artisan community. La Arcada is a quaint, secluded outdoor downtown plaza surrounded by boutiques, cafes, and art galleries. Midtown showcases six fully functioning wineries where you can watch winemakers in action. The Presidio neighborhood is centered around the historical site of the last of the Spanish fortresses, offering a bit of history along with some of the area's finest food and wine. Summerland is a charming, Victorian-esque hillside beach town lined with antique stores, cafes, and high-end boutiques. Purchase the Urban Wine Trail winetasting card and enjoy one-time free tastings at each Trail winery, as well as a 10% discount on wines.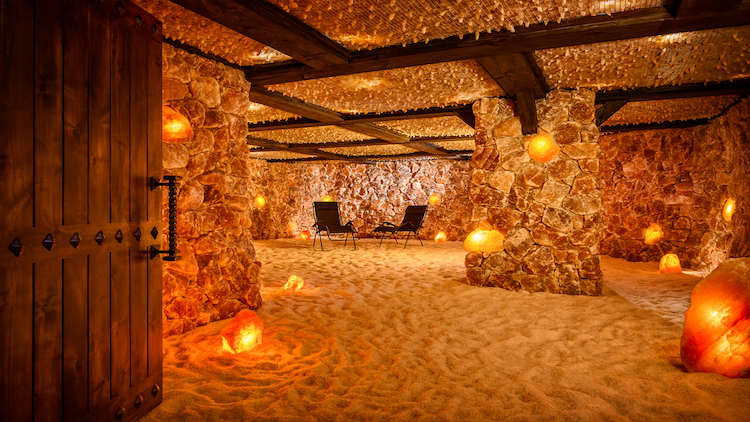 Treat yourself to a Cave Session at Salt, (above, photo by Ciro Coelho) the largest underground crystal salt cave in North America. Located on bustling State Street, the non-descript entrance belies the wonders beneath. Salt's two Himalayan Salt Caves are made of 45 tons of backlit Jurassic-Age salt blocks and crystals; the floor is covered with crushed salt that is laden with minerals, including magnesium, calcium, sodium, and potassium, all of which are believed to play a key role in the body's health, function, and cellular communication. During your Cave Session, the lights are dimmed while soothing music plays. Recline on a mat or in a zero-gravity chair as the atmosphere is infused with micro-particles of salt that are absorbed through the skin and deep into the lungs. The unique 45-minute respite is oddly relaxing, and a great way to heal the body and refresh the mind.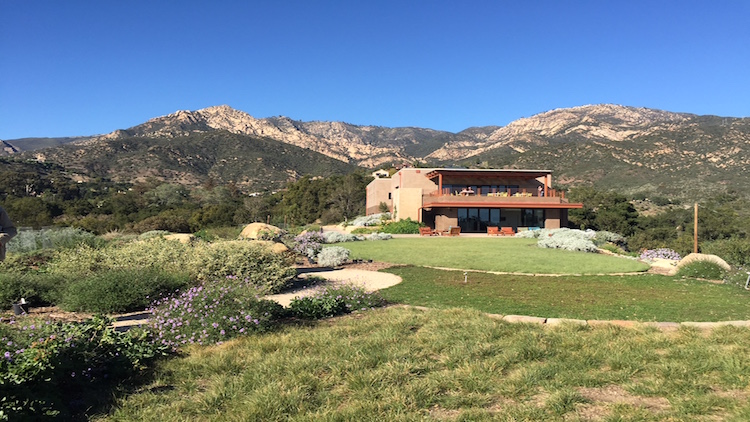 Explore California's unique natural landscape at the Santa Barbara Botanic Garden, a magnificent, 78-acre living museum completely designed with more than 1,000 California-native plants, trees, and flowers that exemplify the diverse botanical beauty of the region. Five miles of easy walking trails crisscross the wild-crafted gardens, so you can venture from a towering coastal redwood forest to an inland cacti-filled desert in just one hike. Be sure to cross the street to the new Pritzlaff Conservation Center (above) and its patio vista where on a clear day the Channel Islands are in full view.
Travelers who visit Santa Barbara through March 31, 2018 can take advantage of "Revive & Thrive" lodging packages, featuring a complimentary third night or 20% off reservations at participating Santa Barbara South Coast hotels.