Malie Organic's, based on the beautiful island of Kauai, has launched their brand new organic, plant-derived skincare line, Botany Beauty Collection.
Each luxurious product is made using organic and active plant ingredients, many derived from Hawaii's tropical flora, and chosen for their naturally skin protective and beautifying properties.
These potent plant-based ingredients and essential oils are host to free radical fighting antioxidants and hydrating emollients that support healthy skin.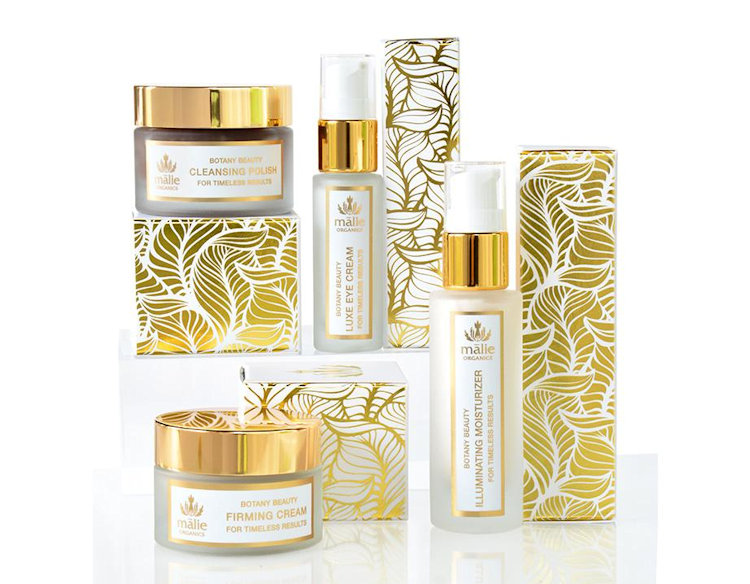 The Botany Beauty Collection includes:
• Luxe Eye Cream -- Calm irritation, reduce puffiness, and enjoy a smoother appearance around the delicate eye area with this age-defying cream.
• Illuminating Moisturizer -- This lightweight moisturizer made with anti-bacterial ingredients cleanses pores and clears skin for a more youthful appearance.
• Cleansing Polish -- Restore softness and improve clarity with this gentle exfoliating facial treatment that utilizes Pineapple and Papaya extracts.
• Illuminating Serum -- Crafted with antioxidant-rich oils, this absorbent serum hydrates while creating a calming aromatic experience.
• Kaua'i Clay Mask -- Gentle enough for all skin types, this mask made with indigenous Kaua'i clay draws out impurities and cleanses deeply.
• Hydrosol Facial Tonic -- Delicate botanical waters made from a blend of 100% pure Jasmine and Rose hydrosols soothes redness and irritation while enticing the senses.
• Coffee Fruit Mask -- Made with 100% active Hawaiian Coffee Fruit Extract, this mask has powerful anti-inflammatory properties while also minimizing the effects of UV exposure.
Malie Organics' Botany Beauty Collection only offers clean, all natural skincare products using recognizable ingredients.
All of their creations are free of artificial fragrances, synthetic ingredients, parabens, sodium laurel sulfate, phthalates, chemicals, fillers, mineral oils, and petroleum.
Malie (pronounced mah-lee-ay) is calm, serene, and tranquil--the essence of organic beauty. Since its launch in 2004, Malie Organics has grown to become Hawaii's premier beauty brand being used in homes, fine hotels, and professional spas both on the islands and the mainland. Each of its organic, natural products is infused with pure Hawaiian Hydrosols for a therapeutic experience unlike any other.
Malie Organic's Botany Beauty Line will be available in select boutiques and spas nationwide as well as Nordstrom.com, Amazon Luxury Beauty, and Malie Organic's online & retail locations.