SeaDream
's slogan is "
It's Yachting, Not Cruising
" and with just 56-staterooms and a maximum of 112 guests, a SeaDream voyage truly feels like a personal getaway. But the expression is not only a statement about size, it also describes the carefree lifestyle aboard their intimate 355-foot twin yachts, SeaDream I and SeaDream II. Itineraries include exclusive destinations with hidden yachting harbors and smaller, less crowded ports and passages where large ships cannot visit.
Just like boarding our own private superyacht, crew members greet us by name and offer glasses of Champagne to welcome us onboard. Check-in is quick and easy in the reception area, so we are at
The Top of the Yacht Bar
in no time enjoying rum punches and tropical sunshine while in port at Marigot, St. Martin. The bartender points out that I chose the same bar stool that Tom Brady sat in when the yacht was attending the Monaco Grand Prix. Being from Boston and a Patriots fan, that was an extra thrill to start off our voyage.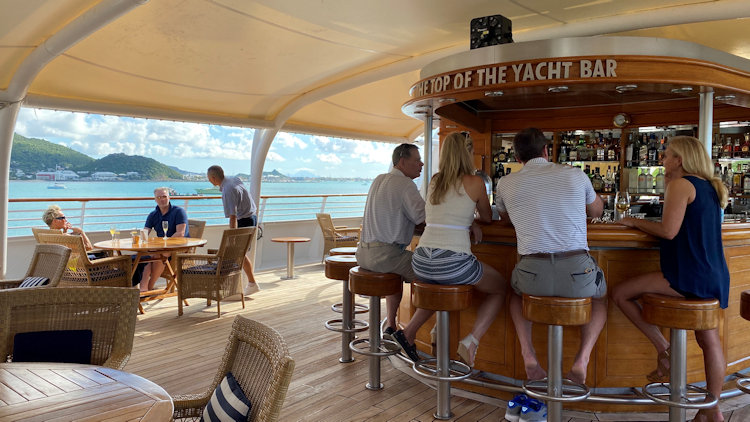 Guest cabins are on Decks 2, 3 and 4. Our cabin is on Deck 4 which also features the Library, Piano Bar, and Casino on one end and the Spa, Salon, and Fitness Center on the other. The reception area on Pool Deck 3 features a fairly extensive duty-free Boutique in case you have forgotten something or would like to purchase gifts.
St. Martin, French West Indies
We arrived in St. Martin a couple of days before our voyage, choosing to stay at
Belmond La Samanna
, the most luxurious resort on the island.
La Samanna
is reminiscent of being somewhere in the Mediterranean with an international clientele and featuring dazzling white buildings with terracotta roof tiles set against an azure sky, and a mile-long stretch of turquoise sea and powdery sand named Baie Longue which, as its name implies, happens to be the longest beach on the island. We spent most of our time in two favorite spots -- at the infinity pool beside
Laplaj
, the resort's
beachside restaurant
, and at the
Baie Longue Bar
that gives us the feeling we are in Positano complete with Italian bartenders. We also loved walking down the beach to the point where we could look across to Anguilla and see La Samanna's exclusive sister resort,
Belmond Cap Juluca
in the distance. Staying here was a great decision that made our Caribbean dream voyage seem that much longer.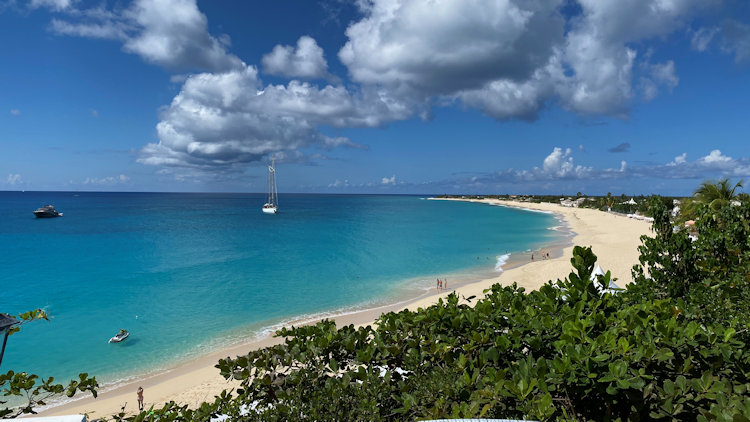 Baie Longue, the mile-long beach at Belmond La Samanna
Gustavia, St. Barths
Our first port of call is Gustavia, St. Barths -- probably the most treasured destination in the Caribbean for luxury travelers. This small island belonging to the French West Indies has so much to offer with its high-end designer boutiques, superb restaurants, incredible scenery, beaches and resorts. We can see some of the world's most amazing superyachts arriving and departing beside our SeaDream yacht. We've been to St. Barth's before and done the shopping and sightseeing, so we headed over to
Eden Rock
for the day, the best spot on the island to enjoy an alfresco lunch and a gorgeous beach. SeaDream spends about 15 hours here and sometimes does an overnight or two, so there's plenty of time for anything you'd like to do.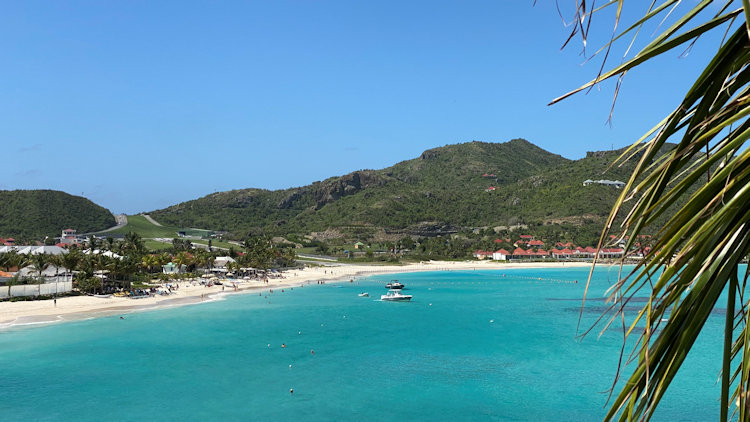 Eden Rock beach view from the rock. Pippa Middleton's in-laws own the glamorous resort
Montserrat
Next we visit
Montserrat
which was considered as one of the "insiders" favorite Caribbean islands prior to the volcanic eruptions that commenced in 1995. It was home to producer George Martin's AIR Studios where some of the world's most famous recording artists, including Eric Clapton, the Rolling Stones, Paul McCartney, Elton John, and too many more to mention here, recorded albums. It is interesting to get to see the volcano which still shows activity, but sad to view the destruction the volcano caused juxtaposed on this beautiful island.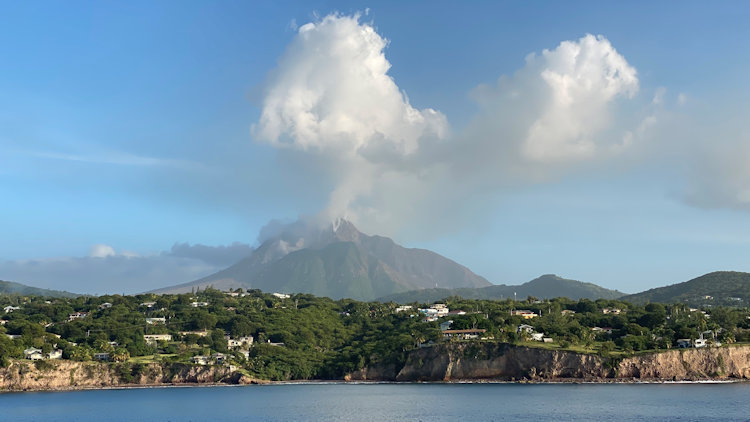 We soon discover that
SeaDream's gastronomical experience
far surpasses our expectations. We are
vegan
and SeaDream offers the first of its kind at sea
"Raw Food" menu option
, organic vegan and raw food, in addition to their regular menu. Chef Tomasz consulted with us each day and prepared the most delicious and exotic vegan cuisine we have ever experienced. He even made us a special breakfast each morning which was really something to look forward to each day. We indulged guilt-free all week with an exciting variety of healthy options, even desserts, such as Raw Avocado Key Lime Pie. The sommelier's wine pairings at lunch and dinner were also beyond our expectations.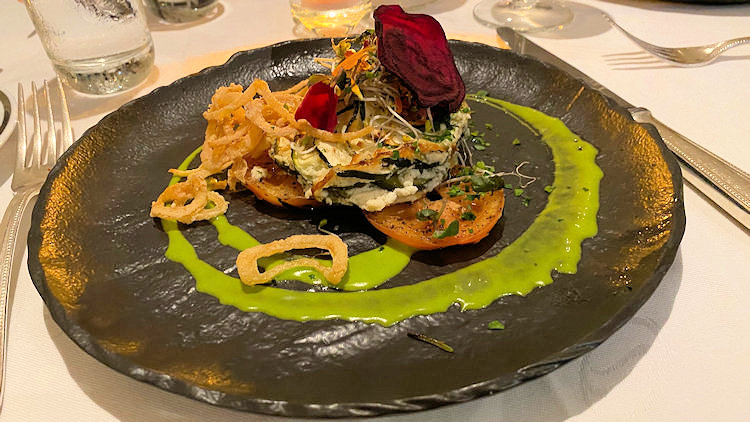 Dominica
We arrive in Dominica, known as the "Nature Isle of the Caribbean." It is an island of tremendous natural beauty with many national parks and even a UNESCO World Heritage Site -- the Morne Trois Pitons National Park. Excursions for snorkeling, diving and hiking are offered here, but despite the opportunity to go adventuring, we choose this day to stay on board, relax and be pampered in the
Spa
with the beautiful view of Dominica as a backdrop. SeaDream offers the only
Thai-certified spa
at sea and they also offer an ocean view couples suite.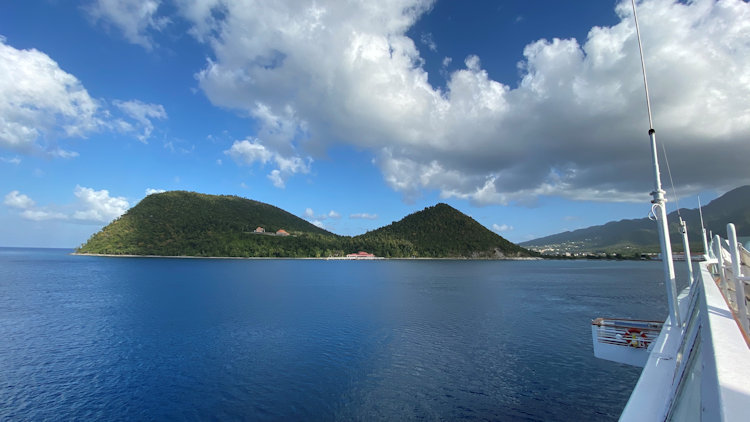 Onboard SeaDream you can choose to relax and be pampered, or be active and adventurous, or a little of both, while traveling to some of the most intimate ports and destinations. There are
plenty of areas for guests to relax
spread over six decks, so most of the time it feels like we're on our own private yacht. The Watersports Marina platform is available when the yacht lays anchor and offers access to the open ocean with a wide variety of water toys, both motorized and non-motorized, and all included in the fare. Other activities onboard include morning yoga and tai chi classes, a golf simulator, a spacious fitness room and of course, the pool deck and hot tub.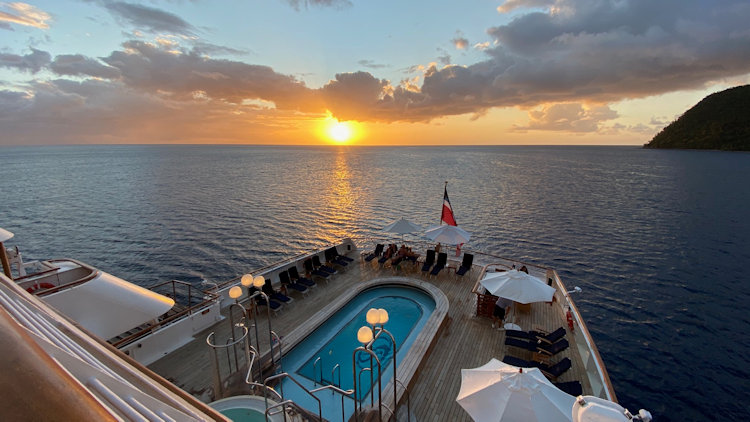 Les Anses d'Arlet, Martinique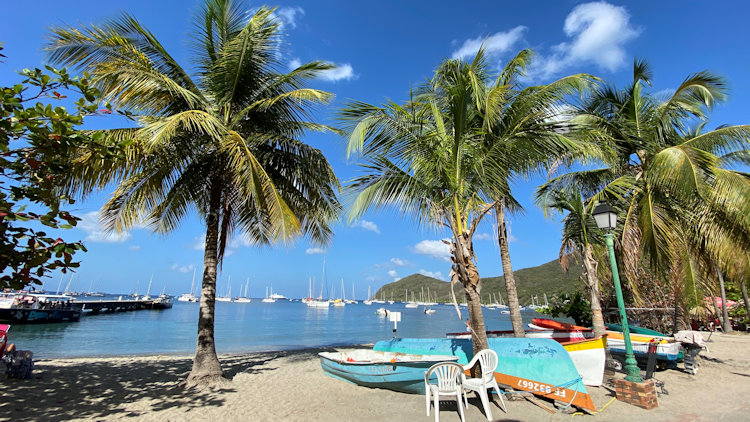 Les Anses d'Arlet is a charming little beach town, in fact, many say it is the prettiest town in Martinique and I have to agree! There are lovely little Creole-style homes and a small church, but mostly the town is know for its beautiful beach, Grande Anse d'Arlet. The picturesque little bay located on the southwest corner of Martinique does not see large cruise vessels, only yachters and most visitors flock here for fishing charters, scuba diving or simply to relax. I am captivated!
Port Elizabeth, Bequia, The Grenadines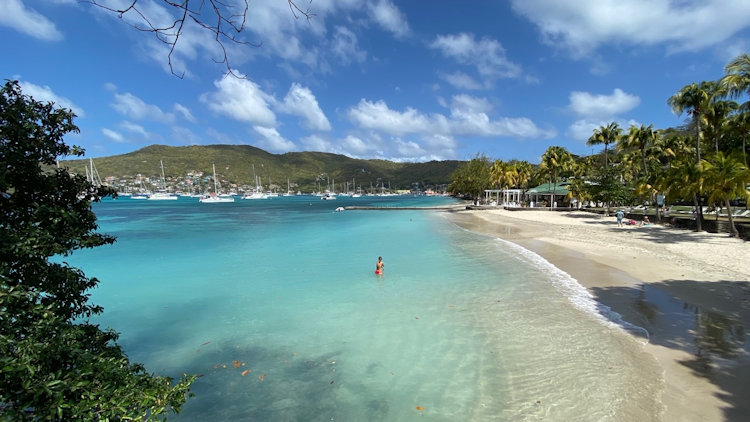 Next we visit Bequia, pronounced Beck-way, which is the northernmost and largest of The Grenadines, however still quite small with only about 5,000 inhabitants. It is just seven square miles of quiet lagoons, reefs, and long powdery stretches of beach. Next to St. Barths, it is our favorite island on this voyage. We head to Front Street and then stroll the seafront Belmont Walkway past shops and restaurants and make our way to Princess Margaret Beach where we enjoy a rum punch and settle in for a wonderful beach day. In the evening back on the yacht, dinner is served under the stars with a dessert extravaganza presented on the pool deck. In fact, dinner is served al fresco for most of the voyage.
Tobago Cays, The Grenadines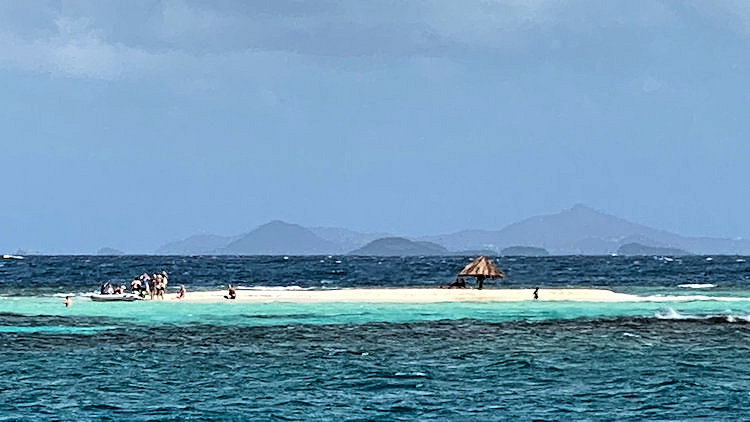 Next we arrive in the
Tobago Cays
, an archipelago located in the Southern Grenadines comprising five tiny uninhabited islands with extensive coral reefs, heavenly lagoons full of green turtles, colorful fish and crystal clear waters. This is an idyllic yachting anchorage, a dream for scuba divers and beachcombers, and a film location for the
Pirates of the Caribbean
. The Tobago Cays with its Marine Park is one of the world's most awe-inspiring island destinations. Here we take a catamaran trip and make a stop at Mopion island, said to be the smallest island in the Caribbean, an idyllic sandbar and home to a single thatched umbrella.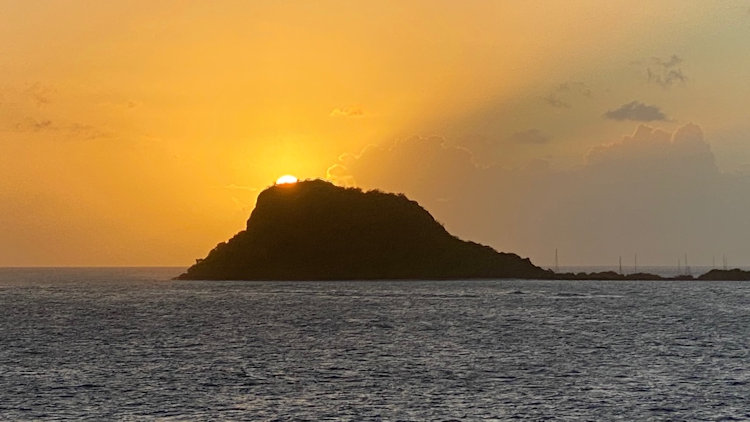 We leave the Tobago Cays behind with an awesome sunset and tonight a "starlit movie" is shown on the pool deck. Other evening activities include the piano bar where you can have fun singing karaoke, try your hand at blackjack in the private casino area, or enjoy the Balinese Dream beds on deck to stargaze.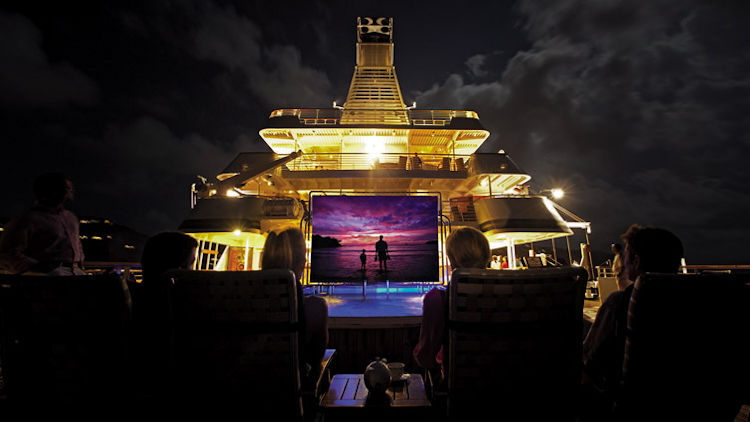 Mayreau, The Grenadines
Our last stop is the beautiful island of Mayreau, the smallest of the inhabited Islands in The Grenadines with a population of about 300 and an area of 1.5 square miles. The population is an isolated community centered in an unnamed village on a hilltop. You can hike up the hill and visit the church and take in the lovely view of The Grenadines. Mayreau features two stunning beaches, one of which we have all to ourselves for SeaDream's signature
Champagne & Caviar Splash
farewell party.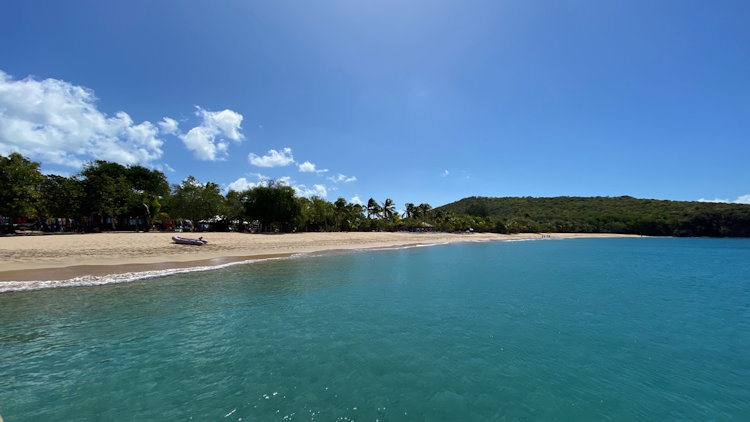 SeaDream's Champagne & Caviar Splash and Beach Barbeque is a true celebration of the yachting lifestyle! We toast to the crew and the good times we have shared. The beach party in this special spot is truly a highlight and a great way to end our wonderful voyage.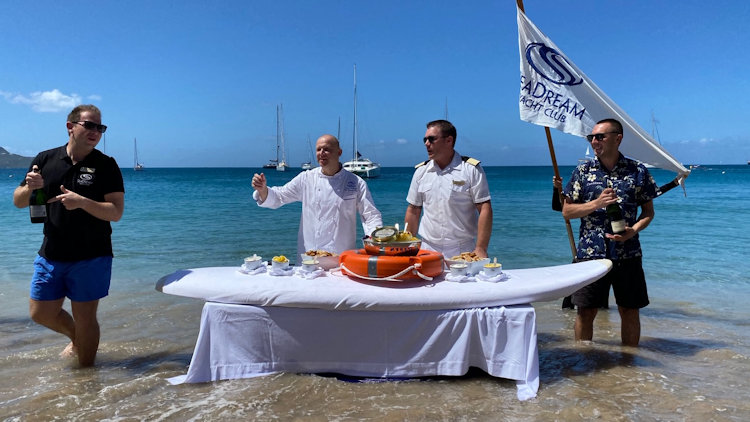 Bridgetown, Barbados
We disembark in Barbados where
SeaDream
uses the port of Bridgetown as the hub for their Southern Caribbean voyages as well as some voyages that
cross the Atlantic
. The island was a British colony from 1625 until 1966. Now Barbados is famous for being Rihanna's birthplace, as well as a popular playground for many A-List celebrities such as Simon Cowell, Oprah Winfrey, Tiger Woods, and Venus and Serena Williams, just to name a few, where they spend their time on the island's west coast in private villas or at the famous five-star resort,
Sandy Lane
.
As you can see from this itinerary, it is not a voyage you can experience on a larger cruise ship. Only yachts can take you to such intimate and magical places!
SeaDream runs two identical 355-foot twin yachts, SeaDream I and SeaDream II. They are known for their elegant informality, world-class cuisine, award-winning service provided by a crew of 95 (almost a 1:1 ratio), inclusive open bar and gratuities, all ocean view accommodations, and luxury Thai-Certified spa. Find SeaDream on social media @seadreamyc