Adjacent to, and offering a velvet-ropes experience of 128 years of culture at
Hotel del Coronado
, Beach Village offers this summer's Grand American Beach Vacation, designed to take full advantage of the resort's unparalleled location on the sands of the Pacific Ocean.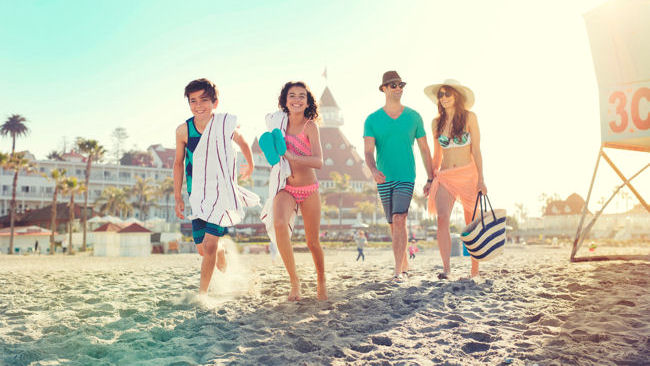 Your package includes:
• Four-night stay in a private three-bedroom, three-bathroom cottage in Beach Village, complete with private oceanfront balcony or patio, fully stocked residential-style kitchen, great room, fireplaces and outdoor soaking tub.
• Private Surf or SUP (stand-up paddleboard) lessons with Coronado Surf Company's legendary Gnarly Neal for family of four
• Custom curated vintage surfboard from LA's Kristopher Tom, longtime vintage board collector and surf connoisseur. Delivered to Beach Village or shipped to your home. (surfboard pricing not included in package)
• An afternoon exploring Glorietta and San Diego Bay on 'The Adventuress' – a 60' luxury catamaran complete with TVs, fully-stocked kitchen and bar, rope-net sundeck and more.
• Full day lounging in a plush, newly-renovated and secluded Beach Village Pool Cabana or Day Bed at Del Beach, both complete with full service food and beverage service from Beach Village staff
• Document family adventures with your own GoPro Hero Black, gifted upon arrival
• Editing of vacation photos and videos by UrLife capturing family fun in action. A custom family movie trailer to be delivered as a parting gift.
• Catered, private family beach bonfire and gourmet s'mores ROAST experience.
• Your choice luxury car rental through the duration of your trip with Beach Village's access to restored antique woodies to luxury Teslas and more.
• Behind-the-scenes tour of the legendary Hotel del Coronado from the resort's on-site historian Christine Donovan, with access to areas usually restricted to the public like the top of the turret and more.
• Pre-arrival consultation with a dedicated Beach Village concierge to tailor in-cottage amenities to guest preferences, and fully coordinate your family itinerary.
Guests can book by calling Hotel del Coronado directly at 855.580.9340. Total package price: From $43,000
Visit website:
www.beachvillageatthedel.com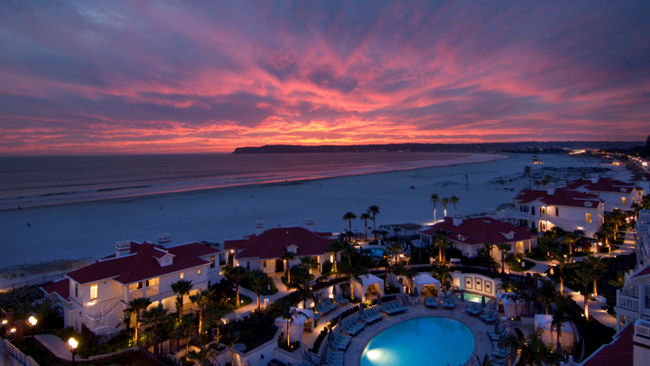 About the Partners:Kristopher Tom
Featured in LA Confidential Magazine and nicknamed the 'Chairman of the Board,' Tom has been collecting rare surfboards for twenty years. The leading expert in boards from the 1970s and 1980s, Tom is on speed dial with magazines such as Elle and Vogue, which tap his stash of surfboards for fashion spreads. He sources boards for pro surfers to art collectors and everyone in between.
The Adventuress
The Adventuress is a gorgeous 60 foot sailing catamaran available exclusively for private charter in San Diego. Coast Guard certified and able to accommodate up to 48 guests, the private yacht has a beautiful teak wood main salon, 75 bottle wine locker, flat screen TV with satellite service, spacious outdoor decks and covered aft cockpit. At 60 feet in length and 32 feet in the beam (wide), the Adventuress has more deck space than most 100 foot yachts. Her wide beam makes her very stable and comfortable while at sea. Their Captain and crew pride themselves on providing first class service, to ensure guests an amazing and memorable experience.
Gnarly Neal
Working with Hotel del Coronado since 2004 as their exclusive surf partner, Gnarly Neal and his team started with the sole intention of providing both first-class, professional surfing instruction. 15 years later they still pride themselves in delivering this ultimate level of service to clients age 6 to 86. Each member of their team of professional surf instructors have a minimum of 10 years surfing experience and are well-versed in CPR/Lifesaving techniques.
Beach Village Dedicated Concierge Service
The Beach Village dedicated service staff is committed to unscripted genuine service and strives to offer a bespoke and custom experience to every guest. They anticipate your every need and deliver on every whim to choreograph your ultimate San Diego getaway. Know our team is steps ahead of you for a seamless escape, from packing your bags to private planes.
Visit website:
www.beachvillageatthedel.com