Already catering to the Colorado hamlet's well-heeled elite, the boutique destination played host to the international style community with its custom roll-out of the 4th annual
Aspen Fashion Week
festivities (March 11-14th). Sponsored by Bentley, and featuring an assortment of contemporary snowgear lines like Marmot and Authier, the posh event transformed
The St. Regis Aspen
into a miniature Lincoln Center. As healthy and wind-bitten models walked down the makeshift runways lining the courtyard and promenade, even a first time visitor could see how this annual fete had metamorphosed the hotel's traditional surroundings with a flourish of cosmopolitan savoir faire.
As part of its partnership with the renowned
Bentley Motor Company
, Aspen Fashion Week not only represented a melding of luxury with a manifest-destiny sense of outdoor exploration, but was also a chance for those uninitiated into the glamorous world of Bentley to get their first taste. A major ongoing presence at The St.Regis, the Bentley brand (and their gregarious reps) were a ubiquitous sight, setting up shop inside one of the Regis' offices and dispensing much needed water and custom cocktails to attendees. As a coveted perk, select guests were invited on custom test-drives throughout the town and nearby closed racecourses in some of Bentley's trademark automotive styles.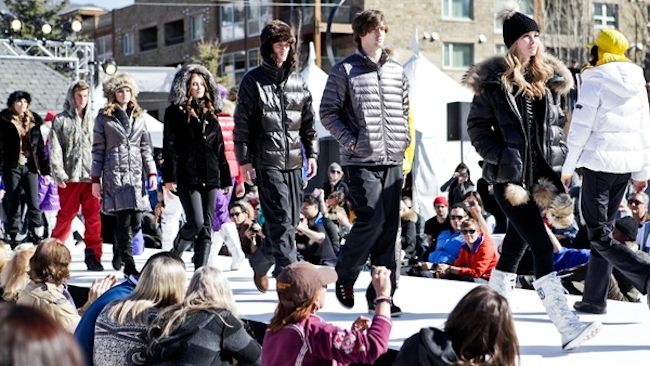 Dashing the stereotype that fashion people don't eat, the St.Regis's famed in-hotel restaurant overflowed with guests, international press, and an Amazonian caste of athletic-looking cat-walkers. If you happen to be in Aspen (and even if you aren't staying at the St. Regis), try to make it a point to come for one their grand breakfasts, which feature a hot buffet of locally sourced sausages and meats, artisinal cheeses, fresh roasted root vegetables, and other rotating delectables.
Though the rooms at the St.Regis are consistently magnificent (many with breathtaking views of the overlooking mountains), staring down at the blindingly fresh white tents set up across the hotel's estate felt more like being at a splashy rally in the Hamptons, than a wintry place to unwind and practice your downhill skills.
However, if unwinding was the point of your stay, the
Remede Spa
was working at full capacity throughout AFW, offering guests deluxe services as well as unfettered access to their oxygen lounge, steam caves, cold plunges, hot tubs, fitness center, and Confluence waterfall (the last of which is visible from many of the hotel rooms, giving it the ultimate "come play" aura).
After the press dinners and cocktails hosted downstairs in the main restaurant (and spilling out into the plush bar area, cozily warmed by a well-situated fireplace), many of the guests headed to various after parties held throughout the city. For some though, these precious after hours were the perfect chance to settle into their deluxe suites, which came stocked with spa essentials like Remede bath products, fluffy robes and slippers, and tubs large enough to house their own bunny slope.
The best part of relaxing in a St. Regis room? That there was seemingly almost always someone on hand to make sure your pillows were fluffed, that you had a copy of the Wall Street Journal, or even that you were well hydrated with one of the hotel's trademark "infused waters".
While it's still up in the air as to whether Aspen Fashion Week can move into the realm of some of the other, more established like-minded events held throughout the country, it's definitely a great chance for those visiting to see a fresh, more fashionable side of the city. In this case, you didn't even have to leave your hotel lobby.
Hotel Profile, more photos:
The St. Regis Aspen Resort