Michel Earnesto has a crooked smile, accentuated by plenty of missing teeth, and squints at me through the early morning sunshine as I examine one of his jars of homemade chilli sauce. "This will put hair on da chest and fire in da belly," he says with a grin. I look down at the jar -- which once held confiture de mûre. Now it is home to a bright red sauce filled with thick slices of menacing looking red and green chillies. However, curiosity wins over culinary fear and I fish out a few rupees with trepidation.
This is the colorful, bustling Sir Selwyn Clarke Market in the heart of Victoria, the sleepy capital of the Seychelles. The market is a hive of activity despite the early hour; fishermen and middle men yell out prices for fresh tuna and colorful reef fish in Seselwa Creole, a local language that resembles mumbled French. In the vegetable aisles, plump elderly women, dressed in brightly colored sun dresses and straw hats, gossip behind tables packed with vibrantly yellow lady finger bananas (one of 30 varieties in the Seychelles), cracked coconuts and brick-sized mangos.
I take my finds -- Michel's fearsome-looking salsa, a bag of local vanilla tea, and some cinnamon bark wrapped in yesterday's Nation newspaper -- and head to the more touristy corner. Here a few European travelers barter for bottles of vanilla essence and coconut oil, sachets of nutmeg, and the odd carved and polished coco de mer nut.
It's a fitting national icon for this tiny Indian Ocean republic. Plenty of people have heard of this rare, Herculean-sized nut, which only grew on two tiny isles before conservation efforts lead to larger plantations further afield. For hundreds of years, before the Seychelles were even discovered, people believed the world's largest seed came from a magical underwater tree, washing up on the beaches of the nearby Maldives and Mauritius. But ask people what to do with it, even in the Seychelles (it's used in Chinese medicine but little else) and no one's quite sure. Ask people where the Seychelles is, and what it's like, and apart from famously beautiful beaches, the answers are pretty much the same.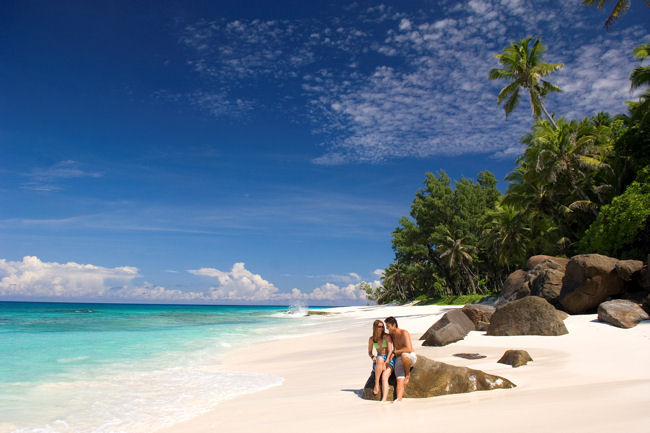 An archipelago nation of 115 islands, many of which are little more than granite teeth lunging from azure seas, the Seychelles is a curious place. It's had both French and British occupation, hopeful plantation owners trying, and failing, freed slaves given a new -- if not isolated - home in paradise, and pirates living on its islands and anchored in its deserted coves (even today treasure hunters scour the northern beaches of the main island of Mahe for the treasure of feared pirate Olivier Le Vasseur, said to be valued at US$500 million).
Consequently, Seychelloise are the ultimate blend of ethnic and cultural backgrounds. Their language may sound French but there is a replica of Big Ben that holds prime real estate in the centre of Victoria's first traffic light-controlled intersection (there are now two). In the markets, stall holders are every shade between black and white, and blonde hair is as common as black, blue eyes as common as brown.
George, a mountain of a man, and my driver and guide from Select Seychelles, the island's top concierge service, meets me outside Victoria's garden-wreathed high court and we walk down the high street and past the Pirate's Arms, a more modern day icon and one of the capital's two tiny casinos. Punters are stacked around tables in its rustic seafood restaurant on the ground floor, sipping the local Seybrew and dining on Creole dishes. There are few tourists about, not only because the Icelandic volcano has stopped many European travelers from making it to their holiday in the sun, but also because so many that do arrive head straight for the resorts scattered across Mahe and beyond.
Tourism is one of the few industries thriving in the Seychelles. With only enough agriculture to sustain its own population of 85,000, it is resorts like Ephelia, which opened in February, that inject precious hard currency into the economy.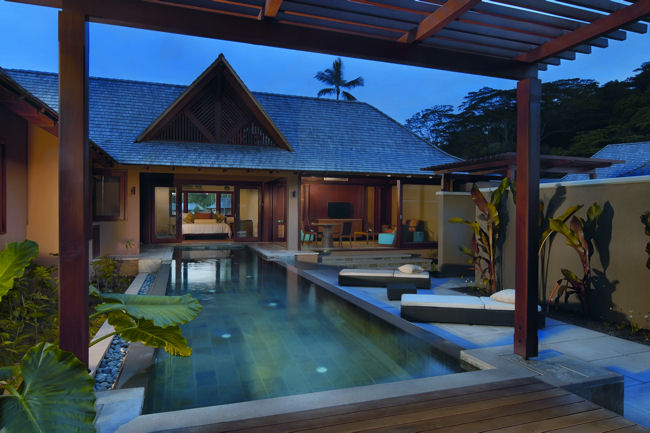 At Ephelia Resort, the landscaping is still growing in, but already the four beaches, including two of the best stretches of coastline on Mahe, are filled with sun-bathing guests. Families cluster around the resort's numerous swimming pools or wade out into the shallows of South Beach looking for crabs, while couples snorkel and kayak off North Beach, a popular spot for luxury yachts.
Ephelia Resort is sprawling and modern and luxurious, but isolated; although its development has met the strictest ecological provisions (a large and fragile mangrove forest runs through its centre), and its guests have everything from palatial pool villas to a state-of-the-art spa village on hand, they have little interaction with the local culture and its people.
After a day exploring the resort's extensive coastline, and a head-to-toe massage in the spa village, I join other guests sipping local Takamaka Bay rum and star gazing, serenaded by waves of jazz saxophone from the main cocktail bar.
It's another early start and George and I make our way back across Mahe's mountainous spine to Victoria, via the San Souci road, one of two mountain passes and by far the more picturesque. From the summit, the view down the coastline is jaw-dropping. Ephelia looks tiny, the sea beyond unfathomable.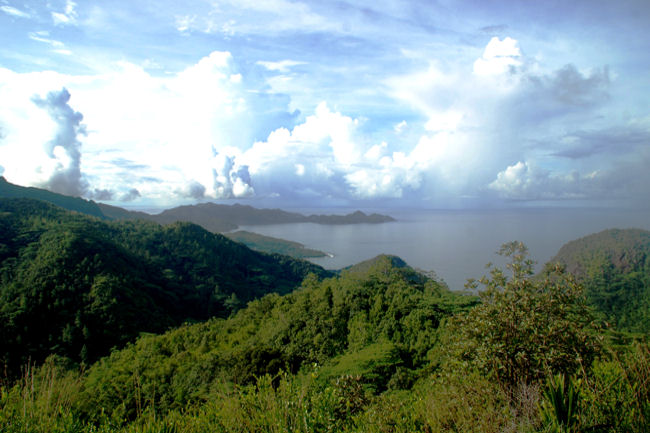 We continue winding our way down towards the capital, passing a handful of soldiers who have just finished a shift protecting the president at his mountainside home. Until the Seychelles fell under one party rule in a 1977 coup, the nation didn't even have armed forces and now that democracy has returned, the 450-strong force spend most of their time chasing illegal fishing and the odd modern day pirate.
The ports of Victoria are small but busy. Almost everything, from food to building supplies and even labor, has to be imported. The harbor is dotted with everything from a restored sailing ship called Sea Pearl, which offers island cruises, through to modern deep sea fishing boats which catch tuna, to be canned at the local cannery, one of the biggest employers in town.
I board a speed boat for the hour trip to
North Island
, northwest of Mahe. The general manager of North Island, which is owned and operated by Wilderness Safaris, has come along to greet me. He's tanned and dressed in light-weight cotton, like a nonchalant millionaire – certainly a sign of things to come.
We make good time, passing million dollar homes on the northwest coast of Mahe, before cutting across the sea towards the tiny dog bone-shaped island. Flying fish and black-naped terns glide alongside the boat, and in the distance Silhouette, the third largest island in the archipelago, towers out of the ocean, its slopes brutally steep, its peaks reaching into a halo of low-lying cloud.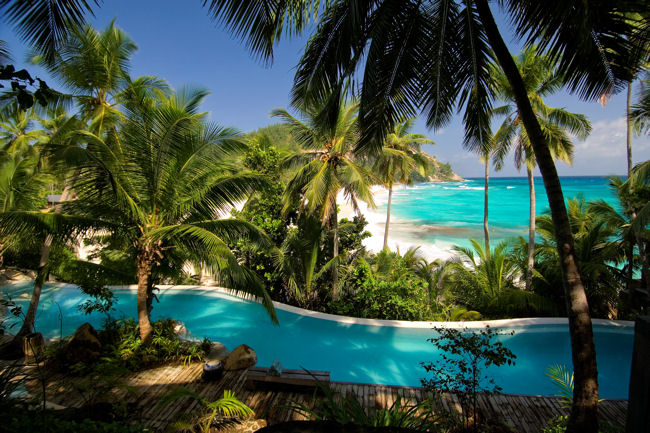 Visitors arriving at North Island can be forgiven for looking for Pearly Gates, because the experience is nothing short of heavenly. The resort is tiny and unobtrusive; little can be seen of its 11 villas from the sea. There is no pier; seasonal currents constantly move sand from the east to the west coast and back again, a form of natural landscaping that would be impeded by a pier. Instead our boat slides up onto the dazzlingly white beach with a gentle sigh and I leap out, shoes in hand, into bath tub warm water so clear I can see the ripples in the sand below.
North is the postcard perfect vision of the Seychelles, a tiny, private paradise where everything's possible and nothing seems real. A chef greets us on the beach and asks what I like and don't like -- that's as formal as the menu gets -- and dive masters prep me for inclusive scuba sessions and half-day deep sea fishing charters.
The island is in the process of being rescued. Boasting a belt of flat arable land and a natural aquifer that gives it a distinct advantage over many other islands, North was once the fruit bowl of the nation. But after being brought by a German industrialist, and with the decline in the coconut industry, for which the island had been extensively re-planted, the island was abandoned, leaving many non-endemic, and potentially destructive, species, including dairy cows, pigs, bar owls, Australian casuarina trees, and of course coconut palms.
The forty year conservation effort, which hopes to return North to its natural state of 200 years ago, included the removal of non-endemic species, while making room for the island's rightful inhabitants. Now mighty Takamaka and Coco de Mur trees are being reintroduced, green turtles lay eggs on the western coast, and the island is once again home to more than 50 giant tortoises, including Disco Harry, who loves to lie in the middle of the resort's paths and on whose shell reflective lines were painted to protect him from night-time accidents.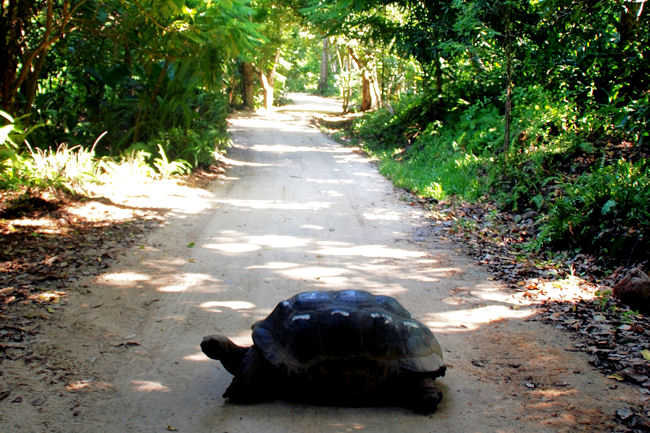 The next morning, after a breakfast of fresh fruit and poached eggs served at tables on the beach, its time to head out with the dive masters to Coral Cove, one of the island's popular dive sites. Water visibility around the island is regularly at 40 feet and I swim along the undulating coral, some 17 metres below the surface, accompanied by shoals of inquisitive lion fish, jacks and the odd parrot fish.
Off Silhouette, we snorkel beneath massive boulders against which waves which have traveled across the Indian Ocean, dash themselves. A trip of Napolean wrasse don't seem to care and I follow them as they glide between boulders the size of SUVs which have tumbled down the island's steep sides.
We troll on the way back to North and I net a barracuda, which the chef grills for me creole style, on the barbeque at West Beach, under a canopy of stars I almost forgot existed after so many years in the city. The fire hot, I add my own contribution to the dish, with a spoonful of Michel's salsa, the one that promises to put "hair on da chest and fire in da belly".
Nick Walton is Managing Editor of Jetsetter Magazine, Hong Kong.