Early memories include walking to the boulangerie each morning to buy warm freshly baked French bread, squabbling with siblings in the backseat of the family car, chaotic traffic on the Boulevard Périphérique, and struggling to find our hotel. In adulthood, though, Paris becomes a very different place: a city of culture, a city of food and wine, a city of romance.
But where to stay to make the most of it all? I chose Shangri-La Paris for a recent city break and it'd be hard to find any reason to regret the decision. The hotel is about as central as it gets, overlooking the city's artery, the Seine River, and a five minute walk from the iconic Eiffel Tower and many of Paris' most visited museums.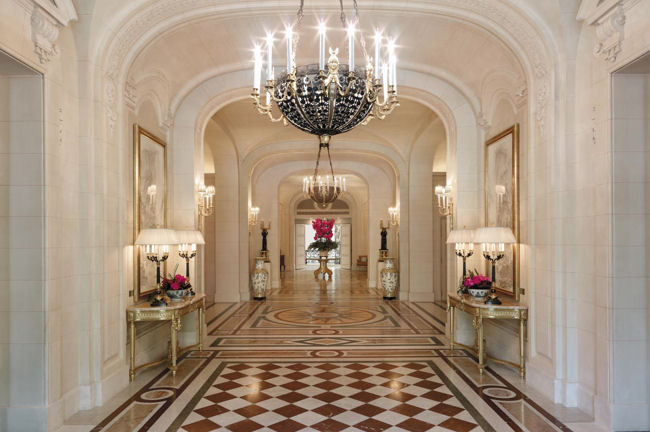 The hotel's very different in look and feel from many of Shangri-La's sharper, more design-led Asian hotels. Here in Paris, it's much more like stepping back in time, which in many ways you are; built in 1896, this is the former home of French imperial Prince Roland Bonaparte, great-nephew of the Emperor Napoleon. The lounge, just inside the main entrance, is where Roland Bonaparte would've previously entertained guests. The lobby, which features lots of white marble, and much of the rest of the hotel has a palatial feel, the Prince's former residence now protected as a listed building by French institution Monuments Historiques.
Check-in is fast and friendly, and we're soon enjoying the room which is also decked out like the France of old, with a thick blue carpet, white walls, botany illustrations (a reference to Roland Bonaparte's interest in the natural world) and blackout curtains with embroidered golden leaves. With the windows closed, it's surprisingly quiet up here, given we're so close to the traffic in the heart of the city. The bed is huge, around 50% wider than most I've seen in hotel rooms of late. Overall, the feel is perhaps a little too 'classic' and conservative for my personal taste (I prefer a slightly edgier designer look, as a general rule), but in Paris it feels fitting to be going 'old school' and romantic. And there are modern touches: alongside glass lamps, there are ceiling spotlights, and on top of an old-fashioned black and gold cabinet is a very modern and large TV, alongside an equally modern coffee machine.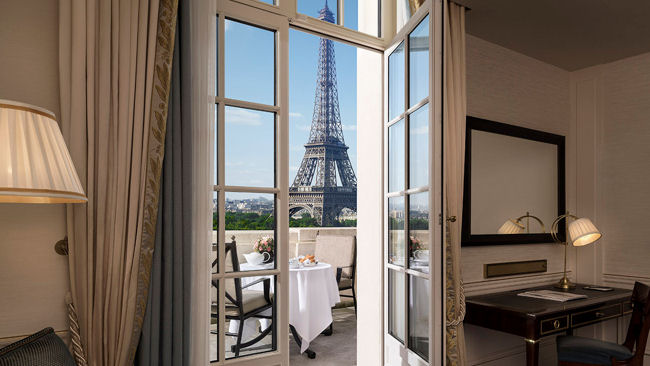 Really, though, it wouldn't matter if they painted the whole room with pink stripes, because the real star of the show is the view. We're in an Eiffel Tower-facing room and it's an incredible feeling to look out of the bedroom window and see this globally famous landmark right there, close enough to see the crowds of tourists gathered on the Tower's upper tiers. There's a little window seat behind the writing desk that faces out onto the Seine River and the Tower, where you could quite happily sit for hours. In fact, we crack open a bottle of good Le Borderon from Bordeaux and do just that, drinking in both the view and the wine.
It's not just the Tower we can see either. Really, it's a game of 'Spot The Landmark'. From our fourth floor vantage point, we can see the black tower of Montparnasse, the golden dome of Eglise Les Invalides, the twin towers of Notre Dame (but no hunchback) and, far down the Seine River, the golden statues on Alexander III bridge and the glass roof of Le Grand Palais.
There's the same view from the bathroom, which also mixes classic with modern; the floor is charcoal grey marble, the area surrounding the double sinks white marble, but, for example, the large mirror has a TV screen built into it. Toiletries are by Bulgari, and there's a roomy rain shower and a big bathtub; sitting and soaking in that big tub with a glass of wine, looking out onto a view of the Tower, really is difficult to forget.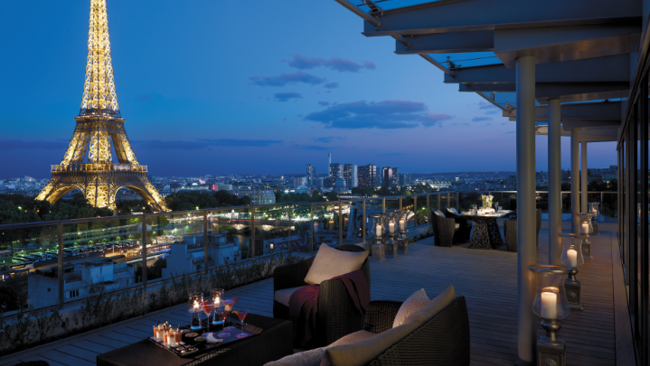 We spend our afternoon exploring, strolling the city's streets and the gardens around the Tower. In the evening, despite being one of the world's culinary capitals, known for French cuisine, we end up eating in the hotel's excellent Cantonese restaurant Shang Palace, run by chef Samuel Lee Sum, and the only Michelin-starred Cantonese restaurant in the city. We're incredibly well looked after, with a tasting menu of sharing dishes put together and an excellent bottle of red, also from Bordeaux, picked out by the sommelier. Fried aubergine (or eggplant) with sesame and ginger sauce is rich and sticky, while Lo Hei salmon sashimi, commonly eaten at Chinese New Year, comes with a nutty sesame sauce. A woman plays a Guzheng, a stringed instrument that's like a Chinese sitar, as we drink small bowls of hot and sour vegetable soup, wolf down fat juicy Madagascar prawns fried in garlic and chilli, and polish off another impressive dish: sautéed diced cod in a broth of Chinese rice wine, basil and ginger. My part-Chinese girlfriend's verdict on the chef's special fried rice is that it's the real deal. What the desserts are like here remains a mystery, as there's simply no room left by the end.
After a night of outstanding comfort, breakfast in La Bauhinia restaurant is a far more French affair, with a basket of freshly baked croissants, Pain-au-Chocolat and mini French sticks. The glass cupola means the grand room is filled with light, while piano music plays gently in the background. If there's a tiny criticism here, it's that the tables are a little close together, so you can hear conversations from the table next to you (and vice versa), but the staff here, as in last night's restaurant, are exceptionally proficient, bringing orange juice, yoghurt, Eggs Benedict with perfectly runny yolk, and a pot of tea, plenty of fuel for another day exploring the city. The Concierge in the lobby sends us on our way with a marked-up map and a few helpful tips.
The weekend is over too soon, childhood memories joined by very pleasant new ones. Most of all, it's a wrench to leave that one-in-a-million view of the Tower behind. It is, as the name implies, really quite an eyeful.
Prices for an Eiffel Tower-facing room start at 1050 Euro per night, without breakfast. Breakfast costs around 58 Euro per person. Dinner at Shang Palace costs around 130 Euro per person, including drinks. To book or for more information, see
www.shangri-la.com/paris
or call +331 53 67 19 64.