During this trip, I wanted to discover a different side of the Big Apple. For one weekend I became a resident of East 63rd Street between Park and Madison. This fashionable residence is surrounded by boutiques, award-winning restaurants and the expanse of Central Park. For my immersion into the timeless Upper East Side, the choice was simple:
The Lowell New York
.
This historic building dates back to 1927 and began welcoming guests in 1984. When my car turned down a tree-lined street, the appeal of this neighborhood became crystal clear. Quiet and charming, the Upper East Side is an ideal location for a cultural weekend getaway. I couldn't wait to indulge in famous restaurants, theater, and museums; all accompanied by a warm summer breeze. As the doorman welcomed me to the Lowell, I realized my plan was in jeopardy. This hotel was so cozy and polished I was tempted not to leave the suite at all.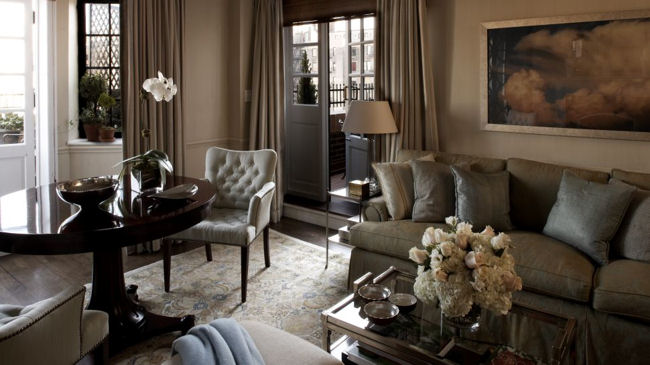 Hotels that stand the test of time have two important things in common: character and service. The Lowell Hotel excels at both, exhibiting a distinct identity and passionate staff. Discerning travelers have recognized this quality over the last 25 years and 80% of all guests return. On my first night in the hotel, I met one of these returning guests over cocktails. While I sipped champagne this charming gentleman described his affection for the Lowell, his New York City hotel of choice for 20 years. His New York 'home' is the Hollywood Suite, over 1000 square feet complete with a fireplace and Old Hollywood relics.
The
variety of unique rooms
at the Lowell poses a difficult decision for first time guests. A room complete with a balcony is ideal for enjoying a glass of wine on a warm summer evening. In the winter, the coziness of a room with a wood-burning fireplace has undeniable appeal. Rooms at the Lowell have two distinct styles: traditional with comforting mahogany or a series styled by famed interior designer Michael Smith. These rooms are simultaneously sleek and inviting; an accomplishment that mirrors New York City itself.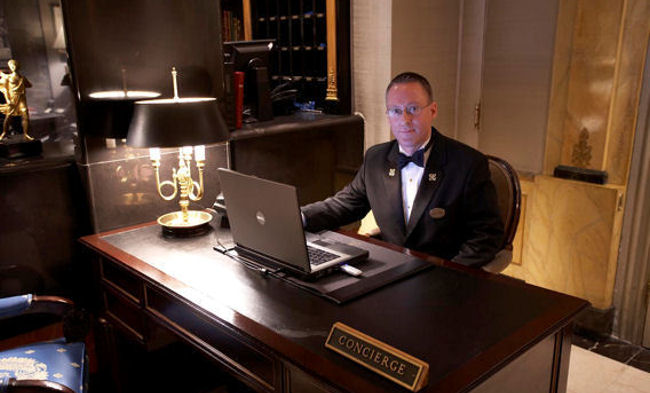 The Lowell has succeeded in creating a city hotel with the comforts of a country home. It should come as no surprise that the Lowell Hotel was ranked #9 for Top City Hotels in the World by Andrew Harper in 2009. A feeling of home is evoked by the kitchenette in every room where a cup of chamomile tea or glass of red wine is never far away. The rooms are labeled similar to apartments, (11D for example) and are complete with doorbells. These details will satisfy the need of travelers looking for a discrete hotel in a chaotic city.
My first night at the Lowell, I managed to tear myself away from the comfort of my suite to indulge in New York City Restaurant Week. During the summer 2010 season, over 180 restaurants participated in this celebration of cuisine and local chefs. Plan a trip to NYC during the summer or winter restaurant week and enjoy cuisine ranging from Japanese delicacies to mouth-watering Argentine steak. The Lowell's knowledgeable
concierge
can help you narrow down your choices of restaurants across the city.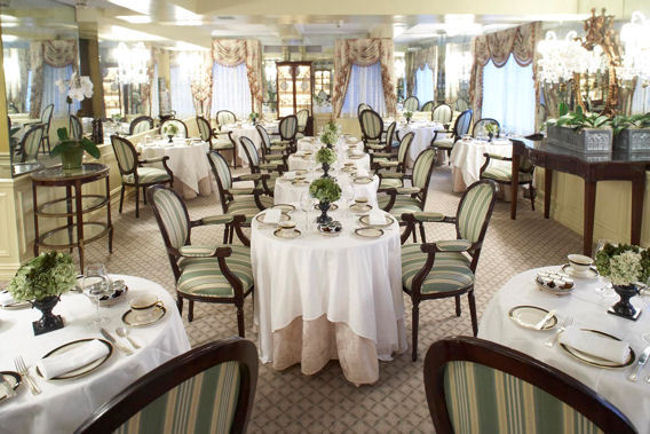 Pembroke Room
In my experience, a hotel is only as good its breakfast. The tempting menu at the Lowell includes satisfying dishes like orange-vanilla infused French Toast or a classic omelette with country ham and Vermont cheddar. Guests can choose between dining in the suite or sitting down in the elegant Pembroke Room. My preference is the dining room, where all the timeless touches, from tea service to white linens can be appreciated. Discretion continues in the dining room, which is tucked away on the second floor in the back of the hotel. What the
Pembroke Room
lacks in city views, it makes up for in privacy.
This nourishing breakfast is the perfect start to an active day exploring New York City. The fitness-minded will enjoy close proximity to Central Park, with its fantastic jogging paths and towering trees. If culture is the focus of your trip, some of the world's best museums are a short walk or taxi ride away. Explore the depths of the Metropolitan Museum of Art or catch the latest exhibit at the Solomon R. Guggenheim Museum. A stay at the Lowell wouldn't be complete without a little shopping; unique boutiques and the three B's (
Barneys, Bloomingdales, and Bergdorf-Goodman
) are all conveniently nearby.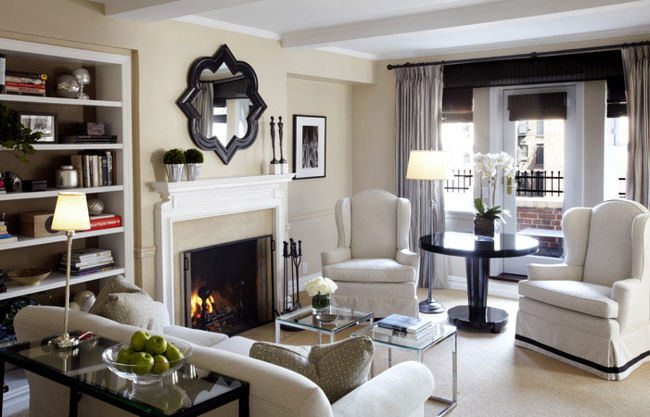 Manhattan Suite
The Lowell delivers a level of service and amenities that only an intimate hotel can achieve. With 49 suites and 23 deluxe rooms, the service at the Lowell has a personal touch. Expect the staff to learn your name and remember your preferences. Each day begins with a New York Times delivered to the door. Bathrooms are complete with soaking tubs and soothing Bulgari products. A fitness room is available for guests, and complimentary wireless Internet makes it simple to keep in touch for business or pleasure.
The ultimate experience at the Lowell might just be the Manhattan Suite. Spread out in 1,000 square feet of comfort, complete with a wood-burning fireplace and original photography. The theme of this suite might be New York, but the Lowell Hotel has a distinctly European feel. Comfort and service provide elegance without the glitz. The Lowell is reminiscent of an older, more refined New York. It is lovely to know that this timeless New York still exists, at least on one tree-lined street on the Upper East Side.
Jessica Colley, a published poet and freelance travel writer, is based in New York City. She specializes in the culture, cuisine, and history of Europe. Read more about her travels at
www.thegreatamericantraveldream.com
.
Luxury Travel Magazine Hotel Profile:
The Lowell New York