A quiet refuge from city life, Sky Lodge - part of the Magic Hills Private Collection - is a place where glorious vistas and invigorating air, paired with the elegance of the lodge, make for a memorable sojourn.
On top of the highest point of this nature reserve in the Great Karoo, South Africa's Eastern Cape, Sky Lodge has a panoramic view across successive layers of hills and valleys. Cloudscapes form a dramatic dome that constantly changes. At sunrise I stand on the veranda of my suite, in awe of the tissue paper colours appearing in the east, illuminating the indigenous gardens of the lodge and the plain below.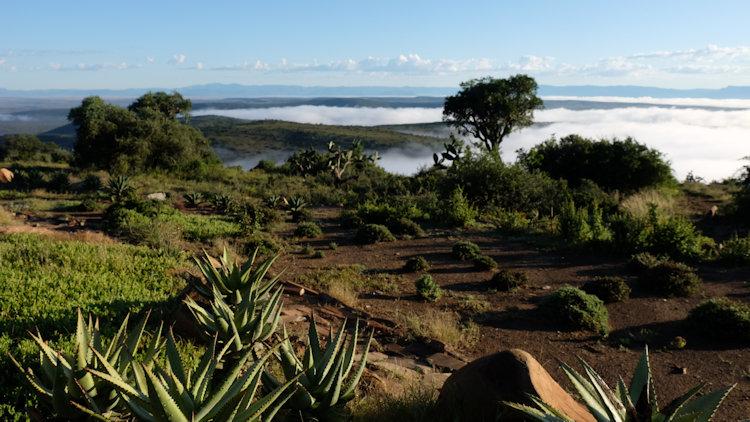 As this region is semi-desert and dry for much of the year, it's a privilege to have experienced an electric storm the night before, with sheet lightening and a bombardment of thunder accompanying heavy rain. The distinctive plants of the Karoo - like succulent spekboom and aloes - are glistening with moisture and pools of water have collected on the rocks. I inhale the fragrances rising from the earth in the crisp, clean air.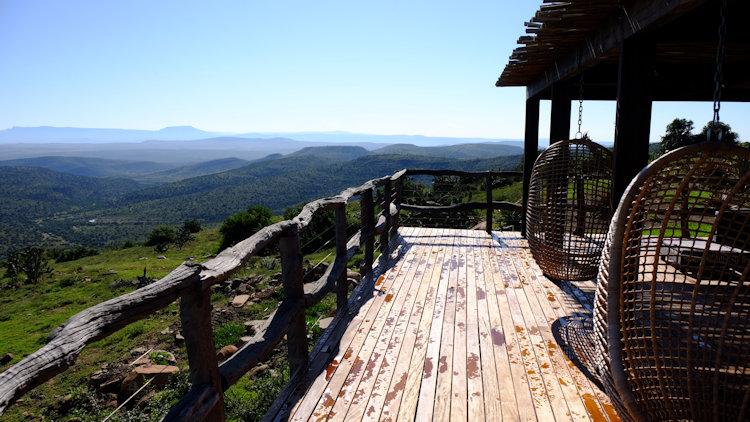 Sky Lodge is the perfect, malaria free space for a gathering of extended family and friends, as it is booked on an exclusive-use only basis, for two to eighteen guests. The communal areas include a dining room, plus two lounges - one with a creatively stocked pub - leading onto a wooden verandah and deck with an impressive infinity pool. It's on this deck that we choose to have our lunches, to make the most of the dappled shade. Each meal during my stay is delectable, imaginatively presented and made with the finest fresh ingredients, from scratch. The wine list has been carefully curated and should satisfy the most discerning of oenophiles.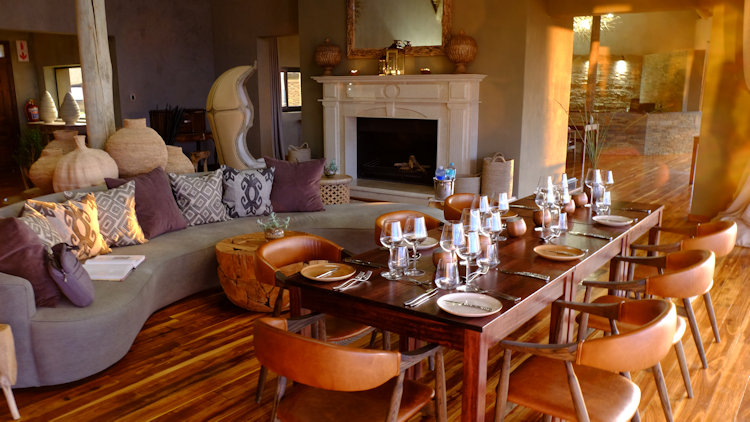 The Spa has a large jacuzzi - open day and night - also with a sweeping view of the usually arid biome, with its thousands of plant species and coloured rocks. I revel in the sensuality and relaxation of Sky Lodge's signature massage.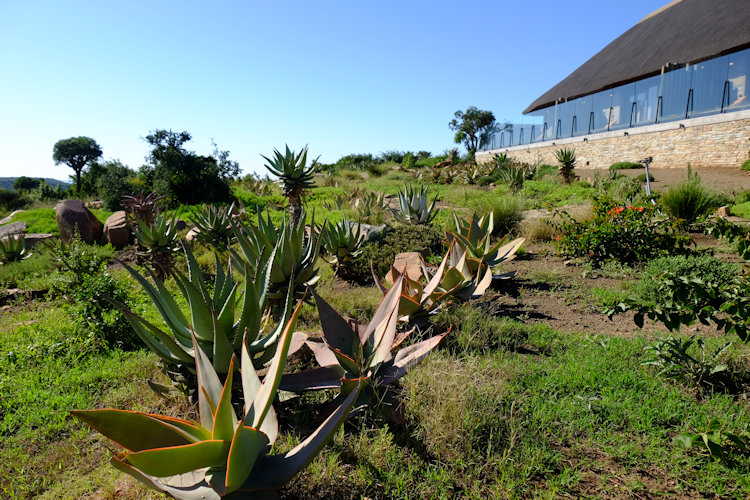 Each of the seven suites - designed with an inside/outside feel - has a private veranda with a sublime view of the expansive Noorsveld Karoo. The brown and beige decor echos the colours of nature. Natural fabrics of wool and pure cotton have been chosen for bedlinen, scatter cushions and carpets. Floors and furniture are fashioned from wood. Branches of fresh spekboom in glass vases add a hint of green. For nights when the temperature plummets, a fire is kindled in the hearth.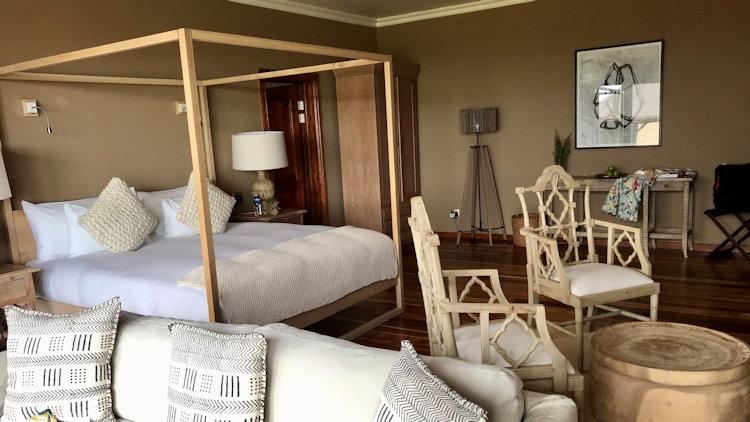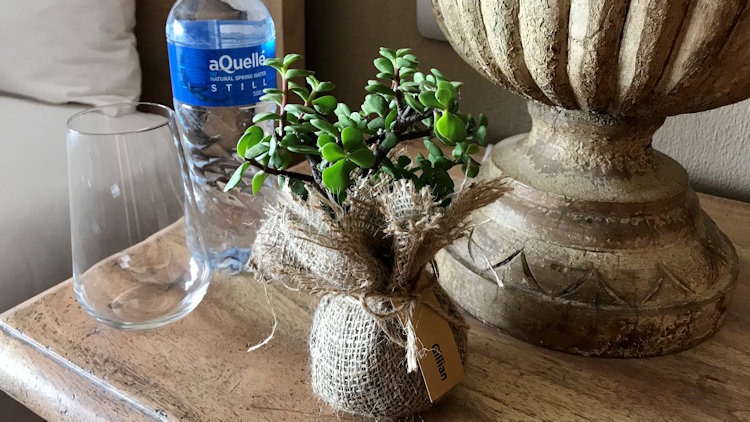 There is no set schedule. Our private ranger and guide are flexible, so we can determine how we would like to spend our days. Not to be missed is an easy walk to appreciate the biodiversity of the Karoo flora and to learn about their medicinal uses. On a game drive in an open vehicle, our guide tells stories about the history of the area and takes us to explore the small houses where farmers used to live. It is said that during the Second Anglo-Boer War, South African military leader Jan Smuts took refuge in one of these stone cottages.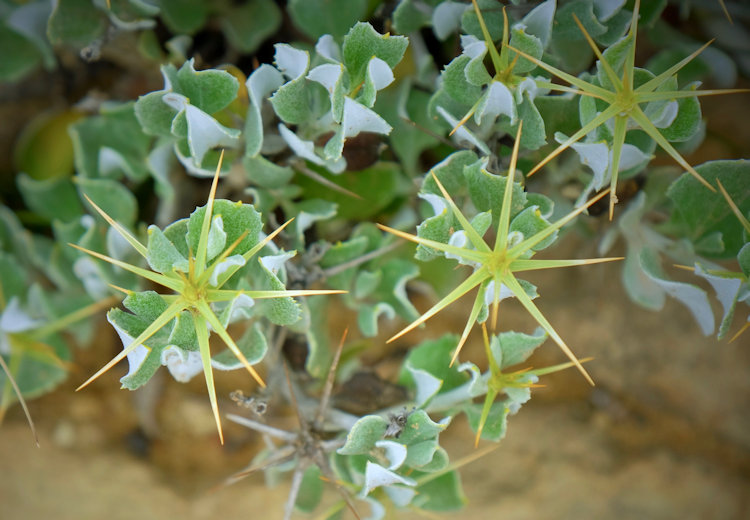 Lion, elephant, buffalo and cheetah roam the terrain. Shy leopards are rarely found, but tracks have been seen, to provide tantalising evidence that they are there. On a night safari, aardvark, lynx, porcupine, bat-eared fox and black-backed jackal may be spotted. The cry of jackal at night is an evocative sound of the African bush.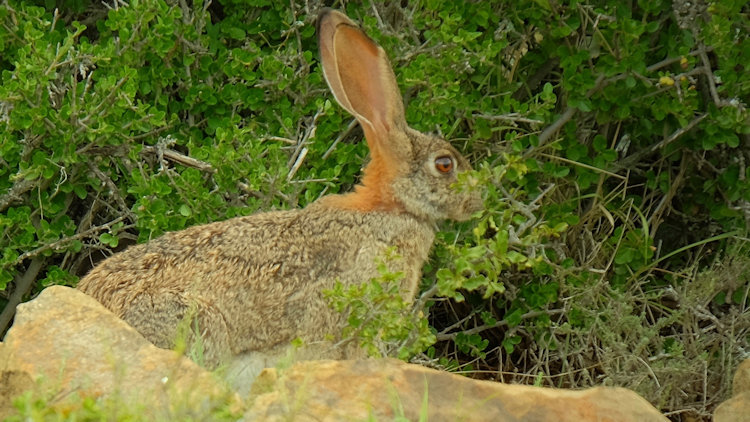 Birding will satisfy even the most seasoned twitchers, with 273 different species recorded in the area. Ten endemic bird species can be found, including Karoo Korhaan, Sclater's Lark, Cinnamon-breasted Warbler and Karoo Eremomela. The bird calls are clear, as this wilderness area is quiet.
A highlight for me is walking along the edge of a ravine, to study paintings by San people, formerly known as Bushman. Surprisingly well preserved, these ancient works of art remain on the walls of an eroded area with overhanging rocks. The kind of place where I could linger for weeks, Sky Lodge offers a unique experience, different from being in classical African Savanna. The focus is not gunning for the big five, but a total immersion in nature and the wild, where each of my senses becomes more acute. The exclusivity of the accommodation and game vehicles appeals to me. Well wined and dined, it is a pleasure for me to stroll in the lodge gardens accompanied by clouds of yellow butterflies.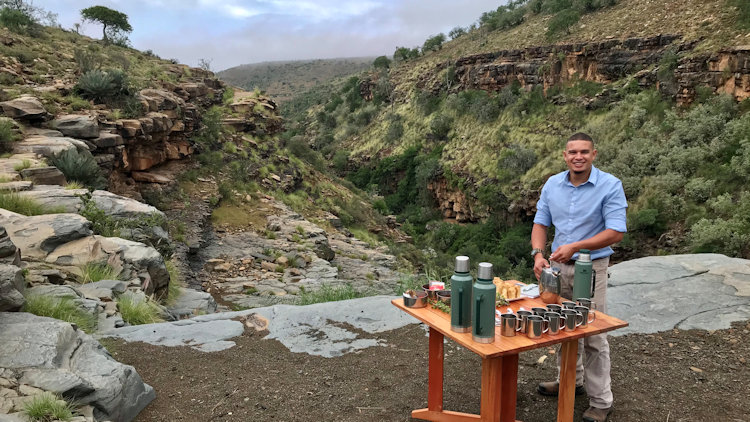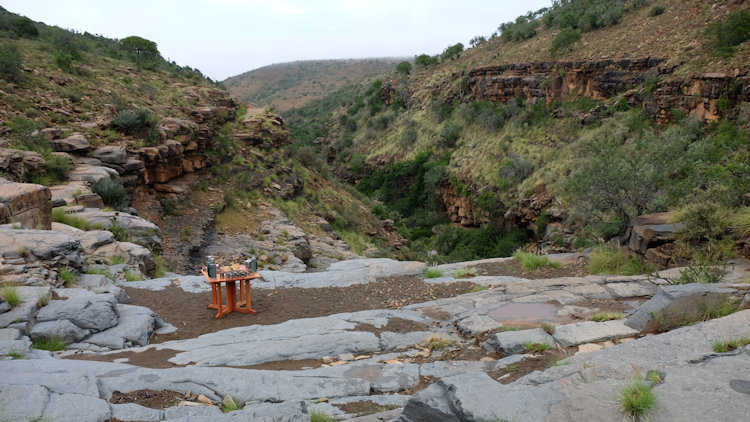 To see a World in a Grain of Sand
And a Heaven in a Wild Flower,
Hold Infinity in the palm of your hand
And Eternity in an hour.
(Fragment from Auguries of Innocence by William Blake)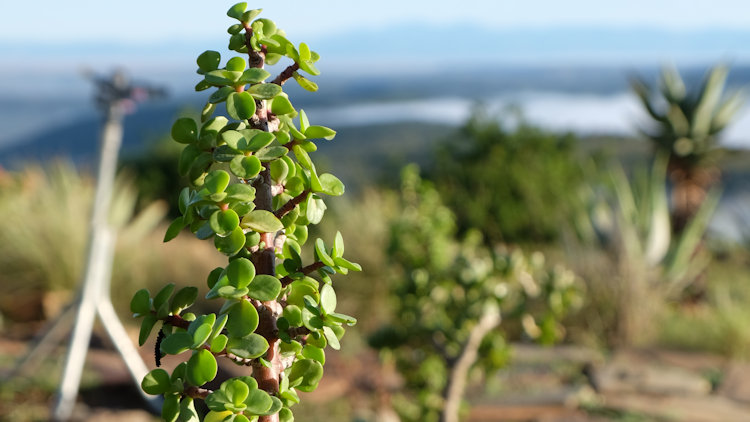 Contact Information
www.magichills.com
reservations@magichills.com
Getting there
Airlink is a privately owned regional airline in South Africa.
Flights to Port Elizabeth: from Oliver Tambo International Airport in Johannesburg and from Cape Town International Airport. The schedule will be available after the country wide lockdown.
A leisurely 3-hour drive from Port Elizabeth International Airport, or a 30-minute Cessna charter flight directly to the reserve's private landing strip, will get you to Sky Lodge.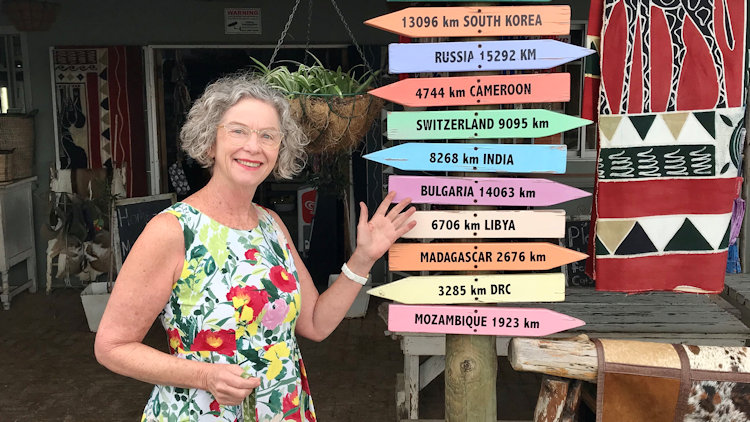 A coffee shop en-route to Sky Lodge
Words and images by Gillian McLaren (@Jetset_Gillian)