Named after the glorious monument built to honor those who fought for France, particularly during the Napoleonic Wars, the hotel is a 5-star property with a recent new design.
"Our aim was to make guest feel like they were staying in a French flat with timelessly chic rooms that offer a Zen feel," says Olivia Putman, director of the design firm Studio Putman (founded by her late mother, the iconic designer Andrée Putman) that renovated the hotel. "We created a small lobby so it doesn't feel like a hotel and the rooms have a flowing feel with partitions that allow you to close off parts as you see fit."
Upon entering the Haussmann-style exterior–think multiple levels of sand-colored stone set off with iron balconies and elaborate stonework–you glide to a small check-in area bathed in sunlight pouring in from the floor to ceiling side windows. To your left is Le Bar, a comfy café-cum-eatery, where you can relax over a coffee or flute of champagne and order a pastry, lunch or light supper. Behind the check-in you'll find the lounge, richly decorated in tones of cobalt and gray and warmed with a fireplace. Stacks of art books and wall prints by well-known artists, like Christo, give you the sense this room could be part of a wealthy Parisian's home.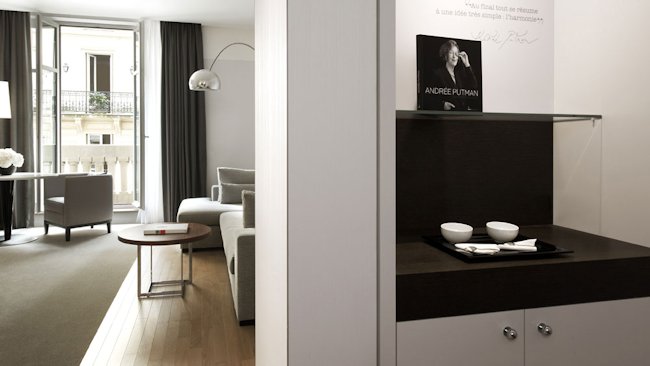 In keeping with its boutique feel, the hotel has only 124 rooms ranging from Superior Guestrooms to two apartments. While room styles vary slightly, all aspire to lend a sense of tranquility. My Junior Suite had no jarring colors and sported soothing white and pale lilac walls, a creamy leather banquet, softened with silk pillows illustrated with a black and white map of Paris, and an oval white desk, designed to bring to mind a Paris bistro table. Beyond the meringue-soft bed, outfitted with a white featherbed mattress, is the room's showstopper: a massive white tiled bathroom. A vanity-sink area rests on the LEFT side of the bathroom, to the right is a roomy shower, and front and center sits a huge soaking tub begging be filled with steamy water and the Hermes amenities bath gel.
"Since the hotel does not have a spa, the idea was to make each room feel like a mini spa," says Putman. A generous menu of in-room treatments is available, such as the luxurious aromatherapy massage.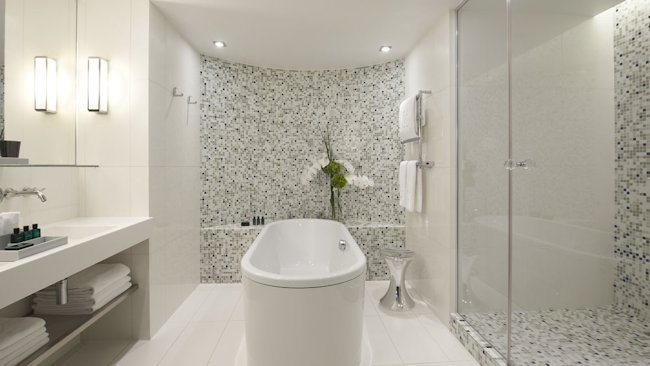 One of the hotel's most appealing draws (and this is true all Sofitel properties) is a how local artisan and designers have been integrated into the hotel experience to give it a distinctively Parisian feel. Le Bar, for example, is a collaboration with Jose Da Rosa, a Paris food purveyor to the city's culinary stars, so to speak. Da Rosa has chosen the choicest Southern Mediterranean products to feature on Le Bar's menu of light noshes, such as Spanish cured ham and smoked salmon. Da Rosa also chose the twenty-six teas for Le Bar's tea menu, along with the tea bag selection offered in each room. Da Rosa's teas are available for purchase at Le Bar, along with various jams and the addictive salted almonds and chocolate covered Sauterne-soaked raisins served with coffee.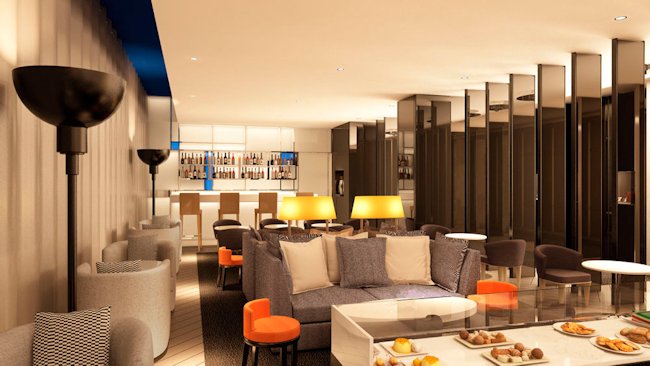 Another artisan the Sofitel Paris Arc de Triomphe has teamed up with is Serge Bensimon, best known for his casual, fun sneakers. At the hotel, Bensimon has a sort of pop-up shop in the lobby selling fun gifts like gold birds, notebooks, and, yes, his famous sneakers. French fragrant expert, Rami Mekdachi, developed the hotel's signature scent–Candle 14, which exudes notes of patchouli, mahogany, and smoked tea–while Baccarat crystal provides some of the glassware at L'Initial, the hotel's sixty-four seat fine dining restaurant. With a second entrance to make it feel more like a neighborhood eatery than tourist spot, L'Initial offers elegant, market-fresh French fare, like frothy seafood bisque and seared duck breast with winter fruit. The six desserts, also served at Le Bar, have been created by some of Paris's top pastry chefs (the meringue, cream, and sweet chestnut Monte Blanc dessert is sublime).
For exercise enthusiasts, there is the SoFit gym, which has a small selection of cardio machines and weights. However, given the hotel's location, it's more tempting to head outside and enjoy the nearby sites of Paris. The famous Arc de Triomphe is a mere truffle's throw away; the Jardin des Tuileries and Musée du Louvre are less than an hour away by foot. Walking truly is one of the best ways to explore the City of Light and should those tootsies need pampering upon your return? Look no further than that dreamy bathtub in your room.
Visit website:
Sofitel Paris Arc de Triomphe