Inspired by their ideas, the resort's creative team has designed a dramatic structure to appear like a gigantic manta ray hovering above the forest - the most extraordinary playhouse in the Maldives, which is due to open in December 2013.
The Den will include a 130 square metre swimming pool complete with slide, as well as a toddlers pool, an 8 metre high pirate ship, a zip line that whizzes through the jungle, and a giant ping pong table. Another key attraction will be The Tunnel, a 14 metre corridor linking the gardens with The Den, lined with buried treasure.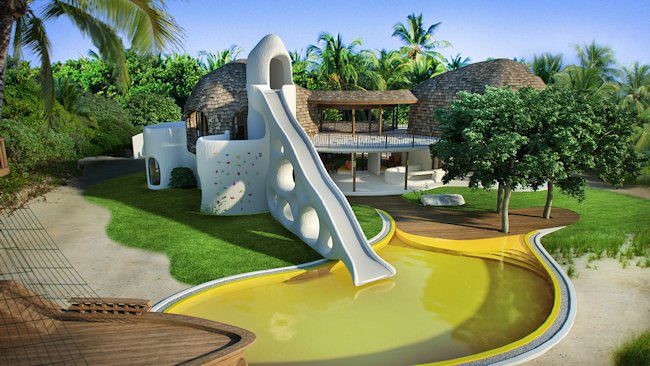 The interior of The Den will offer a dancing area, DJ corner, dressing up room, library, Lego room, cinema and music room. The Mocktail Bar and kitchen, where international cooking classes and activities will take place, will allow children to learn about local food and drink.
The Den at Soneva Fushi is one of many renovation projects that Sonu and Eva have undertaken to enhance the resort, working towards a 'New Soneva Fushi'.
Visit website:
Soneva Fushi