There is a forever quest for luxury travelers as they continually seek relaxation, renewal, as well as a hint of wanderlust-meets adventure. Regardless of the season, there is a constant thirst for an extended weekend holiday or a prolong craving for a lengthier beachside stay. The destination options for the next darling escape is as vast as any sea-to-table curated menu. However, there is one coastal escape alongside the Gulf of Mexico that's a catch above the rest.
Quietly nestled between South Walton, Florida's Seacrest Beach resides a premier travel destination meant to satisfy any grand traveler's hunger to experience life at its beachside best.
The Beach? Alys Beach. Alys Beach blends the ease of coastal living with art, culture, architecture, style, and of course, luxury. Here, at Alys Beach, the stark white Mediterranean-inspired homes (and vine-covered villas) set themselves apart from other coastal hubs. Surely, the picturesque palm trees, local restaurants, and shopping spots are all key ingredients to Alys Beach's charm. However, there is one element not to be overlooked, the Emerald Coast's jewel-tone water.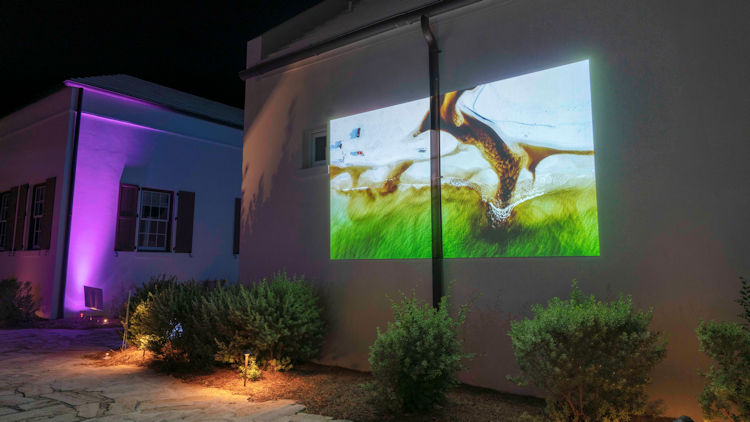 South Walton's extensive coast of clear, blue-green water is truly the jewel box of the Gulf Coast. The turquoise water has a strikingly-beautiful contrast with Alys Beach's white and black aesthetic. While wanderlust seekers find travel inspiration here, one local artist, Jonah Allen, of Jonah Allen Photography, has made a career out of capturing the lure of the Emerald Coast's illustrious waters.
In his artist statement, Allen's work is described, "… Revolves around the interest of abstraction, environmentalism, color, sacred geometry, and landscape." His photography is as unique to the art world as Alys Beach's architecture is to South Walton. Allen magnificently uses analog and digital photographic techniques in his art which includes aerial photography, large-scale art, seascapes, waves, and many other varieties.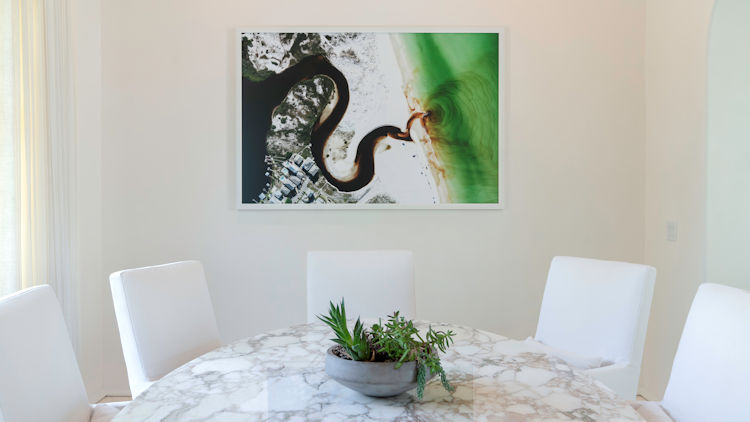 Allen's work is quickly becoming a fixture in Alys hot spots as well as beach homes amongst the seaside community. Thus far, Allen has pieces in Alys Beach's new Raw and Juicy, Alys Beach homes, Seagrove homes, Adaro art in Watersound, as well as The Aesthetic Clinique in Blue Mountain Beach.
Allen, who is also an experienced surfer, is based in Santa Rosa Beach. He exclusively gave insight into his work, inspiration, and future plans with Luxury Travel Magazine. Allen shares, "Ultimately, I aim to contrast the natural beauty of landscapes untouched by mass development with landscapes changed by human impact, hoping it will inspire respect for the remaining ones. My work originally began with my love for the ocean, which was inspired by my experiences surfing." Any adventure, not-to-mention, artists will agree that there is something truly inspiring about the sea. This notion was true for Allen, who was raised in Atlanta Georgie (6 hours away from the closets ocean) and felt the constant pull of the ocean as his family vacationed in the Gulf annually.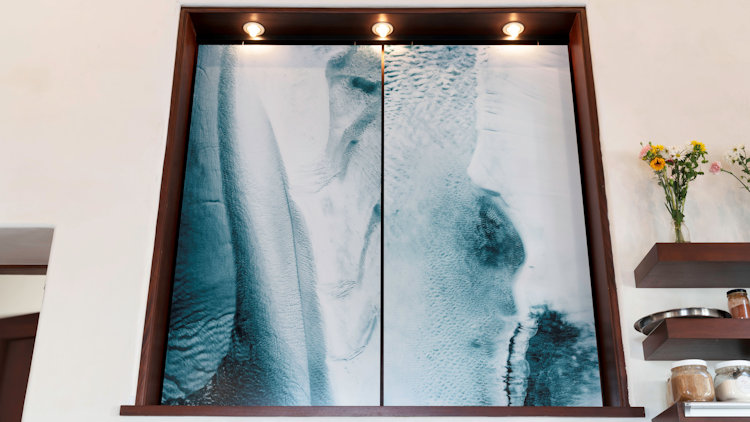 Allen says, "While staying for extended periods of time, I spent countless hours in the emerald sea, mesmerized by the energy within it."
Continuing, "With the camera, I could capture those fleeting moments and take them back to Georgia as memories. But, this created a division within myself: I lived in Atlanta, but my true home was near the beach. The division lasted 15 years until I finally decided it was time to leave Georgia."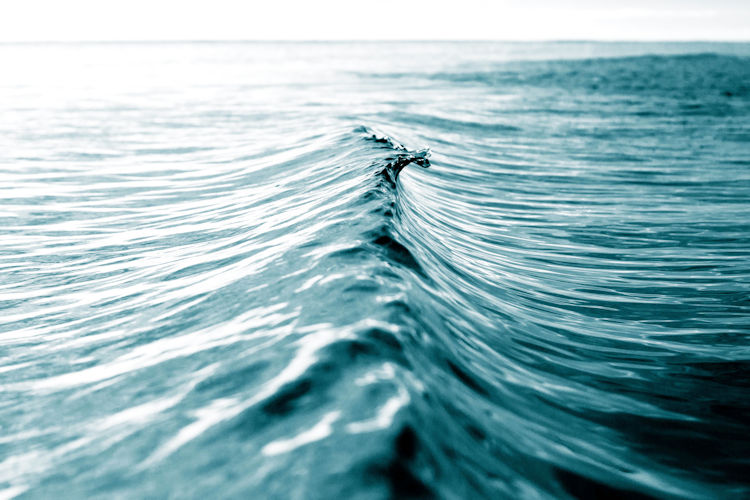 His journey to South Walton was what one would call a surfer's journey as he initially set out on a yearlong excursion surfing and capturing the ocean through his lens. Soon after, the Emerald Coast called, and Allen started pursuing his career as a photographer. It took some time, but his work soon took up residence in many local homes.
Allen tells Luxury Travel Magazine, "I created images nearly everyday for the past two years, and still do to this day. With these images, I create medium to large format sized prints - anywhere from 2 feet wide to 8 feet wide."
He continues, to share, "With a combination of making relationships with homeowners, interior designers, and local art galleries, my work slowly found its way into luxury homes. It has been a slow process, nearly 10 years in the making since I first picked up a camera."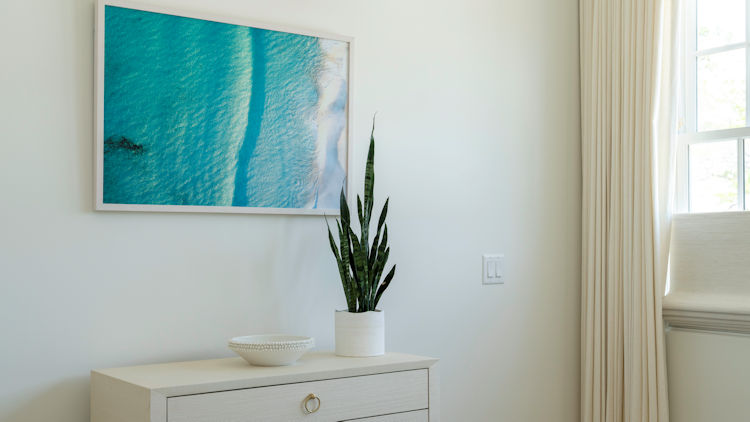 While Allen's seascapes and other art varieties are preserved inside South Walton dwellings, he has had digital works-of-art has projected on Alys Beach walls during the annual Digital Art Graffiti. "My piece for Digital Graffiti was based on a very fleeting phenomenon called a "coastal dune lake outfall" which occurs in Walton County, the place where Digital Graffiti was held" says Allen.
Continuing to elaborate on his 2019 Digital Graffiti piece, Allen shares, "These outfalls are intermittent connections between coastal dune lakes and the Gulf of Mexico. Fed by streams, rainfall, and groundwater, these lakes fill up with water until they burst into the gulf. It's a very dynamic process and the lakes have become a local icon of Walton County."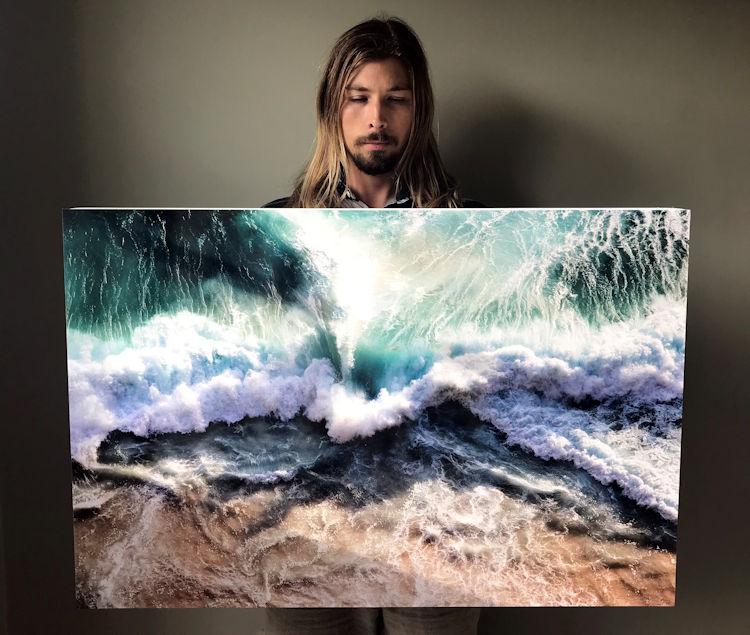 This particular project was something Allen worked yearlong on as he aerially documented the outfalls. His unique, never-been-done vision was then executed by, "Using these images, I created an abstract video of many different outfalls. To finish the piece, I composed, recorded, and mixed a piece of music which accompanies the video. Together, the visuals and audio result in a soothing, captivating artwork which allows the viewer to drift off into an ethereal state."
The 2019 Digital Graffiti is only the starting point for what Allen has planned for him, his work, and travels. "I am working on showing my work in galleries across the Southeastern region of the United States as well as continuing to make relationships with collectors. I have also been working on a project for the last year, which will take format as a photographic coffee table book." More-than-likely, it will be another year before the coffee table book is completed, however, it will be worth the wait amongst travelers, ocean-lovers as well as environmentalists.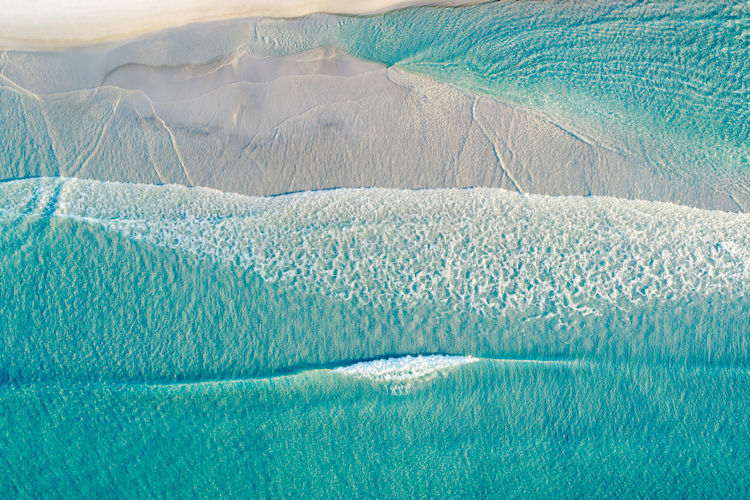 Just as the natural beauty of South Walton draws people in from all nooks of the earth, Allen finds his inspiration from his surroundings. "My inspiration comes from a plethora of sources, but the two greatest are this: the relationship between water and light and the relationship between humans and the landscape."
Finishing, "I am drawn to the beauty of the natural world as well as the grandeur of large scale alterations of the landscape."
After all, isn't that the charm of the Emerald Coast?
Article by Katelyn Chef
Photo Credits: Jonah Allen Studio
Jonah Allen's website:
https://www.jonahallen.com/
Jonah Allen's Instagram:
https://www.instagram.com/jonahallenstudio/