Creator and entrepreneur,
Kim Spadaro
combined her strong passion for design, aromatherapy, travel and music to formulate a range of scents that are deeply personal yet inspirational to others. Each of the three frangrances currently in the line are inspired by different destinations and bring to life a moment in time experienced in these journeys.
Doux Amour
, meaning "Sweet Love" was developed while on a journey to
Morocco
and is meant to embody an expression of sensuality. An arabian adventure from Casablanca to Marrakech inspired this sensual elixir, mixing the memories of souks, lush desert blooms, the smooth finish of Moroccan wine, and a heated midnight dance contest under the desert stars. A rare blend of floral essences -- Ylang Ylang, Casablanca Lily and Moroccan Jasmine -- wrapped in a sultry, sueded accord of Patchouli, Rare Amber Sandalwood, and laced with a sheer veil of Vanilla.
Noche del Fuego
, meaning "Night of Fire" is an exotic scent inspired by an idyllic escape to
Majorca, Spain
. Kim created this intense fragrance after a trip to Majorca which began in a former 13th century palace tucked in an ancient Mediterranean hillside and included an unforgettable night on stage, in the middle of bronzed Spaniards beating their drums and encircling her in fire. Bergamot gains unexpected depth when mixed with Patchouli and an exotic blend of Sandalwood, Vanilla and Honey spiked with Paprika and Saffron and the warm/cool of Black Pepper.
Sole Nero
, meaning "Black Sun" was inspired by a family trip to
Sicily
and evokes fond memories of loved ones near and far. While on vacation in Sicily, Kim and her family rediscovered their Italian heritage and reminisced about their family's connection to the land. This fragrance is rooted in the sweet and succulent citrus fruits they savored each day as well as an unforgettable sunset mountain top dinner viewing the glow of Mount Etna in the distance. Sunny Italian Grapefruit is imbued with a precious spice accord of White Pepper and Cumin. The citrus notes are enveloped by tender Musk and comforting notes of Sandalwood, Almond and Honey.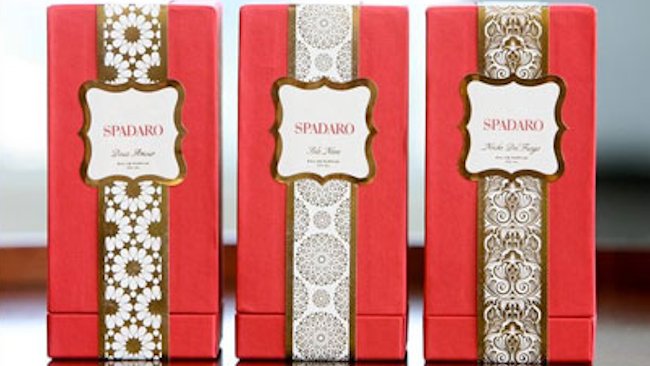 Eau de Parfum comes in a square, Italian glass bottle accented with an exotic bronze pattern insired by the well-traveled peices of metal jewelry and art that Kim has acquired during her travels. The round cap shape on each bottle adds softness and is reminiscent of an old bottle stopper. Red was chosen as the color for the outer packaging for its warmth and passion.
Available at Nordstrom:
www.nordstrom.com
More information:
www.spadaro.co