Using a key, she opens the first of two doors and I find myself in a mini courtyard with a shimmering turquoise pool, a patio, a shaded sitting area, and steps leading up to my lodgings. Private, concealed, a Caribbean Secret Garden – and for the duration of my stay – all mine. In this sunny, clandestine enclave, with or sans suit, pool, here I come!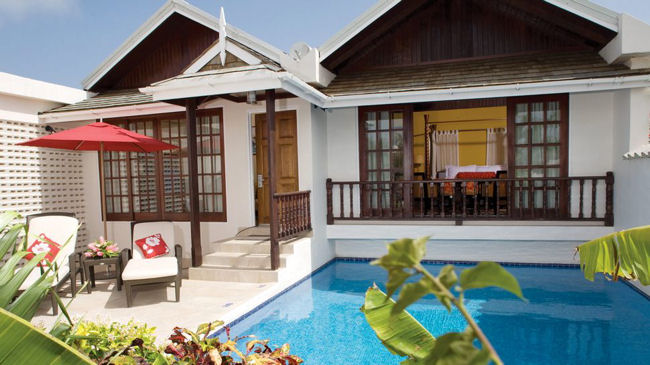 Put Some Spice in your Life
Some islands, like people, luxuriate in their privacy. They lack no social graces and enjoy playing host to visitors but they're also comfortable being left alone. This, in many ways, is Grenada and the island's character results, in part, from being a land of plenty: fishing nets heavy with tuna, mackerel and grouper and volcanic soil so rich that crops seem to spring from the soil as if by magic. Lying just 12 degrees north of the equator, bathed in the cooling Trade Winds, Grenada lies sleepily shrouded in a canopy of green. Its interior is lush and mountainous, waterfalls cascade into sparkling swim-holes and monkeys gorge on papaya and bananas. Spices? oh yes. The Island is chock-a-block with nutmeg, ginger, vanilla, saffron, cinnamon, clove and allspice growing wild on verdant hillsides. All this has resulted in Grenada remaining unchanged for centuries.
Because Grenada is below the southern edge of the hurricane belt, it had not experienced a major storm in more than half a century. Then, on September 7, 2004, all that changed. Hurricane Ivan touched down here with such strength and intensity that, within a day, thirty-seven people were dead and almost all of the country lay in shambles. Today, when one visits, there's virtually nothing to suggest that Grenada is still struggling; in fact, it looks relatively unaffected – homes are once more intact, hotels are repaired and those towering twin palms that covered the island are still there – having bowed to the hurricane's force, they survived.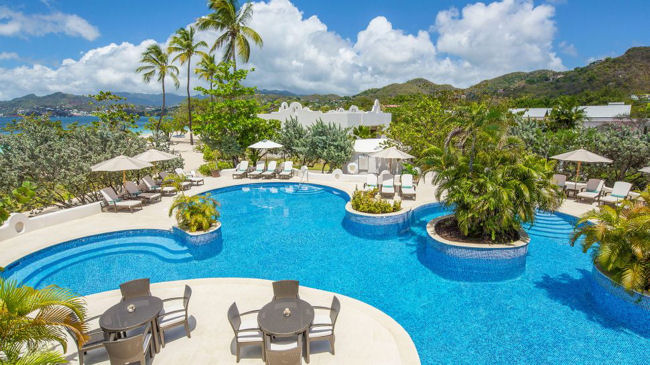 And the Spice Island Beach Resort? Seventy-five percent of it was destroyed. However, Sir Royston O. Hopkin, the resort's owner, was undaunted. He embarked on a most ambitious project – to oversee the rebirth of his property and make this once outstanding hideaway even more splendid than before. So when you visit, sprinkle a generous helping of life's greatest pleasures onto your book of fondest memories 'cuz this AAA Four-Diamond family-run resort is now Paradise re-found!
The $12 million dollar rebuilding project opened again in 2005 with accommodations consisting of 17 luxury suites with their own pools and gardens and 32 beachfront units framed by a private stretch of powder-fine sand. Janissa's Spa and Fitness Center has a new 5,600 square foot home and there's the Nutmeg Pod, an activity center for kids. One dines on both Creole and international cuisine at the elegant seaside restaurant, Oliver's, while being serenaded by live calypso ad reggae music. CondeNast has named the resort the best in the Caribbean and it is considered one of the supreme honeymoon resorts of the world. And, not to put too fine a point on it, Sir Royston himself has received numerous awards including his first accolade (CMG) from Her Majesty, Queen Elizabeth II, and more recently the knighthood (KCMG) in 2005. Sir Royston explains his mission: "…to meld poetry and modernity into a resort that perfectly blends into its environment while offering all the luxuries of one of the world's finest resorts." The man has succeeded royally!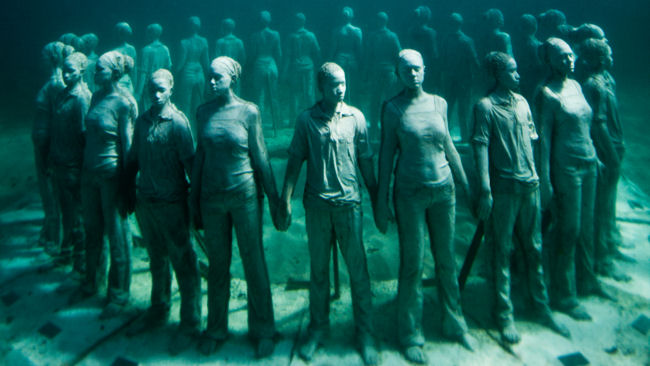 Underwater Surprises
Grenada is a superior Caribbean islands for snorkeling - and one particular reason sets it apart from all others: The Molinere Underwater Sculpture Park. This is a collection of contemporary art created by British sculptor Jason deCaires Taylor. It opened in 2006, the very first of its kind in the world. The artist's aim was to engage local people with the underwater environment that surrounds them using his works which are derived from life casts of the local community. He installed his cement figures onto the ocean floor, mainly consisting of human forms, from solitary individuals to a ring of children holding hands, facing into the oceanic currents. Needless to say, viewing this sculpture while snorkeling was one of the highlights of my visit.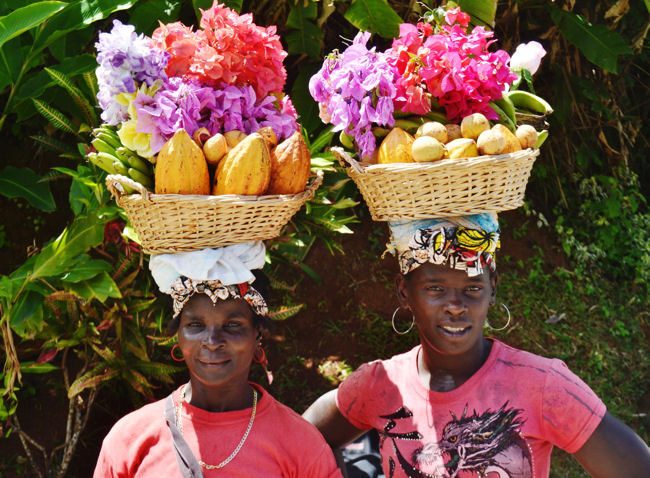 Rain, Rain, Don't Go Away
A visit to the Grand Etang Lake and Forest Reserve was spectacular. This is a popular area in Grenada for hiking and trekking in the rainforest high up in the mountains of the island's interior. Consisting of elfin woodlands on the slopes of the reserve's central mountains, the focal point is Grand Etang Lake, which fills the crater of one of the island's extinct volcanoes. Although we had monsoon conditions for most of our excursion, we were still able to wander around Concord Waterfall as it cascaded into the azure pools below. The landscape is lush, luxuriant and fertile, so considering that the almost daily deluge which lasts just a short time is largely responsible for this jungley beauty, we now looked out of our rain-streaked van windows with an open and welcoming heart.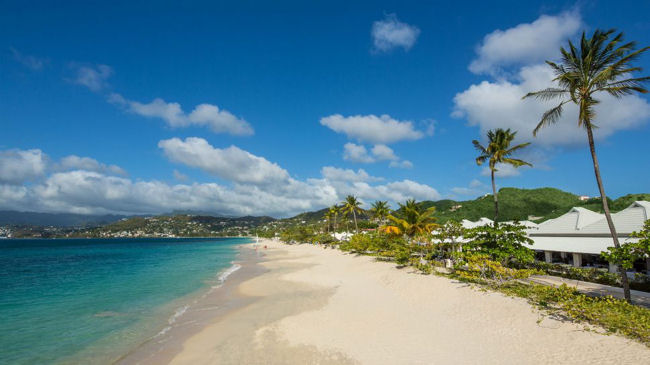 Sunrise, Sunset
There was no better way to end this Grenadian idyll than with a sunset champagne cruise. We sipped bubbly and savored the sunset as we sailed along the coast of St. George (Grenada's capital). Happily the sun cooperated, coloring the sky in hues of gold, pink and finally in silver as it bid us adieu.
Grenada is a land of plenty and its very self-sufficiency has kept it largely untouched, hurricanes or no. Its endless views of the sea, the lone fisherman walking along, swinging his catch, the smell of chicken sizzling on barbecues – it's all here. Residents say that Grenada is Caribbean's best kept secret. Perhaps that explains why this island's unchanged melody continues.
IF YOU GO:
Grenada Tourist Board
www.grenadagrenadines.com
Spice Island Beach Resort
www.spiceislandbeachresort.com