As we sit, with a view far below of Paseo de la Reforma, Mexico City's historic central avenue with silvery skyscrapers and the golden Angel of Independence shining in the sun, a member of staff delivers a little plate of cheese and fruit skewers. Once we're done with them done, it's time for us to go into the spa… This is how a stay goes at St Regis Mexico City: relaxing, luxurious, comfortable.
Mexico City itself seems to me an often-underrated destination, but that's changing. Over the last 5-10 years, there's been a big growth in visitors coming to the Mexican capital not only for business or passing through on the way to popular beach resorts in Baja California or Cancun, but choosing Mexico City as a destination in it's own right, not least for the world class museums and art galleries, and the thriving gastronomy scene, from top restaurants like Quintonil, Campobaja, ASAI Kaiseki and Guzina Oaxaca through to Limantour, voted the "best bar in Latin America."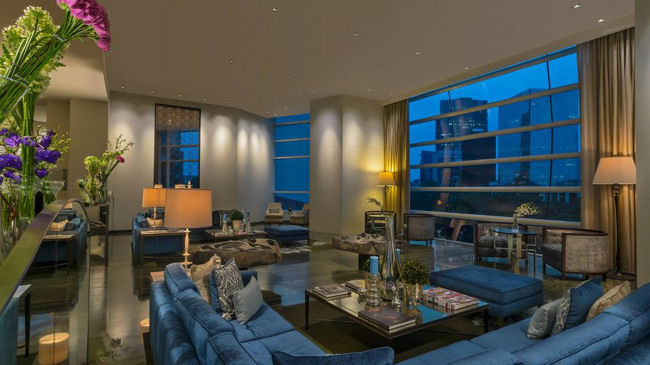 There are peaceful parks, gardens, and canals across the city, but the Mexican capital can also be hot and bustling. It's a pleasure to walk into somewhere like the St Regis, then, where you get peace and calm from the moment you're inside, relaxing already by the time you get up the elevator to the Third Floor reception, where the scent of roses wafts through the lobby. As we wait to check in, we notice a little set of steps up to a table filled with jars of sweets, with forms for children to do their own 'check-in' with essential information, such as their favorite cartoon. It's a nice fun touch for families.
The St Regis is set inside the purpose-built 31-story Torre Libertad, designed by Cesar Pelli, the same architect who designed the Petronas Towers in Kuala Lumpur. Once we've been shown to our room and the butler - decked out in full-on black and white suit, white gloves - has dropped by to introduce himself and offer his services, whether booking a restaurant or ironing a few items of clothes, we settle in.
It takes a while to leave the side of the large window, which looks down from the seventh floor on the Diana the Huntress Fountain and the Paseo de la Reforma, which runs, lined with purple jacaranda flowers, all the way down to Chapultepec Castle in the distance. It's surprisingly quiet up here, the busy traffic just a soft distant buzz.
Our room is spacious. The St Regis being primarily a business hotel, the style is elegant and conservative, with lots of cream, grey and autumnal shades; there's not much personality or flair in the décor. There's a plush grey carpet, a fridge/mini bar, and a huge and comfy bed. One wall is taken up with ample wardrobe space, while on the window side, there's a big blocky armchair and a corner sofa, wrapped around a tall glass coffee table, for taking it easy. At night, the lights of the city come on, and it's possible to see planes coming in to land at Mexico City airport in the distance.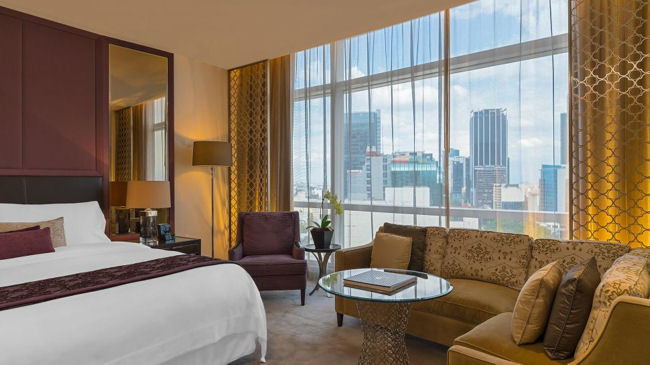 The bathroom leading off the bedroom is large too, with creamy marble flooring and a bright gleam to the space. Alongside the large wall-mounted TV in the bedroom, there's another small TV within the mirror to watch as you shave or get ready in the morning. Two big sinks fill the main bathroom, with a make-up table sandwiched in-between, and there's a large walk-in shower room, with a rain shower one side, a bathtub on the other.
After a day exploring Mexico City, we're back at the hotel for dinner, with a shirt, trousers and a dress freshly ironed by our butler left hung up in our room. There are four restaurants at St Regis, including J&G Grill and the La Table Krug champagne experience. But we spend most of our time at the main Diana restaurant, which serves modern Mexican cuisine created by Head Chef Óscar Portal.
We take a table on the terrace, which is famous in the city as a place to sit and take in the view, a flaming heater keeping us warm on a slightly chilly evening. The waiters are exceptionally helpful with recommendations from the menu and for wine, suggesting a punchy fruity bottle of Cabernet Montepulciano from the Guadalupe Valley, Mexican wine increasing in reputation.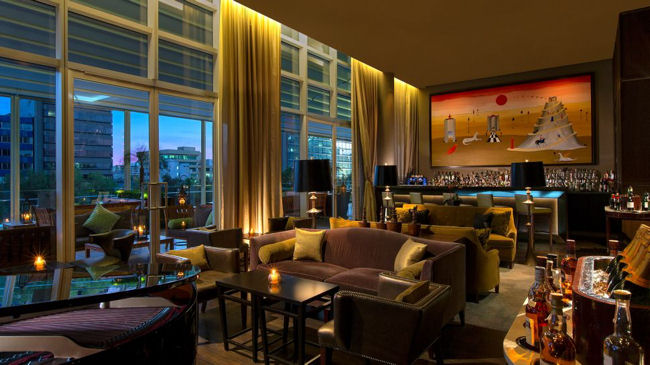 We start with a couple of tuna tostadas, layers of cold tuna slices and watermelon on a crisp tortilla, tasty, though the mayonnaise feels like a slightly jarring and unnecessary addition. My starter, a Tumbada-style rice, is earthy and tasty, though crab and shrimp are a little overpowered by the chili and refried beans. My girlfriend's soup, Huitlacoche Cream, is comforting and delicious, far tastier than you'd expect if you saw the traditional Mexican ingredient, a type of black fungal corn, that it comes from.
My red snapper comes in a thick Veracruzana black sauce, rich and filling, the fish well-cooked, while my girlfriend goes for comforting gnocchi with mushrooms. It's all good, but the star of the show is a dessert that we, thankfully, order to share: The Mexico is a giant slab of chocolate cake and chocolate ganache, with corners of gold foil and a refreshing hit of raspberries on the side. It is indulgent, thick and extremely tasty. "A brick of pure pleasure," as my girlfriend puts it.
Breakfast is also down in Diana, a heaving buffet, with everything you'd expect, from juices and yogurts to eggs and pastries. There are a few Mexican dishes too, including enchiladas. Staff at breakfast are, again, friendly and helpful, with tea, coffee and our eggs orders arriving quickly.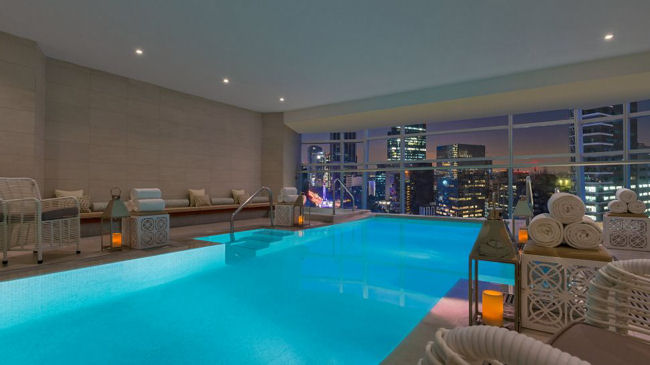 We spend some time up on the 15th floor in the morning, swimming in the cool blue pool with a view of the city stretching to the horizon, before heading to the Sol Y Luna room for a couples massage. Side by side, we relax into firm hour-long massages, with fragrances of lavender and juniper filling the room, as well as ambient music. Later on, my face is wrapped in a hot towel, my feet placed inside some sort of oily plastic 'socks', a hot compress placed on my stomach. It's hard to feel anything but a relaxing warmth. "They got rid of a knot I've had for five years" is my girlfriend's happy verdict afterwards.
I look around as we leave the hotel, catching a taxi and heading back out into the busy streets. St Regis certainly provides comfort and luxury, as well as being incredibly well taken care of, it's hard to beat it in the heart of Mexico City. It's reputation as one of the capital's best is well-deserved.
Visit website:
www.stregis.com/mexicocity